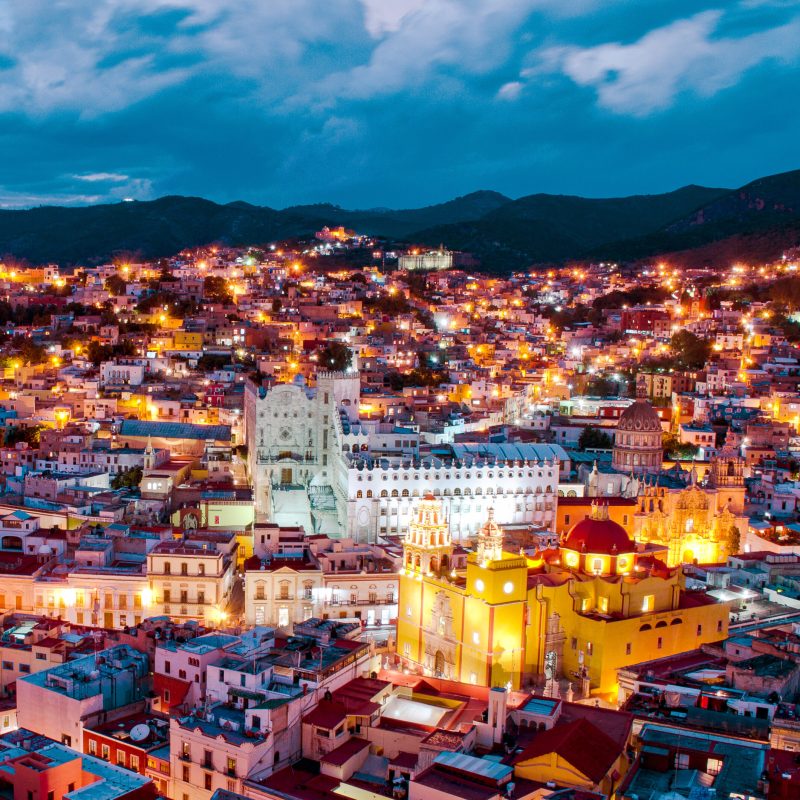 The city of Guanajuato in central Mexico offers so much for travelers to experience. After all, it's a Spanish-colonial city that is a designated UNESCO World Heritage Site. The area offers great eating, shopping, and attractions. From a famous muralist's birthplace to a mummy museum and a scenic narrow kissing alley with a tale to tell, visitors are sure to be charmed by Guanajuato.
I was invited to experience a trip there with the tour company Traverse Journeys, which focuses on travel with meaning for people, planet, and purpose. Their responsible tourism lens provided the perfect way to experience the best things to do in lovely Guanajuato, Mexico.
Funicular/Monumento Al Pipila Guanajuato
A great way to start any exploration of the beautiful city of Guanajuato is to experience the funicular. A funicular is a cable car railroad that goes up a hill or mountain. There are many examples throughout the world, but the views from the top of Guanajuato's can't be beat. It's 30 pesos for a roundtrip ticket, the only ticket type available to purchase. The ride is just a few minutes long, but visitors should expect to spend some time relaxing on the top near the statue. The Monumento al Pipila Guanajuato memorializes a hero from the war for Mexican Independence. There are beautiful benches, steps, and views to behold as the valley spreads out from around the vantage point. Sometimes there are even street performers and musicians providing some entertainment.
For the most memorable experience, don't ride the funicular back down. Instead, take the route locals use that winds down the mountain. There's cool street art, pretty flowers, and charming homes along the path. Just be aware that it can be quite steep in places, so avoid if it's raining or if travelers aren't in decent walking shape. If you're crunched for time, take the funicular back down to its base near the town's main teatro, or theater.
Diego Rivera Museum
This museum, called Museo Casa Diego Rivera, is actually housed in Diego Rivera's childhood home and birthplace in Guanajuato. He is considered one of Mexico's most famous painters, though many will recognize his wife Frida Kahlo and her signature eyebrows as well. The museum houses many original works from the painter. They range from his Picasso-inspired cubist period to personal sketches and paintings inspired by Mayan folklore. There are numerous artifacts from his home available to view as well. Please note, photography is not allowed in most of the museum and there are staff members posted throughout to enforce this rule. Visitors can expect to pay an entry fee of 25 pesos for this attraction.
La Valenciana Church
Sometimes called San Cayetano, this church is about 15 minutes from the city center, or el centro, of Guanajuato by car. It was built near the mine where the largest vein of silver ever was found in Mexico. This is an important spot, as silver mining was a huge part of Guanajuato's economy for many years. The church was constructed from pink volcanic stone called cantera. The building is a great example of the Mexican Churrigueresque style from the 18th century and also features noteworthy use of gold leaf.
Callejon Del Beso
This attraction, which translates to Kisses Alley, is a quirky highlight of the city of Guanajuato. According to local legend, it was the scene of a tragic love story a la the Mexican Romeo and Juliet. Two star-crossed lovers wanted to run away and get married, but the girl was wealthy and her father forbid the match to a poor boy. Her bedroom had a balcony on Kisses Alley, which was so narrow that the balcony across the other side was nearly touching it. The boy gained access to that other balcony in order to visit his love. But the girl's father saw them, became enraged, and stabbed his daughter to death while her paramour felt her life drain from the hands he held.
On a happier note, nowadays, a stroll down this alleyway is said to be good luck for relationships. There's a specific step, three steps down, that's painted red to mark the spot of the gruesome event. Allegedly, if visitors kiss their partner there, they will have seven more years of bliss together.
Mummy Museum
This museum, known in the area as El Museo de las Momias, contains over 100 mummified bodies. Most were preserved naturally due to the distinct climate of the region and come from the 1850s to the 1950s. It is also thought that some were victims of an 18th-century cholera outbreak in Guanajuato. What is perhaps the most noteworthy mummy is a roughly 24-week-old fetus found in a mummified pregnant woman. This mummy is thought to be the youngest partially embalmed fetus ever found.
The museum is roughly a ten minute drive from the town center of Guanajuato and is a fascinating stop on a tour of the city.
Regional Museum Of Guanajuato, Alhondiga De Granaditas
The next noteworthy attraction in Guanajuato is its regional museum. The building itself, the Alhondiga, is famous as it's where El Pipila, of aforementioned monument fame, helped breach the doors and turn the tide of battle for the Mexicans. These days, it functions as a history museum for the city. Be sure to check out Jose Chavez Morado's breathtaking murals that detail the history of Guanajuato; they are located near the staircases of the old grain warehouse turned fortress. Please be aware that none of the exhibits have accompanying English translations.
Eating In Guanajuato
Guanajuato is a great place to enjoy all types of dining. From street food vendors and bustling markets to fine dining and casual taquerias, this city truly has it all.
Coffee At Jardin De La Union
In the center of Guanajuato lies a pretty triangular garden known as Jardin de la Union. It's a manicured, verdant spot complete with trickling fountain and well-maintained gazebo. Street musicians will often wander and play, adding a unique soundtrack to the experience. Visitors should post up at any of the hotel restaurant patios on the curved northwest perimeter of the garden. They will offer various caffeinated beverages and housemade bread to enjoy. Or, for those who crave a taste of the States, there's even a Starbucks adjacent to the park on the east side. Take a coffee to go and wander the area for maximum enjoyment.
Casa Mercedes
This fine dining establishment is a prime example of creative Mexican cuisine. Look for local dishes like stuffed tamales, chiles rellenos, and empanadas served with elevated ingredients like edible flower garnishes. Be sure to request a wine from the area to pair with your meal, and don't forget to save room for dessert.
Mercado Hidalgo
For visitors who want an authentic Mexican experience without a luxe price tag, check out this marketplace. There are numerous restaurants surrounding the market if a sit down meal is your preference, but the true highlight are the vendors inside. Located on the ground floor of the market are all the food stalls. If possible, try some local snacks like elote, tuna (the vibrant pink fruit of the prickly pear cactus, not the fish), and jicama with chile. For a more substantial bite, look for enamoradas, or enchiladas with mole sauce, which the region is known for.
Tutti Gelati
For a great dessert option in Guanajuato, check out Tutti Gelati in the center of the city. They craft all their gelatos in house using no artificial ingredients. Try some inventive flavors like chocolate truffle or chai lemon. They also specialize in a well-loved local snack, the churro. Tutti Gelati serves the churro plain with sugar, with gelato, or stuffed with sauce. These options are sure to please anyone with a sweet tooth.
Shopping In Guanajuato
Visitors can expect to enjoy a number of cool shopping experiences while in Guanajuato. There are high-end boutiques as well as street markets for all types of goods and souvenirs.
Mercado Hidalgo
The aforementioned market has many non-food vendors as well. On the second level of the Mercado Hidalgo, peruse shops selling wares like blankets, shawls, and handcrafted toys made by local artisans. Guanajuato is known for its production of leather products too, so search around for a stall with leather offerings. Just be sure to ask if it was produced locally, and don't be afraid to politely bargain with the shop owners.
Gorky Pottery
Guanajuato is also widely known for its production of pottery, specifically glazed majolica pottery. Gorky provides this high quality pottery and sometimes Gorky Gonzalez, the shop's artist and namesake, is available for tours of the workshop area. It's a roughly 15-minute walk from the center of town or a less than 10-minute drive.
Dulceria La Catrina
This two-story sweets shop in Guanajuato allows visitors to sample a variety of hand-crafted sweets and Mexican candies. They also sell local liquors and Mexican artifacts that make great souvenirs; just be sure to check your bag on the way home if you purchase alcohol. Winning favorites from this store include the macadamia paste, spicy tamarind candy, borrachitos (a famous Mexican jellied candy), and pistachio candy.
Overall, the stunning city of Guanajuato is well worth a visit on any itinerary to northern central Mexico. Its delicious food scene, local artisan goods and clothing options, and plethora of sights to see combine to create an enchanting and historic small city.