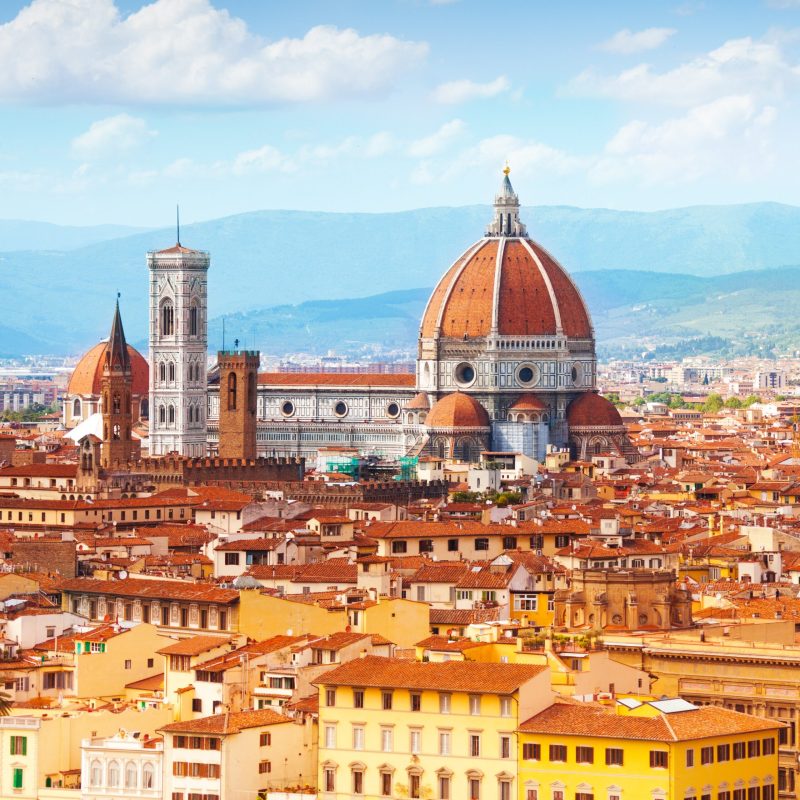 Few cities in the world can compete with Florence when it comes to depth of history and quality of art and architecture. Add to that the city's incredible cuisine, and it becomes clear why Florence is one of the world's top tourist destinations.
But Florence also presents several challenges for visitors, including large crowds, long lines, and annoying selfie-takers. At times, the city feels more like Disneyland than the home of some of the most famous art in the world.
Fortunately, with a little planning, visitors can have a very rewarding experience in Florence. Here's what you need to know before you go.
Read Up On The City Before Your Trip
Florence was founded in 59 B.C. by Julius Caesar, so needless to say, the city is loaded with history. And when you consider the number of famous artists who called the city home — Michelangelo, da Vinci, and Donatello, to name a few — you'll understand why Florence has so much beauty and culture to offer visitors. To really appreciate Florence and the pivotal role it played in world history and in the arts, read up on the destination before your trip.
Florence and its spectacular Duomo are practically synonymous, so architecture buffs should read about the design and construction of the remarkable church. Ross King's book Brunelleschi's Dome is the best-known work on the subject.
Art lovers should consult Judith Testa's An Art Lover's Guide to Florence. Testa provides historical context for and political commentary on the most famous Florentine art, and her book is great preparation for time at the city's museums.
Those interested in the history of the city will want to learn about Florence's most famous residents, the Medicis. Christopher Hibbert's The House of Medici explains how the family influenced the city's politics, architecture, and art over the course of 300 years.
Get Up Early To Explore
If ever there is a time to set your alarm and get up early, it's during a trip to Florence. Most museums open later in the morning, around 9 or 10 a.m., and naturally, crowds follow. Visitors willing to get out and explore the city streets earlier will be rewarded with fewer people and the opportunity for better pictures.
Those willing to get up at sunrise will have the added benefit of the golden hour, when the light from the rising sun creates ideal conditions for photos.
Reserve Your Tickets In Advance
During the busiest seasons, standing in line to purchase tickets for Florence's top attractions can take hours. To avoid this, be sure to select the museums and attractions that are your highest priorities and then reserve tickets in advance through the appropriate websites. When possible, select a specific time slot to make the best use of your time.
Many visitors are eager to climb to the top of the Duomo, but it's important to know that this can only be done with a reservation for a specific time.
After making your reservation, carefully follow the directions provided in the follow-up emails. Many attractions will only accept printed tickets, so it's best to print your tickets at home.
Don't Overschedule
Understandably, FOMO (or fear of missing out) can grip visitors to Florence. But to really appreciate the city's top museums and attractions, it's important to allow sufficient time at each. The Uffizi Gallery has 101 rooms and 139,000 square feet of exhibition space filled with masterpieces. Rushing through this museum would be a crime. The same is true of most of Florence's popular sights.
Instead, to avoid travel burnout, consider taking one tour or seeing one attraction each day. You'll have the time you need to appreciate the attraction and take breaks. Instead of being exhausted and overwhelmed at the end of the day, you'll be awed by the beauty of what you've seen.
Take Advantage Of Organized Tours And Audio Guides
Every building, piazza, and statue in Florence has a story. A knowledgeable tour guide can bring these stories to life. Companies like Viator and Get Your Guide offer brief walking tours that can serve as a nice introduction to the city. Consider scheduling one of these on your first day as a way of getting the lay of the land.
Most Florentine museums offer an audio guide to supplement the written information provided through signage. Typically these are available in several languages. For just a few euros, visitors can learn more about the most important pieces of art in a museum, as well as the artists who created them.
Some tour companies offer museum tickets that include guided tours. This is another great way to learn more about specific pieces at Florence's best-known museums.
Avoid Visiting During The Busiest Seasons
According to Visit Florence, November through March is an ideal time to see this magnificent city, since visitor numbers are at their lowest during the winter. Admittedly, the trade-offs are cool weather and possible rain. The summer months of June, July, and August are especially busy and hot, so don't visit then unless you must.
The shoulder seasons — the times between peak and off-season — are also good times to visit Florence. Visitors in April, May, September, and October will still experience a busy city, but the weather will be more temperate.
Another thing to keep in mind is that accommodation prices are lower during the off-season and shoulder seasons. While prices in Florence are generally reasonable, they peak during the summer.
Research The Local Food And Restaurants
You can't take two steps in Florence without seeing a restaurant offering Italian classics like pasta, risotto, and pizza. But not all restaurants are created equal. Visitors come here expecting amazing food, and that certainly exists, but a little research will prevent a mediocre meal and disappointment.
First, spend a bit of time learning about Tuscan and Florentine specialities like ribollita (Tuscan soup) and bistecca alla Fiorentina (Florentine steak). While back home, Italian food may simply mean pizza and pasta, cuisine in Italy varies by region. To leave the area and not sample its specialities would be a shame.
Next, spend a few minutes researching restaurants in your price range that offer the food items you'd like to try. TripAdvisor can be a great source for this research, since it offers plentiful reviews and places restaurants into categories like "cheap eats" and "fine dining."
Finally, it's helpful to know that Florentines, like most Italians, eat dinner later than Americans and Northern Europeans, so restaurants don't typically start serving dinner until 7 p.m. If you arrive earlier, the restaurant may simply be closed.
Be Prepared To Take Your Time While Dining
Italians like to take their time and enjoy their meals, especially dinner. Servers may not rush to your table after you sit down, and it's likely that there will be plenty of time between courses. Visitors from some countries — like the U.S. — may find this frustrating.
By accepting these differences in service, you'll get a glimpse of the local culture. Dinner should be a time to savor the food and wine, not inhale it. And good conversation is as much a part of the experience as the food itself. It's likely that your server isn't avoiding you but is instead allowing you to enjoy the evening.
Watch Out While Walking
While Florence has tried to reduce the number of vehicles entering the oldest parts of the city, it's important to note that you'll be sharing the streets with cabs, motorcycles, and delivery trucks. It's even possible that a street will appear to be pedestrian-only, and then a cab will drive around the barriers to deposit riders in front of their hotel.
Visitors should always be on the lookout for moving vehicles. Taxis heading down busy streets often sound a buzzer to notify pedestrians, but a motorcycle may speed down a narrow street without any attempt to slow for walkers.
Also keep in mind that most of the streets in the older part of the city are cobblestone and thus uneven. Be sure to wear comfortable footwear!
Florence offers visitors some of the greatest art, architecture, and food in the world — but that's not a secret. To make the most of your time in the city, visit at the right time, do some homework, and come with reasonable expectations. In return, you'll go home with amazing memories.