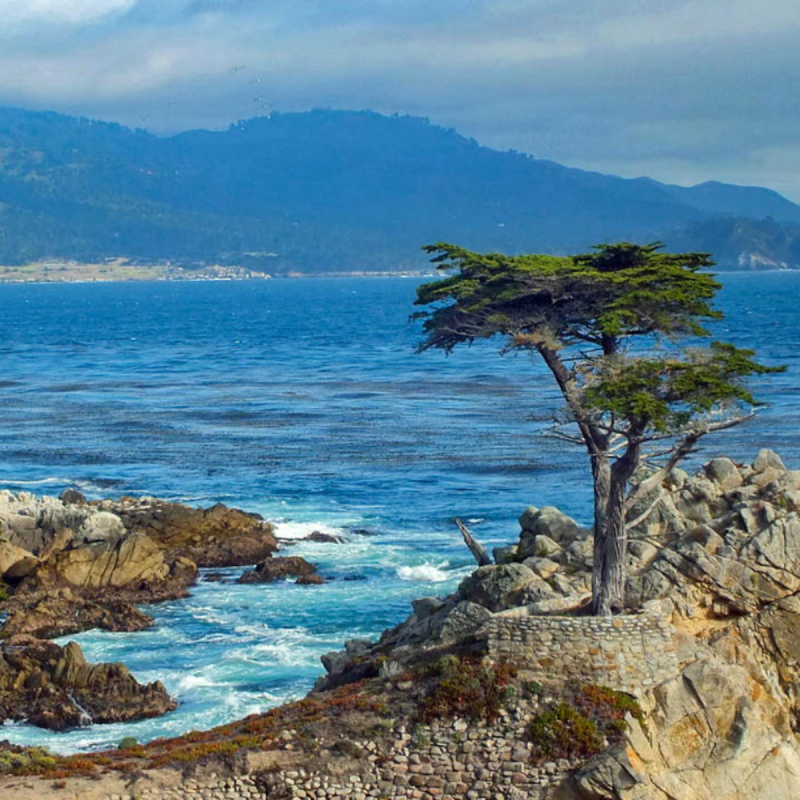 With Macintosh computers slowly replacing the apple orchards that once filled the area, San Jose has steadily grown over the past few decades to become the largest city in the Bay Area. While there are plenty of fun things to do in sunny San Jose, California, these excellent day trips will allow you to experience more of Northern California.
While everyone can agree that a day trip is a short excursion that allows you to fall asleep in the same bed where you woke up that morning, further defining a day trip can vary by traveler. As someone who doesn't like to get up too early, doesn't want to spend all day in the car, and definitely wants enough time to really enjoy the day trip destination, my recommendations are all within a two-hour drive from downtown San Jose. But, depending on when you start and end your day trip, the traffic in the Bay Area can quickly turn a one-hour drive into a seemingly all-day affair, so take that into consideration when planning your excursions.
1. Santa Cruz
As a teenager in the Bay Area, Santa Cruz was always a favorite summertime day trip, because as you travel south from San Francisco's fairly consistent 60-degree Fahrenheit climate, it's one of the first beaches where it's warm enough to get into the water without a wetsuit. 
Located about an hour south of downtown San Jose, I recommend heading straight for the beach. Stroll along the sand and watch the surfers ride the waves then explore the shops and restaurants on the Santa Cruz Wharf. Get out on the water by renting a boat, or leave the driving to someone else by booking a fishing excursion, whale and dolphin watching trip, or scenic bay cruise. 
And before you leave, be sure to take a ride on the Giant Dipper roller coaster. Now a National Historic Landmark, this nearly 100-year-old wooden roller coaster has appeared in several movies, including Sudden Impact, Dangerous Minds, and The Lost Boys. 
Before you head back to San Jose, be sure to fill up on fresh seafood by grabbing dinner at Johnny's Harborside or Riva Fish House.
2. Monterey Peninsula
Another great coastal day trip from San Jose is the Monterey Peninsula. About 90 minutes south of San Jose, the 12-square-mile piece of land that juts into the Pacific is home to the towns of Monterey, Pacific Grove, and Carmel-by-the-Sea, among others. 
Start your day trip to Monterey at the Monterey Bay Aquarium. Once a sardine cannery, you can watch scampering sea otters, pulsing jellyfish, and more than 500 other species in this world-renowned aquarium on the coast. Next, explore the shops along Cannery Row and grab a bite at Lalla Oceanside Grill or the Chart House (and be sure to try abalone, if it's available).
Pro Tip: If you can't get enough of the cute sea otters at the Monterey Bay Aquarium, here are six great places to see them in the wild, including along the coast adjacent to Cannery Row.
Don't leave the Monterey Peninsula without touring 17-Mile Drive. Beginning near the aquarium and winding past Instagram-worthy spots like Spanish Bay, China Rock, and the Lone Cypress before it approaches the Pebble Beach Golf Links, it's easy to see why the route is one of the most scenic drives in the US.
3. Pescadero
To circumnavigate redwood-topped mountains, visiting this coastal town due west of San Jose requires traveling a fair distance north or south. So when day-tripping to Pescadero from San Jose, I recommend a circular path that loops through Los Gatos, Santa Cruz, and Half Moon Bay before returning to San Jose on I-280. The total drive time is about two and a half hours, giving you plenty of time to explore.
Start your day trip to Pescadero at the Pigeon Point Light Station. Standing 115 feet tall on a craggy cliff overlooking the ocean, it is the tallest lighthouse on the West Coast. Stretch your legs, watch for wildlife, and breathe in the fresh, salty air by taking a scenic walk along the trails that surround the lighthouse.
Be sure to stop at Duarte's Tavern for lunch. A Pescadero establishment dating back to 1894, the tavern is now a James Beard Award-winning eatery focused on creating mouthwatering dishes from freshly caught fish and locally grown produce. In fact, many of the ingredients come straight from the restaurant's garden! No matter what you select for your main meal, be sure to start with a bowl of artichoke soup and finish with a slice of olallieberry pie. (If you haven't tried an olallieberry before, it's a little like a blackberry.)
Next, work off some of those delicious calories by heading inland for a little forest bathing under a canopy of old-growth redwoods at Butano State Park. With 40 miles of trails, you can enjoy everything from a guided nature walk to a 1.5-mile hike on the Little Butano Creek Trail to a 5-mile trek on the Jackson Flats Loop. Be certain to take along a good pair of hiking boots, like these Regatta walking boots so you'll be comfortable.
Pro Tip: To cure a craving for Duarte's artichoke soup after you've returned home, try whipping up a batch yourself with this recipe.
4. Livermore
While Napa is popular with wine lovers (and a recommendation you may find on other San Jose day trips lists), you won't see it on mine. Not only is it pushing my two-hour limit from San Jose (especially with traffic), but once you're in Napa, you will want to slow down, enjoy the amazing scenery, taste the world-class wine, and savor the delicious food without having to get back in the car for the long return trip to San Jose.
But fear not, fellow wine lovers. I have an alternative recommendation!
Home to more than 45 amazing wineries, Livermore is just 45 minutes north of San Jose, so you can be chilling with a chardonnay or sipping a syrah in Livermore well before you'd even arrive in Napa. And the award-winning wines produced in the Livermore Valley are fantastic. 
Travelers can typically visit about four wineries during a day of wine tasting. If you only have one day to spend in Livermore wine country, I recommend visiting McGrail Vineyards and Murrieta's Well, where the delicious wines are accompanied by breathtaking views; Wood Family Vineyards, where the wines are produced by one of the few female vintners in the region; and Mitchell Katz, where the tawny port is better than any dessert you'll ever eat.
Pro Tip: Before you head to wine country, be sure to brush up on your wine tasting etiquette!
Sustain yourself with a midday bite at the Garre Cafe, where the menu is packed with delicious options from small bites to salads and sandwiches to full entrées. And fuel up with dinner at  Uncle Yu's at the Vineyard or the First Street Ale House before heading back to San Jose.
5. San Francisco 
With its world-famous Golden Gate Bridge and clanging cable cars, it's easy to see why San Francisco draws millions of visitors a year. Just an hour north of San Jose (when the traffic gods are smiling on you), there is so much to see and do in San Francisco that it's impossible to tackle it in one day. However, The Golden City is a fantastic day trip from San Jose for folks who have visited before and want to cross a few specific activities off of their travel bucket list. 
From visiting Alcatraz to riding the cable cars and from free activities to hidden gems, you're sure to discover day trip activities that pique your interest with these amazing articles published at TravelAwaits. And whether you pick a place in San Francisco's Chinatown or grab a sourdough bread bowl of chowder on Fisherman's Wharf, be sure to savor the local flavors before calling it a day in the City by the Bay.
6. Berkeley
Another urban day trip from San Jose is the college town of Berkeley, about 90 minutes north of San Jose. I recommend starting your day by touring the Cal campus, strolling through the school's botanical garden, and enjoying the panoramic views from the Campanile (officially named Sather Tower). 
Then head down to the marina where you can see the Golden Gate Bridge and the San Francisco skyline in a whole new light from across the bay on a clear day. Drink in the views while dining on delicious seafood at Skates on the Bay or strolling along the waterfront trails.
Or head to Fourth Street where you can enjoy perhaps the best pancakes on the planet at Bette's Oceanview Diner. Whether you order a short stack of buttermilk pancakes or an apple brandy souffle pancake, your taste buds will tell you to purchase a copy of The Pancake Handbook before you leave.
In the surrounding Fourth Street shopping district, you'll find everything from fashion and beauty products to home goods and specialty stores. One unique experience that may not be available where you live is the Amazon 4-star store, a retail space with a selection of highly rated items (you know, like at least four stars at Amazon.com) that you can explore to discover products you'll love.
Pro Tip: Here are several other fun things to do in eclectic Berkeley, California.
From quaint coastal towns to wine country and bustling urban areas, these are some of the best day trips from San Jose, California.