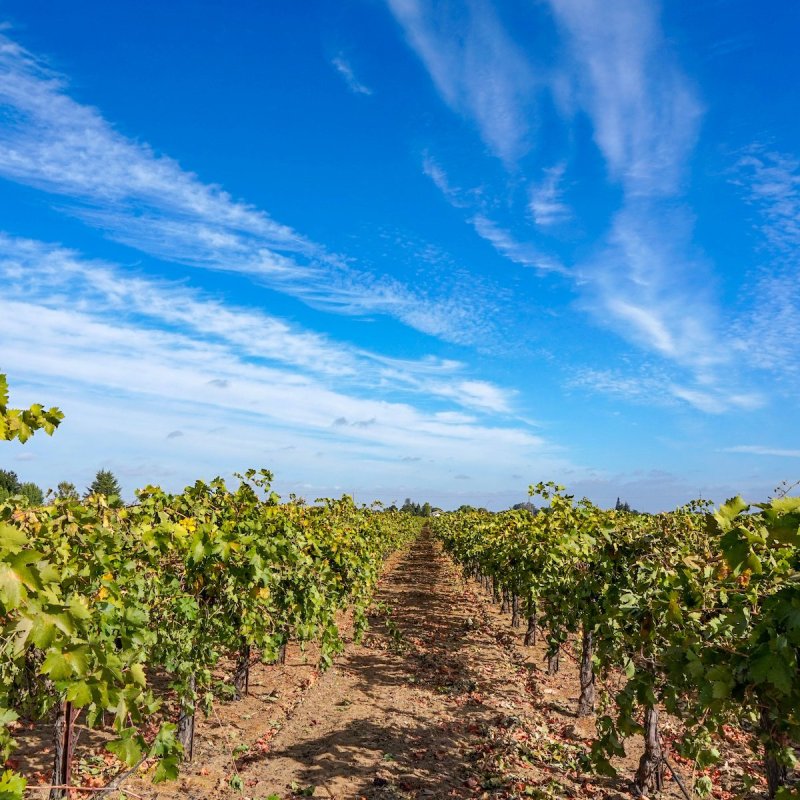 California has so much to offer the rest of the country, but possibly one of its greatest offerings is wine. Both the quality and variety of wines grown in this state are recognized around the world. And while Napa and Sonoma are what immediately come to mind when discussing California wines, there are a plethora of wine regions to explore. In the Golden State, there are over 100 American Viticultural Areas (AVA) — federally recognized grape-growing regions with specific geographic or climatic features that distinguish them from the surrounding regions.
Recently I had the opportunity to explore three lesser-known wine regions in California: Lodi, Petaluma Gap, and Suisun Valley. I was impressed with both the quality of wine as well as the hospitality of local wineries. If you appreciate fine wine but want to experience it without crowds or pretension, I definitely recommend all three.
This trip was hosted by Oak Farm Vineyards, Trombetta Family Wines, and Tolenas Winery, but all opinions are my own.
Lodi
Located in the Central Valley of California, Lodi is actually one large AVA subdivided into seven smaller ones producing a wide range of wine. Among the best-known wines here are old vine Zinfandel, Merlot, Chardonnay, Cabernet Sauvignon, and Sauvignon Blanc. With 80 wineries and 50 tasting rooms, you'll need months to fully explore all that this region has to offer.
Before our visit, I had known nothing about Lodi, either the town or the AVA. After a few days, I fell in love with the area and will definitely be back. As we drove around, we admired the surrounding fields filled with vines and blooming trees, occasionally interrupted by giant oak trees. Before the area became a mainstay of California agriculture, it was an oak woodland, and many of these massive trees remain today.
We began our visit at the Oak Farm Vineyards. This land was originally purchased and cultivated by the DeVries Family in the late 1800s. As a lover of trees, William DeVries never allowed the oak trees on the property to be cut down, and as a result, many remain today, providing a dramatic backdrop and a wonderful source of shade. The Panella family purchased the land in 2004 and began planting vines. Today they produce award-winning wines that can be sampled at their beautifully appointed, open-air tasting room.
Our afternoon started with a tour of the property accompanied by a glass of their excellent Estate Chardonnay. Our informative guide, Ted, walked us around the vineyards and showed us the original DeVries home and outbuildings. We peeked inside the large barn and patio that now serves as a wedding popular wedding and event venue. Then we proceeded to the refrigerated fermentation tanks, where we sampled a Rose straight from a large metal tank.
Next, we had a chance to taste several more Oak Farm wines including Vapor Trail Merlot, Genevieve Meritage Red Blend, and Cabernet Sauvignon. We were joined by owners Heather and Dan Panella, who shared their family story. The couple met when Heather's landscaping business bid on the contract to provide decorative landscape around the newly constructed tasting room. Both hail from families with agricultural roots, so they were well prepared to jointly manage the 70 acres of vines and all the business operations.
Today Oak Farm Vineyards produces 26 different wines, many of which can be purchased in local grocery stores. When you visit the vineyard, head inside to grab a glass of wine, take a seat at one of the outdoor tables, and just enjoy the view. Or reserve one of their private, seated tastings. It's important to note that all visitors must be at least 21 years old.
If you're short on time, or if driving from winery to winery isn't appealing, head to downtown Lodi and visit some of the tasting rooms instead. Weibel Family Winery, Jeremy Wine Co., and McCay Cellars are just three options for experiencing wine from the Lodi region, all within walking distance. And be sure to save time to explore the charming shops and restaurants of Lodi.
Petaluma Gap
Among the newest AVA's in California is Petaluma Gap, carved out from the massive Sonoma Coast appellation. This small region is defined by the 15-mile-wide opening in the coastal mountain range that brings cold air from the Pacific Ocean and pulls it east over land to the San Pablo Bay. Here you'll find mostly Pinot Noirs along with some Chardonnay and Syrah.
It was no small feat to get this new appellation approved, but Rickey Trombetta Stancliff, CEO of Trombetta Family Wines, is a determined woman who wouldn't accept defeat. With approval in 2017, the family's wines could proudly include the new AVA on their 2018 labels.
Our visit to Petaluma Gap focused on Trombetta Family Wines where the tasting room is in the family's lovely backyard. We were greeted by owners Rickey and Roger and their daughter and winemaker, Erica. Their son, Michael, has also recently joined the business, guaranteeing that the next generation of Stancliffs will carry on the family tradition.
A large platter of small bites awaited us, and we soon learned that each bite would perfectly pair with a wine. Several of the items were made by Rickey and included items from her garden. We had the opportunity to taste three Chardonnays and two Pinot Noirs, all of which were excellent. Rickey and Roger shared that their goal is for the wine to taste like its site of origin, and in Petaluma Gap, that results in rich minerality and deep fruit characteristics.
Even more enjoyable than the delicious wines was learning the story of this family. Thanks to a close family friend, they began learning about wines many years ago and discovered it was their passion. First, Roger and Rickey took wine-making classes at the local community college. Then Erica decided to major in enology at California State University at Fresno. Today they commercially produce 13 different small-lot wines that are sold online as well as at area restaurants and bottle shops.
As a new and relatively small AVA, there are just a few wineries in Petaluma Gap. To experience a variety of wines from the area, head to Petaluma, where you'll find the Adobe Road Winery Tasting Room, Black Knight Vineyards Tasting Room, and Barber Cellars Tasting Room. While you're there, explore the charming streets of downtown Petaluma lined with cafes, restaurants, and boutique shops.
Suisun Valley
The Suisun Valley may not be a household name, but it was among the first AVA's in California and has been producing grapes since the 1800s. Suisun (pronounced sue soon) is the Native American word for West Wind, and it's these cool winds that create an ideal growing condition for grapes. There are more than 23 varieties grown in Suisun Valley, but it's best known for Petite Sirah, Merlot, and Cabernet Sauvignon.
We were introduced to the Suisun Valley by Lisa and Cliff Howard, owners of Tolenas Winery, at their recently opened tasting room. Unlike many tasting rooms specifically built for that purpose, Tolenas uses the home built by Lisa's father and grandfather. This lovely, two-story clapboard home with a front and back porch makes for a peaceful and relaxing site to sip wine, munch on charcuterie, and enjoy views of vineyards and olive trees. If you're able to visit, feel free to spend the afternoon at one of the tables on the lawn and bring your own picnic — just be sure to make advanced reservations.
Lisa makes the wine and Cliff manages operations. They share the winery with TenBrink, Lisa's parents, and fellow winemakers. In 2020, Lisa was awarded the Gold Medal from the 2020 Women's International Wine Competition.
We settled into rocking chairs on the front porch and began our leisurely wine tasting. There was no rushing to refill our glasses. Instead, each taste included conversation with Lisa, Cliff, or members of their friendly staff. Over time we learned about each wine, where the grapes are grown, and their family history. Tastings included Sauvignon Blanc, Rose, Zinfandel, a Red Blend, and White Pinot Noir. It was this last wine that intrigued me. While I enjoy Pinot Noir, I typically drink white wine, so I was curious about this unique and delicious creation. Cliff explained how Pinot Noir grapes are made into a white wine that tasted, to me, like a cross between Sauvignon Blanc and Chardonnay. One of the many reasons I enjoy wine tastings is to be introduced to something new.
There are just seven wineries in Suisun Valley. Some have tasting rooms open to the public, while others are available only by appointment. To experience several of the wineries in the area, head to the Suisun Valley Wine Co-op.
Despite having lived in California for over 30 years, I'm still amazed at how much I have not seen of this state. So I always enjoy the opportunity to explore new regions, and when those regions are known for their wine, that's even better. This was only my first visit to Lodi, Petaluma Gap, and Suisun Valley, but it won't be my last. I'll definitely be back, and in the meantime, I will enjoy all the great wines I brought home!
Related Reading: