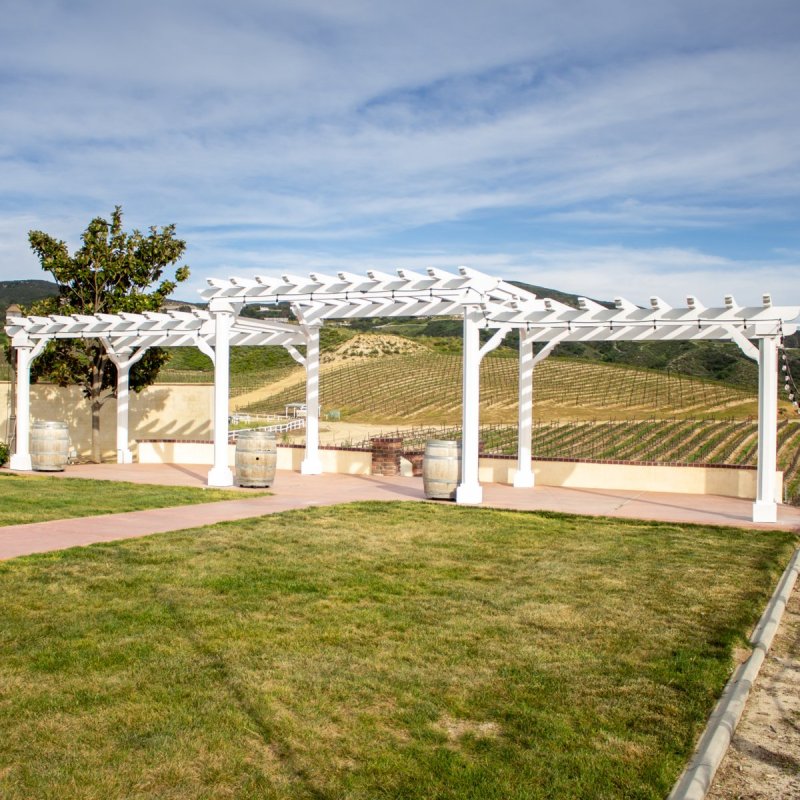 In 2019, Wine Enthusiast named Temecula one of 10 best wine travel destinations in the United States. And with 40 wineries to choose from, it's no wonder this has long been a popular spot for oenophiles. Some of the wineries are small and intimate, offering visitors the chance to chat with the owner and winemakers. Then there are larger destinations that feature upscale restaurants, gift shops, and even luxury accommodations.
Located 2 hours southeast of Los Angeles and an hour north of San Diego, Temecula is easily accessible for everyone in Southern California. You can plan a day trip to enjoy the delicious wine and peaceful scenery or make it a weekend getaway to explore the area in depth. Either way, you'll go home relaxed and with a few bottles of wine for later.
Here are our favorite wineries in Temecula.
1. Wilson Creek Winery
Wilson Creek Winery has long been known for their almond sparkling wine — a favorite beverage for toasting at local weddings — but they have so much more to offer visitors. Start in the tasting room and sample six of their wines. Or to learn about the operations here, schedule an hour-long tour that includes five tastings. If you're visiting on a weekend, head to the Courtyard Bar & Grille for lunch or a snack. The Creekside Grille is open throughout the week and offers a more extensive menu.
The lovely setting of Wilson Creek makes it the perfect place for special events. Take advantage of the scenic grounds and enjoy a glass of wine or picnic at one of the provided tables. And if you're in Temecula for more than a day, consider booking a stay at the intimate Wilson Creek Manor Wine Country Retreat. Each room is named for a wine varietal.
2. Vindemia Winery
For a more intimate and off-the-beaten-path experience, head to the outdoor tasting room at Vindemia Winery. While the wine is highly rated, regulars also appreciate the great views of the surrounding vineyards. Among their most popular varietals are zinfandel, syrah, and viognier.
The owners of Vindemia also run California Dreamin' Balloon Adventures, which offers guests the opportunity to get a bird's-eye view of the valley, enjoy a delicious breakfast with mimosas, and even sample some Vindemia wines.
3. Miramonte Winery
Set on top of a hill, Miramonte Winery combines great views with terrific wine. They've chosen to focus on varietals traditionally found in Spain and Portugal, including tempranillo, Touriga Nacional, albarino, and verdelho — all of which grow well in the Temecula climate.
Head to the tasting room to sample several of the red and white wines available, or reserve the VIP Winemaker's Tour, which combines food and wine pairings with a tour of the vineyard. If you get hungry, you can sit down for lunch or an early dinner at Flower Hill Bistro, whose burgers are popular with locals. And don't worry if your canine friend is along for the ride — Miramonte is dog friendly.
4. Callaway Vineyard & Winery
Many people describe the view from Callaway Vineyard & Winery as the best in Temecula. So grab a glass of wine and relax at one of their outdoor tables. If you're able to be here around sunset, that's even better! Or head into their tasting room to sample six of Callaway's wines. The varietals grown in their vineyard include viognier, syrah, dolcetto, zinfandel, sangiovese, grenache, roussanne, petite syrah, and cabernet sauvignon.
To learn more about Callaway's operations, schedule an hour-long tour. And when you're ready to eat, head to Meritage, a restaurant that features local ingredients, including some grown on the property. Live music is offered on the weekends.
5. Baily Winery
In 1982, Carol and Phil Baily planted their first acre of grapes and began a 38-year journey of winemaking. Today, Baily Winery boasts 25 acres of grapes, two tasting rooms, and two restaurants. All of their wines are made from grapes grown on their own estate and include Bordeaux varieties like cabernet sauvignon, merlot, and cabernet Franc.
Two tasting options are available: Current releases can be sampled at the visitor center, while older wines can be sampled by reservation at the production facility. Visitors describe the tasting rooms as having an old-world vibe. If you're there around lunchtime, you can enjoy a delicious meal at Carol's Restaurant, which is well known for its Reuben sandwich.
6. Robert Renzoni Vineyards
The Renzoni family began making wine in Italy in 1886. Since then, several generations of the family have made and sold wine in both Europe and the U.S. In 2006, they began growing grapes in Temecula, and, 14 years later, the business has grown and thrived.
Today, Robert Renzoni Vineyards offers three tasting experiences: Salute, Classico, and Grandioso. The first features tastings of newer releases, the second offers aged wines, and the third is a food and wine pairing experience.
Feel free to pack a lunch and enjoy it on the picnic grounds. Or head to Mama Rosa's Trattoria for Italian-American comfort food. Hot-air balloon rides can also be arranged and include champagne and a continental breakfast.
7. Leoness Cellars
Mike Rennie and Gary Winder have been farming in Southern California for decades, but in the early '90s they came together to focus their efforts on grapes. In 2002, they founded Leoness Cellars. Today, they manage 500 acres of vineyards and consistently produce award-winning wines.
Visitors to Leoness have several options for sampling. Head to the tasting room to try a variety of reds and whites. To learn even more, schedule one of their five experiences, like the wine and tapas pairing or wine and artisan cheese pairing.
The Restaurant at Leoness Cellars has been voted the number-one winery restaurant in the Inland Empire for four consecutive years. It's also a popular spot for locals celebrating special occasions. So if you're looking for the perfect meal while visiting Temecula, this is the place.
8. Doffo Wines
Marcelo Doffo began making wine in 1997 after visiting his ancestral home of Italy. Shortly after, he bought a ranch in Temecula and began planting grapes. Eventually his three children became involved in the business, which today is known as Doffo Wines.
Like at many wineries in the area, guests can taste current releases or aged wines. For something unique, be sure to try the dessert wine offerings. Visitors are welcome to bring picnics to enjoy on the Doffo grounds, but food is also available for purchase. To learn more about the winery, grab a map in the tasting room and take a self-guided walking tour.
9. South Coast Winery
If you're looking for a one-stop destination in Temecula, then you'll be very pleased with South Coast Winery. Here you can taste a wide variety of wines, sit down for a gourmet meal, book a treatment at the spa, and then check in to your luxury room or villa.
Since its inception in 2003, South Coast Winery has won more than 3,000 awards. Everyone in your group will find something to love among the 45 different wines produced here, and many are available for tasting. The large tasting room is always bustling, so plan to arrive early.
Guests are welcome to take a self-guided walking tour of the vineyard or rent a bicycle and peddle around the property. If you're planning a weekend in Temecula, definitely consider booking a stay at this resort with lovely views of landscaped grounds and vineyards.
What To Know Before You Go
Weekends can be very busy in Temecula, so consider visiting on a weekday instead. Just be sure to check the hours and availability of any wineries that interest you first.
If you're planning to visit multiple wineries in one day, be sure to identify a designated driver for everyone's safety. To avoid driving at all, book a wine tasting tour for the day. Grapeline Wine Tours and Destination Temecula offer a variety of tours that may include wine tastings and picnic lunches. If you prefer to go off-road while wine tasting, try booking a tour with Sunrider Jeep Tours. If you're coming to Temecula with a group or celebrating a special occasion, book private transportation through a local limo company like Temecula Limo Wine Tasting.
If time allows, head to Old Town Temecula to explore its Western-era buildings, antique shops, and family-owned restaurants.