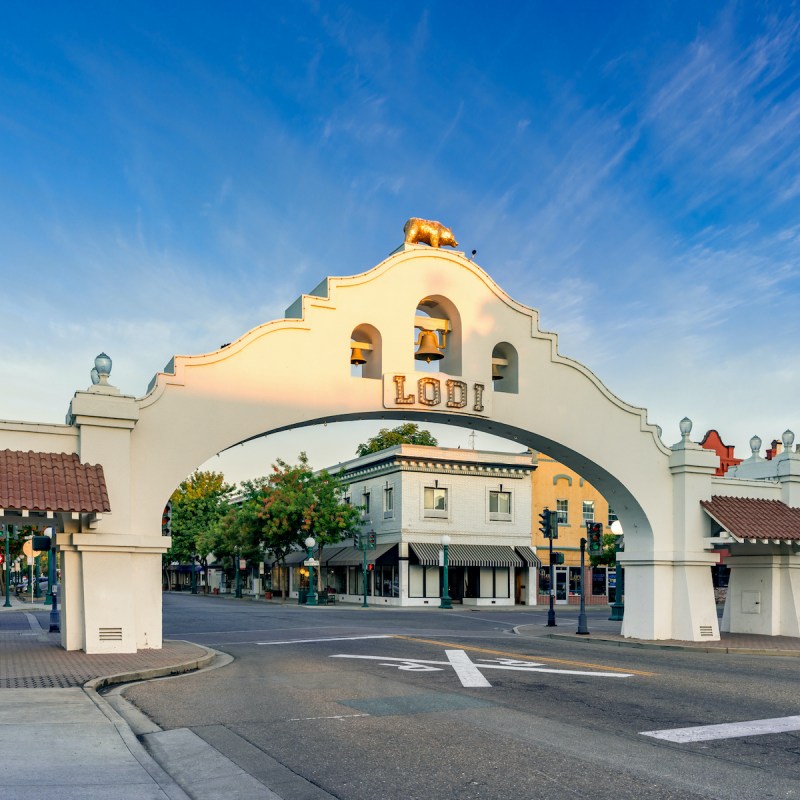 For generations, Lodi was an unsung but premium supplier of grapes to winemakers around the country. In 1986, Lodi was recognized as an American Viticultural Area. Long-time growers began producing and promoting their own small-batch wines, and newer vintners joined them.
Today, Lodi boasts 85 boutique wineries and 70 tasting rooms as well as a faithful following of oenophiles. In 2015, Wine Enthusiast Magazine named Lodi its Wine Region of the Year.
Located in the center of California's fertile Central Valley, Lodi is 100 miles east of San Francisco and 35 miles south of Sacramento. The nearest major airport is Sacramento International Airport.
Wine is central to Lodi's everyday culture, but the city is also notable for art, history, cuisine, and outdoor recreation. Here are eight fantastic experiences to put on your Lodi itinerary.
1. Wine & Roses Bed And Breakfast
You'll find a wide array of cozy bed and breakfasts, modern chain hotels, vacation homes, and other overnight accommodations in Lodi. We recommend the centrally located Wine & Roses, a 1902 country farmhouse transformed into a polished signature resort. The tranquil setting is stunning, with lush gardens, ornamental fountains, and resident exotic birds. Tucked amid the flora and fauna are 69 luxe guestrooms and suites — no two alike — and all with picturesque views. My king room was decorated with a modern rustic vibe and opened via louvered doors to a semi-private natural area. Other guestrooms are appointed with historic or zen flourishes.
The resort's Towne House Restaurant is led by culinary director and chef Bradley Ogden, a James Beard Award winner celebrated for New American cuisine. Dine indoors or outdoors on the tree-canopied patio. Then head to the Towne House Lounge for live entertainment.
Also on the premises are a top-ranked spa and salon, boutique, fitness center, and swimming pool. Next door is the Lodi Wine and Visitor Center.
2. Wine Tasting And Tripping
The self-proclaimed Zinfandel Capital of the World, Lodi produces over 40 percent of the Golden State's premium Zinfandel. However, Lodi's 750 growers harvest more than 100 different types of grapes. Among them are old-vine zinfandel, cabernet sauvignon, merlot, and chardonnay plus Spanish, German, Italian, and Rhone varietals. Many growers proudly adhere to a litany of sustainable practices known as the Lodi Rules. Tasting rooms vary greatly in size, ambiance, and amenities. Some are designed like luxurious European villas, while others are awash in industrial chic.
Pro Tip: Reservations are recommended. Tasting fees usually apply, often refundable upon purchase.
Michael David Winery
To help you narrow the field: The most scenic excursions are in the countryside, where tasting rooms and vineyards freely mingle. One of my favorites was Michael David Winery, named after two brothers whose family has farmed the area since the 1850s. Their vineyards are certified sustainable, and their labels are silly: Freakshow and 7 Deadly Zins, to name two. Also on site are a cafe, bakery, and produce stand.
Lucas Winery
I adored the Estate Chardonnay at Lucas Winery, where organically farmed grapes are hand-harvested by Robert Mondavi ex-pats.
Downtown Wineries
For a more compact experience, a dozen or so tasting rooms are clustered in walkable downtown Lodi. The Dancing Fox is a winery, brewery, and casual eatery featuring brick oven pizza. The Jeremy Wine Co. tasting room is tucked into a restored former bank building. Belly up to the antique mid-1800s saloon bar or retreat to the hidden garden patio in back. Riaza Wines' tasting room and winery share the same building. Watch wine being made while you taste.
Lodi Wine and Visitor Center
If you're short on time, the Lodi Wine and Visitor Center, on Turner Road next door to Wine & Roses, is an excellent introduction to the Lodi appellation. Hundreds of wines made from Lodi-grown grapes are offered for sale, and a rotating selection is on the tasting menu. The demonstration vineyard behind the building is planted with different grape varietals.
3. Hip, Historic Downtown
Lodi's downtown bursts with energy and showcases its legacy. Brick sidewalks and vintage street lamps line blocks of upscale fashion boutiques, gift and home decor emporia, tasting rooms, gourmet food shops, and an eclectic choice of eateries.
Downtown Eats
Sample gourmet cheese from around the world at Cheese Central.
Indulge in a scoop of Gunther's Ice Cream, a regional favorite since 1940, while perusing collections of fine art at the Double Dip Gallery.
Downtown Murals
As you are strolling, look upward, and you'll notice a series of nine old-timey outdoor murals. They were created by Walldogs, an organization of artists who specialize in hand-painted signs and letters. The murals depict scenes reminiscent of the city's past, such as early entrepreneurs and produce growers. One mural characterizes a sign painter taking a lunch break against an unfinished billboard for Wheaties cereal.
Lodi Arch
At the intersection of Pine and Sacramento streets, the Instagrammable, Mission-style Lodi Arch spans the roadway. It was built in 1907 for the first grape festival in the newly incorporated city. The golden bear figure, a California icon, at the apex of the curve faces north to California's capital city of Sacramento.
4. Lodi Lake
The Mokelumne River flowing through the city is dammed to form Lodi Lake, resulting in an abundance of habitats for flora and fauna as well as recreation for, well, everyone. On foot, you can hike the designated nature areas. On water, you can paddleboard, canoe, kayak, or innertube from the shore. The public beach is open from Memorial Day through Labor Day. Top off the day with a boat tour down the calm, winding river.
5. San Joaquin County Historical Museum
A sprawling campus in a park-like setting, the San Joaquin County Historical Museum preserves and presents the region's rich agrarian heritage. Twelve modern and historic buildings, including a one-room schoolhouse built in 1866, display handicrafts by First Peoples, a covered wagon that traveled to California, household furnishings from the first settlers, and agricultural innovations.
The exhibits and artifacts range from rustic to exquisite. Among the many farm implements are primitive hand tools, horse-drawn carts, and early motorized vehicles such as a 1919 Caterpillar tractor. A Victorian-era living room is appointed with ornately carved furniture and a mannequin dressed in a frilly black lace gown.
Wander the grounds to the gold prospectors' campsite and a covered bridge perfect for photo ops. Smooth pathways beckon you around the duck pond and through a garden of native plants and trees.
6. A&W Root Beer
When was the last time you savored a frosty root beer float topped with creamy suds? Indulge in a taste of nostalgia at the A&W Restaurant.
Lodi is the birthplace of the sweet herbaceous beverage, first introduced in 1919 at a roadside stand by California entrepreneur Roy Allen. He and a short-term partner, Frank Wright, combined their names into "A&W." Allen left Lodi to open new locations and sell restaurant franchises, three decades before McDonald's did it in 1955. The original roadside stand was shuttered.
Lodi's A&W Restaurant, opened in 1953, boasts the largest collection of A&W memorabilia ever. Among the treasures on display are logo mugs and jugs, signs, placemats, employee uniforms, and photographs. There are also figurines and plush toys of all sizes depicting Rooty the Great Root Bear, the corporate mascot appearing quite dapper in his orange turtleneck sweater and beret.
About a half mile northwest at 13 W. Pine Street is a bronze sidewalk plaque designating the spot where the first mug of A&W root beer was served.
7. Micke Grove Japanese Garden
Ease into zen mode in the serene Micke Grove Japanese Garden. Amid the lush golden bamboo, ginkgo, and flowering cherry trees are a tea house pavilion with a turned-up roof and 11 stone lanterns. A quiet pond, inhabited by beefy white and coral koi fish, is spanned by two bridges. One is a traditional red, arched Japanese bridge. The other zigzags to thwart evil spirits, which can only travel in straight lines.
Fun Fact: Koi can grow to 3 feet in length and live to 200 years in age.
The 3-acre garden was created in the early 1960s largely by the local Japanese community to show solidarity with the people of San Joaquin County. It is part of the larger Micke Grove Regional Park, which includes a picturesque lake, a small-animal zoo, and an 18-hole disc golf course.
8. Top Bike Routes
With its flat, endless country roads and scenic byways, Lodi is popular with cyclists of all levels. Elite racers compete in prestigious events like the 8-day Amgen Tour of California, while leisurely riders pedal through the orchards and nature preserves.
Find nine top bike routes with optional detours on the Visit Lodi! website. Directions are downloadable to your smartphone. A favorite route among nature lovers meanders through the Cosumnes River Preserve, a terrific bird-watching area. Wine lovers are sure to raise a toast to the appropriately named Three Wineries and a Cafe route. Need a bike? Rent or buy at Lodi Cyclery.
Pro Tips
Enjoy the goodness of Lodi grapes without the distraction of driving. Sip Shuttle wine tours include transportation, four wine tastings, and a picnic lunch. You may request preferred wineries in advance or leave the choices up to the host. Destination Drivers provides a designated driver in your own vehicle to take you wherever you wish. Sip back and love Lodi!
Related Reading: