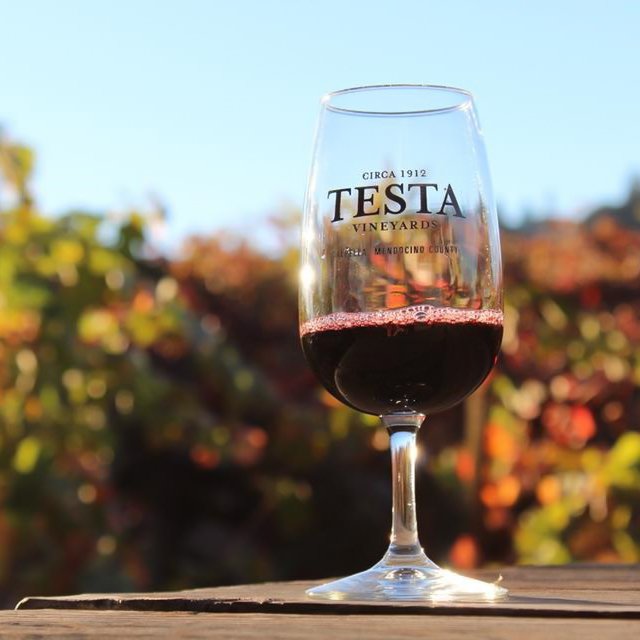 Ever since my first wine tasting, which was part of my training to work at a new restaurant, I have loved wine. I love the nuances of a good glass of wine and have a respect for the craft that goes into making it.
One of my favorite movies is A Walk in the Clouds, about a wine-making family in California. In a bit of serendipity, I married into a wine-making family, which was a pleasant surprise since I met my husband when we were both stationed in South Korea. His cousin Maria Martinson is the owner of Testa Vineyards in northern California. I reaped the benefits immediately when the family provided wine for our rehearsal dinner.
I often write about wine and winemakers. My writing on the topic has improved from knowing Maria and learning about the whole process of making wine. I'd like to share some of the things I have learned.
1. Family Really Is Everything
A lot goes into making a fine bottle of wine: terroir, varietals, climate, and so much more. One aspect that is not talked about enough is family legacy. For over 100 years, the land's secrets have been handed down from father to son (or daughter, in Maria's case). Generations have cared for these vineyards and nurtured them with TLC each year. When harvest time comes, three generations experience that time-honored tradition. Maria and her husband and their four children work to ensure the grapes are picked at the peak moment with "help" from the sixth generation, who are now toddling around.
2. Get Out Of The Chardonnay Or Merlot Rut And Try A Different Varietal
It is easy to get into the habit of just drinking your favorite wine but branch out a bit. I was guilty of this myself until I started writing about wine and visiting family vineyards. Maria grows Charbono, and at the time I tried it, only 75 acres were grown in California. Wow! What a great grape. Something I would never have tried without visiting the Testa Vineyards. I also found Carignane a good wine, although I'm sure I still don't pronounce it right. There are so many great varietals out there to try. When visiting a wine region, research what the AVA (American Viticultural Area) is known for. There are specific differences in terroir and climate that affect how a grape tastes from one AVA to another.
3. The Old, Natural Ways Are Best
Testa wines are what they term "clean crafted" natural wine. It is made in its pure form with no additives, and then it's fermented with native yeast and filtered. All the grapes are farmed using no chemicals, with Maria's husband and two boys enforcing this ecological approach. They are also dry-farmed, which is possible because old vines have deep roots.
Production of the wine follows the traditions of Gaetano and Maria Testa, who established the vineyards in 1912. The family worked side by side, and that continues today. The grapes are hand-picked and crushed one tub at a time. Wines are stored in the original wine cellar.
Each year the family produces Simply Black, a red blend, and Simply White, a white blend. In the old days, grapes were referred to as either black or white. The Simply line carries on that family tradition of pure, handcrafted wine.
Marie has Italian wine-making genes from both sides of her family.
"I think my belief and trust in the wines comes more naturally to me. Fine wine takes time and patience. You have to know and trust in the wine and not do too much to it but guide it to its path," she said.
4. A Wine Region Is Only As Good As The Community Who Creates That Wine
When Maria began making her first wines, she received a lot of support and encouragement from long-established winemakers. As I travel around the Pacific Northwest wine regions, I have seen how winemakers help and encourage the new guys.
One winemaker told me that if someone comes to our region and tastes a bad wine, it reflects on us. Maria and Testa Vineyards are part of the Consortium Mendocino and produce a bottle with the Coro Mendocino label each year. Coro means chorus and is the first wine of its kind in the United States to set strict blending and aging parameters to produce a wine distinctive to Mendocino Country. The wine blend is based on 40-70% zinfandel and is completed with other varietals. There is a detailed protocol, including barrel aging for a year and bottle aging for a year. Each wine goes through a series of blind tastings before it is certified to carry the Coro Mendocino label. If you are interested in visiting the area to taste wine, visiting vineyards that produce a Coro is a good way to taste a wine that celebrates the area's heritage.
I feel a good red blend is where a winemaker's talents really shine. It is a craft. I love visiting when Maria is working on new blends, and I enjoy getting to taste the differences based on the percentage of varietals.
5. Wine Doesn't Need To Be Pretentious
One thing I've learned about wine when visiting my husband's family is that wine doesn't need to be pretentious. Wine should be about good food and family. It's fun and lighthearted. Wine plays a part at exciting celebrations like weddings but also at difficult times like big family funerals.
"Tastings should be fun and informative," Maria said. "Everyone tastes different things, and it's fun to share [what you think of the wine]."
Don't be intimidated by a tasting room — especially when visiting a small winery where you can often find the winemaker pouring the wine. It is an opportunity to taste a variety of wines and learn what you like. Make sure to ask plenty of questions. If you like a wine, discover what makes it taste that way so you can find other wines you like. I learn something new every time I go to a new winery.
6. Join A Wine Club And Buy Your Wine Direct From A Winery
When you buy from a winery, you know exactly where your wine has been from grape to table. You can see the grapes growing and learn about production standards. Most importantly, the wine is stored properly. When you purchase wine in a store, you have no idea where it has been. Could it have sat on a landing dock in the hot sun, et cetera?
Joining a wine club at your favorite winery gives you many perks, and it helps support a family farm. I prefer to shop small and local. If you don't live in a wine region, many can ship wine directly to you, depending on which state you live in. Each wine club is different, but perks can include free tastings, first access to limited edition wines, and invitations to special events.
My wine knowledge has been enhanced by knowing Maria and experiencing the Testa Vineyards. Many of the things I've learned are not exclusive to family. Wine is not restricted to just California. There are wine regions all over the United States. Check out a region near you and find your own family vineyard to support. The research is fun because, of course, you will have to experience a few before you find your favorite.
Related articles: