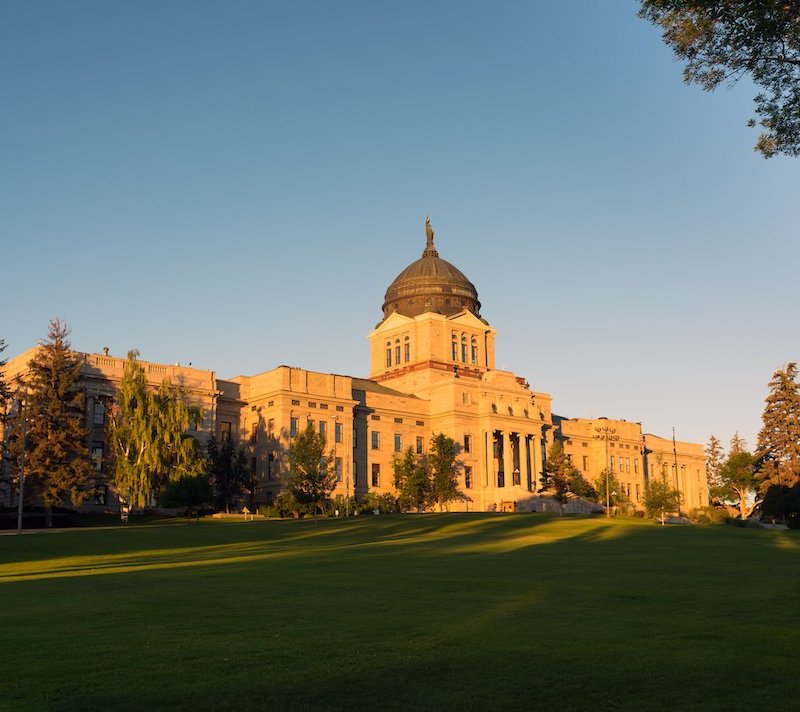 Montana's capital, Helena (pronounced HELL-in-a), is set among the Rocky Mountains along Interstate 15, roughly midway between Glacier and Yellowstone National Parks. It started with a gold rush in 1864 and became known as the Queen City of the Rockies because of its grand architecture. In its early days, Helena had 50 millionaires. Some of their Victorian mansions still stand. Helena's cathedral, art and history museums, and capitol also speak to the city's rich history. Hiking, boating, and soaking in hot springs round out an amazing day in Helena. Here are 16 incredible things to do in historic Helena, Montana:
1. Get An Overview
The Last Chance Tour Train hits Helena's highlights on an hour-long, narrated tour, giving a background on places you'll visit in the Queen City. Board at the Montana Historical Museum.
Pro Tips: Reservations are recommended. The larger train is wheelchair accessible. If possible, arrive 30 minutes early to board.
2. Visit Reeder's Alley
Listed on the National Register of Historic Places, Reeder's Alley offers a glimpse of early mining town life. Reeder's Alley is named for a brick mason and builder, Louis Reeder. He built brick row houses in the 1870s for single miners who literally started mining as they stepped out of their front doors. The original log cabins you see near the entrance date back to the 1860s. About a third of the original buildings at Reeder's Alley remain. A 6.2 magnitude earthquake centered in Helena in 1935 demolished the others. Placards point out the history of important landmarks.
As you travel from Reeder's Alley to Last Chance Gulch, check out the fire tower overlooking the downtown area. Several fires devastated Last Chance Gulch in the early mining days, so townspeople built and manned the lookout tower in 1876. It reportedly is one of only five such towers remaining in the U.S. It very well could have been destroyed by fire in the 1930s when, as a boy, my uncle and his friends accidentally started a fire nearby.
Pro Tips: The Visit Helena office located in Reeder's Alley is a great resource for digging deeper into the area's attractions, restaurants, hotels, and shopping. Reeder's Alley is ADA compliant, but the pioneer cabin that's open for tours is not.
3. See Where It All Began
Called Last Chance Gulch, miners struck gold here in 1864. Down on their luck and running dangerously low on supplies, four miners gave the gulch one more try. Within four years, miners pulled 19 million dollars of gold out of the ground here.
A walking tour of the gulch, beginning at Reeder's Alley, passes historic buildings that arose from the city's wealth. Part of the gulch is now a pedestrian mall. Shops, restaurants, and outdoor art make for an enjoyable stroll. Along with the Montana Women's Mural and statues of a newsboy and bullwhacker, murals on the arches adjacent to the Windbag Saloon and Grill pay tribute to the Chinese emigrants who once accounted for 20 percent of Helena's population, and Big Dorothy, a long time madame whose brothel is now the saloon.
Pro Tip: Allow two hours for the walking tour.
4. Have A Sundae
The Parrot Confectionery is also on the Last Chance Gulch pedestrian mall. Started in 1922, the current owners (the business's fourth) make most of their hand-dipped chocolates with homemade centers using the original owner's recipes. Candies are preservative- and artificial sweetener-free.
They serve homemade ice cream at the original soda fountain. My go-to is a sundae, complete with a miniature pitcher of homemade hot fudge served on the side. If you really feel the need to eat lunch first, they have that, too.
Pro Tip: The Parrot is ADA accessible.
5. View Contemporary Art
Holter Museum of Art focuses on contemporary art in its permanent and temporary exhibits, displaying art from local, regional, and international artists. They bring in about 20 temporary exhibits each year, so even if you've visited the museum in the past, it is worth visiting again. Currently, they're hosting an international quilt exhibit. Permanent collections range from photography to woodblock prints to abstract oil paintings.
Pro Tips: Allow one to two hours for your visit. It is ADA compliant.
6. Tour The Old Governor's Mansion
While the 1888 Queen Anne mansion began as a private residence, the state of Montana bought the home and housed nine governors here from 1913 to 1959, beginning with Governor Sam V. Stewart. The plaque outside the three-story mansion quotes his executive secretary, "It is a home of democracy … an American home — a plain American home, if you please — like thousands upon thousands of homes in this country." The uncommon-for-the-1880s indoor bathrooms, early addition of electricity, fireplaces with hand carved mantels and custom tilework, and grand staircase make me doubt it was ever a plain American home.
Pro Tips: Guided tours last 50 minutes. The home is not ADA accessible, but a historian-led virtual tour gives you a chance to see inside the mansion.
7. Spend Quiet Time In The Cathedral
The Roman Catholic Cathedral of St. Helena sits atop Catholic Hill in Helena and was modeled after a cathedral in Vienna. The church was consecrated in 1924, 20 years after laying the cornerstone. Original stained-glass windows from Munich tell biblical stories starting with the fall of Adam and Eve. It's open for visits daily.
Pro Tips: Allow 30 minutes for your visit. The church is ADA compliant.
8. Walk Through The Mansion District
If you're interested in another walking tour, the Helena Historic District tour passes some of Helena's mansions (not the Old Governor's Mansion, though). The tour points out homes that early Helena lawyers, doctors, ranch owners, and businessmen lived in.
Pro Tip: This tour, like the walking tour of Reeder's Alley and Last Chance Gulch, involves some elevation gain. Allow one to two hours for your walk.
9. Feel Like A Kid Again
For those traveling with kids or those young-at-heart, the Great Northern Carousel is sure to bring joy. Its 37 hand-carved animals include some native to Montana, like bison and bobcat. Make time for an ice cream cone and a hands-on, kid-friendly experience at ExplorationWorks!
Pro Tips: Allow one to two hours for your visit. It is ADA compliant.
10. Visit Montana's Capitol
A copper dome sits atop Montana's granite and sandstone capitol. Inside, the rotunda's artwork depicts four Montanans — a Native American, an explorer, a gold miner, and a cowboy. A Charles M. Russell mural portrays Lewis and Clark, while statues of prominent Montanans, including Jeannette Rankin and Mike Mansfield, grace the public spaces.
Pro Tips: Allow an hour for your visit. The building is wheelchair accessible.
11. Admire Western Art
Montana's Museum showcases Charles M. Russell paintings and Native American artifacts. One wing walks visitors through Montana's past. Here you'll see everything from mining equipment to antique toys. Upstairs you'll see a rare albino buffalo mount. Good Beer Here is a special exhibit on Montana's history of beer-making and sampling.
Pro Tip: Allow two hours to visit the ADA-compliant museum.
12. Learn About Montana's Military
The Montana Military Museum focuses on the service and memorabilia of Montana soldiers, sailors, and airmen. Exhibits include a look at two Montana natives who were among the 80 men who participated in "Jimmy" Doolittle's risky air raid of Tokyo, the origin of the Special Forces, and the dog-sled training at Camp Rimini.
Pro Tip: The ADA-accessible museum is open on Thursdays and other days by appointment.
13. Hike Mount Helena
Beginning at Mount Helena City Park, trails wind their way around the mountain. The shortest hike (about 200 feet) climbs the hill west of the parking lot. You'll be rewarded with views of the city and surrounding mountains. A bench allows you to watch the sunrise while catching your breath.
Pro Tip: Allow 30 minutes for the short hike and sunrise viewing.
14. Soak In Broadwater Hot Springs
Broadwater Hot Springs takes advantage of a natural hot spring that supplies their pools with 150-degree mineral water. The facility has seven indoor and outdoor pools cooled to varying temperatures, some for soaking and some for recreation.
Pro Tip: You'll need to pay a nominal annual membership fee in addition to a session fee of $10 to $15.
15. Enjoy Tizer Botanic Garden And Arboretum
The seasonal Tizer Botanic Garden and Arboretum lie 18 miles south of Helena. Rose, butterfly and hummingbird, shade, herb, and meditation gardens are set among 600 varieties of shrubs and trees. A 1.5-mile trail winds through the gardens and over quaint bridges that straddle Prickly Pear Creek.
Pro Tips: Allow one to two hours for your visit. The vast majority is ADA accessible.
16. Pass Through The Gates Of The Mountains
In the early 1800s, the Lewis and Clark expedition made their way through present-day Montana traveling by water whenever possible. Lewis passed through cliffs that towered above the Missouri River and named the area the Gates of the Rocky Mountains. The river has been dammed since Lewis explored the area. The impressive gates aren't diminished at all, though, as you tour the lake by boat. A guide relates the area's history and helps you spot wildlife along the way, including bald eagles, black bears, fox, and mountain sheep.
Pro Tips: Boats are wheelchair accessible and allow service animals on board. Allow two hours for the tour. On the 26-mile trip (40-minute drive) north from Helena, be sure to take in the uncluttered view of Sleeping Giant Mountain.
Related Reading: