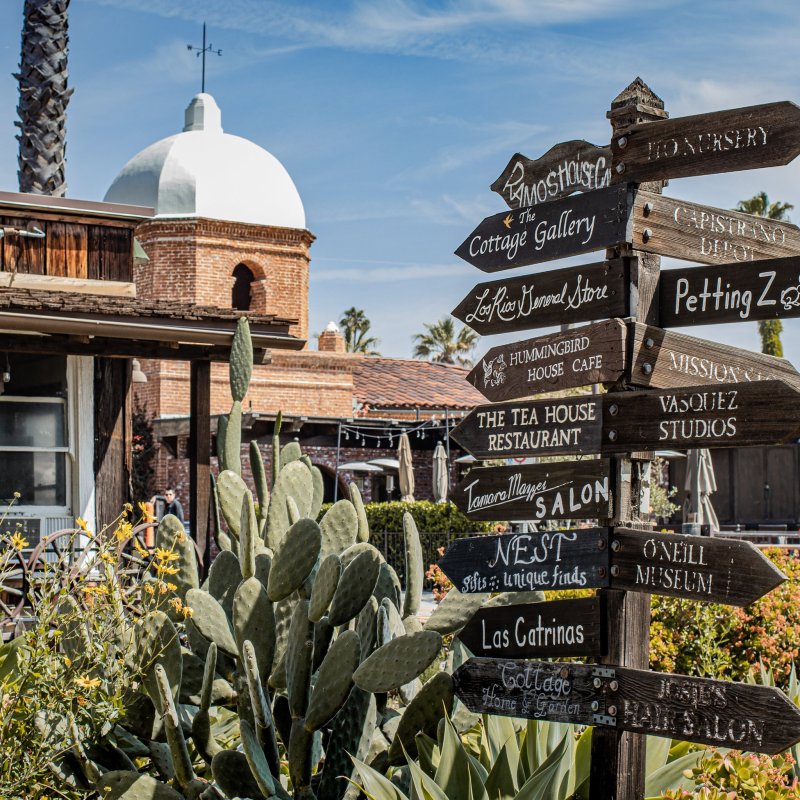 From the mountains to the sea, Southern California is loaded with small towns waiting to be explored. Whether it's a main street lined with old western buildings, or a village full of funky art galleries, there is something for everyone. Some can be explored in a day, while others are definitely worth a weekend getaway. But all offer the chance to leave behind strip malls with chain stores and restaurants and instead embrace charming streets filled with locally owned boutiques and diners.
1. Los Alamos
Located in the Santa Ynez Valley about an hour north of Santa Barbara, Los Alamos is one of California's hidden gems. Founded in 1876 by two ranchers, this town oozes Old West charm. More recently, it's become a favorite destination for foodies and wine lovers.
If you'd like to spend time wine-tasting, head to Lo-Fi Wines, Casa Dumetz, or Lumen. But if you prefer beer, that's just fine; Babi's Beer Emporium sells a large selection of craft beers on tap and in the bottle. When it's time to eat, definitely try Bob's Well Bread Bakery, probably the town's best-known restaurant. Located in a former gas station, Bob's sells seriously good bread and pastries. If you're looking for excellent wood-fired flatbreads, then Full of Life Flatbread is the ideal lunch spot. Their unique combinations of ingredients make for a memorable meal.
Save time for shopping in Los Alamos because there are several fun and funky spots. For one-of-a-kind and vintage home decor items, pop into Sisters Gifts and Home. Depot Mall Antiques offers 25,000 square feet of vintage and antique shopping. T and T Local Artisans Enterprise sells goods produced by 60 local artists.
2. Idyllwild
Many towns may claim to be quirky, but when the town's mayor is a dog named Max, you know it truly is unique. The small town of Idyllwild is located 2 hours east of Los Angeles in the San Jacinto Mountains. Start your visit on the town's main street, North Circle Drive. Here you can browse shops, grab a cup of coffee, or pop into some of the galleries. Idyllwild has long attracted artists to this mountain community, so there's a variety of art to be appreciated.
The town is surrounded by Mount San Jacinto State Park, which offers 30 trails to explore. If this is your first time visiting, start at the Idyllwild Nature Center to learn more about the area's flora and fauna.
If you're looking for a hearty breakfast before hiking, head to The Town Baker. Locals rave about their pastries and danishes. For some hearty comfort food, try The Red Kettle, which can be found in the town's historic district.
3. San Juan Capistrano
Located an hour south of Los Angeles and an hour north of San Diego, the small town of San Juan Capistrano is full of history dating back to the founding of its mission in 1776. It began life as a city of Spain, then Mexico, and finally joined the U.S. in 1848. Visitors come to see the historic sights and then linger to enjoy the one-of-a-kind boutiques and excellent restaurants. A day in San Juan Capistrano is a glimpse into California life long before its freeways and metropolises.
Start your day at the Mission San Juan Capistrano, named for St. John of Capistrano. As part of a larger collection of missions located throughout California, the purpose was to convert Native Americans to Catholicism and expand Spanish territory. Admission includes an excellent audio tour.
Next, head to the Los Rios District, the oldest neighborhood in California. The San Juan Capistrano Historical Society offers tours of the district once a week. When it's time to eat, head to the new Ysidora Restaurant and Lounge, located inside Inn at the Mission San Juan Capistrano. If the weather is nice, grab a table in the courtyard and enjoy the lovely ambiance.
If you're eager to shop, visit The Old Barn Antique Mall, where you'll find 60 dealers selling a large selection of antiques and collectibles. For souvenir shopping, head to Ortega's Capistrano Trading Post. You can't miss this bright red shop located directly across the street from the mission.
4. Solvang
Located in the Santa Ynez Valley of Central California, Solvang is located about 3 hours north of Los Angeles and 4.5 hours south of San Francisco. Founded in 1911 by a community of Danish Americans, this small town is home to a variety of museums, bakeries, restaurants, shops, and wine-tasting rooms, making it the perfect place to spend a day.
Start your day by popping into one of the many bakeries selling traditional pastries such as aebleskiver, flodeboller, and stroopwafels. Olsen's Danish Village Bakery will likely have a long line, but that's because they are well known for their classic Danish pastries. Birkholm's Bakery and Cafe is another popular spot selling kringle filled with almond paste, cardamom bread, and fruit-filled pastries.
Then explore one of the town's museums. The Wilding Museum of Art and Nature uses art to communicate the importance of our natural heritage. Their goal is to inspire a future generation of artists and conservationists. Housed in a historic, hand-crafted home, the Elverhoj Museum is committed to preserving the history and Danish culture of Solvang. Learn about one of Denmark's most famous citizens at the Hans Christian Andersen Museum. Anderson's stories are known around the world and include The Emperor's New Clothes, The Little Mermaid, and The Ugly Duckling.
There is plenty of shopping to enjoy while in Solvang. Some of the town's most unique stores include The Book Loft, selling Scandanavian literature, Solvang Shoe Store, offering traditional Danish Clogs, and Swedish Candy Company, the only polkagris bakery in the United States.
5. Avalon
If you prefer a boat ride over a road trip, Avalon on Catalina Island is for you. Departing from Dana Point, Newport Beach, Long Beach, and San Pedro, ferry rides to this small town take about 60 to 90 minutes. Once there, you have your choice of shops, restaurants, and outdoor activities.
Catalina is a small island off the coast of Southern California, part of the Channel Islands. It's home to 4,000 people and 115 bison. Avalon is the largest town on the island and where most visitors arrive. After deboarding the ferry, stroll along the waterfront, taking in views of the harbor, the Green Pleasure Pier, colorful shops, and the Catalina Casino in the distance.
The next step is to get out on the water or head inland to explore the island's wild side. With one of the world's healthiest marine environments, Catalina is a paradise for divers and snorkelers. If you're looking to rent gear, contact Diving Catalina or Catalina Divers Supply. These two companies can also assist with a guided experience.
Nearly 90 percent of the island is maintained as a nature preserve and managed by the Catalina Island Conservancy. To experience this natural area, visitors can secure a permit to hike or bike. Another option is to book an organized tour.
When it's time to eat, head to Lobster Trap. Located in a brightly painted building, this place serves delicious lobster and poke. If you'd prefer to eat next to the beach, try dining al fresco at Descanso Beach Club.
6. Julian
If you love apples and apple pie, consider a trip to the small mountain town of Julian, located an hour northeast of San Diego or 2.5 hours southeast of LA. In addition to the numerous bakeries chock-full of delicious desserts, this town offers mining history, charming shops, and natural wonders.
Visit in the fall, and you'll have the opportunity to go apple picking at one of the nearby orchards. Calico Ranch Orchard has been growing apples since the 1930s! In addition to a selection of apples and pears to pick, they also sell cider.
If you've worked up an appetite after apple picking, it's time to sample the pie. Julian Pie Company not only sells delicious treats, but all of the apples used in the pies come from their own orchards. This family-owned business has been in operation since 1989 and today is run by the founders, their children, and grandchildren. A local tip is to order warm apple pie a la mode with cinnamon ice cream.
Julian is small enough that it's easy to park once and explore on foot. Enjoy strolling through all the local boutiques and galleries. If you'd like to learn more about the local history, head to the Julian Pioneer Museum and explore their collection of vintage clothing, household and mining equipment, and Native American artifacts.
7. Ojai
Tucked away in a valley north of Los Angeles and east of Santa Barbara, Ojai is the ideal antidote to busy city life. Stroll the shops along Ojai Ave., sip local wine, explore the surrounding hills, or simply relax.
Ojai is one of California's smaller wine regions, so wine-tasting in the area won't take long. Topa Mountain Winery is the ideal first stop offering a nice selection of wine along with outdoor seating and games. There's not much food sold at Topa, but guests are welcome to bring a picnic. If you prefer natural wines, be sure to head to the Casa Barranca Tasting Room, the first certified organic winery in the Santa Barbara region.
One of the most unique independent bookstores in the United States is located in Ojai, Bart's Books. This outdoor bookstore hosts a collection of over 130,000 new, used, and rare books. Find a book, grab a seat at a table, and enjoy a few hours of reading.
For a leisurely bike ride, try the Ojai Valley Trail, developed along a former railroad. This 9-mile path is entirely paved and mostly flat. If you need to rent a bike, head to The Mob Shop.
When it's time to eat, try Azu, serving California cuisine with a heavy influence of Spanish and Mexican flavors. If you're craving a really good burger for lunch, then Ojai Beverage Company will not disappoint.
Related articles: