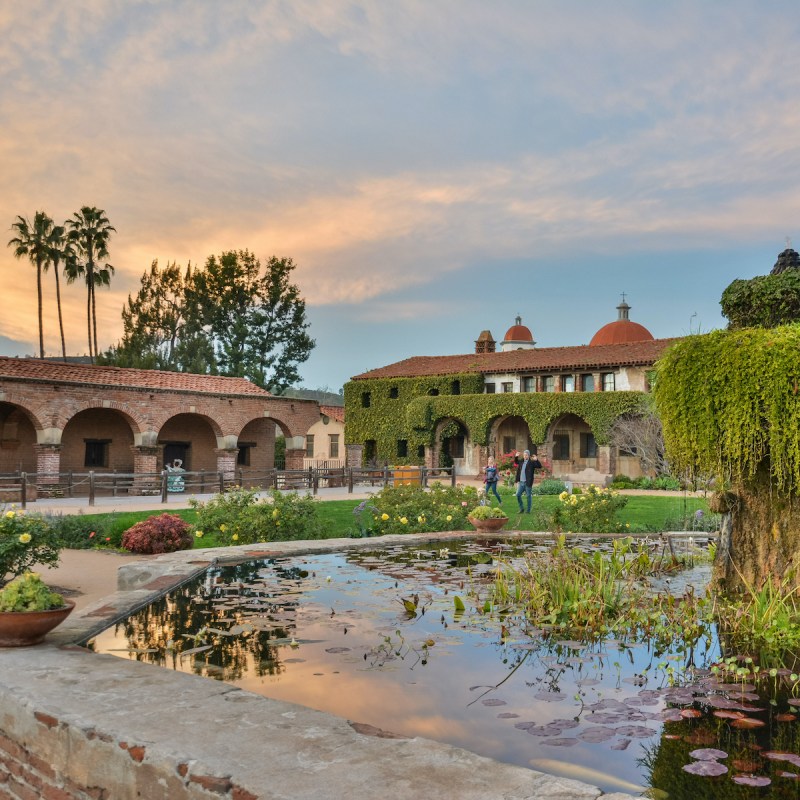 Located in Southern California, halfway between Los Angeles and San Diego, the city of San Juan Capistrano is full of history dating back to the founding of its mission in 1776. It began its life as a city of Spain, then of Mexico before finally joining the United States in 1848.
While most visitors come to see the historic sights, they linger to enjoy the one-of-a-kind boutiques and excellent restaurants. A day in San Juan Capistrano provides a glimpse of California life long before its freeways and metropolises.
Things To Do In San Juan Capistrano
1. Mission San Juan Capistrano
Named after Saint John of Capistrano, the Mission San Juan Capistrano was founded in 1776. It was part of a larger collection of California missions located throughout the state intended to convert Native Americans to Catholicism and expand Spanish territory.
Today, visitors can stroll the beautiful grounds of the historic mission and learn about life here in the late 18th and early 19th centuries. One of the highlights of the property is the Serra Chapel, named for Father Junipero Serra, the founder of nine of California's missions.
If you're visiting in March, don't miss St. Joseph's Day and The Return of the Swallows. These small birds winter each year in Argentina and return to San Juan Capistrano in the spring. The event is marked with a parade, ringing of the bells, dancing, and live music. 
Pro Tips: Entry for the mission includes a thorough and fascinating audio tour. A variety of specialty tours are also available. If you're visiting with the grandkids, be sure to check out these online resources. As a 250-year-old historic site, the grounds are rough and irregular and may be challenging to navigate with wheelchairs and walkers. More information about accessibility can be found here.
2. Mission Basilica
After enjoying the Mission San Juan Capistrano, depart the grounds and head northwest to see the Mission Basilica — modeled after the Great Stone Church destroyed by an earthquake in 1812. Completed in 1986, this is the home of the local parish and where Masses take place. There are no tours available and little signage, but you are able to enter the church to appreciate both the art and architecture.
Most striking in the basilica is the Grand Retablo, a 42-foot-high cedar altar decorated with gold leaf in the baroque style. The Retablo was designed by 84 artisans in Madrid.
3. Los Rios Historic District
No visit to San Juan would be complete without wandering through the Los Rios Historic District, the oldest neighborhood in California. There are 40 homes remaining here, including three adobe structures. While the mission was in operation, this was home to many of the builders and ranchers. Most of the homes are now private residences, but a few have been converted into shops and restaurants. The San Juan Capistrano Historical Society offers tours of the district once a week.
4. O'Neill Museum
Located in the Los Rios Historic District, the O'Neill Museum was formerly the residence of Jose Garcia and was built between 1870 and 1880. Originally the home had just four rooms and did not include a kitchen or bathroom. The home has been painstakingly restored and decorated to allow visitors a glimpse of life in the late 19th century.
5. Ronald W. Caspers Wilderness Park
After soaking in the city's history, head to the Ronald W. Caspers Wilderness Park for some outdoor fun. Located in the Santa Ana Mountains, this 8,000-acre natural preserve offers hiking, biking, and wildlife-viewing opportunities. On weekends, rangers offer guided nature walks. And if you're lucky enough to visit in the spring, you can enjoy the wildflowers.
6. The Cottage Gallery And Nest
While you are strolling through the historic district, The Cottage Gallery is sure to catch your eye. Located in a light green house built in 1890, it houses art by Orange County artists, including paintings, sculptures, and ceramics. Nearby is Nest, a great stop if you're looking for that perfect gift for a birthday or special occasion.
7. Ortega's Capistrano Trading Post
For souvenir shopping, head to Ortega's Capistrano Trading Post. You can't miss this bright red shop located directly across the street from the mission. Here you'll find a wide range of California and Mission San Juan Capistrano collectibles, as well as a large collection of Native American jewelry.
8. We Olive & Wine Bar
We Olive & Wine Bar sells artisan wine, olive oils, vinegars, and tapenades, all made in California. This should be your go-to place if you'd like to take home gourmet food gifts. And if you're hoping for a small bite to eat and a glass of wine, you're in luck!
Best Restaurants In San Juan Capistrano
No matter what time of day you're in San Juan Capistrano, you'll enjoy a delicious meal at one of its many well-reviewed restaurants.
Ramos House Cafe
If you're in the Los Rios Historic District, then you'll definitely want to grab breakfast or lunch at Ramos House Cafe. Named for the longtime owners, the Ramos family, the house was built in 1881. Owners Michelle and Kris Winrich offer a menu of American classics with a twist. Try the duck mac and cheese or fried chicken salad with johnnycakes.
Trevor's At The Tracks
Across the railroad tracks from the historic district is a longtime local favorite, Trevor's at the Tracks. Described as "locally acquired and globally inspired," Trevor's is well known for its delicious salads and sandwiches. They also offer an extensive drink menu including wine, beer, and cocktails. Assuming the weather is nice, ask for a table on the patio.
Cedar Creek Inn
Cedar Creek Inn, located across the street from the mission, is known for its cozy decor. In warmer weather, be sure to sit outside on the patio, but if that's not possible, you'll still enjoy the indoors complete with a large stone fireplace. Locals rave about the chicken papaya salad.
Five Vines Wine Bar
This cozy space is within walking distance of both the mission and the historic district. Family owned and operated, there's a nice selection of both wines and beers at Five Vines along with a rotating menu of salads, flatbreads, and sandwiches. But they are especially known for their house-made soups, so be sure to order a cup accompanied by warm bread.
How To Get To San Juan Capistrano
San Juan Capistrano is a small city in South Orange County surrounded by the communities of Mission Viejo, Dana Point, and San Clemente. Driving is definitely the most popular way to get here, and fortunately, the city has made parking plentiful and affordable.
However, for something more unique, try taking the train. As you exit the train, you'll step right into the historic district. All the most popular sights are within walking distance. Service is available through Amtrak and the regional provider, Metrolink. Whether you are coming from San Diego or Los Angeles, you'll find a train station nearby that offers service to San Juan. In the event you are coming from farther away, this is also a nice way to avoid traffic.
Read up on all of our California content, including: