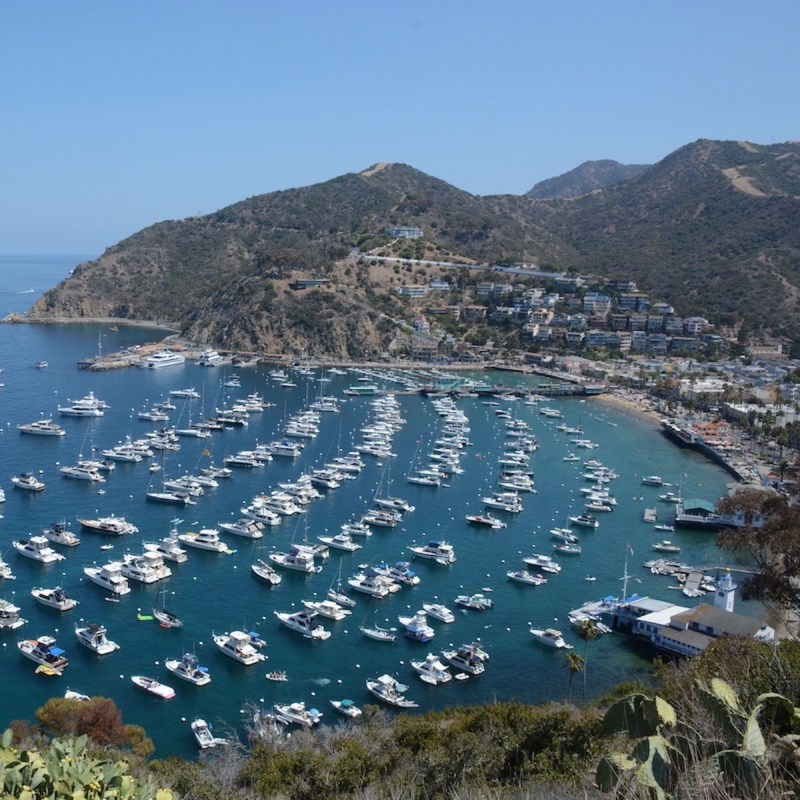 The paradise that is Catalina Island has attracted all types of people over the years: from Hollywood stars to business moguls, to regular folks looking to spend a relaxing day away from the mainland. Its appeal has made it a favorite getaway of mine for more than 30 years. Catalina Island's main city, Avalon, is often described as having European charm and a Mediterranean climate. The best part is you do not need a passport to visit!
Santa Catalina Island, or simply Catalina, lies 26 miles across the San Pedro Channel from Southern California, but it feels like it is a world away. Most people get here by ferry, but sailing over or arriving by air are other options. The island has recently reopened to visitors and is welcoming them back with open arms. Now is the perfect time for your first (or return) visit to Catalina. Let's look at 10 fantastic things to do while you are in Catalina Island.
1. See The Chimes Tower
Nestled into the hillside above the iconic Catalina Casino, the Chimes Tower is another highly recognizable structure on Catalina Island. It can be seen from many points in Avalon, and its bells can be heard all throughout the city. The Chimes Tower was a gift to the residents of Avalon from chewing gum magnate William Wrigley, Jr., and his wife, Ada.
Every 15 minutes, from 8 a.m. to 8 p.m., the bells toll, playing the famous "Westminster Quarters" melody.
Though the chimes themselves are still in good condition, the tower that houses them is in need of repair. A restoration project is currently underway. Learn more at the Chimes exhibit at the Catalina Island Museum.
Pro Tip: Though there is a steep but navigable road that passes right by it, the best views of the tower can be found from lower elevations like along Crescent Avenue or from the harbor.
Catalina's main city, Avalon, is easily walkable. Begin on Crescent Avenue, the main street that hugs the harbor. Walk into the residential area, first up one street, then down the next. There is no particular route to follow. Just go wherever your feet take you. What you are looking for on this self-guided tour are hidden gems; fancy decorations adorning the exterior of some of Avalon's homes.
Admire the tiles, address numbers, statuettes, sculptures, and artwork. Take note of the many ways scenes of Catalina are captured. Be mindful, though, that these are private residences. If you stop to take a photo or two, do so from a respectable distance and move along.
Pro Tip: If you'd rather not walk, you can catch The Garibaldi, Avalon Transit's all-electric public bus. It covers a four-mile route through central Avalon and passes many of these homes. Check the website for hours of operation.
3. Learn About Catalina's Indigenous History
According to the exhibit in the museum, Natives occupied the island as far back as 10,000 years ago. They are believed to have called the island Pimu. They themselves were called Pimugnan. Natives became experts at working with the abundant soapstone found on the island, fashioning jewelry, cooking implements, tools, and other objects. There are records that they traded with other Indigenous tribes from the mainland and the neighboring islands now known as the Channel Islands.
Look closely as you walk around Avalon. You may spot a couple of murals and tiles depicting Indigenous life on the island. Learn about the Indigenous history of the island and more at the Catalina Island Museum. There is a small admission fee.
4. Participate In A Tile-Making Workshop
"Catalina is known for its unique tile work that is displayed throughout the island." – Catalina Express website.
Take a stroll around Avalon from one end to the other, up and down the residential streets, along Crescent Avenue, and you'll see the tilework Catalina Express' website is talking about. Fountains. Homes. Shops. Museums. All ornamented with tiles. The designs are reminiscent of Spanish and Mexican tile.
Like the tiles you see? Why not make a few of your own to send back home? Silver Canyon Pottery offers a Basic Tile Making Workshop. It is a 90-minute class where you get to create two of your own tiles. You can also find some of Silver Canyon Pottery's work for sale in some of the stores in Avalon.
Pro Tip: Transportation to the workshop is available, but getting there on your own (walk, cycle, golf cart) will save you money. The senior discount (55+) will save you an additional $5.
5. Catalina Island JazzTrax Festival
Jazz lovers will want to be on the island for the annual Catalina Island JazzTrax Festival. It runs over two weekends in October in the beautiful Avalon Ballroom of the Catalina Casino.
My wife and I first learned about this festival by pure luck. We were on the ferry to Avalon and just happened to pick up a brochure promoting the concert. We previously had no plans for the day. That changed immediately upon reading the flyer.
Pro Tip: Arrangements have been made for a late ferry on Saturday and Sunday nights to return festivalgoers to Long Beach.
6. Catalina Zip Line Eco Tour
The Catalina Zip Line Eco Tour combines a zip line with an ecological talk about the island. Traversing five stations, you soar as high as 600 feet above Descanso Canyon. Throughout the tour, your guide will tell you about the plants and animals found on the island. While you're waiting for the rest of the group to zip across the line or catch up, make sure to take a few moments to enjoy the fantastic views from some of the stations of the harbor framed by the hillside. The tour lasts about 135 minutes. Check the website for the current price of the activity.
Pro Tip: By the time you reach the final two stations, you will have overcome your fear of zip lines. Have some fun and bust out a pose or two for the camera on the final run.
7. Catalina Aerial Adventure
The Catalina Aerial Adventure will test your ability to navigate an obstacle course… in the air. There are courses for beginning, intermediate, and advanced levels. Don't worry about being rushed. You progress through the course at your own pace. Some of the obstacles that will challenge your ability are balance beams, rope ladders, suspension bridges, and more, all perched high up in a eucalyptus tree grove. Price is listed on the website.
8. Catalina Falconry Experience
Falconry, once the sport of royalty around the world, has a history dating back some 5,000 years, possibly longer. The Catalina Falconry Experience gives you the opportunity to participate in this time-honored sport. You'll have a chance to call a raptor to land on your gloved hand, then "cast" it back into the air. After working with the raptors, you will learn more from your falconer about falcons, owls, hawks, and other birds of prey.
The falcons on Catalina do double duty: Not only do they perform during the Falconry Experience, but they are also used for pest bird abatement. Specifically, that means seagulls. Falconry started on Catalina Island for that reason.
The Falconry Experience takes place on weekends only. Bring your camera. There is a fee.
Pro tip: The Senior discount available for those 55 and older saves you about 11%.
9. Go Parasailing
Get a bird's eye view — literally — of Avalon and the northern coastline of the island by taking a parasail ride. Single and tandem rides are available. You will soar as high as 600 feet. For an additional fee, they'll fly you up to 800 feet. Views from those heights are unparalleled. Not many people get to see Avalon and Catalina in this way.
Pro Tip #1: Island Water Charters offers discounts for cruise ship passengers. California Parasail offers early bird discounts for the first three departures of the day. Both offer photo packages of your flight.
Pro Tip #2: You can take a camera up. Just make doubly sure it is tethered to you or you have a death grip on it because heights and saltwater don't play nice with cameras. Waterproof disposable cameras are ideal.
Pro Tip #3: If you want to go with your group but stay earthbound, non-flying passengers can still ride along but for a small fee.
10. Rent A Pedal Boat
Would you like to get out on the water and explore Avalon Harbor at your own pace? Rent a pedal boat from Joe's Rent A Boat. The family-owned service has been providing rentals on the island since 1927. Pedal boat rental is by the hour.
Pro Tip: Joe's does not take advance reservations. Its website states all rentals are first come, first served.
Many things have changed on the island over the last three years or so. I was surprised to see all of the new shops and activities that have opened since my last visit. Some of those new things are listed above.
For even more ideas on things to do in Catalina Island: