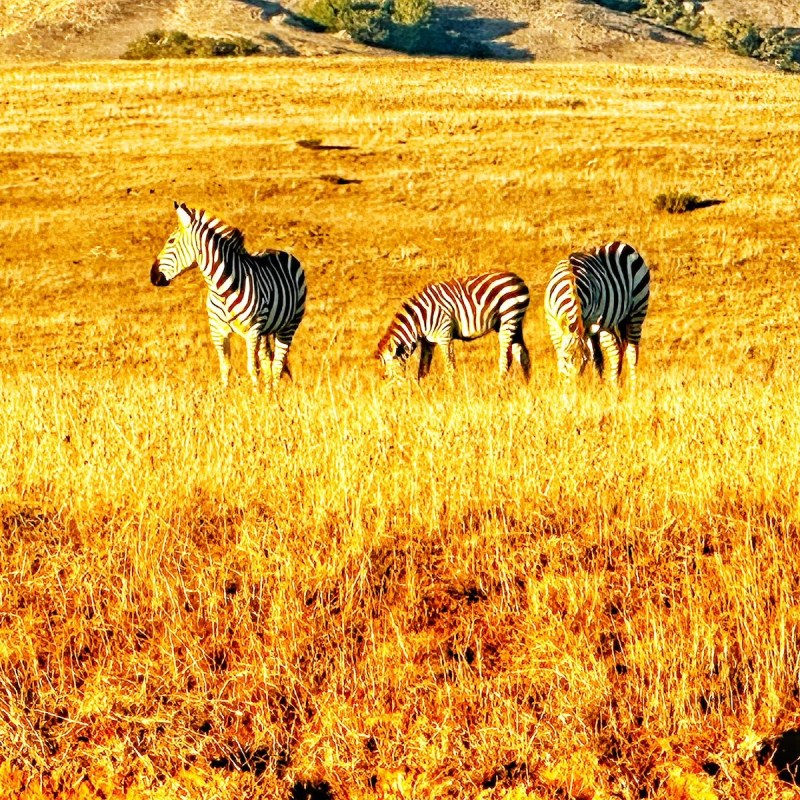 The communities and coastlines between Los Angeles and San Francisco, California, are less populated than the larger urban areas, which creates amazing opportunities to spot a variety of wildlife living and thriving in the mountainous and coastal ecosystems. Some, like the free-range zebras or the Catalina Island bison, were brought to the area while others, like the sea otters, Northern elephant seals, and Tule elk, are native.
I was on a week-long hosted road trip along California's Central Coast, also nicknamed Highway 1 Roadtrip to experience the wildlife that calls this part of the Pacific coastline home. Starting on Catalina Island off the coast of Los Angeles and ending in the charming little boutique town of Tiburon just across the Golden Gate Bridge in San Francisco, I saw a multitude of animals.
Here are seven amazing wildlife experiences not to miss along the California Central Coast.
1. Wild Bison And Little Foxes On Catalina Island
Catalina Island is a short hour-long ferry ride on the Catalina Express from Los Angeles and is the southernmost island of California's Channel Islands. With only two towns, the incorporated city of Avalon on the east end and the unincorporated village Two Harbors on the west end, the island boasts mountainous beauty, majestic views, and rugged wilderness under the stewardship of the Catalina Island Conservancy.
Although the city of Avalon is a delightful little town to explore and shop (stay at the newly renovated Catalina Courtyard Suites hotel for easy access to everywhere), we were here to see the legendary wild places and wildlife of the island.
The best way to explore Catalina Island's wild bison herd and native tiny little Catalina Fox is through an ecotour with the Catalina Island Conservancy. Although most of the island's residents travel around in golf carts, finding a car on the island is damn near impossible. Instead, booking an eco-tour gives you unparalleled access to over 165 miles of paved and unpaved roads with a naturalist from the conservancy. You'll get to areas on this unspoiled island that few visitors see, and learn from trained naturalists about the island's history, plants, wildlife, and bison herd (which was brought to the island as part of a movie production).
Pro Tips
Be prepared to walk on Catalina Island; cars aren't readily available, and it's not really practical to try to take a rental car out to the island. You can rent golf carts pretty easily on the island too.
Also be aware that bad weather may affect the Catalina Express ferry schedule, though that's more likely to happen in the winter months. Otherwise, the ferry is truly the easiest and most convenient way to travel to Catalina Island. Booking the Commodore Lounge package also gets you a free drink along the way!
2. The Great Monarch Migration
After leaving Catalina Island, we headed up Highway 1's Discovery Route toward San Luis Obispo and the SLO Cal area to experience the magic that is the annual Monarch Butterfly Migration butterfly groves. Every year between October and February, hundreds of thousands of the orange and black monarch butterflies make their way to these butterfly groves of eucalyptus trees in Central California coastal areas near Los Osos, Pismo Beach, Morro Bay, and W.R. Hearst Memorial State Beach near San Simeon.
In Los Osos, even a small neighborhood called Monarch Grove Homes has a small Monarch Grove Natural Area that hosts a good number of these jeweled winged creatures, though not when we visited.
The Central California grove sites are the winter homes for the western monarchs, which can travel over 1,000 miles to migrate up and down the West Coast. The mating season peaks in mid-February, and it's not uncommon to see more than 200,000 monarchs just dripping off the trees at bigger sites like Pismo Beach.
3. The Zebras Of Hearst Ranch
For a study in Golden Era opulence and history, a stop and tour at Hearst Castle near San Simeon is a must. The sprawling castle atop a hill at the Hearst Ranch was the dream of media mogul William Randolph Hearst, who inherited thousands of acres around San Simeon in 1919.
Over the course of 28 years, he and famed architect Julia Morgan designed and built La Cuesta Encantada — Spanish for "Enchanted Hill." This castle includes 165 rooms and 123 acres of gardens, terraces, pools, and walkways that all include Hearst's legendary art collection.
It was also home to a zoo that boasted polar bears, grizzlies, jaguars, audads, elk, and zebras, to name a few. Although the polar bears and predators are gone, the Spanish audads, elk, and zebras still roam the 150,000 acres that make up Hearst Ranch, a still-active cattle ranch.
After our tour of Hearst Castle followed by an ocean-side wine tasting at the highly-recommended Hearst Ranch Winery in San Simeon, we glanced over toward Hearst Castle as we made our way back to Los Osos. There, nestled amongst the grazing cattle, the stripes of zebras caught our attention. With roughly 126 zebras roaming the land, drivers are almost guaranteed to see zebras! The next day, as we drove north along Highway 1, we also spotted the massive elk herd, which was visible right from the highway.
4. Otters And Sea Lions
Just offshore along SLO CAL (the nickname for San Luis Obispo County), funny, fuzzy, and playful southern sea otters are plentiful along this stretch of Highway 1. Native to the Pacific Ocean, Monterey Bay, Big Sur, and nearly all of the Central Coast are hubs for these marine animals, making otter spotting particularly easy.
While kayaking Morro Bay, we saw several "floats" of otters, able to watch them roll around and dive into the kelp forests to search for food. Although they are found in greater numbers along the Central Coast, their populations are at risk thanks to overhunting in the 18th and 19th centuries. While considered threatened on the endangered species list and recognized as a depleted species under the Marine Mammal Protection Act, it's easy to spot them when you know where to look.
Sea lions are also a common sight along the Central Coast Highway 1 Discovery Route. Los Lobos State Natural Reserve, Morro Bay, and San Simeon are all popular spots for sea lions.
5. Elephant Seal Rookery
Just a few miles north of Hearst Castle in San Simeon is the Piedras Blancas Rookery, the only elephant seal rookery in the world that is easily accessible, free, and open to the public every day of the year. Located 7 miles north of San Simeon on Highway 1, the rookery serves as a "home base" for up to 17,000 elephant seals during the peak times of their life cycles.
In September and October, juvenile seals flock to rest on the beaches during the fall haul-out, but in November, adult male elephant seals come to the beach to fight for dominance in order to earn mates. Weighing up to 5,000 pounds, these fights are pretty fierce, and watching the males bash each other while roaring their guttural roar was quite the spectacle.
December through March is a good time to spot pregnant females, and the births reach their peak in January. Starting in April, females and juvenile elephant seals return to Piedras to molt with the adult males joining them starting in June.
Pro Tip: Do not pass the rookery! There's plenty of parking for vehicles of all sizes and the boardwalk is an easy, ADA-accessible stroll. No drones are allowed, but it's a good idea to bring your binoculars. If you are traveling with a dog, you must keep it leashed at all times.
6. Birding Along The Coast
The California Central Coast is part of the Pacific Flyway for migratory birds, and Morro Bay is a birdwatcher's paradise. The coastal mudflats surrounding Morro Bay and the small community of Baywood Park are an important stopover spot for thousands of migrating birds, which is why the Audubon Society considers the city an important bird area.
Near Baywood Park is the 24-acre Sweet Springs Nature Preserve, which hosts more than 350 bird species like American coots, bald eagles, snowy egrets, Anna's hummingbirds, countless species of waterfowl and ducks, and more.
While many travelers navigate the stunning and winding Big Sur area of Highway 1's Discovery Route to see the cliff views and fiery sunsets, they may miss seeing the California condor soaring above the cliffs.
Near the boutique pretty town of Tiburon in the San Francisco Bay Area, visitors to Angel Island State Park can also spot any number of resident bird species, including the California quail, double-crested cormorants, red-necked grebes, numerous types of hummingbirds, and much more.
7. Whales, Whales, And More Whales
California's Central Coast is prime whale watching, and there are plenty of opportunities for spotting different types of whales and dolphins nearly year-round. The California Central Coast often sees gray whales, blue whales, and humpback whales, and killer whales (or orcas) have been seen in Monterey Bay and near Morro Bay.
Booking a whale-watching excursion presents your best bet for spotting these giants of the deep, but the Whale Trail has a list of the best whale-watching spots on the West Coast.
Again, San Luis Obispo County (SLO) is one of the best spots along Highway 1, boasting 10 viewpoints of the 100 Whale Trail sites. Shamel Park in Cambria, the San Simeon Bay Pier overlooking William Randolph Hearst State Beach, the Cayucos Pier, and Avila Beach Pier are also prime whale-watching spots that locals recommend.
Pro Tip: Bring binoculars, and if you go on a whale-watching boat tour, be sure to dress in layers — even in the summer. Take sunscreen and motion sickness pills if you are prone to seasickness.