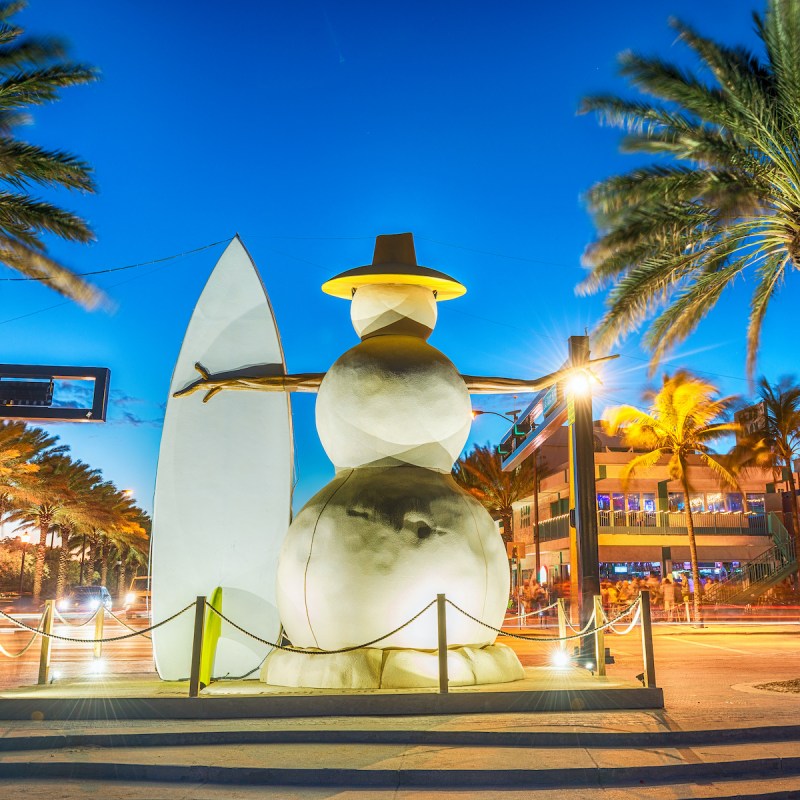 Heat, sand, stunning waterways, historic houses, parks, great food — even flamingos. Why would anyone not want to be in Fort Lauderdale in the winter?
Fort Lauderdale has often been called "the Venice of America" because of its 165 miles of waterways and canals. But other than canals (and a few gondolas), it doesn't have much in common with that incomparable place on the Adriatic coast of Italy.
On the other hand, Venice is often frigid in February and March, and Fort Lauderdale has average highs in the winter in the high 70s or 80s and an abundance of sunny days.
The best way to reach Fort Lauderdale is to fly into Fort Lauderdale-Hollywood International Airport. The airport is a quick 10 minutes to downtown, and car rentals are widely available at the airport and relatively inexpensive. We rented a convertible one year and did not regret it for a minute.
Miami International Airport is an international hub with more connections; it is about 30 miles from Fort Lauderdale. Tri Rail operates a train from Miami Airport Station to Fort Lauderdale Broward Station hourly. Tickets are inexpensive, and the trip takes about an hour. Buses take considerably longer, and Ubers and taxis are widely available. Remember to always leave extra time navigating southern Florida because traffic is often brutal.
Driving is another alternative if you'd like to have your own car in Florida. Once you reach Florida, you can take I-95 or Routes 1 and A1A — which takes considerably longer, but there are many scenic stops along the way.
1. Lie On A Beach
With 23 miles of coastline, Fort Lauderdale is a heaven for beach lovers, with swimming, waterskiing, diving, or, as I often prefer, lying on the sand and doing absolutely nothing. Parking at the beaches can be a challenge in the high season. Go early to grab a meter or park farther away and walk. Following are some choice beach areas:
Fort Lauderdale Beach Park is just south of the Bahia Mar Resort and is a popular beach with sand volleyball courts, playgrounds, and boat ramps.
Las Olas Beach is at the intersection of the famous Las Olas Boulevard and A1A. You can take a rest on this great beach after shopping, eating, and strolling.
Sebastian Street Beach is a popular gay beach but welcomes all. A beach wheelchair is available from the Sebastian Street Lifeguard (call 954-828-4595 for assistance). There are also accessible showers and accessible parking at 3031 Sebastian Street.
North Beach is across the street from Hugh Birch State Park, a beloved Fort Lauderdale destination.
Pro Tip: Some beaches and parks are dog friendly if Fido is traveling with you. Check out the rules and regulations before you go.
2. Go Fishing And Boating
Greater Fort Lauderdale is one of the few areas in the world where both freshwater and saltwater fishing are within 20 minutes of each other. Numerous charter companies can provide tackle and guidance.
There are a plethora of airboat tours leaving from the Fort Lauderdale area: group, private, day, evening, long, and short, with many going to the Everglades and providing visitors with close-up views of alligators and other wildlife.
Jungle Queen can accommodate wheelchairs on its 90-minute-long trips either during the day or evening. Evening cruises include an All-You-Can-Eat Dinner featuring barbeque baby back ribs and barbeque chicken. The Jungle Queen boards at the Bahia Mar yachting center on A1A.
Las Olas Gondola is a fun way to see the city from the Intracoastal Waterway, embarking from the New River near Las Olas Blvd and specializing in "proposal and romantic specials."
Besides seeing mega-yachts and mansions along the Intracoastal Waterway, the Hop-On Hop-Off Water Taxi makes it possible for you to explore the areas around 10 stops in Fort Lauderdale. Pay for an all-day pass so you won't have to buy individual tickets for each trip. However, note that in high season (i.e., the winter) lines can form, and ticket holders may board first. Several boats have air-conditioned or heated cabins and are accessible; call 954-467-667 to find out which do.
Pro Tip: A good place to stay if you take a water taxi is Galleryone, with a dock right behind the hotel. It's also a short walk from there to the beach and Hugh Birch State Park.
3. Visit Museums And Historic Houses
NSU (Nova Southeastern University) Art Museum's celebrated permanent collection contains more than 7,500 works. It is known for its significant collection of Latin American and contemporary art, emphasizing women, Black and Latinx artists, and African art that spans the 19th to the 21st century. Their exhibits aim to reflect the diversity and cultures of Fort Lauderdale and South Florida. There is an elevator to the second level and a charming gift shop.
Pro Tip: Check out the temporary exhibit I Paint Reality: Surrealism in Latin America (available until fall of 2021). It's colorful, surprising, and mind-expanding.
Listed in the National Register of Historic Places, Bonnet House Museum and Gardens is nestled right across the street from Fort Lauderdale Beach near the intersection of E. Sunrise Boulevard. Here you can stroll through 35 acres of a native barrier island ecosystem, with beach, mangrove wetlands, maritime forest, and more.
There are self-guided and accompanied tours of the house and gardens. Pre-registration is required; check hours at the museum's website. The museum is wheelchair accessible, and golf carts are used for tours of the grounds.
The oldest home in Fort Lauderdale, the Stranahan House Museum, is located just off Las Olas Boulevard on the New River. Built in 1901, the house has served through the years as a trading post, post office, community center, town hall, school for Seminole children living in the area, and home to the Stranahans. Visitors have called the home "a slice of history worth seeing."
4. Eat, Drink, And Shop On Las Olas
Visitors may see Las Olas as the beating heart of Fort Lauderdale. The commercial stretch of Las Olas Boulevard (the name means "the waves") runs approximately 1 mile from Andrews Avenue in the business center straight to the Atlantic beaches. The attractive boulevard features courtyards with bars, restaurants, and nightclubs; small shops and boutiques; art galleries, and the Riverside Hotel.
Popular restaurants include Louie Bossi, Caffe Europa, the Floridian Restaurant, and Big City Tavern, among many others. You can find great chocolates and ice cream at Kilwins and Hoffman's Chocolates. You'll also find such shops as Lilly Pulitzer for the traditionalists and Tommy Bahama Marlin Bar and Store for people who like casual wear.
Pro Tip: Parking is at a premium on Las Olas, but you can reach the boulevard by Water Taxi, Stop 2.
5. Escape To Nature
Hugh Taylor Birch State Park is a lovely place to spend a morning or a day, depending on what activities you enjoy. You can walk, watch boats, sun yourself, rent a canoe or kayak, ride a bike, or check out the bird population (there are over 250 species on the park's bird list). The park's main 2-mile loop is flat, paved, and accessible, as is the .25-mile rail trail. There is even a beach wheelchair available for rental (first come, first served).
Pro Tip: Call ahead to check parking availability at the park. It can fill up during the winter high season. Once there, you can easily walk across the A1A to visit a lovely beach.
You'll need to buy timed online tickets to visit Flamingo Gardens, about 20 minutes from Fort Lauderdale in Davie — and one of the oldest botanical gardens in Florida. The Gardens have over 3,000 rare and exotic species, tropical, subtropical, and native plants and trees. The wildlife sanctuary offers close (not too close) encounters with alligators, panthers, and more. But it's the flamingos that draw the largest crowds.
Pro Tips
See A COVID-Era Film
If you feel uncomfortable going to a movie theater, you may enjoy the Fort Lauderdale Drive-In, about 15 minutes from the city. There's also a swap shop there for browsing.
Visit A Final Resting Place
You can visit Leslie Nielsen's gravesite (Forbidden Planet, Naked Gun, Airplane, and many other films) at Evergreen Cemetery. You may be amused by the quote on his stone.
Related articles: