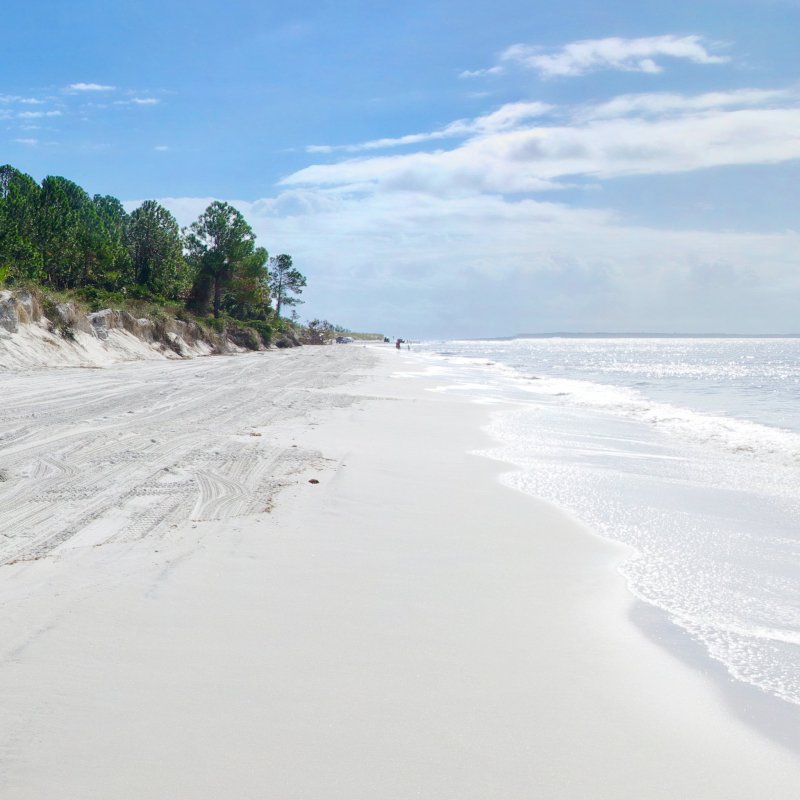 Some information in this piece was obtained during a sponsored press trip, but all recommendations are my own.
Fun in the sun, soft sand, great food, and fruity libations are exactly what you want out of a Florida coastal road trip. Golf, unique tour options, and hikes through gorgeous scenery may be on your list, too. The trip from Amelia Island to Vero Beach provides all that and more.
Although the drive from Amelia Island to Vero Beach is just under 5.5 hours without stops, you'll want to see the sights and enjoy the beach communities along the way for the most fun and relaxing journey.
Fly into Jacksonville International Airport and rent the quintessential coastal road trip car — maybe a Mustang Convertible or the new electric VW Microbus. Take your time on the coastal drive — a week if you can. Finally, drop your car at Orlando Melbourne International Airport in Melbourne, Florida.
The best time to visit Florida is from March through mid-May. The early summer, mid-May through July, can be lovely, but is prone to showers. August through October is the least desirable time to vacation here; it is the rainy season, and hurricanes are always a possibility. November through February is a mixed bag; you will encounter lovely stretches of sunshine and cool temperatures, but also inclement weather.
Amelia Island
The best way to begin a road trip is with a relaxing vibe and amazing food. Amelia Island, home to the city of Fernandina Beach, offers the weary traveler the classic coastal Florida laid-back experience.
Take time to breathe in the fresh, salty air while rolling down the quiet streets lined with live oaks dripping with Spanish moss. It is worth spending at least one full day — and two if you have time — enjoying all that this special place has to offer. Kayaking, hiking, shopping, exploring, and beaches galore are just some of the many activities you will find on this delightful island.
Jacksonville Beaches
A quick drive down the coast will bring you to the Jacksonville Beaches, a collection of beaches encompassing 22 miles of gorgeous, soft sand. Jacksonville Beach, Neptune Beach, Mayport Beach, and Atlantic Beach are the main beach areas, and each offers visitors a classic fun-in-the-sun experience.
Just a block from Neptune Beach is Southern Grounds. Stop at this local favorite for your morning coffee and a freshly baked pastry to go. Head down to the beach for the best al fresco breakfast view.
If you are looking for a little action and want to explore the city as well, check out these hidden gems in Jacksonville.
Ponte Vedra Beach
Ponte Vedra Beach is considered part of the Jacksonville Beaches; however, it is particularly impressive as far as beach communities go. The main beach road is lined with private beach clubs, upscale dining spots, and amazing golf courses.
For a taste of Ponte Vedra Beach living, book a stay at the luxurious Ponte Vedra Inn & Club or its sister resort, The Lodge & Club Ponte Vedra Beach. Both locations offer breathtaking ocean views, beach access, a relaxing spa, tennis, gourmet dining, and golf. With a newly redesigned par-72 Ocean Course and a par-70 Robert Trent Jones Lagoon Course to choose from, you might just have to add a few days of golf to your schedule. TPC Sawgrass is a neighbor to the resorts.
TPC Sawgrass
Also located in Ponte Vedra is the world-famous TPC Sawgrass, home of The Players Stadium Course.
The signature 17th hole is recognized by golfers and non-golfers alike as the epitome of classic tournament golf. The pristine green, almost completely surrounded by water, requires a perfectly placed shot from the tee.
When you visit Sawgrass, sign up for a free tour of the 17th, 18th, and 19th holes. The docent will describe the course, recall classic tournament moments, and snap a photo of you in front of the gorgeously maintained 17th green.
Plan to have lunch at the Nineteen At TPC Sawgrass. You can dine club-style in the wood-paneled dining room, but if you want to watch the action, ask for a seat on the porch. It is a golfer's dream to enjoy a cocktail and light lunch with views of the presentation lawn along with the 9th and 18th holes.
Also on the property is the Dye's Valley Course, designed by Pete Dye. Tee times are available to the public, but you'll need to book in advance if your heart's desire is to play on The Players Stadium.
Saint Augustine
Saint Augustine is the oldest city in the United States, boasting beautiful Spanish colonial architecture and lots of history and culture.
If you only have a short time to explore this vibrant and historic city, book a one- or two-day ticket for the Old Town Trolley Tour. The hop-on, hop-off trolley stops at 22 different locations, allowing you to visit the sights you want to see and leave your car at your hotel. The trolley service offers complimentary hotel shuttle service, free beach shuttle service, and free admission to the Saint Augustine History Museum.
Immerse yourself in the area's Spanish heritage by dining at one of the local Spanish-inspired restaurants. The Spanish Bakery & Cafe offers mouthwatering empanadas, fresh gazpacho, and delectable baked breads to enjoy on their outdoor patio.
For a fine-dining experience, Michael's is the place to go. The seasonally driven, Spanish-inspired menu offers delicacies such as island poke tacos (salmon poke with avocado crema and cilantro in a wonton shell), montaditos (steak with tomatoes and avocado crema in plantain cups), and Ora King salmon Wellington (puff pastry with mushrooms, lentils, greens, and foie gras crema). Additionally, there are a number of different types of dry-aged steaks. You can dine a la carte or try the three- or five-course chef experience paired with wines from their extensive collection.
Daytona International Speedway
Known for the Daytona International Speedway, Daytona Beach is not all about racing. However, for the NASCAR enthusiast, a Daytona International Speedway Tour is the next best thing to having a ticket for the Daytona 500. This is not a boring, run-of-the-mill tour. You'll ride in an open-air tram that speeds along a simulated race track featuring high-bank turns and straightaways to the finish line. The breathtaking tour ends at the winner's podium for a fun photo op. After completing the tour, you can visit the new Motorsports Hall of Fame of America, which is included in your ticket.
Cape Canaveral
Three… two… one… liftoff! The Kennedy Space Center Visitor Complex is the next stop on your Florida coastal road trip. Explore American aeronautic history as you visit the mission zones that highlight the accomplishments of the U.S. space program. There are over a dozen attractions to choose from, should you choose to spend the day. You can take in a show at the Hubble Space Telescope Theater, see what it's like to ascend into orbit on the Shuttle Launch Experience, and get a look at the Mars Rover Vehicle Navigator.
You can explore the complex on your own, but for a more comprehensive experience, consider booking a guided tour. The 3-hour guided tour is led by a space expert and includes some of the more exciting exhibits, including the Astronaut Training Experience.
The Launch Director Tour of Space Shuttle Atlantis is an exclusive tour that gets you up close and personal with the shuttle. This is the perfect tour for the space nerd in your family.
Vero Beach
Finish your road trip at Vero Beach, where you'll find the perfect beach to end your adventure. The local beaches include Ambersands Beach in the Archie Carr National Wildlife Refuge; the local favorite Golden Sands Park; the family-friendly Humiston Park, and Round Island Park, which is perfect for kayaking and canoeing.
Vero Beach's loggerhead and green sea turtle populations both nest here. The Archie Carr National Wildlife Refuge is home to the largest nesting populations of these threatened turtles. In June and July, the refuge offers nighttime sea-turtle-watch programs where you can walk the beach with a refuge guide and search for hatchlings making their way to the water. In August and September, the refuge offers Turtle Digs, an educational program focusing on the lives of sea turtles.
Start your last day off right with breakfast at The Lemon Tree, a classic beachside bistro where you will find everything from perfectly cooked eggs to sweet treat daily specials. You're sure to find a filling nosh to begin your journey home.