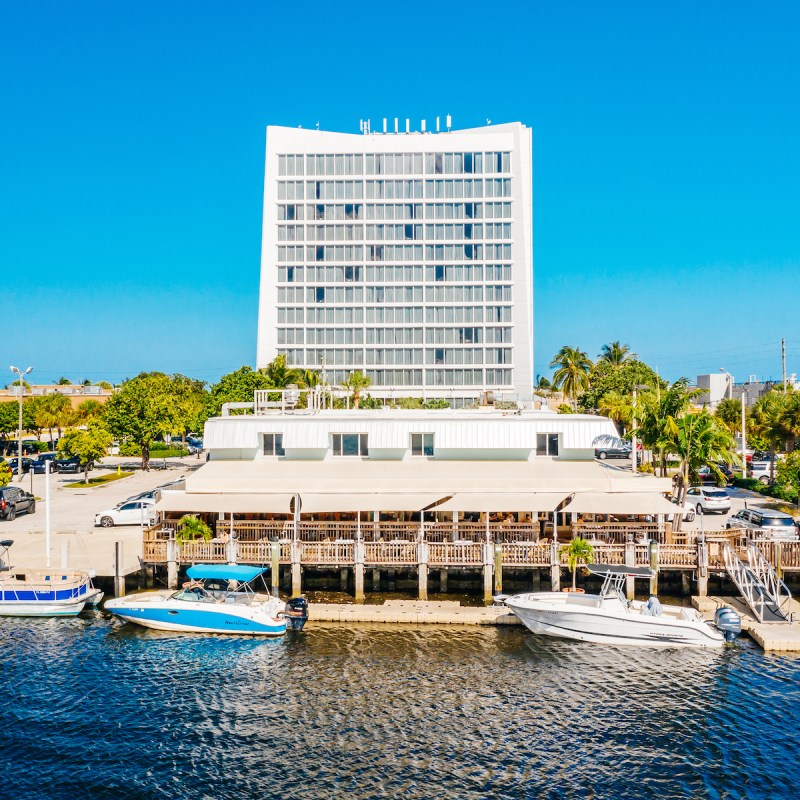 There's nothing quite like enjoying a great meal while enjoying a beautiful view. You're in luck if you're looking for restaurants with a water view in Fort Lauderdale. Some overlook the ocean, while others have a view of the Intercoastal Waterway. An easy way to get to many restaurants is by using the Intercoastal Waterway Taxi.
Here are eleven of the best restaurants in Fort Lauderdale with a water view.
Visit Lauderdale hosted my stay and some meals in Fort Lauderdale. All opinions are my own.
1. Casa Sensei
I had lunch at Casa Sensei, my favorite place to eat! They have a unique menu and scrumptious food. A Las Olas dining destination, Fort Lauderdale Magazine voted it Best Asian Restaurant for the last 3 years.
They recently launched an interactive, grill-your-own wagyu experience available Friday through Sunday. The menu allows guests to participate in an interactive dining experience by grilling their portions of authentic Japanese wagyu beef. They will also have the option to add Japanese whiskey pairings.
You can enjoy waterfront dining with a view of the New River or take a Gondola Dinner Cruise and enjoy your meal while cruising the beautiful Fort Lauderdale canals.
What To Order At Casa Sensei
Not everyone can visit when they have the special wagyu beef, but whatever you order will be delicious. Here is what I recommend:
For starters, try the truffle edamame. The edamame are steamed and drizzled with truffle oil.
Chino sticky ribs in a caramelized Chinese barbecue sauce are also a great option. (I sampled both of these!)
The cashew chicken is a light and delicious entrée that includes a mix of chicken, cashews, veggies, and a soy-based house sauce served with jasmine rice.
When I visited, the food was divine, the portions large, and the service excellent and fun. The cotton candy at the end of the meal was a special treat!
2. Shooters Waterfront
Are you craving some waterfront fun? Take a water taxi down the picturesque Intracoastal Waterway, hop off at stop number nine, and visit Shooters Waterfront!
Perched on the edge of the Intercoastal Waterway, this one-of-a-kind dining experience offers spectacular views of boats sailing by while you dine. Whether it's an outdoor patio meal or indoor seating that gets your fancy, they've got everything from tasty burgers to succulent seafood and sushi for all tastes. Take time to sit back and enjoy a delicious feast with fabulous scenery!
What To Order At Shooters
The crunchy coconut shimp is served with a mango chili sauce. (This was the best coconut shrimp I have ever eaten.)
The grilled soy-ginger-glazed salmon is the perfect entrée with a side of grilled asparagus.
Our table tried several desserts. You will want to try the key lime baked Alaska. Another popular choice is the Real McCoy pineapple upside-down rum cake.
3. 15th Street Fisheries
Are you looking for a fun and fresh seafood experience? Look no further than 15 Street Fisheries! This casual spot offers stunning views of the Atlantic Ocean from its outdoor seating and an upstairs dining area that's just a bit more formal.
Enjoy savory dishes like grilled fish sandwiches or tacos off their delectable menu — perfect for landlubbers and seadogs alike! And since this is Water Taxi stop number three, stopping by this dockside restaurant is quick and easy. Remember to feed the tarpon when you get there too!
What To Order At 15th Street Fisheries
Everything you order at the 15th Street Fisheries will be delicious.
The salmon poke bowl is a favorite with Scottish salmon, avocado, mango, cucumbers, wonton strips, and a sweet soy sauce served with sushi rice. It is light and delicious.
A delicious gluten-free option is the Bahamian-style conch chowder in a blend of island spices with bacon, tomatoes, corn, and potatoes.
Two irresistible seafood entrées are the grilled salmon served with coconut pineapple rice and the miso-glazed sea bass served with sauteed green beans and vegetable fried rice.
Don't forget dessert! The coconut snowball or the creme brûlée duo will make your sweet tooth happy.
4. Takato
Experience the joy of Takato — a fusion restaurant full of flavor, cultural heritage, and breathtaking ocean views! Let Executive Chef Taek Lee take you on an unforgettable journey through his Asian ancestry. From creative dishes to authentic flavors that tantalize your taste buds, this sanctuary at The Conrad Fort Lauderdale will have you in a state of pure bliss.
What To Order At Takato
Start your meal with the seaweed salad. The Chilean sea bass is served with carrot and parsnip puree, and an heirloom tomato salad is a light option.
Try the wagyu skirt steak with wasabi chimichurri for red-meat lovers.
5. Burlock Coast
Step back in time and take a trip to Burlock Coast, Fort Lauderdale's very own Prohibition-era-inspired escape! Just steps from the sandy beach at The Ritz-Carlton, Fort Lauderdale, visitors can enjoy incredible ocean views while indulging in Chef de Cuisine Ryan Fisch's farm-fresh menu. Try one of their craft beers on tap (sourced from 13 local South Florida breweries), or sip away on something special with their progressive cocktail program.
What To Order At Burlock Coast
I'm a hummus lover, and at Burlock Coast, they make homemade hummus served with grilled bread and vegetables.
If you want a sandwich, try the southern fried chicken sandwich with lettuce, pickles, and a spicy maple hot sauce.
6. Casablanca Cafe
Casablanca Cafe is a truly unique dining experience located right on Fort Lauderdale Beach with divine ocean views! Initially built in 1927 as the first home to be constructed at this beachfront location, it has maintained its Mediterranean Revival architecture made up of elements from Spanish and Middle Eastern designs.
Guests enjoy classic American comfort food cooked with fresh local ingredients while sipping their favorite cocktail or enjoying live piano music, all amid beautiful coastal scenery that promises an unforgettable evening out!
What To Order At Casablanca Cafe
Try the pan-roasted mussels with sun-dried tomatoes or, my favorite, the ceviche as an appetizer.
The sticky short ribs or blue crab-crusted mahi-mahi are favorite entrées.
End your meal with a slice of Key West-style key lime pie.
7. Steelpan
Experience the best of Fort Lauderdale Beach with a side of Caribbean-American fusion. Steelpan at Sonesta Hotel offers breathtaking views and flavors inspired by South Florida's island culture. Dig into delicious cuisine as you bask in an ocean breeze!
What To Order At Steelpan
The charcuterie board is a perfect start to your meal, or if you desire a gluten-free option, the chef's Bahamian conch chowder is ideal with its spicy habanero sauce.
The island spiced whole yellowtail snapper is my choice for an entrée.
8. Lona Cocina & Tequileria
Get set for a memorable dining experience on Fort Lauderdale Beach at Lona Cocina & Tequileria! The ever-so-stylish eatery opened its doors in January 2018 and is run by celebrated Chef Pablo Salas. It is also easy to get to via the Water Taxi, stop six.
Step inside the chic yet funky setting, where you'll find a stunning indoor/outdoor bar, casually elegant interior dining room, tequila tasting room, and private spaces. It offers an eclectic mix of Mexican cuisine with modern twists cooked to perfection. And get ready to be surprised: Not only will your taste buds say "olé," but so will your wallet when it comes time to pay.
With the sound of ocean waves, salty sea air, and craft cocktails in hand, Lona is transforming Fort Lauderdale into a beachfront oasis. Enjoy specialty margaritas made with love (no premade mixes here!) and Micheladas, or indulge in their happy hour specials every day while listening to live DJs spinning poolside tunes — all framed by stunning views of the Atlantic!
What To Order At Lona Cocina & Tequileria
If you like bacon, you have to try their crispy cacon guacamole. They serve traditional Mexican dishes and some unique entrées like octopus tostada.
9. DUNE By Laurent Tourondel
If you're looking for an authentic taste of the Fort Lauderdale beach life, look no further than DUNE By Laurent Tourondel. Experience flavors as bold and vibrant as South Florida's coastline in this award-winning eatery founded by world-renowned Chef Tourondel.
From made-to-order pancakes for brunch on Sunday to freshly-prepared salads or sandwiches on the lunch menu — not forgetting the stunning view from the outdoor seating area — make sure your visit to the beach is extra special at DUNE!
What To Order At DUNE By Laurent Tourondel
Why not try something different, like grilled Australian lamb chops? If you are visiting with a group, try their baked Alaska celebration cake. It is made to be shared by up to six people and will be the perfect ending to your meal.
10. Boatyard
Visitors to Fort Lauderdale can get a taste of the nautical life at Boatyard, located downtown on the New River. The menu features seafood classics, unexpected treats like gator bites, and a wide selection of wines, craft beers, steaks, and chops. Choose between basking in some sunshine outdoors or cozying indoors while you take in stunning views. Start your voyage by hopping aboard the water taxi and skipping rush hour; this stop is number four!
What To Order At Boatyard
You can't go wrong no matter what you order, but below are my recommendations.
Start with the Brussels sprouts with sweet chili, a touch of ginger, kimchi, and kaffir lime, topped with bonito flakes and peanuts.
Seafood lovers will relish The Captain's Tower, which includes a half-chilled Maine lobster, tuna poke, ceviche, cocktail shrimp, and oysters.
If you're not that hungry, you might love the pan-roasted Chilean sea bass bathed in a black garlic soy glaze served with coconut-scented rice.
They also serve wood-fired steaks, for those not interested in seafood.
You feel like you are sitting on an island sipping a drink when you have the Island Hopper with Ron Zacapa Centenario aged rum, pineapple, coconut water, and lime.
11. Coconuts
Are you looking for an unforgettable night out? Coconuts is where it's at! This luxurious waterfront destination provides unparalleled views of the Intercoastal Waterway and stunning sunsets. Plus, whether you're bringing your boat or just hanging with your pup on a leash, this upscale yet casual spot has something to offer everyone. Visit any day of the week, including Sundays for brunch!
What To Order At Coconuts
The Pink Panther with rock n roll strawberry tequila and pink lemonade gets my vote.
Their fish tacos are a local favorite and the Danish baby-back barbecue ribs bathed in a sweet and spicy chipotle-pineapple barbecue sauce are a yummy alternative.
For those wanting something unique, try the charred octopus.
No matter what type of cuisine you're in the mood for, there's sure to be a restaurant in Fort Lauderdale that fits the bill — and comes complete with an incredible water view! So whether you're looking for an intimate dinner spot or a place to catch up with friends over brunch, be sure to check out one of these top destinations next time you're in town.
Related Reading: