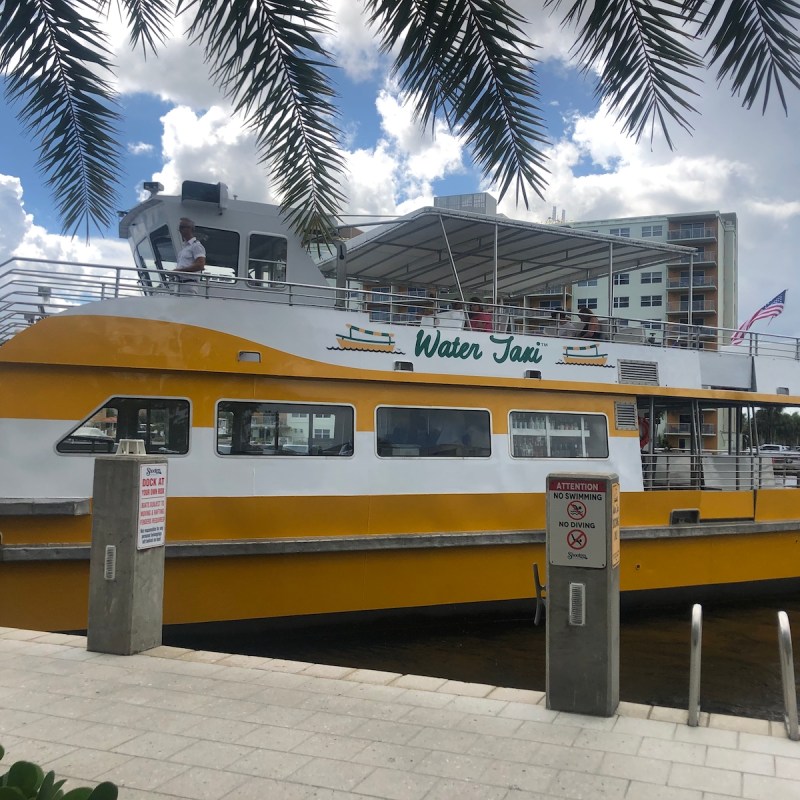 Known as the "Venice of America," Fort Lauderdale offers stunning waterways and breathtaking beaches. If you're planning a getaway, visitors and locals agree one of the best ways to get around is by using a water taxi to view the gorgeous South Florida wildlife and landmarks.
I visited Fort Lauderdale in September with three other travel writers. We enjoyed the breathtaking views and convenience during our day trip using the water taxi system.
Read on to learn why a water taxi is the best way to experience Fort Lauderdale.
VisitLauderdale hosted my visit. All opinions are my own.
1. Convenience
Fort Lauderdale is famous for its beaches and beautiful waterways, and getting around via car can be a hassle due to traffic and parking. With a water taxi, you don't have to worry about parking or navigating congested roads. Fort Lauderdale Water Taxis have many designated stops along the Intercoastal Waterway that are easily accessible and will take you to your destination.
There are three different options for water taxis in Fort Lauderdale. The Water Taxi route map will help you decide which to choose.
Water Trolley
The Water Trolley is free and provided by the City of Fort Lauderdale. The Water Trolley route has eight stops along the Riverwalk. You can catch the Water Trolley from 10 a.m.–10 p.m. with departures every 30 minutes, 7 days a week.
Fort Lauderdale Water Taxi
This route has 11 waterway stops. It also operates 7 days a week from 10 a.m.–10 p.m., with boats departing from the various stops every 35–45 minutes. Eateries, museums, the Galleria shopping mall, and other historical sites are along the route. Be sure to pick up a pamphlet before boarding or use the app to figure out where you want to get off.
Hollywood Express Water Taxi
This water taxi has a shortened non-stop route between the Convention Center, Hilton Marina, and the Margaritaville Hollywood Beach Resort. It departs every 2 hours, 7 days a week, starting at 9 a.m. and ending with a 10 p.m. departure from Margaritaville. If you plan to hit the beach, this route will get you there quickly.
2. Affordable
Water taxis are surprisingly affordable and an inexpensive way to experience the city. With your ticket, you get a discount at many of the eateries and shops along the route.
We enjoyed hopping off for lunch at Stop 9 and eating at Shooters Waterfront restaurant when we visited. The stop is right in front of the restaurant, with several other eateries nearby.
3. Water Taxi Pass Options
There are various water taxi pass options to select from.
All-Day Water Taxi Pass
The All-Day Pass allows you to get on and off the water taxi as often as you like and ride as much as you want throughout the day.
When we rode the water taxi, we did the entire route just for the ride and to see the sights, and then we got off for a late lunch and later hopped back on to return to our stop.
Evening Water Taxi Pass
The Evening Pass is the best value if you only use the water taxi to go to dinner or to enjoy the city nightlife. The pass is valid from 5 p.m.–10 p.m., and like the all-day pass, you can hop on and off the taxi as often as you wish during that time.
Hollywood Express Water Taxi Pass
If you want to go non-stop from Fort Lauderdale to the Hollywood Beach area, this is the right pass for you. This route is included with the All-Day Pass, but if only hitting the beach area, this pass will save you some money.
Multi-Day Water Taxi Pass
If you are spending a long weekend or a week in Fort Lauderdale, I recommend the Multi-Day Water Taxi Pass. This pass entitles you to ride as often as you desire on any water taxi for an entire month. It is an excellent deal for anyone planning to take the water taxi for multiple days.
Private Charters
Fort Lauderdale Water Taxis also offer private charters. Contact their office at (954) 467-6677 for details.
4. Breathtaking Views
Fort Lauderdale's beaches and waterways offer some of the most stunning views in the world. Using a water taxi will give you a unique perspective of the city's skyline, beaches, yachts, and luxurious homes. You can sit back and relax while admiring the beauty of one place to another.
When we rode the water taxi, our captain and guide provided historical details and scenic commentary as we traveled.
One of the impressive things pointed out was the Las Olas Bridge, with a mural of a giant marlin jumping through the air. This urban art was created by a local doctor/artist who uses his talents to raise funds for local projects.
5. Comfort
Water taxis are a comfortable form of transportation. There is plenty of seating and room to move around, so you can relax and enjoy your ride without worrying about being cramped or uncomfortable.
There are restrooms aboard, and drinks are available at a small bar. You can be inside or in the open air. We chose to be out in the open air with shade.
6. Speed
Time is precious when it comes to exploring this beautiful city. You can reach your destination quickly and without traffic delays or parking issues. Water taxis glide through the waterways efficiently at a relaxed pace, allowing you to make the most of your time in Fort Lauderdale.
If you are riding the water taxi to see the sites, the ride is approximately 3 hours round trip. But you can hop on and off as often as you want and make it an entire day of fun.
7. Safety
Water taxis are also a safe way to get around Fort Lauderdale. With experienced drivers who know the waterways, well-maintained boats, and necessary safety equipment, you can rest assured that you will be safe while traveling by water taxi.
8. Accessibility
Some of the water taxi vessels can accommodate people with accessibility issues. However, due to the nature of their smaller boats, tides, and fixed docks, not every vessel is fully accessible at every location. You can call in advance to ensure the water taxi accommodates you.
9. Unique Experience
Traveling by water taxi is a lot of fun and a unique experience! It's a great way to see Fort Lauderdale from a different perspective and to enjoy the beautiful scenery, and if riding at night, the lights sparkle throughout the city.
Pro Tips: Riding The Fort Lauderdale Water Taxi
Pre-Purchase Your Tickets
By purchasing your tickets online, you will guarantee that you can board the water taxi immediately when it stops. Those who are purchasing at the stop must wait until all online ticket holders are on board and can only buy tickets if there is space.
Live Tracker Saves Time
Use the Live Tracker to see boat locations and arrival times. The boats will display at their current location as a green rectangle on the tracker app during hours of operation. All destinations appear as yellow oval icons. Using it helps you know the best time to arrive at the stop. The cute iguana kept us company as we waited for our taxi.
No Pets On The Water Taxis
Pets are not permitted to ride water taxis in Fort Lauderdale. Service animals are welcome on the boats.
Fort Lauderdale's water taxis offer an unparalleled way to experience the city, from the convenience of never worrying about parking or traffic to the stops at some of Fort Lauderdale's prime locations and, ultimately, taking away stress. So if you want an efficient and fun way to get around town, make it a point to ride a water taxi in the "Venice of America" next time you're visiting!
Related Reading: