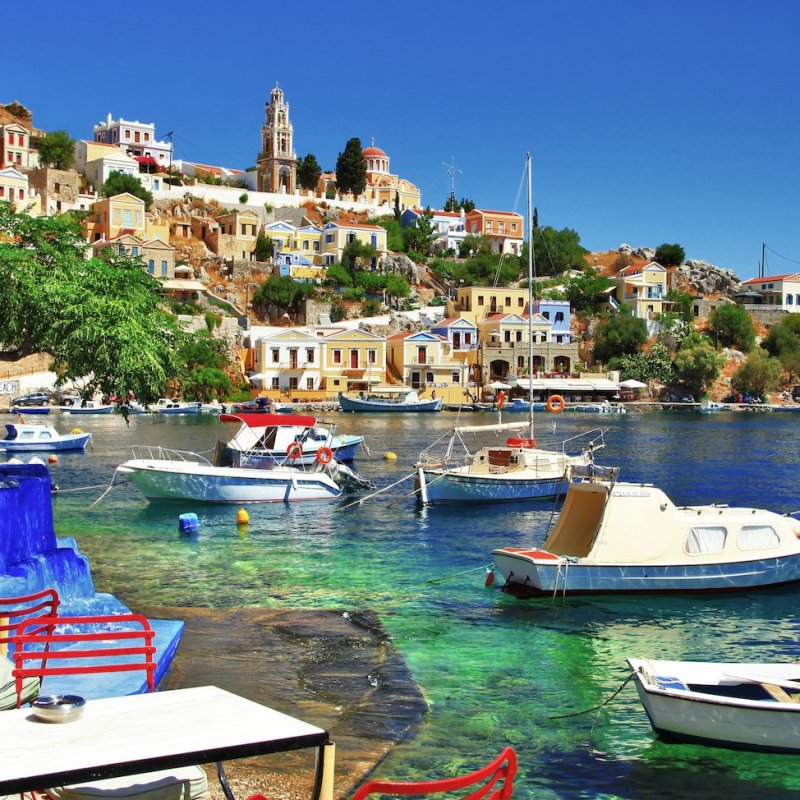 With over 6,000 Greek islands — 227 of them inhabited — it's hard to decide which Greek island to visit. They cater to all tastes. Commonly visited islands are easily accessible as their infrastructure allows for airports. And yet it's the less touristy islands that I love — those that are more off the beaten track and mostly visited by locals.
Here I share with you my chosen list of seven gorgeous greek islands you must visit. To give a broad choice, I've chosen large islands still considered not as touristy and some in smaller archipelagos. We'll consider ease of access, unique activities, and gastronomy. Enjoy your gorgeous greek island guide!
1. Evia
The second largest Greek island, Evia (or Euboea) is actually little known to foreign tourists but not due to lack of facilities. Its size means there's so much to see and do.
Evia stretches from the tip of the Pelion Peninsula on Greece's eastern coast down to the south coast of Athens, and because of its proximity to the mainland, has a modern suspension bridge that links the island's capital town, Chalkida, to the mainland. Driving from Athens takes just under an hour, and frequent bus and train services from the capital also operate. Or take a ferry to the island's southern coastal town of Marmari from the Athenian Port of Rafina.
The fact Evia is so large and relatively unknown makes the island a big favorite of mine, and its proximity to Athens is an added bonus. Its varied topography — beaches and coves on the east coast, the mountainous interior offering a multitude of walks and hikes, and Drifys being the highest peak at just over 5,700 feet, and often covered with snow in the winter — gives the visitor much to do. Chalkida on the west coast is steeped in history dating back 3,000 years, and you'll find Athenians day tripping here to stroll along the promenade. Enjoy Karababa Fortress and witness elements of Ottoman influence at Emir Zade Mosque.
While on the island, many choose to eat mezedopolia — assorted seafood meze dishes. Meat lovers will enjoy the local island lamb or beef stew, why everyone, including vegetarians, can sample the local cheese tiropita (pie).
2. Hydra
Hydra is a real gem. It's less than an hour from Athens's main Port of Piraeus by hydrofoil/dolphin ferry, hence it's easily accessible — and proof that there's no need to travel far to experience Greek island relaxation.
Hydra comes from the Greek word for water, and the island's name is a reference to its many natural springs. The main selling point for me is the fact that it's non-motorised, aside from one fire truck and a refuse truck. Well tended donkeys and mules are used to cart guests' luggage and even household goods for the locals. With a year-round population of roughly 2,500, a two-mile coastline, and 25 square miles of land in total, there's no airport here, which means it's blissfully free from the package tourist crowd. The type of tourist it attracts are more mature in mind, looking to rent a house for a week or even a month.
Soak up the artistic atmosphere as famous Greek artists and poets come here to relax, content in the knowledge they'll be unhassled. Indeed, Canadian singer songwriter Leonard Cohen bought a house here to escape to for inspiration.
It's not a beachy island. There are platformed rocks to swim from, and the water is turquoise and crystal clear. You can also take a water taxi from place to place. This is the most reliable form of transport if you don't feel like walking. The terrain is quite hilly, and a water taxi can take you more comfortably to one of the many hidden, albeit stony, coves. However you get there, it'll be worth it.
Naturally, seafood served on the island is always fresh (unless otherwise stated). Shrimp saganaki is a favorite; it's feta cheese, fresh tomatoes, red onion, white wine, and shrimps cooked in the oven. Sit at one of the many harborside restaurants and watch the livestock and sunset.
3. Symi
Symi is in the Dodecanese archipelago, 24 miles from the larger island of Rhodes. Rhodes has an airport with direct flights from Athens and other European destinations, so spend a few days here exploring the UNESCO-designated Old Town before heading off on a 50-minute hydrofoil to the quaint island of Symi. When approaching the island, the view of the Venetian-style houses seemingly tumbling into the sea is breathtaking.
Symi's divided into two parts: the harbor, Yialos, and the Upper Town, Chora. Day trippers from Rhodes usually spend time walking to the old Clock Tower on the promenade and sitting drinking frappe admiring the ostentatious yachts that moor up. Symi's proximity to Turkey entices day trippers, and one of the day's activities is choosing which of the many seafood restaurants to frequent. It's worth taking time to explore the Chora though; its colorful Venetian houses, some crumbling ruins, some restored into boutique establishments such as the Old Markets hotel, which served as the island's trading area in days gone by. To reach the Chora, however, means a walk up the locally known Kali Strata — a series of 400 steep stone steps. I always go up by taxi from Yialos (the fare costs 3 euros) and then walk down.
The 18th-century Panormitis Monastery on the island's southwest coast is still inhabited by monks. Beaches aren't your sweeping white sandy type. Expect more the hidden coves guaranteeing a quiet time despite the swell of tourists in summer. Emporio Bay can be walked to from Yialos in about an hour — set off early in the morning as in the summer Symi is known to reach temperatures as high as 104 degrees Fahrenheit.
Be sure to try the local sweet dish of misokofti, a delicious rice pudding dessert made with prickly pear and topped with cinnamon. Restaurants serve a small portion complimentary at the end of a meal.
I'd recommend Symi for lovers of the real traditional Greece and those who love architecture and are after a truly independent vacation.
4. Kalymnos
Also in the Dodecanese Islands, Kalymnos can be reached by ferry either from Athens (a long trip) or from Rhodes or Kos. It also has a tiny airport that caters to light aircraft with connecting flights from Athens.
In the past, Kalymnos had huge success with sponge trading, hence it's one of Greece's wealthiest islands. Although the traditional sponge trade has all but died off, it's still possible to buy original sponges from the port in Pothia. Kalymnos is off the beaten track with dramatic interior landscapes making the island popular with hikers, and the underwater world is just waiting to be explored by snorkeling or scuba diving.
There are cute boutique establishments to stay in, including the 10-room Hotel Archontiko along the waterfront. And the pretty villages spread out across the island offer so many further options to stay in the interior.
Along the west coast you'll find the small islet of Telendos, originally a part of Kalymnos but separated by an earthquake in 500 A.D. You can't stay the night here, and there's only one cafe, but it's a nice place to spend the day relaxing around its coast.
Mostly, though, Kalymnos attracts rock climbers and hikers of all levels due to its mountainous interior. The hike from the port to the Agios Savvas Monastery along the locally known Italian Road takes about three hours and is a steep climb, yet there are also many gentler routes. Hiking on Kalymnos gives more information about its varied paths.
I love coming here and relaxing by the port, talking to locals, and wandering into the many sponge shops and the sponge museum, where the island's past and many shapes and sizes of sponges are displayed.
5. Lefkada
An Ionian island on the northwest coast of Greece almost opposite Albania, this side of Greece gets a lot of rain in the winter, hence the islands here are more lush. It makes for verdant green landscapes with trees hugging the rugged cliffs, tumbling into the azure waters. Lefkada is one of the islands in this chain that's been nicknamed the European Caribbean, due to the colors of its waters.
Linked to the mainland by a pontoon bridge, Lefkada is approximately a five-hour drive or bus ride from Athens. Or you can fly to the local mainland airport of Preveza, which receives connecting flights from Athens and other European destinations, and take a 40-minute taxi ride to Lefkada Town, the island's laid-back fishing port capital.
Lefkada is famed for its white sandy beaches, and the most photographed is Porto Katsiki on the southwest coast. This can get extremely busy in the summer months though, so take a boat ride to many of the hidden coves for a snorkel.
As a mountainous island, there are several villages to visit. Annually on August 11, the village of Karya, which sits at an elevation of over 1,600 feet and has a natural spring, hosts a traditional replica wedding complete with costumes from the past. Hiring a car to drive around and find mountain gems like Karya is a delight; cool off in the village squares with a Greek frappe and chat with locals.
Cape Lefkas on the southernmost tip of the island is where Sappho — the 630 B.C. poet who came to be known as the tenth muse — is reputed to have leapt to her death when she was spurned by her lover. In 1913, a lighthouse was built here on the cliffs to mark the spot where she jumped. With superb visibility across the Ionian Sea, it's one of my favorite places to visit.
Lefkada is an island for those who relish history, beaches, traditions, and relaxation. It's busy in the summer, but fall is a good time to visit.
6. Skopelos
Nestled in the Aegean waters of northeastern Greece, Skopelos is famed as being the main island location for the filming of Mamma Mia in 2007. Most of the cast and crew stayed here and enjoyed the clear waters, beaches, and, in general, the Greek hospitality. The neighboring island of Skiathos is the busiest of this chain. People generally fly there, then take a ferry or join a yachting trip, just as Bill did in Mamma Mia.
If you're traveling from Athens, a total five-hour bus and ferry journey takes you to the port town of Agios Konstantinos on the mainland, then a connection by ferry.
It's an island perfect for couples and families with traditional architecture including the photogenic churches and houses in Skopelos Town. A drive along the 42-mile coastline will reveal hidden coves and secluded beaches.
Its most popular spot is the so-called Mamma Mia church that appears in the film's final scene. It's the Church of Agios Ioannis Kastri, and although it's no longer in use, there are superb views from the top of its place atop a rocky outcrop. I found it quite tiring climbing the steep 200 steps cut out into the rock, but there are handrails, and if you can take it slowly, it is worth it.
Skoplos is in the Sporades chain of Greek islands, famous for its monk seals. Indeed, neighboring Alonissos has a monk seal sanctuary, and if you're lucky, because Skopelos lacks mass tourism, you may experience one of these shy creatures during your daily swim.
7. Kea
In the Cycladic chain of islands, many tourists overlook Kea for the more popular island of Mykonos or Santorini. But you shouldn't. Kea is easily reached by ferry from Lavrio Port near Athens. Visit Lord Byron's popular Cape Sounion haunt on the way. You won't be disappointed, and within the hour, you'll arrive on the low-key island, which Athenians with their second homes there regularly visit.
Kea has fewer ugly block hotels and more smaller buildings made of local stone and restored ancient mule tracks for walking to the beaches and between villages. These tracks are good for everything from gentle walking to more strenuous hikes. There are numerous paths to follow and local guides can point you in the right direction, whether you wish to see ancient Doric temples, secluded beaches, agricultural fields, or olive and almond groves.
Small beaches are accessible by boat, rough tracks, rental car, or even walking. There is a large selection to choose from, but none are "organised," that is, they do not offer sunbeds or other amenities.
Four wrecks lie around the coast of the island: three ships (one of them the Titanic's twin sister, Britannic, a floating hospital) and a B-52 aircraft. The wrecks took place between the mid-1800s and 2008, hence Kea is an island that attracts many diving aficionados.
Since Kea is a relatively self-sufficient island in terms of agriculture and livestock, you can expect a range of traditional dishes, from fresh seafood to local kopanisti cheese pies made with the soft, salty, slightly spicy cheese. With its fantastic gastronomy, traditional villages, walks, hikes, and shipwrecks, Kea is every Greek island lover's dream. Longing to soak up the sun? These are the nine best beaches in Greece.