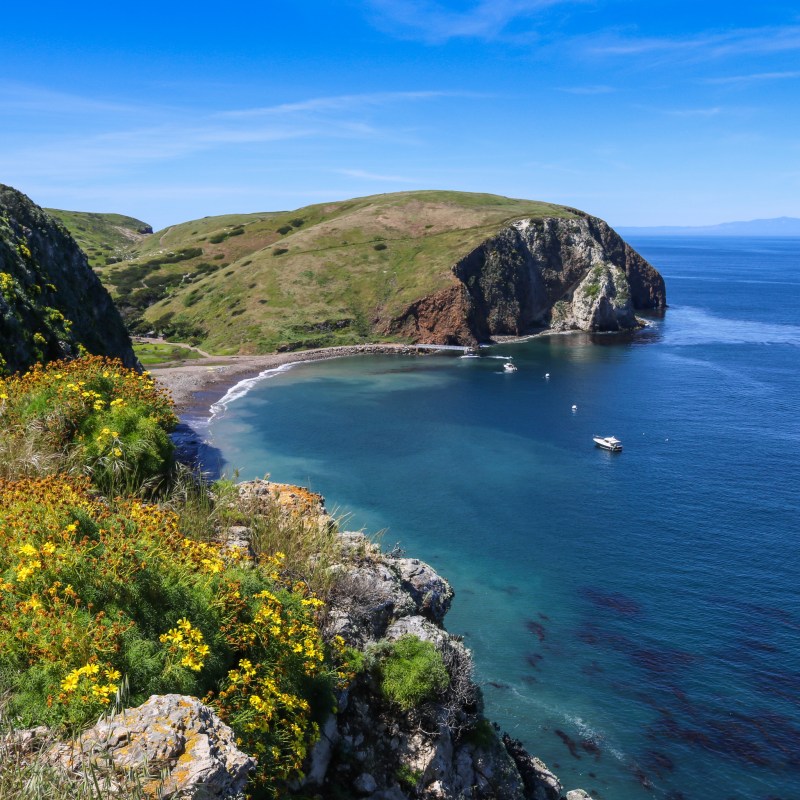 While some national parks have become known for crowds and traffic, Channel Islands National Park remains one of the least-visited parks in the United States. It's a great alternative to the most popular parks and an ideal place to explore nature with minimal human interaction.
Channel Islands National Park is located off the coast of Southern California. Most people depart for the islands from Ventura or Oxnard, both of which are an hour and a half north of Los Angeles.
The weather on Channel Islands National Park is temperate year round, so there is no bad time to visit. For a really uncrowded experience, try visiting on a weekday.
Set aside at least one day to explore Channel Islands, where you can admire abundant marine life, hike along ocean-view trails, and try spotting the sly island fox.
Here's what to know before you go.
1. There Are Five Islands
Five islands make up Channel Islands National Park: Santa Cruz, Santa Barbara, Anacapa, Santa Rosa, and San Miguel. So the first step in planning a visit is to select an island. Anacapa is the closest to the mainland, and therefore requires the shortest boat ride, while San Miguel is the farthest. First-time visitors often select the largest island, Santa Cruz, since it offers a nice mix of activities, including hiking, kayaking, diving, and camping. Typically, visitors are able to select just one island per day due to ferry schedules.
2. You'll Need To Plan In Advance For Your Ferry Ride
Island Packers Cruises is the official cruise vendor of the National Park Service, offering ferry rides to each of the islands. So after selecting the island you want to visit, head to the website to reserve your departing and returning rides.
Boats depart from both the Ventura Harbor and the Channel Islands Harbor in Oxnard. After booking your trip, be sure to head to the correct departure location.
Ferry services are available to Santa Cruz seven days a week, but the schedules for the other islands are more limited. If you're planning to visit on a weekend, you'll need to book a few weeks in advance.
The ride to the islands can be bumpy, so if you're prone to seasickness, you should bring medication or Sea-Bands and sit toward the back of the boat facing in the direction of travel.
Finally, don't miss your return boat, especially if it's the last one of the day! It's recommended that you return to the dock about 30 minutes before departure.
3. Look Out For Dolphins And Whales
The boat ride to the Channel Islands is part of the adventure. Keep your eyes peeled for dolphins and maybe even whales. Many visitors have reported seeing dolphin pods with hundreds of these mammals jumping and swimming through the water. The most common whale sightings include gray, humpback, and blue whales. The boat crew is well trained in spotting these creatures and will announce significant sights to everyone.
Pro Tip: If you are particularly interested in whale watching, then book a special cruise with Island Packers. These 3-hour tours do not include time on the islands, but you will likely spot whales as well as other marine mammals.
4. Bring Everything You'll Need For The Day
There are no services on the islands, so you will need to bring all food and water with you for the day. The National Park Service recommends bringing a gallon of water per person per day. There are also no trash cans, so plan to bring trash with you back to the mainland.
Also be sure to bring sunscreen, a wide-brimmed hat, a first-aid kit, and any medication you might need.
5. The Water Is Protected, Too
Not only is the land of the Channel Islands protected, but so is the surrounding water. In 1980, the National Oceanic and Atmospheric Administration (NOAA) began protecting these waters. Today, the 1470 square miles of ocean water around the five islands are a National Marine Sanctuary. This special designation protects the habitats and ecosystems of ocean waters around the Northern Channel Islands: Anacapa, Santa Cruz, Santa Rosa, San Miguel, and Santa Barbara islands. A special place for endangered species, sensitive habitats, historic shipwrecks, and cultural resources, the sanctuary provides protection through research, education, conservation, and stewardship. In 2002 the California Fish and Game Commission established a network of Marine Protected Areas (MPAs) within the nearshore waters of the sanctuary. NOAA expanded the MPA network into the sanctuary's deeper waters in 2006 and 2007. The entire MPA network consists of 11 marine reserves where all take and harvest is prohibited, and two marine conservation areas that allow limited take of lobster and pelagic fish.
Due to a mixing of warm and cold ocean currents, many species of seabirds, whales, dolphins, seals, and sea lions are abundant in the ocean around the Channel Islands. Sea otters have been spotted occasionally. A wide variety of fish and giant kelp forests can be seen, too, including garibaldi and giant black sea bass. Research is regularly conducted on the health of the sanctuary to help monitor and protect this special place.
6. Keep Your Eyes Peeled For The Island Fox
If the Channel Islands had a mascot, it would be the island fox. This brown and black creature is about the size of a small house cat and exists nowhere else on Earth. The island fox was at risk of extinction, but thanks to concerted conservation efforts started in 1999, it has recovered.
Without any natural predators, the island fox can hunt in the daytime and roams freely around trails, picnic areas, and other places where visitors gather. In fact, their favorite hunting grounds are the picnic tables, so be sure to keep a close eye on any food brought to the islands. At the end of every table is a food box for holding items you are not currently enjoying. If you're hoping for a picture of one of these critters, just be patient and keep your camera ready.
7. You Can Camp On The Islands
If you want to experience the islands with just a handful of humans, then consider an overnight stay. Far away from the mainland, you can enjoy the night sky and hear the sounds of wildlife. Primitive camping is permitted in the national park, and each island has one small campground. Limited backcountry camping is available on Santa Cruz and Santa Rosa.
Remember that everything will need to be brought to the island, since no services are available. Also, the campgrounds are located away from the boat docks, so all equipment must be carried to the site. No fires are permitted, but cooking can be done on enclosed gas stoves. Camping reservations must be made in advance.
Pro Tip: In the event you don't want to camp but would prefer to stay nearby in a hotel, try one of the hotels in Oxnard or Ventura. The Hampton Inn Channel Islands Harbor includes a full breakfast in the morning, which is a perfect way to fuel up before a day of hiking and kayaking.
8. There Are Many Sea Caves To Explore
There's no better place in the world to experience sea caves than Channel Islands National Park. Here you'll find the highest concentration of caves anywhere, as well as one of the largest and deepest in the world.
A great way to see the caves is by kayaking. Paddle through the larger caves to get an inside view, or float right up to the entrance to peek inside. Consider booking a kayak tour to learn about the marine life with an expert guide. Santa Barbara Adventure Company offers tours ranging from 2 to 3 hours around Santa Cruz and provides all necessary equipment (ferry tickets are not included). Wild Blue Ocean Adventures offers 8-hour tours to Anacapa that include all equipment and transportation to the island.
To spend time in the caves and underwater, try diving or snorkeling. Due to weather conditions, the National Park Service recommends these activities near Santa Barbara, Anacapa, and eastern Santa Cruz. Guided snorkeling trips are provided by Channel Islands Adventure Company. All-day dive trips and gear rental are available through Cal Boat Diving.
9. You Can Easily Explore The Islands On Foot
The islands are a great spot to enjoy an ocean-view hike. While each of the islands offers trails, Santa Cruz is probably the best for hikers. There are 15 trails to choose from, ranging in difficulty from easy to strenuous and from .5 to 18 miles. The longer and more difficult trails should only be attempted by experienced hikers.
10. It's A Great Place For Birding
The Channel Islands are particularly important for seabirds, since they offer critical nesting habitats. Here avid birders can spot western gulls, Cassin's auklets, Brandt's cormorants, and the only nesting population of California brown pelicans along the West Coast of the U.S. Seeing the seabirds is best accomplished by renting a kayak or taking an organized tour.
There are also 40 species of landbirds throughout the islands, including 10 that are endemic to the area. Refer to this National Park Service guide to learn about ideal birding spots on land.
11. Don't Skip The Visitor Center
Before or after your visit to the islands, set aside time to check out the visitor center in Ventura Harbor. Start with the 25-minute movie A Treasure in the Sea, shown throughout the day in the auditorium. Then explore the exhibits about the geology, animal life, and marine life of the park. Don't miss the large relief map of the islands, which gives a nice perspective of the overall park. One of the best features of National Park Service visitor centers is the opportunity to ask questions of rangers or volunteers.
If you're visiting Santa Cruz, Anacapa, or Santa Barbara, you'll also have the chance to visit smaller visitor stations that provide information specific to each place.
It definitely takes some planning and research to take a trip to Channel Islands National Park. But you'll be rewarded with a great day of hiking, kayaking, and relaxing in one of the least-crowded national parks in the country.