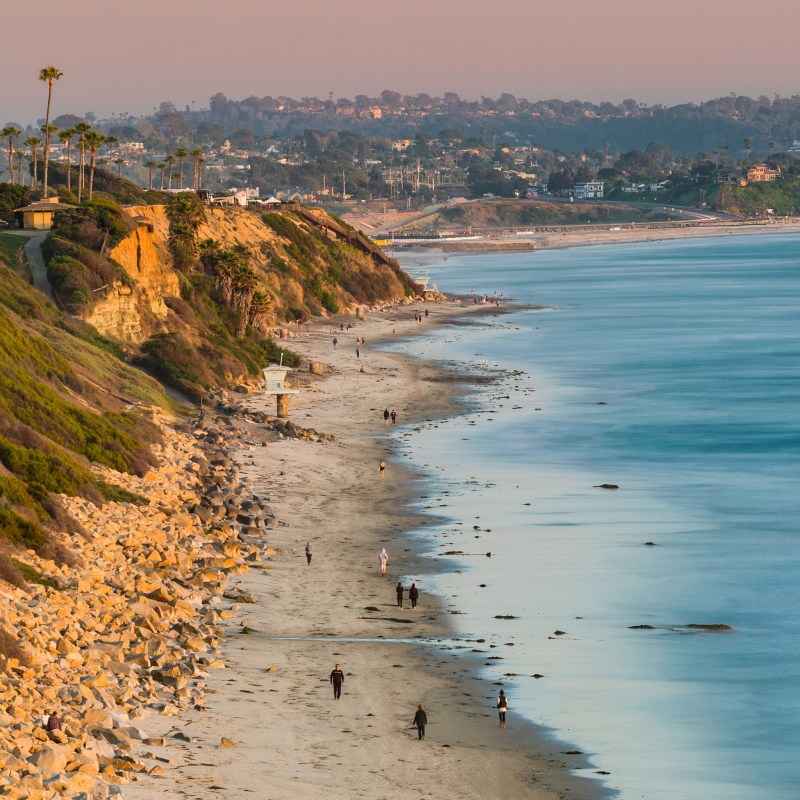 One of the best things about San Diego is its wide variety of accessible, unique villages and neighborhoods. Whenever city life gets to me, I know a quick visit to Encinitas will revive my spirits. It worked decades ago when I returned to live there after years in the Northwest. Now, while I live closer to downtown, I can hop on the Coaster to visit my old stomping grounds or take my car north about 15 miles up the interstate.
The Coaster runs near the beach and stops at several points throughout the county. I catch it at Old Town Station and enjoy the canyon views on the way to the outdoor station in Encinitas. It's right behind the historic La Paloma Theatre and a block from the main boulevard. If I'm planning for more than a stroll along the old Highway 101 or a few hours at Moonlight Beach, driving offers more flexibility and options.
Encinitas hasn't changed much over the years. The Beach Boys would feel right at home here as their 1970s selves. Most of the city proper is laid out west of the interstate along Highway 101. The beach area has few big brand-name shops. Over the years, major markets tried to make a go of it, but they eventually slunk back to the shopping centers east of the interstate. That suits the locals — they'd rather mosey between their favorite coffee shops, bars, and affordable cafes. Most of the city's growth has been in the suburban developments along El Camino Real about 5 miles inland, with grocery stores and amenities aplenty.
Here's how to have a wonderful time in charming Encinitas.
Things To Do In Encinitas
Hit The Beach
Moonlight State Beach
Moonlight State Beach stretches between bluffs a few blocks from the train station (or, if driving, at the end of the Encinitas Boulevard exit from the interstate). According to legend, the name comes from the rum runners who pulled casks from their boats to the beach during Prohibition. Today, the site is known for spectacular sunsets to the west with the moon rising above the eucalyptus trees on the ridge to the east.
There's a level parking lot to the south that's free and managed by the city. A wide stairway snakes down to the sand. A row of bathrooms and showers faces the water, and a pair of volleyball nets and tennis courts lure players most mornings. On the weekends, there are equipment rentals and a snack bar. You'll find plenty of room for umbrellas and a berm that keeps high tide at bay. Rent a surfboard, paddleboard, or bike at the shops located between the town and the beach.
Pro Tip: As with all the local beaches, at Moonlight State Beach, the cliffs are unstable after rains. The crumbling cliffs sometimes injure those who insist on setting their beach blankets close to the rock walls. Do as the locals do and settle in closer to the waves. It's fine to walk the beaches, but lifeguards recommend strolling closer to the water's edge — that way, if there's a bluff failure, you'll have plenty of time to get out of harm's way.
Beacon's Beach
At the foot of Leucadia Boulevard, you'll find a stairway down to Beacon's Beach, one of the most popular swimming, fishing, surfing, and picnicking spots in Encinitas. There's a small, rocky beach below. Look carefully before climbing, since the high tide limits access. This is technically a state park, but it doesn't accept annual day use passes. Parking is limited along the local streets.
Grandview Beach
Grandview Beach lives up to its name. The picturesque strand north of Leucadia and just south of Carlsbad can be accessed via a steep wooden stairway. Should you go, remember that the climb back up can be challenging.
Stone Steps Beach
Walk north of Moonlight Beach or south from Beacon's Beach, and you'll arrive at Stone Steps Beach. A concrete-and-stone stairway descends the crumbly cliff bluff to the narrow beach. Surfers enjoy rolling over the offshore reef. At high tide, the water covers the entire beach, so time your visit carefully.
Swami's Beach
If a picnic with a view is more your style, settle in at Swami's Beach to watch the surfers. Several benches near the stairs offer views, and there's a patch of grass where you can spread out. At low tide, there are tide pools to explore at the north point below the stairs.
Check Out The Murals And Gardens
Mural Tour
Take a self-guided mural tour along Highway 101. Check out the beloved Surfing Madonna mosaic on Encinitas Boulevard along the sidewalk below the Leucadia Pizzeria. Other notable mosaics can be found behind Better Buzz Coffee on the west side. Don't miss the giant whale mural, the Dia de los Muertos mural, and the Japan-inspired mural. Another photo-worthy mosaic can be found at the base of the Stone Steps Beach stairway.
Self-Realization Fellowship Encinitas Temple Garden
Paramahansa Yogananda is considered the father of yoga in the West. He wrote his Autobiography of a Yogi while living in a modest building above the ocean, and the garden where he would stroll is now open to the public. Today the Self-Realization Fellowship Encinitas Temple Garden overflows with plants and fountains, nooks, and shaded pathways. It's a peaceful retreat from busier Encinitas diversions. The temple shop along Highway 101 is full of beautiful Indian crafts and clothing.
San Diego Botanic Garden
In the early 1940s, Ruth Baird Larabee and her husband moved from the Midwest and fell in love with rural San Diego. They bought two parcels of land and a rustic ranch house and commenced growing a wide range of plants. Their neighbor Paul Ecke Sr. cultivated exotic flowers, and soon the area was dubbed the Flower Capital of the World. But the Larabees were primarily conservationists and planted a low-water landscape full of succulents, shrubs, cacti, and trees.
Today the San Diego Botanic Garden is considered one of the top 10 North American gardens worth traveling for by the American Public Gardens Association. It's home to 4 miles of trails, a waterfall, and a series of seasonal events. Its bamboo grove is the largest in the world.
San Elijo Lagoon Ecological Reserve And Nature Center
Head south of town and turn inland along Manchester Road. You'll notice a raised walkway over the wetlands and a modest building. The San Elijo Lagoon Ecological Reserve and Nature Center is a huge wildlife habitat and easy to navigate along the boardwalk. There are more challenging areas as well. Explore the 7 miles of trails, from easy to moderate to the moderate-to-strenuous Annie's Canyon Trail.
Visit Encinitas's Distinct Neighborhoods
Encinitas is really several distinct neighborhoods bordered by golden beaches, quaint shopping districts, unique dining options, and historic sites. Leucadia, Olivenhain, and Cardiff-by-the-Sea were incorporated into Encinitas in 1986, and each has its own personality. The entire area was originally home to the Kumeyaay people, whom the Spanish called the Diegueno.
Olivenhain
Olivenhain is a bedroom community and the farthest east. It was settled by Germans on the original Mexican land grant ranch in the 1890s (the neighborhood's name means "Olive Grove" in German). Their meeting hall still stands and is now used as an event space. Olivenhain is the place to go for long, winding hikes to find sunshine when there's a marine layer along the coast.
Leucadia
Leucadia is the farthest north and a loose-knit community of creatives and surfers. In fact, it's been named one of the world's best surf towns by National Geographic and Surfer. The culture centers on the popular surfing spots down the bluffs.
Early in the village's history, a development company decided to name the streets after Greek gods, and Leucadia was named for a cluster of the Ionian Islands. In the early 1900s, spiritualists held meetings here, which resonated with the hippies of the 1960s and their fascination with exotic religions. Today, the Seaside Center for Spiritual Living on Lake Street has a robust campus and hosts dances and kirtan concerts. A Peace Pole stands proudly in the garden, one of more than 200,000 across the world.
Leucadia is also home to cherished music and food venues like Haggo's Organic Taco, which was featured on the Food Network's Diners, Drive-Ins and Dives. Le Papagayo serves up a mix of music and Latin American/Mediterranean fare. They're open from morning through late evening and offer plenty of outdoor seating. Bring a bit of the neighborhood home with a Leucadia T-shirt from the family-run silk screen shop Shatto & Sons.
Cardiff-By-The-Sea
The Cardiff Kook statue, officially known as Magic Carpet Ride, marks this beachy community south of central Encinitas. Since the day it was erected, locals have dressed the figure in wild costumes. I love seeing how he's attired whenever I'm there.
Afterward, I'll stop by Seaside Market for a luxurious deli meal and their tasty tri-tip with a peppery marinade called Cardiff Crack. The store is a popular stop for high-quality goodness, and it's located on a couple of blocks of mom-and-pop restaurants near the famous VG Donut & Bakery.
Across Highway 101, the San Elijo State Beach has a campground, a long strand, and a rolling break popular with surfers.
The homes of Cardiff rise up a steep hill to the east. If you're a fan of architecture, be sure to take a short ride or walk through the neighborhood. It was originally built on the Mackinnon family's farmland by Boston developer J. Frank Cullen. His British wife inspired him to call the area Cardiff-by-the-Sea and name many of the streets after cities in the United Kingdom (Oxford, Chesterfield, and Manchester, for example).
Most unique, though, is the Composer District, which winds through the hillside with 12 streets named for musicians. It was developed by music-producer-turned-real-estate-developer Albert Kremer. Today the area is peppered with two-story homes with stellar ocean views.
Best Restaurants In Encinitas
Swami's Cafe
Across from Swami's Beach is the family-owned Swami's Cafe, known for their fresh fare, large portions, affordable prices, and fun patio.
Saint Tropez Bistro & Beyond
The Saint Tropez Bistro & Beyond is a French-themed bakery and cafe in the Lumberyard.
GOODONYA
Look for the bright orange awning and patio seating near Swami's Cafe. GOODONYA was founded by Kris Fillat, a 1996 Olympian who was inspired to make food to counteract her celiac and Hashimoto's diseases. The eatery features a 100 percent organic coffee bar as well as 100 percent organic and biodynamic wine. Enjoy courtyard seating for an organic breakfast, lunch, or dinner.
Union Kitchen & Tap
Union Kitchen & Tap is a large, friendly, and wide-open watering hole with a spacious outdoor dining area. It's open seven days a week. The spot offers an American-focused menu that pairs well with craft cocktails, local brews, and vintage wines.
Better Buzz Coffee
Join the crowd to order freshly ground designer coffees from cold brew on nitro to ice-blended coffees and an array of handcrafted hot and iced concoctions. Better Buzz Coffee proudly serves avocado toast!
Leucadia Pizzeria
The Leucadia Pizzeria is another family-run location; it opened 40 years ago and is renowned for its pizza and dining room full of beach-themed murals.
Cali Cream Homemade Ice Cream
Not much complements a day at the beach like a cone of homemade ice cream. Cali Cream Homemade Ice Cream features a rotating menu of small-batch flavors and accepts online orders. Vegan and dairy-free options are available, too.
Best Places To Stay In Encinitas
Best Western Encinitas Inn & Suites
You can't miss the sweeping bend of the Best Western Encinitas Inn & Suites as it rises above the bluff along Encinitas Boulevard. The hotel is within walking distance of Moonlight Beach and downtown and features balconies in every room. Most rooms have ocean views, and 10 rooms are pet-friendly.
Inn At Moonlight Beach
When you reserve a room at the Inn at Moonlight Beach, you'll choose from five rooms of tranquil, bespoke luxury. The attention to detail includes all-natural materials, an herbal tea welcome, and breakfast baskets with organic vegetarian and vegan selections delivered to your door. Yoga mats, blocks, and beach amenities are available as well.
Surfhouse
Close to Highway 101, Surfhouse is a new addition close to Beacon's Beach in Leucadia. Designed for maximum surf vibe, the eight rooms feature keyless entry for the ultimate in privacy. Complimentary beach cruiser bikes make getting around town easy without the need to worry about parking.
Cardiff Lodge
The Cardiff Lodge is a boutique hotel built by a husband-and-wife team. There are 20 rooms, each featuring a different theme. You'll have access to a rooftop garden and sundeck at this romantic getaway.
What To Know Before You Go
Summertime in Encinitas is warm, dry, and usually clear. It's a short season, since maritime cloud layers move in after August, bringing cool temperatures and partly cloudy skies. The layer often burns off in the afternoon, but beware, since burning rays can still sneak through and give you a sunburn. The temperature rarely dips below 40 degrees or exceeds 84 degrees. Check the forecast in late fall through winter for mild rainfall.
Whenever you visit, bring sunscreen, a hat, and a windbreaker in your beach bag.
It always amazes me that friends think they know San Diego without experiencing the true beach culture of Encinitas. It's easy to be distracted by the noisier, more crowded, and flashier beach communities of Pacific Beach, La Jolla, and Ocean Beach. Make time for at least an afternoon enjoying the lagoons and culture of Encinitas, and you'll get a sense of the authentic San Diego.