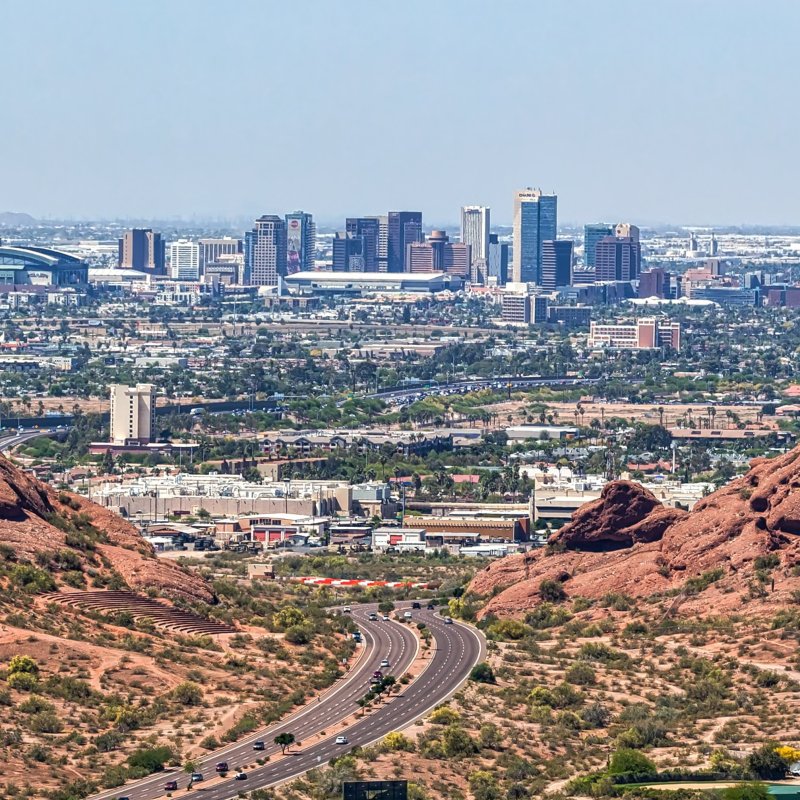 The dream for many is to live as a snowbird, flocking each winter to warmer locales to spend time in the sun and leave the snow and cold weather at home. While many snowbirds are retirees, people of every age seek the seasonal getaway to avoid harsh winters.
To start planning your winter escape, here are six incredible and off-the-usual-path places for U.S. snowbirds this winter.
1. Phoenix, Arizona
If you're looking for plenty of sunshine with winter temps that average 60 to 70 degrees plus a vibrant city setting for some of the best food and drinks in the U.S., consider wintering in Phoenix. Pack light and leave the winter coat at home for this visit.
Phoenix is one of the largest states to host seasonal residents — in addition to a burgeoning retirement community — and a great place for a winter escape.
Golf lovers will enjoy the three courses at The Wigwam, beautiful courses set with spectacular views of the mountain ranges and trees. If you decide to winter at the resort, you can sleep in one of the charming casitas or suites. Or try a Scottish Golfing Experience, complete with an authentic Scottish kilt rental, at Westin Kierland Golf Club.
You'll definitely want to spend many days outdoors walking the Desert Botanical Garden. With more than 4,000 living species and more than 50,000 plant displays, the garden is truly a delight. Spend time wandering the paths to view the plants and displays, then enjoy a sustainably-sourced meal at Gertrude's. The Strawberry Salad with Chicken is particularly fresh and tasty. Try it with the Prickly Pear Iced Tea for more local goodness. After, shop local in the gift shop for unique finds. I brought home a magnet with a live cactus that still sits on my refrigerator as a living reminder of the trip.
Dining outdoors is one of Phoenix's winter claims to fame, so enjoy a meal at Mowry and Cotton, located inside the Phoenician Resort, at their open-air porch or dining room. The ingredients are locally sourced, the menu is seasonally inspired, and it's all created by Chef Tandy Peterson. Another outdoor option is dining on the patio at LON's at The Hermosa Inn. LON's is housed in one of the only remaining authentic haciendas in Arizona. The patio is romantic with lights, fireplaces, and live music.
You'll find plenty to do all winter in Phoenix. One must-visit destination is the Phoenix Art Museum. Read our articles to learn about 10 unique bars in Phoenix and great national parks near Phoenix to visit in the winter.
If you prefer an apartment or house for a winter in Phoenix, visit Arizona Snowbird to learn about rental properties.
2. Panama City, Florida
The entire state of Florida is known as a snowbird destination. The season starts in October and runs through April and is the perfect getaway for sun, the beach, and loads of outdoor activities. Panama City, in particular, has a pleasant climate, a thriving arts scene, access to one of the largest and deepest freshwater bays on the Gulf Coast, and is located in Northwest Florida, making it an easier drive to access. Many visitors, snowbirds included, return each year for the climate and locale but also for the town's hospitality.
Water lovers will find plenty of activities to pass the winter months — sailing, boating, fishing. If you don't own a boat, charter one with an experienced professional to take you out for a day of fishing or exploring.
There's a vibrant arts scene, so you can spend the winter taking an art class, viewing exhibits, making pottery, catching lectures, or watching performances by the Panama City Symphony. There's also a Mural Trail coming in Spring 2021.
You'll want to spend plenty of time discovering the two historic districts, Downtown and St. Andrews. Take a self-guided walking tour to view buildings that are on the National Register of Historic Places. While you're downtown, stop for a history lesson and a craft beer at History Class Brewing Company.
Panama City is known for its oysters, so if you love these crustaceans, spend the winter sampling oysters in every carnation — baked, raw, fried, char-grilled, sauteed — at the 12 restaurants on the Oyster Trail.
Whether you spend the winter in a hotel or decide to go with a vacation rental on the beach, it will be a relaxing winter in Panama City.
3. Edenton, North Carolina
Located just around the corner from the Albemarle Sound, Edenton on Edenton Bay is a charming small-town destination for snowbirds. It's been called the prettiest small town in the South and is a great place to learn about history while staying near the water.
History buffs will enjoy exploring the history of North Carolina's first Colonial capital. Visit the most intact Colonial courthouse in America and take walking tours to view historical sites.
Since the winters are mild, there's plenty of opportunity for a round of golf, kayaking in Edenton Bay and Queen Anne's Creek, or shopping at antique stores and boutique shops.
Since you'll be a local for the season, you'll want to stop by Edenton Bay Trading Company for Vinyl Night, where you can enjoy sangria and dance on Saturday nights.
Spend the season in a charming vacation rental, or stay at The Cotton Gin Inn, an elegant bed and breakfast that offers long-term stays.
Pro Tip: Take a sunset bay cruise on the Liber-Tea boat with Captain Mark. His stories are legendary.
4. Temecula, California
The West Coast is another ideal snowbird destination. Temecula, located southeast of Los Angeles, has sunny days with temps that rarely dip below 67 degrees. In addition to the wineries of Temecula Valley, there are plenty of acclaimed golf courses, gambling at the Pechanga Resort Casino, and even hot air balloon rides.
RV travelers will enjoy staying at the Pechanga RV Resort. The resort provides utility hookups as well as complimentary Wi-Fi and is within easy walking distance of numerous restaurants. Guests can also practice their golf skills at the Journey at Pechanga golf course for free.
Pro Tip: Also read up on the nine best things to do in Temecula after you've tasted all the wine.
5. Coastal Mississippi
Often overlooked but just as enticing as other destinations, Coastal Mississippi's Secret Coast offers a mild climate, rich culture, and natural beauty.
In addition to world-class festivals, you'll spend the winter season on the water kayaking, fishing, and boating, hiking and birding on land, gambling in casinos, and touring championship golf courses. There's even a shrimping trip that invites you to learn about shrimp and other marine life — how they live and how they are caught. Take a day trip to one of the undeveloped barrier islands such as Ship Island.
There's plenty of great seafood, whether you want to stop at a beach seafood shack or enjoy fine dining such as White Pillars in Biloxi.
If the arts are of interest, pass the winter months at the world-renowned Ohr-O'Keefe Museum of Art, designed by the famous architect Frank Gehry. There's also the Walter Anderson Museum of Art and Shearwater Pottery Workshop and Showroom. Ocean Springs and Bay St. Louis both have artsy, walkable downtown areas to check out galleries and get your fill of food and drink.
There's always something going on at one of the 12 casino resorts, or visit the INFINITY Science Center, NASA's official visitor center for the Stennis Space Center.
Choose from short or long-term rental options, whether you prefer a boutique hotel, a vacation home, or a coastal bed and breakfast.
Pro Tip: Mississippi topped the Forbes list of places where $100 goes the farthest, meaning it's a budget-friendly destination for snowbirds. If you'd like to see more than one place this winter, consider taking our scenic Gulf Coast road trip: Bay St. Louis to Port St. Joe.
6. Pawleys Island, South Carolina
This affordable coastal town is perfect for the snowbird seeking charm and warm weather without the crowds of some retirement communities. Pawleys Island, located just 30 or so minutes from Myrtle Beach, is known for its "arrogantly shabby" oceanfront accommodations plus its laid-back lifestyle.
There's something for every interest, whether you prefer to relax in a beach bar or on the beach or prefer golf or fishing. The Brookgreen Gardens has an extensive outdoor sculpture collection, botanical gardens, and a low-country zoo where you can even try your hand at being a zookeeper for a day. Be sure to spend time at Huntington Beach State Park during your winter visit.
You'll enjoy plenty of fresh seafood options for dining out. Be sure to try Frank's Dining at Frank's Outback. Start with the Sauteed Caribbean Conch at Frank's Outback — pounded conch that's sauteed with garlic, lime butter, tomatoes, and scallions. For the main course, it's a tough decision between the Pickle Brined Crispy Fried Chicken served over cheddar grits, or the Grilled Trio of Lamb Chops served with mashed potatoes and a red wine demi.
Pawleys Island rentals include oceanfront views at Sea View Inn, a beachfront bed and breakfast at the Pelican Inn, condo living at Pawleys Pier Village, and more than 300 residential homes for weekly rentals.
Not convinced the snowbird life's for you? Read Barbara Winard's "How Changing My Attitude Allowed Me To Change Latitudes" for inspiration and perspective.