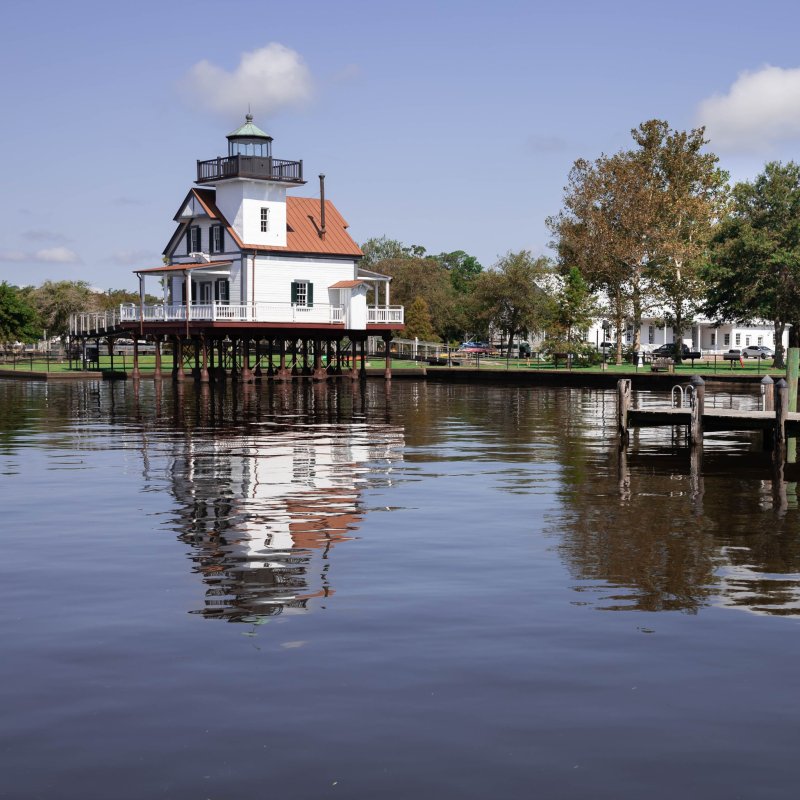 Forbes Magazine has called Edenton the South's prettiest small town. I'd have to say that I agree. But it is more than just pretty. Edenton has character, warmth, and charm. It has a small-town, laid-back vibe. Welcoming — not touristy at all. It is true Americana.
"Edenton homes are known for their porches," our tour guide quipped. The historic district is lined with stately Victorian homes all wrapped with grand porches, adorned with swings and Southern-style rocking chairs. Residents wave a friendly hello to passersby. A town of porches. Charming.
Edenton was founded in 1712 on the banks of the Albemarle Sound. Early on it was a prosperous seaport village. After the Civil War, it was an important railroad hub and then an industrial center, producing cotton textiles, peanuts, and lumber.
Rich with history, Edenton was North Carolina's first colonial capital. Its former residents include signers of the Declaration of Independence and the Constitution, a North Carolina Senator, and a Governor. An original Supreme Court Justice appointed by George Washington called Edenton home, as did author Harriet Jacobs, who hid in her grandmother's attic as a runaway slave before she went north by boat on the underground railroad.
Edenton provides both an exciting day trip or a great weekend getaway. It is centrally located within a 90-minute drive from Greenville, North Carolina, and Norfolk, Virginia. It's just over 2 hours from Raleigh, North Carolina, and Richmond, Virginia. Here are some amazing reasons to make Edenton your next destination.
Note: My accommodations, two dinners, a trolley tour, a historical tour, and a guided kayaking experience were provided by Chowan County Tourism. All opinions are my own.
1. Penelope Barker House And Welcome Center
One of your first stops in Edenton should be the Penelope Barker House and Welcome Center, located at the end of Broad Street on the waterfront. The historical house (circa 1762) belonged to Penelope Barker, who led the first documented women's political movement, the 1774 Edenton Tea Party. The Barker House is now a museum of sorts showcasing period furniture, clothing, and other artifacts throughout.
Relax and take in the bay views from the large veranda and shop for treasures in the gift shop. Touring the Barker House could take 30 to 60 minutes depending on how long you browse and if you watch the short films available. Admission is free and the home is accessible.
2. Trolley Tour
A must for any visitor to Edenton. This is one of the best trolley tours I've ever been on. Our tour guide, Barbara, was very knowledgeable and kept us entertained as she related Edenton's history and architecture. The tour is lively, fun, and educational. See all the historic sites, including the Cupola House, the Cotton Mill Historic District, and the oldest known house in North Carolina. Along with architectural facts, you might learn a few town secrets and guarantee you'll have a lot of laughs.
The Trolley Tour lasts about an hour. The time flew by. I'd wished it wouldn't end. The good news is that when you combine your tickets with the Liber-Tea Boat Tour, you receive a discount for both. Purchase tickets at the Barker House.
3. Liber-Tea Boat Tour
Discover Edenton from a wonderful and different angle — the water! You'll find the Liber-Tea at the town dock near the Barker House. All the locals we talked to suggested we not miss Mark and his Liber-Tea Boat Tour. Unfortunately for us, a hurricane decided to come through on the day we were scheduled for the tour, and it was canceled.
The Liber-Tea is an eco-friendly, electric boat that seats six passengers. The tour lasts one hour, and you are welcome to bring your lunch aboard. Military and senior discounts are offered.
4. Visitor Center Historic Guided Tour
The Edenton Visitor Center is housed in the 1892 Zeigler House. Yes, the big purple Victorian on Broad Street. The Visitor Center offers a short film about Edenton's history and a guided tour of several historic buildings including the Iredell House, 1767 Chowan County Courthouse, and Roanoke River Lighthouse. On this tour, personal stories of the men and women who lived in Edenton come alive.
The tour lasts about an hour, not including the Lighthouse, which is separate. The Visitor Center, Lighthouse, and Courthouse are accessible. The Iredell House has steps.
5. Edenton Harbor And Colonial Park
This is a treasured site along the Inner Banks, where locals and visitors alike gather. Colonial Park has an easygoing atmosphere. It's a pretty town green space on the waterfront that perfectly captures Edenton's unique charm. Stroll on the harbor boardwalk, indulge in water activities, visit the lighthouse, or picnic under the trees.
For folks visiting Edenton by water, the town's boat slips have full hookups and are free for two nights. Restrooms and showers are available for visiting boaters. Contact the Dockmaster for more information.
6. Roanoke River Lighthouse
The lighthouse, built in 1886, has a fascinating story of its own. The original screw-pile lighthouse once stood in Albemarle Sound at the mouth of the Roanoke River near Plymouth. This amazing little lighthouse is open for tours that will give you a complete look at a lightkeeper's life on the water.
7. Outdoor Recreation
For the outdoor enthusiast, the town of Edenton offers kayak, paddleboard, and canoe rentals. Paddle on Edenton Bay past the historical waterfront, Barker House, and Edenton's famous cypress trees. Launch at the harbor near the Roanoke River Lighthouse.
Another kayak option is one of the five designated trails through creeks and streams. See turtles sunning on logs, egrets, ducks, and even hawks. The bay was too choppy the day we were there, so we paddled the more serene Pembroke Creek through the swamp-like landscape and cypress trees.
If golf is your game, The Links At Mulberry Hill is just 10 minutes from downtown Edenton. Enjoy the day on the 18-hole, Ellis Maples designed course that meanders through Southern pines, scenic wetlands, and adjoining ponds. There is also a practice green and driving range to sharpen your skills. After working up an appetite, stop in at the snack bar for a bite to eat and a cold drink.
For more golf-specific inspiration, see our picks for the nine best public golf courses in North Carolina.
8. Museum Trail
Discover Edenton's unique 300-year history on the self-guided Museum Trail. Grab a map at the Visitor Center or the Welcome Center. There are 15 different points of interest listed numerically on the map. Start at any point. See all 15 historic stops or just a few. Each stop has a plaque with the history of that particular site.
You can spend an hour or two walking around town or drive from point to point to save wear and tear on your feet.
9. Historic Downtown
Edenton's downtown is right out of the quaint, small-town handbook. Stroll along the tree-lined sidewalks. Admire the architecture. Browse through boutiques, antique shops, tea shops, and bookstores housed in restored historic buildings. There's even a third-generation-run hardware store and the 1925 Taylor Movie Theater, which still shows first-run movies. The Chowan Arts Council and Gallery Shop features works by local and regional artists. You'll find an extensive selection of paintings, sculpture, jewelry, woodworking, and photography.
10. Eat, Eat, Eat
Edenton may be a small town, but its locally owned eateries are diverse. Downtown on Broad Street, you'll find breakfast, lunch, and dinner. The Edenton Coffee House is where the locals go for breakfast, fresh pastries, and hot coffee. For lunch, you can't go wrong at either 309 Bistro and Spirits or Governor's Pub. Enjoy dinner at Waterman's Grill or The Table at Inner Banks. For dining with a water view, head west on Queen Street to Edenton Bay Oyster Bar. Also on Queen Street: the best barbecue on the Inner Banks, Old Colony Smokehouse, which is owned and operated by Food Network's Chopped champion and international multi-award-winning pitmaster Adam Hughes.
11. Stay Awhile
Chances are you'll want to spend more than one day exploring all Edenton has to offer. Staying at a historic bed and breakfast is my suggestion to get the authentic feel of Edenton. The 1907 Captain's Quarters Inn is within walking distance of downtown. It has eight rooms all with sitting areas and private bathrooms.
The top-rated Inner Banks Inn (circa 1802 to 1915) has four separate historic buildings on 2.75 beautifully manicured acres with 20 rooms and suites in all, each with a different theme and feel. The renovated tobacco Pack House with eight rooms is one of a kind. The main Victorian house also has eight rooms furnished with period antiques, artwork, and fireplaces. Both these inns have ADA accessible rooms.
The Cotton Gin Inn is a historic yet modern and elegant bed and breakfast. The inn sits on six acres surrounded by tall trees and gardens, along with historic cotton gin buildings in a beautiful country setting just 2 minutes east of downtown.
If by chance you want to stay in a more traditional hotel, a nice option is the Hampton Inn less than 5 minutes from downtown Edenton on US Hwy 17.