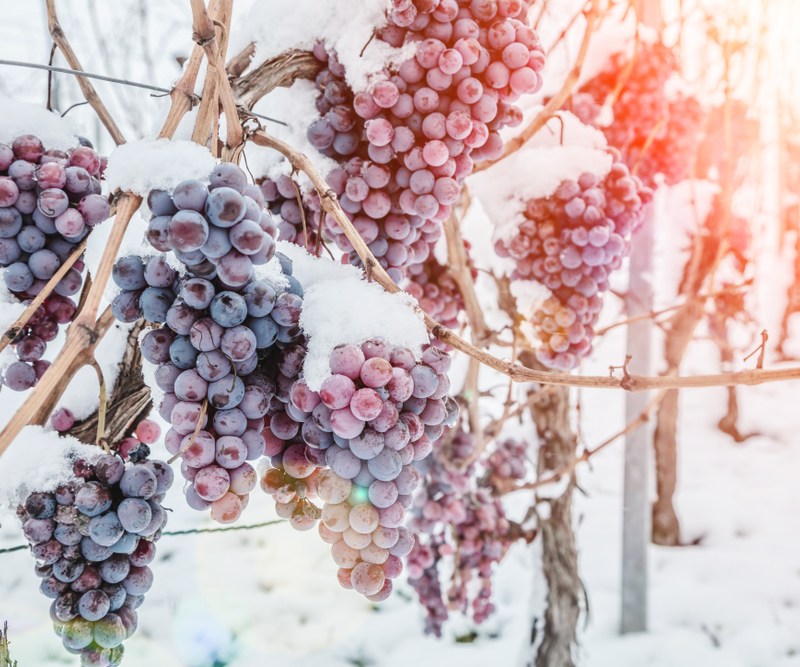 In the world of viticulture, ice wines are the new kid on the block — or are they? Back in Roman times, Pliny the Elder wrote that certain grape varieties should not be harvested until the first frost had occurred. And the poet Martial recommended that grapes be left on the vine until November, or until they stiffened with frost. Whether or not the Romans were on to something has been lost to history, but one thing is for sure: Canadian winemakers are taking their advice and surrendering their grapes to the frost — and the results are nothing short of spectacular.
What Is Ice Wine?
Ice wine is a very sweet wine that's often served with dessert or at the end of a meal. It's made from grapes that have frozen on the vine, which happens with air temperatures of 17.6 degrees. Working quickly so that the grapes don't have time to thaw, winemakers pick and press the grapes while they're still frozen. Only the highly concentrated juice is pressed from the frozen berries, leaving behind the icy water crystals and producing an intensely flavored product.
Many different kinds of grapes can be used in the process, including riesling, cabernet Franc, chenin blanc, vidal blanc, and merlot. However, that's where the flexibility ends. The term "ice wine" can only be applied if the grapes are naturally frozen and if their sugar level measures 35 degrees Brix (a measurement of the amount of sugar in an aqueous solution) or higher. It's a highly regulated process that ensures that consumers can be confident about what they're buying.
Flavor And Pairings
Ice wine is sweet — very sweet. In fact, it's about twice as sweet as a soda pop. A little definitely goes a long way! For that reason, ice wine is often sold in smaller bottles than regular wine. Half-size bottles and gift bottles containing as little as 1.7 ounces are common.
Ice wine's intensely sweet flavor pairs well with sugary desserts like fruit and chocolate. It can also be enjoyed on its own as an alternative to dessert. Ice wine also goes well with rich, buttery, strong foods like cheese and foie gras. A cheese plate with figs, dark chocolate, honey, and a touch of pate would be the perfect set of nibbles to accompany ice wine.
How Is Ice Wine Made?
To say that making ice wine is a tricky business would be an understatement. The grapes used for ice wines require a hard freeze after they are ripened. The ripened grapes hang on the vines for several months until winter sets in. During this time of waiting, they're susceptible to damage, rot, and raids by birds and other critters. Starlings, deer, and insects all love feasting on the grapes designated for ice wine. What's more, there's no telling when the perfect frost will come — or if it will come at all. Other times, the frost is too severe, rendering the grapes unusable. Wine presses can break if winemakers try to press the grapes when the temperature is too cold.
Grape preservation and weather conditions are only part of the challenge. The entire process is extremely labor-intensive. Nearly all winemakers pick their grapes by hand, in just a few hours, before pressing the grapes in unheated spaces — all in the middle of winter! The monumental task of assembling a workforce to perform exhausting physical labor all through the night in freezing conditions with just a few hours' notice isn't easy. Many smaller vineyards recruit friends and family to do the job, and sometimes urgent calls go out to the community for assistance. In return, the vineyard provides hot and hearty meals, gifts of regular wine, and a festive atmosphere. If you aren't afraid of hard work and you have sturdy, warm boots and winter clothing, being part of an ice wine harvest can be an extremely memorable event.
Who Makes Ice Wine?
Canada is the world's largest producer of ice wine. In fact, Canada produces more ice wine than all other countries combined! Germany and Austria come in second and third, respectively, and there are tiny ice wine operations in other countries, including the United States, Italy, and Japan.
Ice wine was first produced in Canada in 1972 in British Columbia's Okanagan Valley. However, it was first produced for commercial purposes in Ontario's Niagara-on-the-Lake wine region in 1984. Since then, Ontario has been the undisputed global leader in ice wine production.
Today, Ontario produces between 80 percent and 90 percent of Canada's ice wine. The region of Niagara-on-the-Lake alone is responsible for 60 percent of the country's ice wine production. However, small-scale operations are located in British Columbia as well as in Quebec and Nova Scotia. In all, 96 wineries in Canada produce ice wine.
Notable Producers Of Ice Wine
Inniskillin is the leading name in ice wine. They were the first to begin producing ice wine on a commercial scale, and if you've seen Canadian ice wine for sale overseas, there's a good chance it's from Inniskillin. Their products are sold in more than 70 countries. Inniskillin produces ice wines from vidal, riesling, gewurztraminer, and cabernet Franc grapes, and they also make sparkling ice wine. Visitors can pop into their Niagara-on-the-Lake winery for tours and tastings.
Fun Fact: President Barack Obama served a 2003 Inniskillin oak-aged vidal ice wine at his Nobel Peace Prize banquet in Oslo, Norway.
At Peller Estates Winery, you can join the Greatest Winery Tour, which concludes with ice wine tastings in the winery's igloo-inspired ice wine lounge.
At Wayne Gretzky Estates, ice wines aren't the only attraction. The venture, initiated by Canadian hockey player Wayne Gretzky, also dabbles in beer, spirits, and classic wines. Tours, tastings, and cocktail classes are available, and there's even an on-site skating rink for guests to enjoy from December through March.
Between The Lines Winery makes two ice wines, a cabernet Franc and a vidal, which guests can sample on a tour or as part of a wine tasting with cheese and charcuterie. Art tours, yoga tours, and starlit tours round out their list of immersive experiences.
Reif Estate Winery devotes 10 acres of their 125-acre estate to producing their internationally acclaimed vidal ice wine. Guests can enjoy tours, tastings, and visits to their sensory garden. If you feel like splurging, their 2010 vidal ice wine is especially well reviewed.
Set on the grounds of a renovated 1940s fruit cannery, Strewn Winery produces a variety of wine, including a cabernet sauvignon, cabernet Franc, and vidal ice wine, and they offer three different tasting bars.
As the name implies, The Ice House Winery specializes in ice wine. They operate out of a converted 19th-century peach-packing facility. Merlot, vidal, riesling, cabernet Franc, and gewurztraminer grapes are used in their ice wine products, as well as their ice wine slushie kits.
Another well-known name in the Niagara wine scene, Pillitteri has won more than 800 awards for their wine. Their on-site restaurant, BarrelHead, specializes in wood-fired pizza, and the dessert menu is a list of ice wine options!
Trius Winery offers cabernet Franc, riesling, and vidal ice wines at their Niagara estate. You can sample them on a winery tour, at the winery's restaurant, or at one of their many culinary events. At the black glass dinner, all wines are served in black glasses so that guests can't rely on the wine's color to determine what is in their glass.
Jackson-Triggs claims that they are Canada's most awarded winery — and they're probably right. They're certainly the best known! One of the oldest and largest Niagara wineries, Jackson-Triggs is a pioneer in promoting Canadian wines and puts just as much energy into making ice wines. Their estate amphitheater brings music and wine together in one of Ontario's best concert venues.
How Do You Know You're Trying The Real Deal?
Consumers should be sure to read the labels on ice wines carefully. The terms "dessert wine," "icebox wine," and "iced wine" don't indicate a true ice wine, but rather a wine made with artificially frozen grapes. It might still be delicious, but you shouldn't pay the premium price of an authentic ice wine for it. However, "late harvest" wines are authentic ice wines — in their own way. This term is used when ice wine grapes are pressed a second time. The result is an ice wine product that is much less sweet.
If you happen to be in China and feel tempted to try ice wine, think twice. More Canadian ice wine is exported to China than to any other country. However, an estimated 50 percent of all ice wine in China is counterfeit. One easy way to determine a product's authenticity is to look at the packaging. Real ice wines are packaged just like any other wine, and it's easy to see the name of the vineyard and its address. Fake ice wines are given geographic and Canadian-centric names like Maple Leaf or Canadian Flag. All the more reason to visit a Canadian wine region in person and get the real thing!