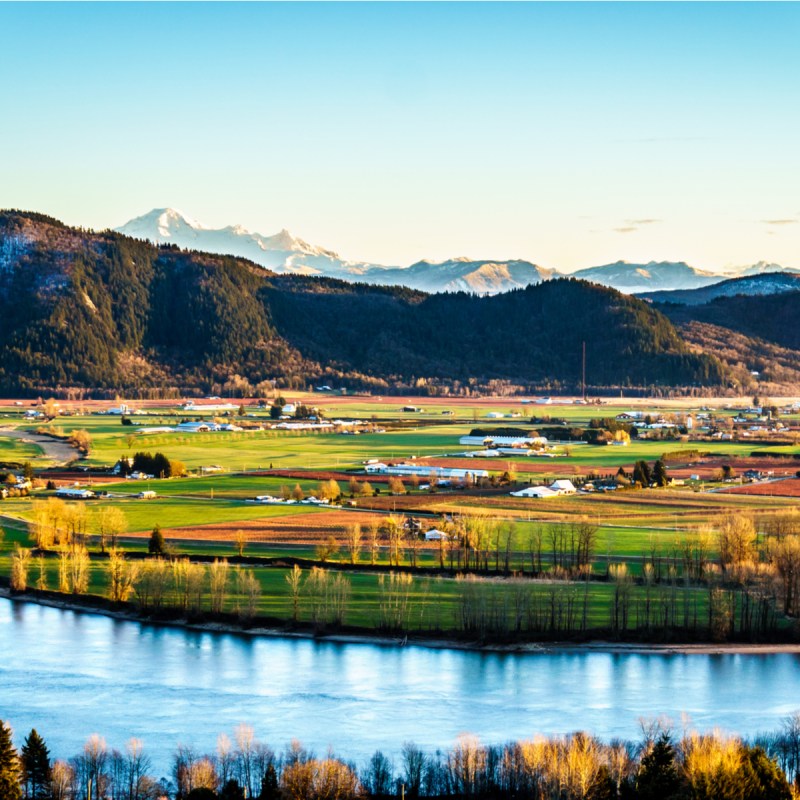 With 929 vineyards and 369 licensed wineries, British Columbia is a wine lover's dream. The westernmost province in Canada, British Columbia is a huge territory, but the majority of its vineyards are located in the south, within easy driving distance of several major cities. Those keen on exploring can put together their own wine tour without a problem.
For wine lovers in Canada and across the world, British Columbian wines usually bring to mind the Okanagan Valley. This spectacular wine region is home to some 185 wineries. However, there are multiple wine regions in the province that are well worth checking out, even if a trip to the Okanagan isn't possible during your visit.
In 2019 alone, British Columbia wineries won more than 1,000 medals in national and international competitions. No matter where you go, you can be sure the products you sample will be outstanding.
These are some of the finest, most innovative wineries in the Okanagan and farther afield.
Okanagan Valley
The Okanagan Valley is home to 84 percent of British Columbia's vineyard acreage. Spread out over 155 miles, the Okanagan isn't just famous for wine, but also for fruits and vegetables, and roadside stands are everywhere.
Summertime temperatures here routinely reach 104 degrees, creating a scorching microclimate that's perfect for growing grapes, especially when coupled with cooler evenings. By comparison, Okanagan is warmer and drier than California's Napa Valley, and the area gets an extra 2 hours of sunlight a day.
These are some of the best vineyards in the Okanagan Valley.
Calona Vineyards
Calona Vineyards, located in the Kelowna region, was established in 1932 and is the province's oldest continually operated winery. They're just as well known for their beautiful labels — part of a collaboration between the vineyard and local artists — as they are for their award-winning wines.
House Of Rose Winery
Garden lovers, this winery is for you! As the name would suggest, House of Rose Winery is surrounded by hundreds of rose bushes. And, yes, they do also produce rose wine. However, the name is really a tribute to the founder, Vern Rose. The city of Kelowna honored the vineyard with the 2014 Champion of the Environment award for being a local leader in sustainability.
Summerhill Pyramid Winery
If you feel affection for truly unique wineries, Summerhill Pyramid Winery should be at the top of your list. It's one of only three biodynamic wineries in Canada. The theme of mindfulness continues in the wine cellar, which is in the shape of giant pyramid and was designed to align with the stars. Summerhill claims that the Summerhill Pyramid is second only to the Great Pyramid of Egypt in terms of alignment and precision. Their on-site menu is vegetarian and vegan friendly.
Indigenous World Winery
Indigenous World Winery has the distinction of being British Columbia's only 100 percent indigenous-owned winery. Their on-site restaurant, the Red Fox Club, gets rave reviews for its menu focused on indigenous cuisine. Ingredients include bannock, salmon, bison, Saskatoon berries, venison, trout, elk, rhubarb, maple, and more.
Off The Grid Organic Winery
A lot of wineries boast that they're sustainable, but Off The Grid Organic Winery really goes the distance. Friendly goats take care of the winery's landscaping, and the tasting room is 100 percent sustainable, powered by solar panels and insulated with straw. Unsurprisingly, all the wines here are organic, and the views from the picnic tables are spectacular.
Painted Rock Estate Winery And See Ya Later Ranch
These are two dog-friendly wineries that welcome pups to their patio areas. Painted Rock Estate Winery's style is ultra-modern, sophisticated, and streamlined, while the centuries-old See Ya Later Ranch, high on Hawthorne Mountain, is homey, cozy, and has an off-the-grid feel.
The Fraser Valley
The perfect destination for wine-loving urbanites, the Fraser Valley's vineyards are located near major cities like Vancouver, Surrey, Richmond, and Abbotsford. In addition to a wide variety of red and white wines, day trippers will also find fruit wines, fortified wines, and sparkling wines here.
Another destination that's equally famous for agriculture as for wine, the Fraser Valley alone accounts for half of British Columbia's agricultural revenue.
These are some notable Fraser Valley wineries to add to your list.
Chaberton Estate Winery
Operating over 55 acres of vineyards, Chaberton Estate Winery is the largest estate winery in British Columbia. It's also the oldest in the Fraser Valley, dating to 1975. The founders previously owned a wine estate in France and chose the site based on how comparable the soil and climate were to those of northern France.
Krause Berry Farms & Estate Winery
One of the best places in the Fraser Valley to try fruit wines, Krause Berry Farms & Estate Winery has been growing strawberries, raspberries, and blueberries since 1974. The tasting bar reflects the fact that you're on a working farm — the bar stools are made from recycled saddles, and the tasting glasses are in the shape of cowboy boots. Try your hand at picking berries, and be sure to visit the farm stand before you leave.
Glass House Estate Winery
The family-owned Glass House Estate Winery produces low-yield artisan wine that can be enjoyed in a stylish tasting room or in an expansive picnic area. The fun name reflects the family's 60-plus-year history of building and growing in greenhouses.
Vancouver Island
If you haven't been to British Columbia before, you might be surprised to learn that the city of Vancouver isn't actually on Vancouver Island. However, the province's capital city, Victoria, is, along with popular destinations like Nanaimo, Tofino, and Comox.
Being a winemaker here takes perseverance and grit. Most vineyards shun chemical pesticides and artificial irrigation, and Vancouver Island is one of the few grape-growing regions in the world that is phylloxera-free. The weather blesses growers with long summer days, but the overall season is short. Early in the season, vines are often tented with plastic to create a greenhouse effect and add a little extra warmth.
Here are some of the best vineyards to visit on Vancouver Island.
Venturi Schulze Vineyard
Run by Marilyn, a microbiologist from Australia, and Giordano, a teacher from Italy, Venturi Schulze Vineyard offers wines that reflect the international experience of its owners. They produce a combination of still and sparkling wines, as well as aged balsamic vinegar and balsamic-infused jams. The property's beautiful farmhouse dates to 1893.
Alderlea Vineyards
One of the oldest vineyards on Vancouver Island, Alderlea Vineyards is committed to sustainable farming practices, supporting technologies that allow barrels to be reused, powering their tractors with biodiesel, and installing a passive irrigation system that reuses wastewater from the winemaking process.
Rathjen Cellars
One of Vancouver Island's newest wineries, Rathjen Cellars was established in 2016 but is already making a name for itself. With a focus on natural techniques and minimal intervention, they grow their own grapes, lease land from five other island estates to grow additional grapes, and produce their own small-batch bumbleberry cider and creme de cassis.
What To Know Before You Go
Southern British Columbia borders Washington, Idaho, and Montana. Many visitors drive up from the United States or fly into Vancouver or nearby Seattle, which is just 2.5 hours away.
While many larger cities offer their own wine tours, most visitors opt to rent a car and visit wineries on their own schedule. When planning your trip, keep in mind that distances can be deceiving. While nearly all wineries in British Columbia are concentrated in the southern part of the province, it is still a massive area. Even wineries within the same region might be more than 100 miles from one another. Check distances carefully and think local when making your list of destinations. The Wines of BC Explorer app can help you organize your adventures.
Most vineyards are open from mid-spring through mid-autumn. Summer is the busiest time to visit British Columbia's vineyards. However, some vineyards prefer autumn visitors, since they're less strained once the harvest is over.
Most tasting rooms are open on a part-time basis throughout the winter months. Before heading out on an adventure, double-check the hours of operation and make sure your vehicle has snow tires.
The drinking age in British Columbia is 19. Children are permitted in tasting rooms, and some vineyards have kid-friendly amenities, including alcohol-free treats and play areas.
If you're buying wine in British Columbia, you'll see the initials VQA everywhere. They stand for Vintners Quality Alliance. Established in 1990, the VQA ensures that wines meet certain standards when it comes to origin, vintage, and varietals. The VQA symbol is the customer's guarantee that the wine in question is 100 percent grown and made in British Columbia. However, non-VQA wines can still be delicious — some products may not qualify for VQA status simply because they use a blend of wines from other regions.