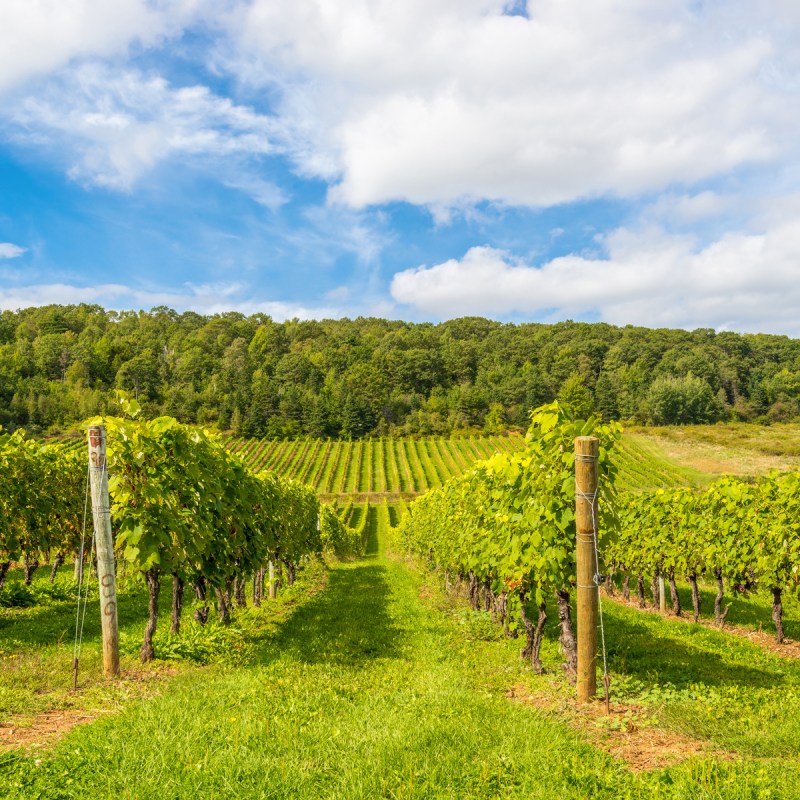 In 1611, a French settler by the name of Louis Hebert planted a small vineyard in the tiny community of Bear River, Nova Scotia. Surely one of North America's first vineyards, its grapes have been lost to time, but Hebert's legacy lives on. Nova Scotia may be Canada's second-smallest province, but its wine scene is huge — and growing. The province boasts 90 grape growers, 70 different grape varieties, and innovative practices thanks to a cool climate where the average growing temperature hovers between 55 and 59 degrees.
Visitors love that Nova Scotia vineyards are never more than 12 miles from the ocean. Many vineyards actually boast oceanfront views and something even more special — their grapes are growing on the remains of ancient seabeds. While the majority of Nova Scotia's wineries are concentrated along the Annapolis Valley and the Bay of Fundy area, there are many others scattered throughout the province. It's safe to say that there's no wine region quite like it in Canada!
Sixty percent of Nova Scotian wines are either white or sparkling. Red wine accounts for about 23 percent of production, while the remaining 17 percent is split among fruit wines, dessert and ice wines, and rose varieties. You will find a little bit of everything here, but there's no denying that white wines rule supreme, and among the white wines, Tidal Bay is Nova Scotia's signature.
Officially launched in June 2012, Tidal Bay is the first wine appellation for Nova Scotia and one-of-a-kind for North America. In order for a winery to obtain the Tidal Bay designation, all wines must be made from specific grape varieties, include 100 percent Nova Scotia-grown grapes, follow a strict set of standards, and be approved every year by an independent blind tasting panel. It's described as a "racy, aromatic white wine" that pairs perfectly with local seafood.
Using the rules and guidelines established for producing Tidal Bay, each winery can put their own individual spin on it to make a product that's distinctly its own. You will find it at many of the vineyards listed below.
Annapolis Valley And The Bay Of Fundy Area
Benjamin Bridge
If the name Benjamin Bridge is familiar to foodies, it's for good reason. This winery's products appear on some of the best restaurant menus in the world, including those run by Gordon Ramsay in London as well as Raymond's in St. John's, Newfoundland. Benjamin Bridge is one of Canada's most renowned sparkling wine producers — and they're not afraid to experiment! Under head winemaker Jean-Benoit Deslauriers, they released Canada's first canned Petillant Naturel, a raw and living sparkling wine. The winery's wheelchair-accessible facilities feature a year-round tasting room and seasonal patio. Pets are welcome in the vineyard.
Bear River Vineyards
Bear River Vineyards is run by husband-and-wife team Darren Carey and Susan Wong, not far from where Louis Hebert planted one of Canada's first vineyards. However, that's not the only reason why history lovers will especially appreciate this vineyard. The renovated barn that serves as the epicenter of vineyard activities and tastings dates to 1883. There's even a small guest suite within the winery for overnight guests! Exploring the grounds, guests will notice table grapes, peaches, berries, currants, walnuts, and lavender growing in addition to the wine grapes. And thanks to the large fig tree on-site, the shop is never low on homemade fig jam.
L'Acadie Vineyards
L'Acadie Vineyards is the first organic vineyard and one of the only certified organic wineries in Nova Scotia. Co-owner Pauline Scott's roots run deep in the area. As a ninth-generation Nova Scotian, she and winemaker husband Bruce Ewert saw the potential of Nova Scotia's sparkling wines and left behind their work in British Columbia's Okanagan Valley — another Canadian wine hot spot — to move east and start their own winery. Before long they were producing red, white, rose, and sparkling wines. They also have a sparkling apple cider made from locally grown apples.
L'Acadie Vineyards grapes grow on the slopes of Gaspereau Valley on rocky, well-drained soil that holds fossils of seashells. In fact, L'Acadie Vineyards claims you can still taste a hint of saline in their wines!
Domaine De Grand Pre
Domaine de Grand Pre has the distinction of being the oldest farm winery in Atlantic Canada — it dates to 1979. In 2000, the Stutz family, originally from Switzerland, revitalized the winery, making extensive renovations and modernizing the tasting room. One thing that hasn't changed, however, are the fantastic views, which extend over the plains of the Landscape of Grand Pre UNESCO World Heritage site.
The Stutz family also added Le Caveau, now one of the top restaurants in the area. Menu highlights include oysters, lobster and scallop chowder, rainbow trout, hanger steak, and duck fat fries. Le Caveau also has one of the best wine lists around. In addition to their own wines, they offer more than five dozen varieties from around the world.
Mercator Vineyards
Another standout producer of Tidal Bay, Mercator Vineyards focuses on making artisan, small-lot wines. Each varietal has been selected and planted to harmonize with the specific soils, slopes, and microclimates located throughout the estate. If you're lucky, you might also catch a glimpse of one of the 20 beehives located around the vineyard — honey has been packaged here for years.
Beavercreek Winery
Beavercreek Winery, a charming family-run winery, is a popular destination for weddings and special events. Fruit wine is their specialty, with pear, rhubarb, white cranberry, blueberry, strawberry, apple, and watermelon being just some of the many varieties they stock. There's a cute gift shop on-site, as well as a cafe that serves up homemade soup, scones, salads, sandwiches, and desserts.
Elsewhere In Nova Scotia
Jost Vineyards
The best-known and largest vineyard in Nova Scotia, Jost Vineyards is considered a pioneer of the industry. Their take on Tidal Bay is considered one of the best, and their signature red wine, 4 Skins, has racked up awards (its funny name even got a shoutout on The Tonight Show). Set in a beautiful, secluded area near Malagash, the vineyards offer incredible views of the ocean. The wheelchair-accessible facility has a small on-site cafe plus a selection of packaged picnic items to grab and go.
Eileanan Breagha Vineyards
Located on Cape Breton Island, Eileanan Breagha Vineyards is Nova Scotia's northernmost winery. This small vineyard's name means "Beautiful Island" in Scottish Gaelic, and it has superb views of the Bras d'Or Lake of central Cape Breton. While grapes have been grown on the 200-acre property since 1993, it was in 2012 that winemaker Ken MacLellan took over and established it as the area's first winery.
Lunenburg County Winery
Lunenburg is one of Nova Scotia's most popular tourist attractions, but many visitors are unaware that there's a winery nearby. Lunenburg County Winery opened in 1993 on a commercial blueberry farm. As you might expect, they produce blueberry and other fruit wines, as well as estate grape wines made with 100 percent local produce. Visitors are welcome to try their hand at harvesting highbush blueberries as well!
What To Know Before You Go
Those road-tripping to Nova Scotia will most likely enter through New Brunswick, making Jost (to the north) and the wineries of the Annapolis Valley and the Bay of Fundy area the easiest to reach. However, not all road-tripping happens by land! Nova Scotia also welcomes guests by ferry — from Newfoundland to North Sydney on Cape Breton Island, from Maine to Yarmouth, and from New Brunswick to Digby. The ferry puts visitors in the heart of Nova Scotia's wine country. Guests flying in usually land at the Halifax Stanfield International Airport, where they can easily rent a car to explore farther afield.
Late spring, summer, and early autumn are the best times to visit Nova Scotia's wineries. Most have limited hours in winter, so it's best to call ahead to confirm before you go.
The legal drinking age in Nova Scotia is 19. All alcoholic products must be purchased either at the point of origin — such as a winery or brewery — or through the Nova Scotia Liquor Commission, which has stores across the province.
Pro Tip: Nova Scotia isn't just a wine destination. Beer and spirits are produced throughout the province. Some names to look out for include Glenora Distillery, home of Canada's first single-malt whiskey; the Nova Scotia Spirit Company, which produces rum, vodka, and gin; Alexander Keith's India pale ale, which was first brewed in Halifax in 1820; J.D. Shore of Halifax, which makes various kinds of rum, including rum cream; and more than four dozen craft beer producers.