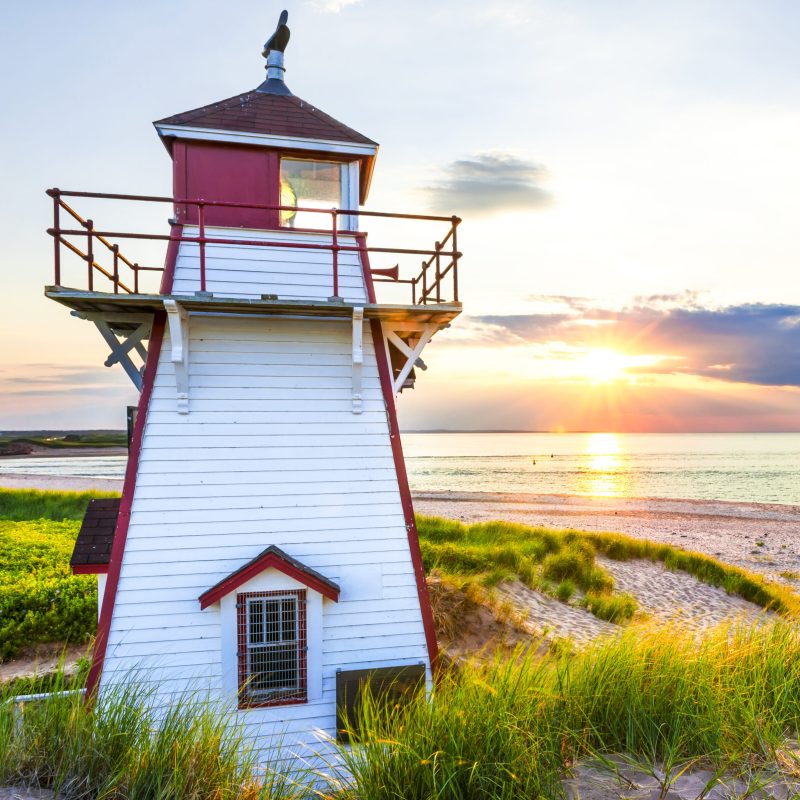 Prince Edward Island is Canada's smallest province, and on a map, it looks like a tiny speck in the Atlantic Ocean, dwarfed by its neighbors and only connected to the rest of Canada by bridge and ferry. But ask anyone who's been there, and they'll tell you that it's their favorite part of the country, a spot that calls them back again and again — ideally with their family by their side.
Prince Edward Island was one of my family's favorite vacation spots, and now I'm continuing the tradition, vacationing there as often as I can. Whether you're traveling with little ones, older relatives, or the entire family, the island provides lots to love.
Here are just some of the reasons Prince Edward Island makes the perfect multigenerational travel destination.
Its Cottages Are Ideal For Families
Prince Edward Island's hospitality and range of activities make it the perfect multigenerational travel destination. There are plenty of programs, attractions, and amenities that are great for small children, tweens, and teens, as well as parents, grandparents, and even great-grandparents!
Part of what makes it so accommodating for families is that cottage rentals are a big part of the island's tourist industry. Of course, there are hotels, motels, and bed and breakfasts as well, but the island's cottages are ideal for families and larger groups. Many families return to their favorite cottages year after year, so if you're a first-time visitor, be sure to book your rental well in advance.
It's The Land Of Anne Of Green Gables
I'm a big Anne of Green Gables fan, and I know I'm not alone. The delightful book series by Lucy Maud Montgomery has delighted generations of readers from around the world, and it has come to define Prince Edward Island. Montgomery's novels are set in Prince Edward Island, and the author spent lots of time on the island with her family, at one point working as a postmistress in the village of Cavendish, not far from the family farm that is now the Green Gables Heritage Place. No wonder the island is known as the Land of Anne!
The farmhouse at the Green Gables Heritage Place is decorated to reflect Montgomery's time period as well as the fictional world of Anne Shirley. The beautiful grounds include two walking trails (the Haunted Woods and Lover's Lane), a historic farm, gardens, a café, and a gift shop. It's a fun and interesting spot for people of all ages.
It's The Perfect Place For A Road Trip
It's not often you can claim bragging rights for driving from one side of a Canadian province to the other, but you can do so fairly easily on Prince Edward Island. The tip-to-tip driving route runs from the East Point Lighthouse to the North Cape Lighthouse. It's a beautiful, relaxed, fun drive, and you'll receive a special certificate upon completing it.
I highly recommend bringing along some small bills so that you can easily purchase fruit and veggies from the roadside stands and pick up a few treats at the craft stores, too.
Its Sweet And Salty Potato Treats Are Divine
It's impossible to talk about Prince Edward Island without talking about its potatoes! The island is one of the world's top potato-producing regions, and most restaurants in Canada — and many in the United States — are supplied by Prince Edward Island farmers.
That means that when you visit the island, you're going to have the best French fries, mashed potatoes, and hash browns imaginable. And for the young — or just young at heart — there are a couple of fun potato-based treats to keep an eye out for.
First, there are the chocolate-coated potato chips (made from local potatoes, naturally), which are surprisingly delicious. While they might sound a bit odd, chances are that if you like chocolate-dipped pretzels, you'll love chocolate-coated potato chips. Kids, in particular, love sugary and sweet snacks, and they'll appreciate this treat.
Once you've had your fill of chocolate-coated potato chips, try the chocolate cake made with mashed potatoes. I've tried it a few times, and I loved every bite. I'm not entirely sure that the average Prince Edward Island home chef throws leftover mashed potatoes into their cake mix, but they should! The fluffy, moist mashed potatoes melt into the chocolate cake batter and — according to my taste buds — provide a richer taste. If you see the funky dessert on a menu, order it!
Camping Is A Cinch
For a small province, Prince Edward Island boasts a surprising number of quality campgrounds. My personal favorite is Cabot Beach Provincial Park. Set on a well-groomed field next to the ocean, the park offers stunning views and a warm, welcoming, and family-friendly atmosphere, with clean bathrooms and a small playground. The beach's calm, shallow, warm waters are popular with families.
My favorite memory of camping here involved our campground neighbors, who traveled with their Angora cat! I'm not sure that camping with long-haired cats is advisable, but it's a fun example of how this campground really is for everyone.
The Beaches Are Blissful
Entire books have been written about Prince Edward Island's beautiful beaches, and I personally know several families who rent the same cottage year after year so that they can always be next to their favorite beach. If you did nothing but spend a week by the shore, your time in Prince Edward Island would be well spent.
You can expect clean, soft sand with a reddish hue, thanks to mineral oxidation. There is often a lighthouse nearby (pop over to say hello — many function as small museums), and amenities vary from full-service beach parks with showers, changing rooms, parking lots, and snack stands to quiet coves connected to the main road by a tiny path. Each one feels more beautiful than the last. If you're lucky, a friendly local will point you to their favorite location.
It's Known For Seafood Cookouts
Prince Edward Island may be famous for its potatoes, but its fresh seafood is a close second when it comes to the area's best food. Lobster, mussels, oysters, clams, crab, haddock, salmon, trout, and more are common on menus. For the best deals, head straight to the harbor and buy directly from the fishermen. You'll always get the freshest (and most delicious!) catch, and it's a fantastic opportunity to make new friends and get to know the locals.
While you're there, ask which beaches allow campfires. One of my absolute favorite things to do on Prince Edward Island is to have a beach cookout at sunset. Along many of the island's seashores, you can set up a DIY lobster and seafood boil, with baked potatoes roasting in the coals. The kids can run, splash, and play while the adults poach and grill.
You Can Enjoy A Family-Friendly Church Supper
If a seaside feast isn't possible, you can have the next best thing. It's not lunch at a café, a bakery, a restaurant, or a food truck. It's dinner at a church hall! Church suppers and community dinners are an institution in Prince Edward Island small towns. Some churches hold a fundraising supper just once or twice a year, usually a roasted turkey or ham dinner with all the fixings. At others, suppers are offered weekly, with a rotating menu reflecting the changing seasons. And one place in New Glasgow has turned the church supper into a full-time operation.
The New Glasgow Lobster Supper is open seven days a week and is the best way to savor Prince Edward Island's delicious lobster and home-style cooking! Whether you're headed to New Glasgow or to a smaller church event recommended by a local, these family-friendly meals offer great value and lots of fun.
The Local Ice Cream Is Something Else
Cows are everywhere on Prince Edward Island. They're raised for milk and beef, and sometimes they serve as family pets. But my favorite cows of all are associated with ice cream.
COWS Creamery produces gourmet ice cream, and the company is well known for its cheeky T-shirts and souvenirs. Popular flavors include the Moo York Cheesecake, Moonicorn, Wowie Cowie, and Royal Cownadian Mint, though my favorite is Bubble Gum.
If you prefer more savory delights, you'll love the company's Cheddar cheese. COWS Creamery's Cheddar, easily identifiable by the cheerful COWS mascot on the sticker, is a can't-put-it-down, quality cheese for everyday use. It's delicious on nachos, sandwiches, and — of course — melted into mashed potatoes. Slightly more expensive (but worth every penny) is the Avonlea Clothbound Cheddar. This award-winning aged Cheddar is slightly crumbly, very rich, and best accompanied by wine and other savory nibbles.
Charlottetown Offers Fun For The Whole Family
One of the smallest capital cities in Canada, Charlottetown feels more like a large town than a city. My favorite childhood memories of Charlottetown involve going to the shopping mall — apparently I appreciated the break from the beach! — but as an adult, I have come to appreciate the other things going on there. There are concerts, plays, festivals, museum exhibits, and special events.
Best of all, the city is home to the Confederation Centre of the Arts. Every year, the company stages a production of Anne of Green Gables: The Musical. Maybe it's my inner child talking, but it's the best musical I've ever seen, and I try to get tickets every time I'm in Prince Edward Island. No multigenerational family trip to Prince Edward Island would be complete without a visit!
Planning a trip to Eastern Canada? Be sure to check out these nine spots in Nova Scotia.