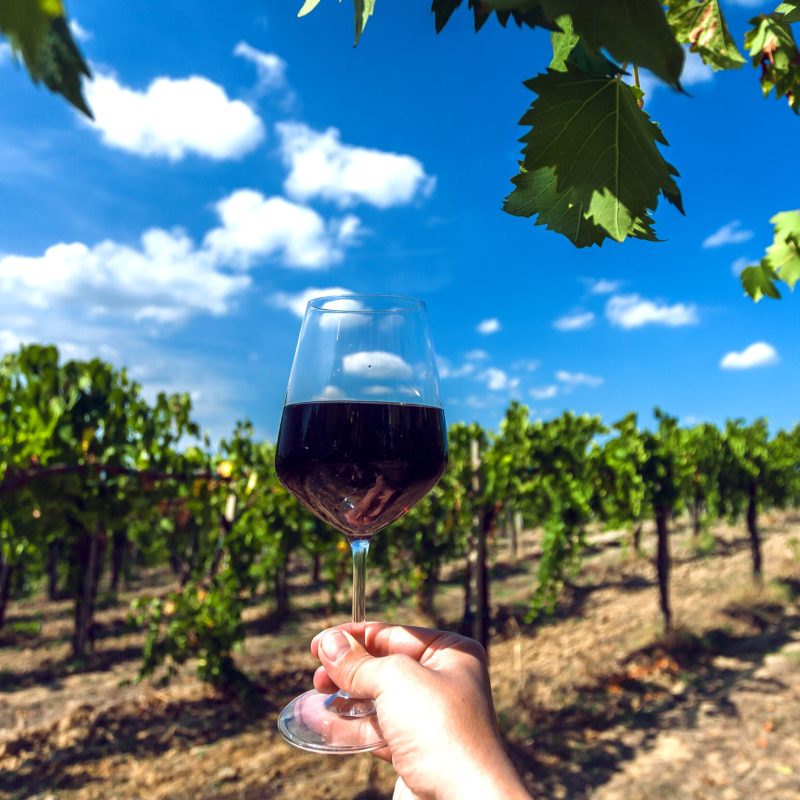 TravelAwaits' 2022 Best Of Travel Awards, presented by
Medjet
, showcases our readers' favorite destinations and businesses. Nominations took place in early March, and voting for the finalists ended in early May. We hope these picks inspire your future adventures; congrats to all of the winners!
There are many wine regions in the United States, and each one has its own unique charm, appeal, and set of wines it's known for. Our readers recently voted on their favorite wine regions, and we are excited to share the results with you!
Here, we'll describe the top nine U.S. wine regions, chosen by our readers. Each region has its own distinct character, from the rolling landscape of Texas Hill Country to the world-famous Napa Valley.
We'll also tell you about some of our favorite wineries in these regions, as well as what makes them special. So sit back and enjoy a virtual tour of some of America's most beautiful wine regions!
1. Texas Hill Country (Winner)
Known For: Tempranillo, Roussanne, Syrah, Viognier, Barbera, Sangiovese
The Texas Hill Country is a large region of rolling hills, rivers, lakes, and valleys in Central and South Texas. In fact, this wine-producing area is the second largest in the country, spanning more than 9 million acres.
The hot weather during the growing season in the Texas Hill Country is what sets it apart from other wine regions in the U.S. The climate is comparable to that of Spain, Central and Southern Italy, and Southern France. And therefore, the region is known for the production of tempranillo, sangiovese, barbera, syrah, roussanne, Bordeaux-style varieties, and other varietals. These grapes grow well in this area, and the soils are brimming with minerals. The wines from this region tend to be high in acidity and have robust fruit flavors.
Fredericksburg is the most recognized winery town in the Texas Hill Country area, but there are plenty of others to discover throughout the region, including the popular city of Austin, known for its world-famous BBQ. And, in my opinion, the wines produced from this region are ideal with BBQ.
Top Wineries You Must Visit
2. Napa Valley, California
Known For: Cabernet Sauvignon, Chardonnay, Sauvignon Blanc, Merlot, Pinot Noir, Zinfandel
Napa Valley is one of the most famous wine regions in the world, and it is located just north of San Francisco. This region is world renowned for its cabernet sauvignon wines, and it is also known for its zinfandel, chardonnay, sauvignon blanc, merlot, and pinot noir varietals.
The climate is warm in the summer, mild in the winter, and only brings rain a few months out of the year, allowing the grapes a long growing season. There are over 100 distinct types of soil — volcanic soil being one of them — which gives the wines a unique and delicious flavor. And the terrain of the valley and mountains in the Napa Valley are ideally suited for wine grape cultivation. This distinctive terroir allows Napa Valley to produce some of the finest wines in the world.
The microclimates in Napa Valley are very diverse, and this allows for an array of grape varietals to be grown in the region. The wines from this region tend to be well balanced, with complex, bold flavors and aromas.
Napa Valley is one of my favorite regions to visit because there is so much to see and do. There are over 400 wineries in Napa Valley, and each one has its own unique character. Wineries hold many events, tours, and a variety of wine tasting experiences. Plus the wines produced in the area are second to none.
Top Wineries You Must Visit
3. Sonoma, California
Known For: Pinot Noir, Chardonnay, Cabernet Sauvignon
Another world-renowned wine region in California is Sonoma, which is located just north of San Francisco and adjacent to Napa Valley but closer to the coast. This region is well known for its pinot noir and chardonnay wines.
The primary two reasons Sonoma is great for growing wine grapes are climate and soil. The climate here is cooler than in Napa Valley, which allows for a longer growing season and the development of more complex flavors in certain types of grapes, like pinot noir. And the soils in Sonoma are very diverse, with over 60 different types of soil. Due to the cooler weather and soil, the wines from Sonoma tend to be more acidic, while also being balanced and fruit forward.
Sonoma is a great place to visit because it is less crowded and more cost effective than Napa Valley. Plus there are plenty of things to do outside of wine tasting, from beautiful hiking trails to the ocean to its variety of charming towns to explore.
Top Wineries You Must Visit
4. Walla Walla Valley, Washington And Oregon
Known For: Merlot, Cabernet Sauvignon, Syrah
The Walla Walla Valley, within the well-known Columbia Valley wine region, is located two-thirds in the southeastern part of Washington and one-third in the northeastern part of Oregon. It is one of the most up-and-coming wine regions in the United States. This region is known for its merlot and cabernet sauvignon, which are also some of the best-value wines in the U.S.
The Walla Walla Valley has a unique climate that is influenced by both the Cascade Mountains and the Columbia River. This results in warm days and cool nights, which is ideal for growing wine grapes. And the geology of the region is unique, with its cobblestone and dark volcanic rock that absorb the sun's heat to the vines' roots. These two factors combine to create a terroir that typically produces easy-to-drink and fruit-forward wines with distinct savory flavors.
The region has a refreshingly relaxed, unpretentious, and approachable attitude. So whether you're in Walla Walla for a bite to eat or an afternoon spent exploring nearby wineries, you'll never be far from good food, wine, and small-town charm.
Top Wineries You Must Visit
5. Willamette Valley, Oregon
Known For: Pinot Noir, Chardonnay
The Willamette Valley is Oregon's largest and most significant wine region. It is located in the northwestern part of the state and extends from Portland south to Eugene. This area is recognized for producing high-quality pinot noir and chardonnay.
The Willamette Valley's climate is comparable to that of Burgundy, France, the most famous and renowned pinot noir area in the world. The weather is cool and maritime, with warm summers and cool winters. This makes it ideal for growing pinot noir grapes, which are sensitive to temperature fluctuations. And the soils in the Willamette Valley are well-drained clay limestones, which are ideal for pinot noir grape cultivation. Therefore, Willamette Valley wines develop better acidity levels and deep, layered fruit flavors.
The Willamette Valley is a beautiful place to visit, with its rolling vineyards, green valleys, and gourmet food trucks. And there are plenty of things to do outside of wine tasting, from hiking and biking to exploring the nearby waterfalls and nature parks.
Top Wineries You Must Visit
6. Finger Lakes, New York
Known For: Riesling, Gewürztraminer, Pinot Gris
The Finger Lakes are 11 long, narrow, north-south lakes that resemble "fingers," located in the central-western part of New York State. It is one of the most picturesque regions in the United States, with its long, winding lakes and beautiful vineyards. The region is known for producing some of the best rieslings in the world.
Finger Lakes has a cool climate with long winters and short summers. This is due to its location in the northeastern part of the United States and its proximity to Lake Ontario and the Erie Canal. The long, cold winters help to preserve acidity levels in the grapes, while the short summers allow the grapes to ripen and develop intense flavors. In addition the "lake effect," moderation of temperature and hillside vineyards make it one of the world's greatest riesling-producing regions.
The Finger Lakes region is a great place to visit for its stunning scenery, amazing state parks, and friendly people. There's no shortage of things to do; from hiking and cycling to boating and fishing, there's something for everyone.
Top Wineries You Must Visit
7. Paso Robles, California
Known For: Cabernet Sauvignon, Zinfandel, Syrah
Paso Robles is a region on the central coast of California, between San Francisco and Los Angeles. It is known for its oak trees, almond orchards, hot springs, and wineries that produce some of the best value cabernet sauvignon in California.
The climate in Paso Robles is warm and dry, with long, hot summers and plenty of sun. It is ideal for growing ripe, healthy, delicious cabernet sauvignon, zinfandel, and Rhône variety grapes. The soils in the region are diverse and rich in minerals. The combination of these two things produces wines that are smooth and fruit forward with high alcohol levels that can match any red wine in the world.
Paso Robles is a fantastic area to enjoy high-quality red wines for roughly half the price of a trip to Napa Valley. Along with its beautiful settings and family-owned wineries, it's also nearby to the famous Hearst Castle.
Top Wineries You Must Visit
8. Augusta, Missouri
Known For: Norton, Chambourcin
Augusta is a small town located in the heart of Missouri's wine country, 35 miles west of St. Louis. The region has a long history of viticulture and winemaking dating back to the early 1800s. In fact, Missouri was considered the center of the American wine industry before Napa Valley was established. The area is best known for its not-so-well-known norton wines, the official grape of Missouri.
Augusta has hot summers with lots of sun exposure, and rocky soils that help produce wines that are strong, full flavored, high in acidity, and low in tannins. There are many small family-owned wineries in the Augusta area that offer wine-tasting experiences featuring many unique locally produced wines, often French-American hybrid grapes like chambourcin.
The city of Augusta is in a charming, hilly, and forested area near the Missouri River and the Katy Trail.
Top Wineries You Must Visit
9. Central Virginia
Known For: Merlot, Cabernet Franc, Petit Verdot
Some believe Central Virginia to be the birthplace of American wine, owing to Thomas Jefferson's vision of grape growing and winemaking in the late 1700s.
The area is best known for its red wines, specifically merlot and cabernet franc. The climate is generally warm and humid, with occasional heat waves in the summer and cold conditions in the winter. Rainfall is evenly distributed throughout the year, unlike many significant wine regions, which makes the rainfall-resistant cabernet franc the preferred varietal in the area. The granite-based clay soils help produce wines with a more old-world flavor (earthy and acidic).
Winegrowing in Central Virginia has a long history, and it's making a comeback as a wine area with much more to offer. It's now home to many vineyards and wineries that are open for public tours and tastings. There are a variety of wine trails that wind through the picturesque countryside, making it a perfect destination for a day trip or weekend getaway.
Top Wineries You Must Visit
It's imperative to feel comfortable and safe while traveling. Medjet provides premier air medical transport, travel security, and crisis response memberships, providing peace of mind for an affordable price.