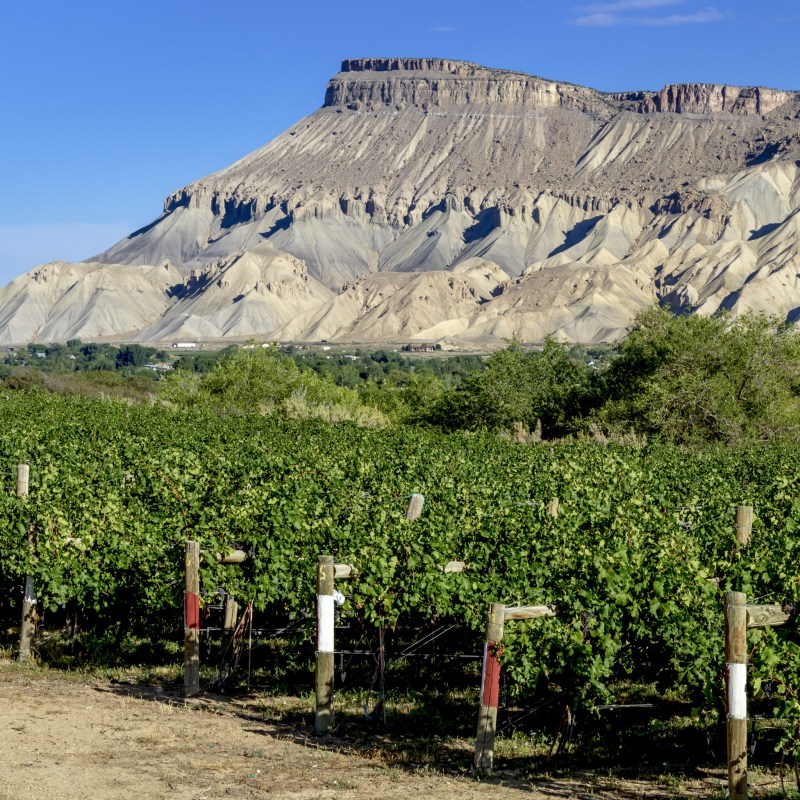 Colorado may not come to mind when you think of wines and wine regions, but it should! The state's cool nighttime climate and more than 300 days of sunshine make it an ideal place for growing grapes.
Settlers planted vines in the 1800s, but it wasn't until the state passed the Colorado Wine Industry Development Act in 1990 that the wine industry really took off. Five wineries opened that year; now there are well over 100 in the state.
Colorado's wineries are the highest in North America and the second-highest in the world, slightly behind those in Argentina. Plus, they aren't as crowded as the wineries in Napa, making for a more relaxing experience.
Here are eight great places to visit for an introduction to Colorado's wine scene.
1. Palisade
There are two areas in Colorado that are federally designated American Viticultural Areas (AVAs). One of them is the Grand Valley, which includes the town of Palisade. Palisade is the heart and soul of Colorado's wine country and a must-visit on any Colorado wine tour. You'll find Palisade off of Interstate 70 in western Colorado, under an hour from the Utah border.
Palisade is home to Colorado's original winery, Colorado Cellars, an award-winning, family-owned operation. It offers a wide range of varieties, from chardonnay to cabernet to port, plus some interesting blends as well. Try out its huckleberry, elderberry, and peach wines, as well as its interestingly named Roadkill Red.
There are more than 25 wineries in Palisade, and all offer something unique. Red Fox Cellars is a relative newcomer to the Palisade wine scene. This family-run establishment has a rustic and humble vibe that will make you feel right at home. It's known for its merlots, fruit wines, and creative wine cocktails. Port lovers should head straight to Graystone Winery. The boutique winery offers both red and white ports that have won several awards. Maison La Belle Vie Winery offers great wines with equally great views. Sip on reds like merlot and cabernet sauvignon and enjoy a freshly prepared charcuterie board, all while overlooking the vineyard and nearby rugged mountains.
The best way to experience all that Palisade has to offer is to follow the Palisade Fruit & Wine Byway. Its three routes will take you to fruit orchards, wineries, lavender farms, and more. You can opt to drive the byway or rent a bike in town and pedal from stop to stop. Most of the road is fairly flat, but there are a few climbs, so be sure to map out your route beforehand. There are also a number of companies that offer drivers and tours to take you around to the wineries; this is a great option for enjoying yourself safely.
2. West Elks
Colorado's second AVA is West Elks, an area that includes the towns of Hotchkiss and Paonia and is home to about a dozen wineries.
The Leroux Creek Inn & Vineyards in Hotchkiss is a 54-acre farm with an adobe-style inn, fields for wildlife, and a 4-acre vineyard. The winery organically grows two hybrid grapes: Chambourcin and Cayuga, which they make into French-style wines. The Storm Cellar is a boutique winery in Hotchkiss that released its first wines in 2019, but it has already been featured in national magazines and won several local awards. The Storm Cellar specializes in white and rose wines and grows its grapes in an old apple orchard.
Art meets wine at Azura Cellars and Gallery in Paonia. A couple bought the property when they outgrew their art studio in the Vail Valley of Colorado and named it Azura after their beloved sailboat. They established the art gallery first before taking on winemaking. Today, you can sip on bold reds like merlot and malbec or whites like pinot gris and riesling while browsing the stunning artwork.
3. Boulder
Although there are only two federally recognized AVAs in Colorado, there are a number of other wineries in business across the Centennial State.
You will find award-winning mead in Boulder at the Redstone Meadery. Mead consists of alcohol fermented from honey instead of grapes. There are fewer than 500 meaderies in the United States, and eight of them are in Colorado. The Redstone Meadery is a leader among meaderies and has won several national and international awards. The meadery began by offering only one mead wine, Black Blackberry Nectar, but it has since grown to include other flavors.
4. Colorado Springs
To taste a large selection of Colorado wines, head to the Colorado Springs area.
The Wines of Colorado tasting room offers daily tastings at the base of the iconic Pikes Peak. Find your favorite wine and sit at a table overlooking Fountain Creek for a meal. A local favorite is the Colorado Wine Burger, piled high with mushrooms, onions, and green chiles.
Benedictine monks founded the beautiful Winery at Holy Cross Abbey. The Abbey was once a boarding school, but the school closed in the mid-1980s. The remaining monks decided to start a winery and brought in winemakers to help. Today, the winery produces award-winning wines on its tranquil grounds. Taste the wine in the tasting room, and then grab a cheese plate or fruit tray to enjoy on the grounds. Or you can pair your tasting with a little adventure on the Whitewater to Wine tour. The half- or full-day tour will take you rafting down the Arkansas River and later to a VIP tasting at Holy Cross complete with a selection of cheeses and fruits.
5. Evergreen
Head to the Colorado foothills, and you just might see winemaking happening in a parking lot.
Creekside Cellars sits in the heart of downtown Evergreen. Its small parking lot is often full of crates of fresh grapes ready to be crushed and made into fine wine on-site. The winery doubles as a restaurant that serves up delicious paninis big enough to share. But the wine is best enjoyed on the winery's outdoor patio overlooking Bear Creek. It's a serene place, and you will likely see some deer, elk, or maybe even a bear! Note that the dining area is small, so you'll want to make reservations.
6. Olathe
Located in southwestern Colorado, Olathe is known for its sweet corn, but it's also home to a local, family-owned winery, Mountain View Winery. The organic farm also grows fruits and vegetables that visitors are allowed to pick in the spring and fall. From vine to bottle, all the wines are made on-site, with choices ranging from port to white and red wine.
The winery is part of Harvest Hosts, a members-only club that allows RVs to park and camp overnight for free.
7. Durango
Create your own wine blend at Four Leaves Winery in historic Durango. The boutique winery imports its grapes but makes the wine in the building. You can try your hand at winemaking, too. First, try the wines to see what flavor profile you like, and then work with the winemakers to come up with your own blend. Finish by bottling and corking your wine and creating your own custom label. This is a unique experience perfect for groups and special occasions.
8. Denver
Wine in a keg? That's right! Your wine will come straight from a stainless steel keg or in a can at The Infinite Monkey Theorem in downtown Denver. The winery claims that wine keeps better in a keg as opposed to an open wine bottle, but the can is just for fun. The Infinite Monkey Theorem takes pride in its urban, unpretentious roots and aims to incorporate the community into each of its wines. The tasting room has a funky feel and is a must-see when visiting the Mile High City.
What To Know Before You Go
The best time to visit Colorado's wine country is during the harvest season in September. The weather is phenomenal, and the wineries are bustling with activity. It's also when Palisade holds its annual wine festival, Colorado Mountain Winefest. It's a weekend filled with food, ice sculpting, seminars, live music, and, of course, lots of wine!