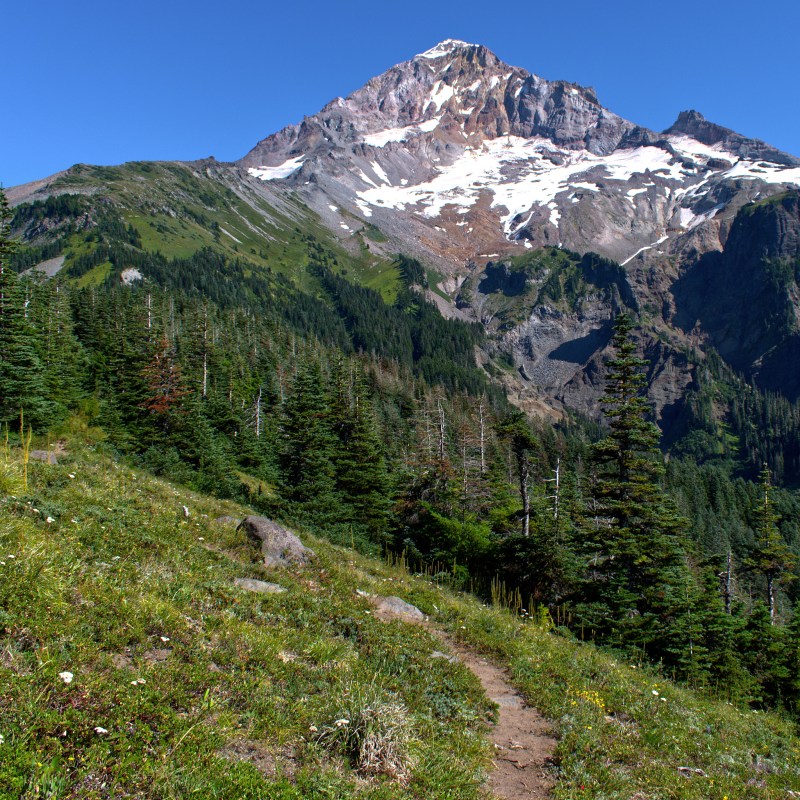 I've lived in the Midwest my entire life. But the state I've visited the most isn't a bordering state or even a vacation destination state such as Florida or California — it's Oregon.
My "relationship" with Oregon began in high school. My dad had a conference in the Portland area so he decided to build a family vacation around it. He attended the conference for three days and then we spent a week and a half wandering around the entire state.
A few years later, when my sister was looking at graduate schools, we visited Oregon again so she could tour a school in Portland. Same thing: She toured the school and then my family spent the rest of the time enjoying the Oregon coast. She ended up choosing that school, and it was a four-year program, so for the next four years, I visited Oregon several times to see my sister. Again, more trips to the Oregon coast (and into the mountains), more walks on the beach, more hikes.
With my deep knowledge of Oregon, my wife and I have since taken three vacations there. She loves to hike, so I reckon I've hiked dozens of trails in Oregon. Not bad for someone from the Midwest. Here are nine of the best hikes in Oregon.
1. Tillamook Head Trail, Ecola State Park
Seaside
This is my pick for the best hike in Oregon. Check out TravelAwaits' picks for the best hikes in all 50 states here. Honestly, if anyone asks me for my favorite trail in the United States, it's this one.
We all show people photos on our phones, right? Well, I've shown a photo from this trail more than any other photo on my phone. This photo is from December of 2013, yet I still show it to people when the subject of Oregon comes up. I took the photo on this trail because I just couldn't believe the colors of all the moss surrounding me. It honestly felt like I was walking through a movie set.
Because you're hiking right next to the ocean, so many areas of this hike take you through groves of trees covered in moss like that. My wife and I reference this hike so often because it's the most bizarre looking landscape we've ever seen. Every direction you look, it's green.
This hike begins just south of Seaside and enters the north end of the park. The roads in Ecola State Park are often closed due to weather issues caused by particularly harsh winters, but this trailhead (and this section of the trail) almost always remain open, even if other areas of the park are closed for road/trail repair.
2. Columbia River Highway State Trail
Hood River
I'm trying to list varying hikes, from steep to flat, rocky to groomed, and even paved. This trail is on the steep end of things, but it's also paved, which makes for easy hiking. It's a section of old road, now replaced by a modern highway, that offers amazing views of the Columbia River.
You can choose whatever length of hike you want along the Columbia River Highway State Trail. It's an old road, so hike along until you feel like you're halfway done, then turn around and head back. The biggest climb is about four miles outside of Hood River, so many turn back before taking on that climb.
The best way to describe this trail: If you've ever been driving on a scenic mountain road and you wish you didn't have to watch the road and could just stare at the views the whole time, this is your chance. You're walking the road instead of driving it, so look all you want!
3. Deschutes River Trail, Aspen Campground To Lava Falls
Bend
On my right wrist, I have a scar from this trail. I was 15 years old, hiking with my parents, jumping from lava formation to lava formation, and I fell like 15-year-olds often do. I cut my wrist on the sharp lava formation, and fearing that I would get in trouble, I hid the severity of the cut from my parents once they caught up with me. I found BAND-AIDs at the campsite and patched myself up. Years later, I still bear the scar of my patch job.
It remains a great trail all these years later. The Deschutes River is an amazing feature in central Oregon near the well-known town of Bend. This trail follows the river from the campground to Lava Falls. The views are incredible and the river, especially after snowmelt, is quite powerful. The old lava formations make for a very interesting landscape.
Just don't climb on the lava formations.
4. Saint Perpetua Trail, Cape Perpetua Scenic Area
Yachats
This is maybe the best view I've seen in Oregon. We woke up to a foggy morning in Newport, right on the coast. We decided to head south to Cape Perpetua, and we determined to hike the Saint Perpetua Trail. It was my wife's choice — I would have chosen something flatter.
This trail is a slow and steady climb up to an incredible ocean overlook. We started in the fog down below and began our climb. You climb about 700 feet in one mile, so it's not easy, but it's not steep. It's one very long, steady uphill.
Once we got to the top, the sun had burned off most of the fog, and we walked the upper loop to see some incredible views. I took the photo above that morning, looking down the coast.
5. Timberline To Town Trail, Mount Hood Wilderness
Government Camp
Mount Hood is the massive mountain that looms in the background over Portland. It's a quick day trip from Portland, so this could be a day hike when staying in the Portland area.
The main feature atop Mount Hood is Timberline Lodge, and dozens of trails all converge right there. Some are obviously for mountain hiking (very difficult trials the head up to the crater), but there's also the Timberline To Town Trail, which is much more gradual. It's still steep, so notice how far you're hiking down because you're going to have to turn around and hike back up. But if you want to experience Mount Hood, this is a great way to do it.
6. Multnomah Falls Trail, Columbia River Gorge
Multnomah County
Prepare for crowds, because this may be the most famous outdoor spot in Oregon. More than 2 million people visit Multnomah Falls every year.
What many people don't know about the area is that there's a trail that takes you to the very top. Most are familiar with the lower falls and the iconic bridge where you can view the massive waterfall. But not many are aware that there's a zigzag trail that will take you to the very top for an even more impressive view. Once you're at the iconic bridge, keep going and the trail will climb 800 feet to the very top. It's a steep climb over one mile, so prepare to rest a few times, but at the very top, you'll see the waterfall below and the majestic Columbia River Gorge in front of you.
7. Trail Of The Restless Way, Cape Perpetua Scenic Area
Lincoln County
I've listed a lot of long hikes here, but perhaps you're looking for something short and quick. If yes, I suggest the Trail Of The Restless Way.
My wife and I had pulled off the coastal highway at a sign that pointed to "Devils Churn," a circular spot on the rocky coast where the waves enter and churn around. From there, we found the Trail of the Restless Way, a 1.5-mile loop trail around the rocky coast. You get to see Devils Churn as well as other scenic views right next to the Pacific Ocean.
At the end of the trail, my wife and I walked right out to the water. And I took this photo of her taking photos of the ocean:
8. Diamond Lake Trail, Idleyld Park
Douglas County
Because of the terrain in Oregon, many of the hikes I've mentioned have steep climbs and quick descents. Here, I include a hike that's relatively flat. If you ask my wife, she'd prefer a hike that's a quick uphill so she gets a great workout. For me, give me a 10-mile trail with lots to see that's relatively flat.
If you're more on my end of things, then the Diamond Lake Trail (known as the Dellenback Trail) in southern Oregon is the one for you. This is somewhat near Crater Lake, so check that out if you have the time, but this trail takes you around the entire perimeter of Diamond Lake. The full loop is 10.5 miles, so if you're not looking for a long hike, you can just use sections of it to go out and back. But, if you want a full-day hike with lots of views (and many paved sections of trail for easy walking), this should be your choice. When we finally plan that trip out to Oregon with my mom, this is where we will go. Paved, no hills, easy for her to walk, and great views of a mountain lake.
9. Cape Lookout Trail, Cape Lookout State Park
Tillamook
This is my wife's favorite trail in Oregon. I started with my favorite, so let's finish with her favorite.
The reason my wife loves Oregon so much is that the mountains sometimes meet the ocean with no flat area in between. There's no beach in some spots; it's just steep cliff as the mountain meets the ocean.
That's what you can see from the Cape Lookout Trail. It's a peninsula out in the Pacific Ocean where you can hike out and see the views up and down the coast. When we go back to Oregon, hiking this trail is number one on my wife's to-do list. The last time we were there, the main trail was closed for repairs, but that just allowed us to take one of the other trails (there are three or four that leave from the main trailhead). Those views were just as breathtaking.
Pro Tips
Oregon weather is tricky. As you may know from the reputation the Pacific Northwest has earned, rain can pop up at any time. So wear shoes that can handle the wet and always pack a rain jacket. It's going to be damp almost everywhere you go (well, except for the high desert around Bend), so come prepared.
This article is presented by Keen Footwear. For my hikes, I wore my KEEN Newports. I wear these shoes on nearly every hike near water because my feet can get wet, yet I'm still wearing a lightweight shoe with a toe cage that protects my feet as I'm climbing around rocks. I recently got my third pair after wearing out the first two. Shop KEEN's Newports and other hiking shoes here.