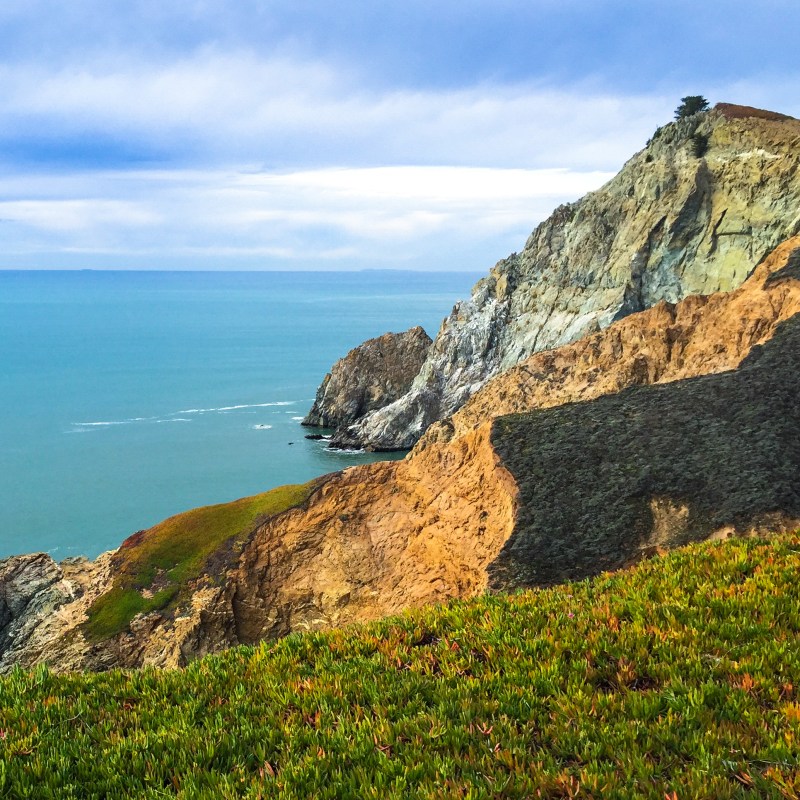 Choosing the most stunning hikes in Northern California is a daunting task. From strolling along beautiful shorelines and exploring mature woodlands to adventurous climbing to the top of a volcano, there really is something for everyone.
Here are some of our suggestions to get you started.
1. Ewoldsen Trail, Julia Pfeiffer Burns State Park
Big Sur
Big Sur is not only one of the most beautiful areas of Northern California, but it also offers wonderful hikes that showcase its varied scenery. The Ewoldsen Trail packs many features of Big Sur's natural beauty into a 5-mile loop. You'll see waterfalls, old-growth redwood forests, gorgeous clear streams, and of course, spectacular coastal views. The popular McWay Falls is near the beginning, so catch it first and then ditch the crowds.
The hiking ranges from easy to challenging, so be sure to wear good boots and take the time to enjoy the variety of terrain you encounter.
If you want to grab something tasty for your trek, visit the Big Sur Bakery for a treat before they sell out and you hit the trail.
2. Rubicon Trail, D. L. Bliss State Park
South Lake Tahoe
This is our pick for the best hike in Northern California. Check out TravelAwaits' picks for the best hikes in all 50 states here. Anyone who loves the majesty of a big, gorgeous lake will want to visit Lake Tahoe. It is magnificent in every season and offers outdoor recreation from hiking and camping to skiing and snowmobiling.
One of the best ways to take it all in is to hike the stunning Rubicon Trail, which connects two beautiful state parks, D. L. Bliss and Emerald Bay. It offers sweeping views of Lake Tahoe for almost the whole hike. You'll pass flowery meadows, pine-topped cliffs, secluded little coves perfect for an afternoon splash in the lake, and more. One of the highlights is Vikingsholm, a Scandanavian-style mansion that looks like a castle; it's perched on the shore of beautiful Emerald Bay.
If you can only take one hike during your visit to Lake Tahoe, the Rubicon Trail should be it.
3. Mist Falls Trail, Kings Canyon National Park
Hume
In Kings Canyon National Park, you'll discover the deepest canyon in the United States. A glaciated valley, the park includes giant sequoia trees, unique rock formations, deep valleys, and miles of hiking trails.
There are many choices when it comes to hiking. One of the most stunning hikes is the Mist Falls Trail, an 8-mile round trip that is moderately flat most of the time. When you get about a mile from the falls, there's a steeper climb that takes you to the spectacular waterfall whose velocity does actually create a mist. It's nature's way of cooling you off, a welcome treat as you view stunning scenery in one of America's most dramatic parks.
4. Sempervirens Falls Trail, Big Basin Redwoods State Park
Boulder Creek
California's oldest state park, Big Basin Redwoods State Park, is home to loads of old-growth redwoods that beautify the landscape. Many are hundreds of years old and breathtakingly huge.
The Sempervirens Falls Trail is a perfect way to hike through the redwoods, and it also incorporates a lovely waterfall along the way. The 20-foot waterfall takes on a unique blue color from minerals in the region. A wooden platform makes for good viewing. In addition to the falls and the amazing sequoias, hikers will be treated to unique ferns, huckleberry bushes, and dark-eyed juncos feasting on berries.
Bring a picnic or some snacks and enjoy the sights and sounds that surround you on this wonderfully picturesque trail.
5. French Trail, Reinhardt Redwood Regional Park
Oakland
Reinhardt Redwood Regional Park is delightfully full of coast redwoods. The park has many hiking trails with enough variety for hikers of all abilities. Trails pass through redwood groves, streams, and local vegetation. You'll also find stunning views of the bay, and since the trails often intersect, you can tailor your hike to suit your interests. Even though the park is in the heart of Oakland, it feels like an oasis you can have all to yourself.
The French Trail gives you plenty of ups and downs through the redwoods and hills. When Contra Costa and Alameda Counties split up in the mid-1850s, neither of them wanted to give up this redwood land, so the border runs through the center of it. You'll also discover that the first pure rainbow trout were identified in the San Leandro Creek here.
Poison oak is present on the trail, so it's best to wear long pants.
6. Devil's Slide Trail
Pacifica
Created from a reclaimed section of Highway 1, Devil's Slide Trail gets its name from the landslides that used to come from the cliff above. After officials identified a way for auto traffic to bypass the route, it was transformed into a multipurpose trail featuring amazing seaside views of the Pacific Ocean below. The trail's overlooks have observation scopes, and the trail offers interpretive signs at key spots along the way that highlight the history, geography, and wildlife of the area. You might just spot some humpback whales migrating during the season.
It definitely gets windy here, so bring a jacket. Hikers, bikers, and horseback riders can all enjoy the stunning views from this coastal trail.
7. Yosemite Falls Trail, Yosemite National Park
Yosemite Valley
It's hard to imagine a place with more stunning views than Yosemite National Park. Many of the park's hikes include iconic landmarks like El Capitan and Half Dome. But in our opinion, Yosemite Falls is the most showstopping symbol of this unforgettable place.
The 7-mile round-trip Yosemite Falls Trail will take you to the top of the falls and give you great views of the falls and Yosemite Valley. The hike is a bit challenging, with a 2,700-foot gain in elevation through a series of switchbacks. But the view is amazing, especially in the spring, when the flowing water is at its height.
If that sounds like too big a hike, there's an alternative 2-mile trail to Columbia Rock that ascends 1,000 feet and takes less than half the time. You can get a good view of the valley, and if you go up for another half mile, you will see the Upper Yosemite Falls as well.
No matter how you go to see it, Yosemite Falls is worth the hike.
8. Sun Trail, Muir Woods National Monument
Mill Valley
The name Muir Woods National Monument conjures up images of rustic California wilderness waiting to be explored. It's not surprising that some of the most stunning trails in Northern California can be found in this beautiful area.
For an enjoyable hike that offers lots of variety, head for the Sun Trail. It follows the grassy hills above the woods, offering beautiful views of the redwood-filled valley below. The trail intersects with other popular trails such as the Bohemian Grove Trail. It's a little less crowded and a great opportunity to see beautiful Mount Tamalpais above the Pacific Ocean, punctuated by the Farallon Islands on a clear day.
You'll need to make a parking reservation and pay a small fee, but the Sun Trail bypasses the main entrance, so you'll skip the per-person entry fee. Quite a deal for one of the best trails in the woods!
9. Slacker Hill Trail, Golden Gate National Recreation Area
Sausalito
Slacker Hill in Sausalito is one of those spots that locals know and try to keep to themselves. Even though it's close to popular tourist areas, this little piece of Heaven is largely devoid of tourist throngs.
You have a few options from the trailhead, but one of the best is the quick but steep climb to the top of the hill. It's just a half-mile hike to the top, and the view is nothing short of spectacular. It can get windy, so bring a jacket. If you want to extend your hike, make a 3-mile loop by combining the Slacker Hill Trail with the Coastal Trail or add the Rodeo Valley Trail and the SCA Trail for a 4.5-mile hike.
Be on the lookout for local wildflowers in the spring. Take your time climbing above the clouds and enjoy the views, especially that of the Golden Gate Bridge at sunset.
10. Lands End Trail, Golden Gate National Recreation Area
San Francisco
The Lands End Trail is just about as wild and beautiful as it sounds, and it features shipwrecks, landslides, rocky bluffs, barking sea lions, and more. Wildflowers and panoramic views enhance the 3.5 miles that this trail covers. Visit the Eagle Point Labyrinth, explore the historic Sutro Baths, and admire the Golden Gate Bridge from many different angles. While immersed in the magnificent coastal terrain, you'll see how easy it is to leave your heart in San Francisco.
11. Lassen Peak Trail, Lassen Volcanic National Park
Old Station
For a sheer adrenaline rush, tackle the amazing Lassen Peak Trail. Lassen Peak, which last erupted in 1915, is the highest peak in Lassen Volcanic National Park and is considered active but dormant. From the summit, you can see amazing vistas of the park, smell the hydrogen sulfide, and admire jagged peaks and mountain lakes. You'll see steaming fumaroles, reminding you of the volcanic activity bubbling beneath the surface.
Though it's just 2.5 miles, the trail has a steep gain. There's no shade, just lots of rocks, so bring good sunglasses, a hat, and lots of water, or consider going later in the day. You won't be alone, because plenty of people love the challenge of climbing to the top of an active volcano. But if you go, you'll likely never look at the world around you quite the same way again.
Pro Tip: Northern California has lots of beautiful places to hike and lots of people who want to enjoy them. Do yourself a favor and leave your schedule open. Wherever you decide to go, take your time there, and don't rush. Whether you're on the trail all alone or are there with others, you'll have more fun if you relax, bring water and snacks, and take time to let your soul unwind.
This article is presented by KEEN Footwear. Sue is conscientious about how her feet look and doesn't like boots that are too bulky. Her Terradora II Waterproof Boots are sleek and look really good. They're stylish and comfortable with lots of support. They're also really waterproof, so when you're walking through the morning dew or after a rain, your feet are still nice and snuggly inside. These are perfect for all kinds of hiking and walking. Diana's Targhee III Waterproof Mid boot is so lightweight. It's sturdy and grips the ground well. The wide toe box is perfect for hiking because you can comfortably go up and down all kinds of terrain, including spots with lots of roots or uneven ground. There's also a lot of ankle support. If you want to walk on trails of all types as well as more pedestrian routes, these will treat your feet like royalty. Shop KEEN's Terradora, Targhee, and other hiking shoes here.