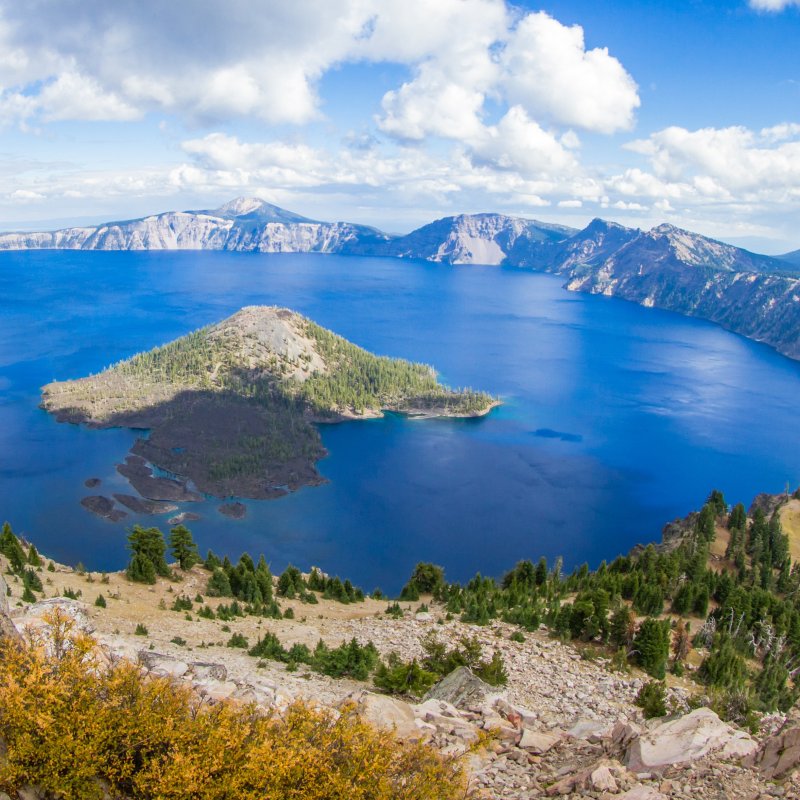 Known as one of Oregon's seven wonders, Crater Lake's crystal clear, snow-fed waters will make you gasp in awe.
You'll never forget the sight of driving out from the pine tree-lined road to the first views of the glistening blue caldera in front of you. At 1,943 feet, Crater Lake is the deepest lake in the United States, and the ninth deepest in the world. Although photographers can try to capture its beauty, Crater Lake is one of those places that truly has to be seen in person to be believed.
Where Is Crater Lake National Park?
Situated in southern Oregon, Crater Lake is part of the Cascade Range, which runs from Northern California to British Columbia. As part of the Pacific Ocean's Ring of Fire, the Cascade Range includes 13 volcanoes such as Mount Shasta, Mount Rainer, and Mount Hood. It also includes Mount Mazama, which erupted about 7,700 years ago and left behind a giant caldera. Over time, this crater was filled with rain and snow to create what we now know as Crater Lake. It's also why the lake is so vibrantly blue.
Located inland, Crater Lake is about a four-hour drive from the ocean, a four-hour drive from Portland, and just 60 miles from the California border. The closest cities to Crater Lake are Ashland, Medford, and Klamath Falls.
How To Get To Crater Lake
Crater Lake sits about seven miles from the turn off of Highway 62. To appreciate the deepest lake in the United States fully, make sure to drive to the Rim Village Visitor Center to see the stunning view.
Getting To Crater Lake By Car
Driving is probably the most convenient and low-cost way to visit Crater Lake. A car will allow flexibility of movement around the park and fewer time restrictions.
About two hours from the California border, Crater Lake National Park can be accessed year-round via Highway 62. The entrance from the main highway to Park Headquarters is open daily, however, the last three miles to Rim Village can be closed in the winter during heavy snow.
If you're traveling from Medford, you can take Highway 62 all the way to the West Entrance. If you're traveling from Klamath Falls, drive on Highway 97 before merging onto Highway 62 for the park's South Entrance. From the north, you can enter via Highway 138 and the North Entrance to Crater Lake, however, if it's closed due to snow, continue driving to the West or South Entrance via Highway 62.
Getting To Crater Lake By Train And Bus
As of 2016, if you're traveling from Los Angeles, California, or Seattle, Washington, you can take the Amtrak Train line to the Klamath Falls stop. From Klamath Falls, a shuttle will pick you up and take you to Crater Lake National Park.
From California, the #14 train arrives at 8:30 a.m. — just in time for the shuttle transfer to the park at 9 a.m. You'll have time to explore the park before boarding the 3 p.m. shuttle back to Klamath Falls.
If you're traveling from Seattle or Portland, the #11 train arrives in Klamath Falls at 10:30 p.m., where you can stay overnight before boarding the 9 a.m. shuttle to Crater Lake National Park. This option also has a return shuttle back to Klamath Falls at 3 p.m.
The perk of this transportation option is that your $40 round-trip ticket already includes your park entrance fee. However, it's important to note that this option is only available between July 1 and September 8.
When Is The Best Time To Visit Crater Lake?
Sitting almost 7,000 feet above sea level, Crater Lake is known to be one of the snowiest places in the United States — an average of 43 feet of snow fall around Crater Lake each year. Due to this, Crater Lake skips over most of traditional spring as there can be snow on the ground until June!
These conditions cause the park to close the North Entrance Road and Rim Drive during the winter. It doesn't mean you can't visit, but that you'll have to access Crater Lake via Highway 62 through the South or West entrances. These closures don't affect Rim Village unless there is very heavy snowfall, in which case the road may be closed for a few hours or days to clear it.
The snowy months also mean accommodations inside the park, such as campgrounds and lodges, are closed. That said, there are places to stay outside the park. For snowshoeing or cross-country skiing, however, this is the best time to visit. Rangers even offer free two-hour guided snowshoe walks that last about two hours on weekends and some holidays.
Although it depends on your activity preferences, many people choose to visit from July through September. During these three months, all the roads will have opened, snow will have melted, and more than 90 miles of Crater Lake trails can be hiked.
What Is There To Do At Crater Lake?
Although it may seem that Crater Lake doesn't offer much to do beyond taking in the view from the road, you may be surprised! During the winter, snowshoeing, sledding, backcountry camping, and other winter activities are the main draws. However, some may argue that there are more things to do during the summer months, including hiking, swimming, fishing, and driving around the lake. Here are some options.
Complete The Rim Drive
The 33-mile drive around the rim is one of the most beautiful aspects of visiting Crater Lake, as you'll be able to see the lake from all angles. The Rim Drive is open from July to October and has many turnouts and outlooks for optimal enjoyment of the view. Take about two to three hours to fully enjoy the trip. The most popular places to stop include Cloudcap Overlook, Pinnacles Overlook, and Vidae Falls for cliff-side pine trees, rock formations, and a spring-fed waterfall, respectively. When the roads close for the winter, the Rim Drive becomes a scenic place to walk, play, and ski.
If you don't want to drive yourself and want to fully focus on taking in the scenery, take a Crater Lake Trolley Tour. The ranger-led tour takes about two hours, stops at five outlooks, and leaves from Rim Village daily.
Hike The Trails
One of the best ways to experience Crater Lake National Park is taking a stroll through some of the 90 miles of hiking trails available. As one of the most beautiful natural landscapes in Oregon, it can be enjoyed by hikers of all levels. From short and easy to long and strenuous, Crater Lake has a trail for every kind of experience.
For a quick hike with a lot of reward, choose to hike Castle Crest. The 20-minute half-mile hike takes you through a meadow that's filled with wildflowers in July. For a slightly longer trek with plenty of lake views, choose the moderate Discovery Point trail which takes you to the place of the first documented Crater Lake discovery — way back in 1853. For longer hikes (~3 hours) that will work up a sweat and reward with panoramic views of Crater Lake, choose either Garfield Peak Trail or Mount Scott.
View The Phantom Ship
One of the most unique features of Crater Lake is a small island that looks like a sailing ship that rises from its water. However, the ship-island likes to play games, and during different weather conditions, it can completely disappear from view, hence its name: Phantom Ship. The best place to view the island is from the short Sun Notch loop trail. In about 30-minutes, you'll be able to walk to and from the rim to see if you can catch a glimpse of the elusive "ship."
Go Stargazing
Clear and crisp evenings are some of the most beautiful at Crater Lake National Park. The absence of light pollution in addition to the clean air on top of the mountain provides the perfect conditions to watch the night sky. Whether you decide to visit during an astronomical event like a meteor shower or just want to get away from city lights, Discovery Point and Watchmen's Overlook are great places to watch the moonrise, sunrise, and sunset. If you go in the evening, you can stay for the night sky.
Take A Cruise
While most of the previous activities are around the lake, it's also possible to get up close to the water. That's right, you can take a boat cruise around Crater Lake. The two-hour ranger-led tour takes visitors around the entire lake while explaining all the lake's marvels. The other tour available shuttles people to and from Wizard Island (about one hour each way) and allows visitors to swim, fish, and hike there for about three hours.
The dock rests at the end of Cleetwood Cove Trail, which is the only access to Crater Lake's shore and can be tough to hike. Heading down to the shore takes about 45 minutes along sandy switchbacks that drop 700 feet. This means the way back is quite steep — equivalent to climbing 65 flights of stairs. The trail is just over two miles round-trip and should be approached with caution, mobility, and overall health in mind.
Other Things To Know
Since Crater Lake is part of the National Park Service, an entrance fee applies. If you don't already have an annual National Parks Pass, your Crater Lake trip is a great time to get a National Park Senior pass. Otherwise, it costs $25 to enter between May 22 and October 1 and $15 to enter between November 1 and May 21. The fee includes seven days of access to the park.
Going to Oregon? Here's how to visit Multnomah Falls, plus why Thor's Well on the Oregon coast appears to be draining the Pacific Ocean.