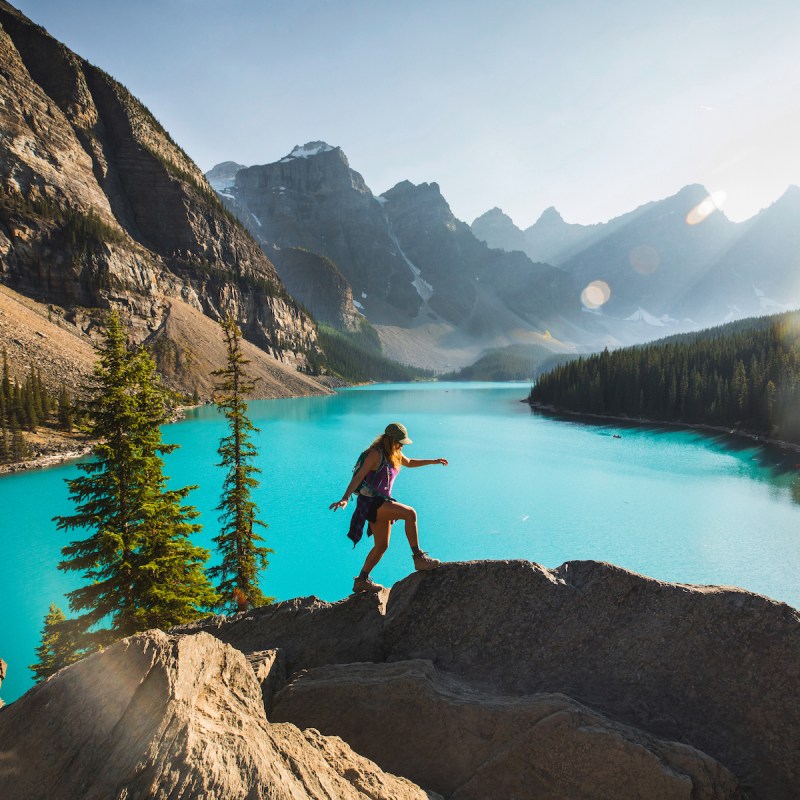 From now through May 30, the popular outdoor adventure app AllTrails is offering half off its premium version — AllTrails+ — to celebrate Memorial Day.
Whether you're an avid hiker, a trail runner, or simply someone who enjoys spending time in nature, AllTrails+ provides invaluable tools that enhance your outdoor experiences. Here are all the details!
AllTrails Who?
AllTrails has established itself as a leading platform that helps individuals find their way outside, offering detailed reviews and inspiration from a global community of trail-goers. With over 50 million avid trail-goers, more than 400,000 curated trails, and an astonishing 750+ million logged miles, AllTrails has become a trusted resource for outdoor enthusiasts seeking authentic experiences in nature. The platform boasts an impressive 900,000+ five-star reviews and fosters a vibrant global community.
Upgrade To AllTrails+ To Take Advantage Of These Perks
While AllTrails offers a free version of its app, AllTrails+ takes the experience to the next level with its premium features. Gain access to offline maps, immersive trail previews, and other outdoor adventure-enhancing tools for $17.99 a year (that's a dollar and a half a month!).
Here are some key features AllTrails+ offers:
1. Save Time Finding Trails Near You
With AllTrails+, you can quickly and easily find trails in your vicinity. Whether you have just an hour to spare or an entire day, the app allows you to discover trails that fit your schedule, ensuring you can make the most of your available time.
2. Be Prepared With Extra Planning Tools
AllTrails+ equips you with additional planning tools that enhance your outdoor experience. From real-time weather overlays to trail difficulty ratings and user reviews, you can gather all the information you need to prepare for your adventure.
3. Never Miss A Turn — Even Without Service
Explore new trails confidently, knowing that you have access to detailed maps right at your fingertips. One of the standout features of AllTrails+ is the ability to download maps ahead of time. This means you can navigate trails even without cell service, ensuring you never miss a turn or lose your way. The ability to download offline maps ensures that you can navigate even in remote areas without worrying about losing your way. It provides peace of mind that allows you to focus on enjoying the beautiful scenery.
4. 3D Maps Help Plan And Visualize Your Adventure
AllTrails+ offers an immersive experience with 3D maps, bringing an exciting dimension to trip planning. By viewing the trail map in 3D, you can get a better feel for the terrain and elevation before you even set foot on the trail. Not only does this feature allow you to better prepare for your adventure, but it also helps you choose trails that match your fitness level and preferences.
5. Weather Overlays
Stay ahead of Mother Nature with AllTrails+ real-time weather overlays. Keep track of weather conditions along your chosen trail and make necessary adjustments to your plans, ensuring a safe and enjoyable experience regardless of the forecast.
6. Printed Maps Offer Convenience And Flexibility
For those who prefer to leave technology behind or want a backup option, AllTrails+ enables you to print maps directly from the app. Having a physical copy of the map can be a valuable resource, especially in areas with limited connectivity or when you want to minimize screen time.
7. Immersive Trail Previews Take Trip Planning To A New Level (NEW!)
Get a feel for the trail before you even set foot on it by checking out terrain details, specific elevation points, and an immersive preview of the trail. This valuable insight allows you to choose trails that align with your preferences and abilities, and make informed decisions about which trails to explore.
8. Wrong-Turn Alerts
The wrong-turn alerts feature is a game-changer for those who want to immerse themselves in the surroundings without constantly checking the map. By receiving notifications only when you veer off the intended path, you can focus on enjoying the breathtaking views and the tranquility of nature.
Kick Off Summer With Half Off AllTrails+
With AllTrails+, outdoor enthusiasts can unlock a whole new level of adventure and exploration. The Memorial Day sale is the perfect opportunity to upgrade to AllTrails+ and take advantage of these exclusive features. By subscribing to AllTrails+ during the Memorial Day sale, users can enjoy 50 percent off the regular price and embark on their summer adventures with confidence and convenience.
Don't miss out on this incredible opportunity to save and upgrade your outdoor exploration. Visit the AllTrails website or download the app now through May 30 to take advantage of this Memorial Day offer. Embrace the beauty of nature, discover new trails, and make lasting memories with AllTrails+ by your side.