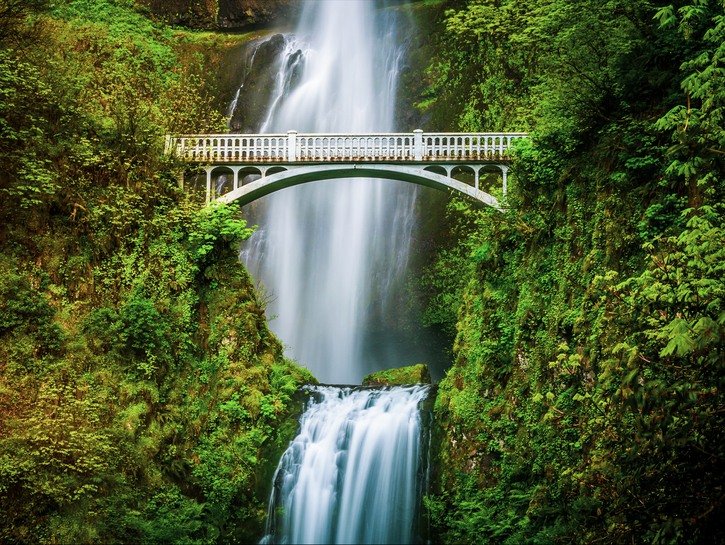 Complete with a bridge and a quaint stone lodge at the foot of the mountain, Oregon's Multnomah Falls looks straight out of a Thomas Kinkade painting. Peeking out from above treetops, the stream — fed by snow, rain, and an underground spring — plummets 620-feet to the ground. It's not a fantasy, however. Multnomah Falls is real and even more magical in person.
Attracting over 2 million visitors a year, Multnomah Falls has garnered a coveted place on many bucket lists. As the tallest waterfall in Oregon, it's a must-see when visiting Portland and the surrounding areas. Here is everything you should know about visiting Multnomah Falls!
Where Is Multnomah Falls?
Located in northwestern Oregon, Multnomah Falls is tucked away in an area known as the Columbia River Gorge.
The slow erosion of rock layers created the Columbia River Gorge that cuts through the scenic Cascade Mountains. The river marks the border between states, with Oregon to the south and Washington to the north. Multnomah Falls' proximity to the border allows for a three-hour drive from Seattle, Washington.
However, the closest city to Multnomah Falls is Portland. A 30-minute drive east from Portland lands visitors amongst over 90 waterfalls waiting to be explored in the Columbia River Gorge. Standing out above the rest, Multnomah Falls can be found right off the Historic Columbia River Highway.
How To Get To Multnomah Falls
Multnomah Falls can be seen from I-84 off the main highway that winds through the Columbia River Gorge. To appreciate the full effect, visitors should take the short stroll from the road to Multnomah's viewing platforms.
Getting To Multnomah Falls By Car
Getting to the Falls by car is one of the easiest means of accessing this natural wonder. Not only will you be able to visit Multnomah Falls, but also the other waterfalls and hiking trails around the area.
From Portland, you can either take the Historic Columbia River Highway or I-84 to reach Multnomah Falls. Although the waterfall is off the Historic Columbia River Highway, parking is limited to a few parking spots. Once Multnomah Falls became popular, parking was expanded, but can only be accessed from I-84.
If your GPS says to take Historic Columbia River Highway from Portland, reroute it to I-84. Take I-84 east for 30 minutes and get off at Exit 31. It's the same exit for westbound drivers. From both directions, Exit 31 for Multnomah Falls Car Park will be on the left-hand side instead of the right.
Although the car park holds 186 cars, the visiting car rate is estimated to be 13 times that per day, so prepare to be patient and read on for parking tips! Once parked, walk along the path under the freeway to access the viewing platforms, hiking trails, and Multnomah Lodge.
It's common to see the exit blocked by a mechanic gate. It automatically closes when the car park reaches its capacity and doesn't reopen until a significant number of spots are available (about 10 percent). Don't wait for the gate to open as it is dangerous to stop on the freeway.
Instead, drive to Rooster Rock State Park (Exit 25). Park for $5 and take the free shuttle provided by Columbia Gorge Express. Another option is to continue on I-84 East to Cascade Locks. Park for free near the post office and take a $5 bus ride to Multnomah Falls.
Getting To Multnomah Falls By Bus
First started as a pilot program in 2016, Columbia Gorge Express has become a popular option for visiting Multnomah Falls. Instead of fighting for limited parking spots, the bus provides an affordable, relaxed way to enjoy the scenic drive.
The Columbia Gorge Express has five stops total: Gateway Transit Center, Rooster Rock State Park, Multnomah Falls, Cascade Locks, and Hood River. An individual day pass, $15 day-of or $12 online, provides unlimited rides between stops. If traveling from Portland, parking at the Gateway Transit Center is free.
Only interested in Multnomah Falls? For the price of a coffee ($5 round trip), take the 30-minute bus ride from Portland to Multnomah Falls. For a slightly shorter bus ride, park at Rooster Rock State Park ($5) and board the shuttle for a free 15-minute trip to Multnomah Falls.
Best Spots To See Multnomah Falls
Whether viewing Multnomah Falls from Multnomah Lodge, Benson Bridge, or Multnomah Falls Upper Viewpoint, each vantage point provides its own unique and equally beautiful experience.
Multnomah Lower Viewing Platform
Just a 5-minute walk from the car park stands Multnomah Lodge — a perfect place to rest, enjoy a snack, and prepare for the trail ahead.
To the right of Multnomah Lodge runs a paved pathway that takes visitors to the Lower Viewing Platform. Although it may be the most crowded area, it provides the striking view of Multnomah Falls that's printed on almost every brochure. From this vantage point, both tiers of Multnomah Falls and Benson Bridge can be seen unobstructed.
From here, continue down the paved trail for one-fifth of a mile to view Multnomah Falls from iconic Benson Bridge.
Benson Bridge
To preserve the land, businessman Simon Benson bought the areas around Multnomah Falls which he gifted to the City of Portland later in life. Named after Benson, the stone bridge was originally built in 1914.
Situated between the Upper and Lower Falls, Benson Bridge sits 105 feet above Multnomah Creek, providing prime viewing of both the Falls' sections. On the left, watch the lower Falls cascade into the pool below. On the right, crane your neck up to see water tumbling off the cliff's edge.
Multnomah Falls Upper Viewpoint
A trail continues beyond Benson Bridge, climbing the full 870 feet to Multnomah Falls Upper Viewpoint. The trail includes 11 switchbacks and several outlooks to enjoy while you catch your breath.
The outlook is a half moon-shaped wooden platform that provides views from the top of the waterfall down to Benson Bridge, Multnomah Lodge, and — on a clear day — over the treetops and the Columbia River Gorge.
When Is The Best Time To Visit Multnomah Falls?
Because the area experiences four distinct seasons, Oregon's Multnomah Falls provides different experiences during each time of year. Winter brings snow and ice while fall brings bursts of orange and yellow with the changing leaves.
Although stunning during every season, the best time to visit Multnomah Falls is during the spring months, from April to June. The melting snow from winter creates a full, gushing waterfall that shows Multnomah Falls' powerful potential. Blossoming white, yellow, and purple wildflowers will dot the landscapes surrounding nearby hiking trails. Although crowds start to pick up, fewer visitors travel to Multnomah Falls during the spring.
As expected, July and August are the hottest months of the year. Due to school holidays, it's also the busiest season. Although the flow of water is not as strong, Multnomah Falls is just as scenic during the summer since it never fully dries up. If you opt to go over the summer, visit Multnomah Falls early in the morning to beat the crowds and the heat.
Overall, you should prepare for crowds regardless of the season. Weekends and holidays almost always guarantee an influx of visitors. Arrive early in the morning and visit during the week if possible.
What Is There To Do In Multnomah Falls?
Although the lodge and viewing platforms of Multnomah Falls are the main attraction, this area is also an excellent entry point to several hiking trails. Since some of the trails may be closed, consider volunteering with the Forest Service to repair them.
Visit Multnomah Falls Lodge
Built in 1925 by Albert E. Doyle, a philanthropist who made his fortune in lumber, Multnomah Lodge originally functioned as a resting spot for travelers. Intentionally constructed to incorporate every rock type found in the Columbia River Gorge, the lodge was nominated for the National Register of Historic Places in 1981.
Today, it's expanded to be a destination in and of itself. Complete with a visitor's center, a gift shop, bathrooms, and a restaurant on the second floor, you can spend several hours at the lodge. The U.S. Forest Service runs the visitors center and provides information about hiking trails. The lodge is open daily from 9 a.m. to 5 p.m.
The Multnomah Lodge also hosts events and has become a popular venue for wedding receptions.
Hike To Viewing Points And Beyond
Multnomah Falls Trail is the gateway to a longer, six-mile hike to Larch Mountain that weaves through tall trees and lush underbrush. Additionally, the 4.9 mile Wahkeena-Multnomah Falls Loop passes by waterfalls including Ecola Falls and Fairy Falls. Monitor the U.S Forest Service to check trail openings before attempting any hikes.
Help With Recovery Efforts
The effects of the 2017 Eagle Creek Fire are still being felt at Multnomah Falls. From remnants of burned trees to trail closures, it will take a community to bring the beautiful Columbia River Gorge to its pre-fire safety. While visiting the area, get involved in recovery efforts by providing financial support or working with an agency to repair trails.
Other Things To Know About Multnomah Falls
Given the high drop and powerful rush of water, Multnomah Falls is not completely contained by the pools below. Generally, mist covers the surrounding area creating a cool climate.
Bring a waterproof jacket with a hood to keep dry while standing on Benson Bridge and traversing the trail. Cooler temperatures may also require an extra layer such as a long-sleeve shirt or light sweater. It's also a good idea to wear shoes with traction, such as hiking boots, to minimize your chances of slipping on slick pavement.
Photo Credit: Jon Bilous / Shutterstock, kevin baca / Shutterstock