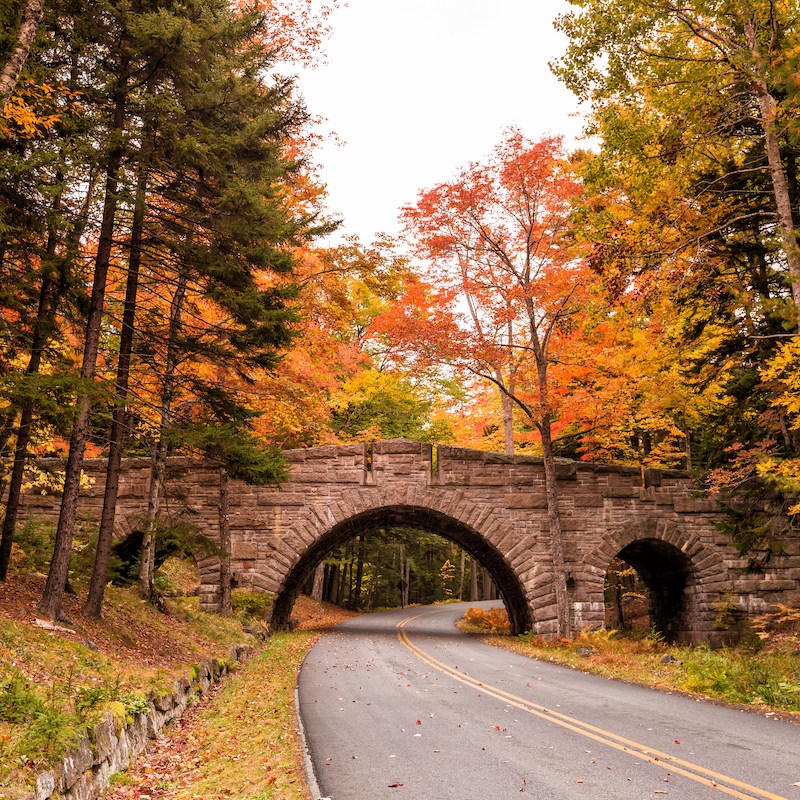 Maine is known for its scenic coastline, lighthouses, and the harvesting of lobster. What many people forget are the state's inland forests and 542,629 acres of state and national parks. In fact, some of New England's most vibrant fall foliage can be found in the mountains of Western Maine.
The parks and forests provide many fall foliage vistas. The best time to view is the third week of September through the first week of October.
This road trip itinerary takes you through many small towns and forests, and even to a lighthouse or two. So buckle up and get ready to explore Maine and see some of the most picturesque fall foliage you can imagine.
We will begin on Maine's Coastal Highway. Did you know Maine has 3,478 miles of coastline? We will cover a mere portion of it. We will be traveling along Old Route 1 from Portland, Maine, to Bar Harbor and then head west.
1. Portland
We start our journey in Portland. There is much to see and do here. The city provides panoramic views of Casco Bay and its islands. You will find many small shops, galleries, and museums. It is a major foodie city; you will have your pick of over 600 restaurants. We enjoyed pizza at the Portland Pie Company.
Oh, and when in Portland, be sure to try some duck-fat fries. French fries cooked in duck fat.
Portland is home to several lighthouses. If you only have time to see one thing while in Portland, make it the Portland Head Light. Built when George Washington was president, the Head Light has guided ships safely into the harbor for centuries.
The Headlight is beautiful, and it is the most photographed lighthouse in America. When I visited, I was able to view it from both land and from a boat.
I recommend taking the Portland Fire Engine Tour while you are in Portland. You'll be escorted around the city to see all the highlights on the back of an antique fire truck. Aside from a high step to get on the truck (they provide a little step stool), it is a comfortable ride during which you'll get lots of information about the city.
You could also take a boat tour from the shore. I enjoyed this since it permitted us to see the city and both the Portland Head Light and the Ram Island Ledge Light from the water.
Plan to stay in Portland for a couple of hours, a night, or even several days. You will find plenty to occupy your time. If spending the night, I recommend the Chadwick Bed and Breakfast, or, if you prefer a hotel, stay at the Hilton Garden Inn right on the waterfront.
2. Freeport
When you leave Portland, head north on Old Route 1 for one of New England's most scenic coastal drives. You will go through several small towns and places you could stop, visit, and take pictures of seaside mansions and the fall foliage on the coastline against the shimmering water.
Stop in Freeport for a quick visit to the L.L.Bean Factory and Store. You can't miss the big boot out front. There are a variety of shopping outlets in Freeport should you decide to spend additional time.
3. Boothbay Harbor
Continue on Old Route 1 and stop in Boothbay Harbor for the rest of the day. Once a fishing village, Boothbay Harbor has evolved into a quaint summer boating resort. It is a bit quieter in the fall but still charming to visit. Aside from the fall foliage, there is a good chance you might see seals and whales right off the shore, among the small islands.
You can grab a late-season lobster roll at any of the little restaurants.
Spend the afternoon visiting the Coastal Maine Botanical Gardens. The gardens include impressive stonework, spectacular flowers, and majestic waterfalls on 250 acres.
Enjoy an evening meal on the water at the Boathouse Bistro and spend the night at the Spruce Point Inn.
4. Pemaquid Point
Follow Old Route 1 and then turn off on Rt. 130 to Pemaquid Point for a glimpse of the famous lighthouse built in 1827. If the lighthouse looks familiar, it could be because it is the one featured on the Maine U.S. quarter.
The lighthouse is still in operation. Visit the Fishermen's Museum on the premise. Plan to spend one to two hours at this location. Then, it's on to Camden, Maine, where we will spend the rest of the day.
5. Camden
In this quaint town, you can enjoy leaf peeping in Merryspring, a 66-acre nature center and park. Merryspring is mostly flat and has nearly 4 miles of trails from which you can enjoy its woods and meadows.
Or enjoy a fall sail on the Schooner Surprise. You get a whole different perspective when on the water looking back at the shore. There are also whale- and puffin-watching tours.
Another option is to visit Camden Hills State Park and get a little exercise hiking the nature trails threaded throughout the 5,000-acre refuge. Most of the trails are well-maintained. For the best view in the park, climb atop Mount Battie for a panoramic view of Penobscot Bay, Camden, and the surrounding islands. If the fog has lifted, you can even see Cadillac Mountain in Acadia National Park from this scenic vista. Be aware that this involves a more strenuous climb.
Enjoy a sandwich and a drink for dinner at Sea Dog Brewing Co. and spend the night at the Whitehall in Camden.
6. Acadia National Park
It is about a 2-hour drive to Acadia National Park, which lies 70 miles northeast of Camden. The 47,000-acre park on Mount Desert Island is a leaf peeper's paradise. With 2 million-plus visitors per year, Acadia is one of the nation's most visited national parks.
The Park Loop Road is 27 miles of scenic vistas along which you can view and photograph the vibrant foliage. Drive up the 3.5-mile narrow access road to Cadillac Mountain to experience the highest point on the East Coast.
For an extra treat, ride through Acadia in a carriage to view the fall foliage. If enjoying the park on foot, note that some of the areas along the coast are wet and rocky. Proper footwear and good balance are required.
After your day in Acadia, head back to the harbor area. Bar Harbor has all kinds of shops and restaurants. I highly recommend eating at the Bar Harbor Route 66 Restaurant. If you like lobster rolls, they have them along with a dozen other sandwiches. While the food is fantastic, visit for the memories of toys and things of the past. This place is filled with memorabilia.
Spend the night at the Balance Rock Inn in Bar Harbor.
7. Augusta
You will be crossing the state of Maine today via route Maine 3 West to Bethel. It is a three-and-a-half-hour drive, so we will drive about halfway and stop in the state capital, Augusta, for lunch and some sightseeing, and then off again.
Augusta has every chain restaurant you can imagine, but a local option is the Cushnoc Brewing Co. for a sandwich and drink.
The top attraction in Augusta is the Maine State Museum. Visit if you desire to spend a bit more time in the capital. Discover the best things about Maine in this four-floor museum full of world-class exhibits.
8. Bethel
From Augusta, you have about a two-hour drive to Bethel. You will begin on I-95 and then turn north on Maine 26. This is a very scenic drive, and you will enjoy Mother Nature's foliage masterpiece as you drive. Be on the watch for moose in this area.
You will begin driving up into the White Mountains, and the view will continue to be spectacular with vibrant-colored leaves.
High in the hills, the mountain village of Bethel provides exceptional fall foliage views. In Bethel, the fall splendor is best enjoyed on foot. Walk along the Androscoggin River Recreation Trail or hit the water on the river trail and view the leaves by kayak.
There are multiple hiking trails in the surrounding areas of the Appalachian Trail, White Mountain National Forest, and Grafton Notch State Park. Spend a day — or multiple days — in the area. Trails around Bethel have varying levels of difficulty.
Our choice for spending the night — or several nights — in Bethel is The Bethel Inn Resort. There is a dining room onsite and a variety of other dining choices within walking distance.
We hope you enjoy this most scenic Maine fall foliage road trip. Maine has spectacular scenery year round, but in autumn, when the leaves are changing, the view is extraordinary. For more specific route details, visit our Most Scenic Maine Fall Foliage Road Trip Google map.
Related Reading: