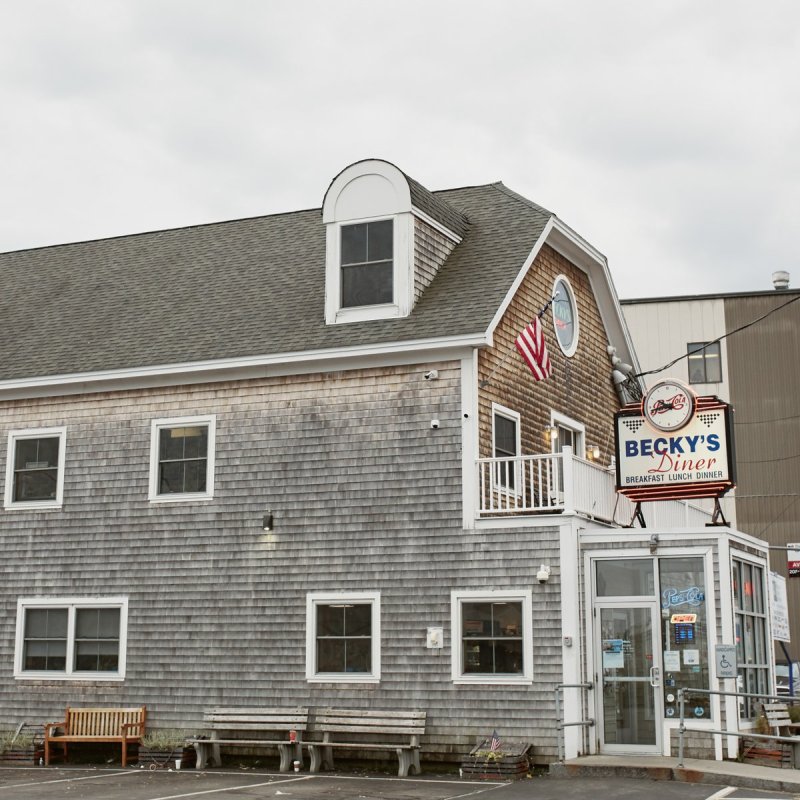 If you're only imagining lobster when you think of Portland, Maine's food scene, you're missing out. Don't get me wrong — the lobster is there in abundance, and it's amazing! But there's so much more to the culinary scene in the beautiful seaside city, from old-fashioned diners perfect for budget travelers to gourmet dessert bars offering incredible combinations of ingredients. There are also bespoke cocktails, wonderful little market shops, and delicious spots to share a meal with friends.
I've been visiting Portland for 10 years now, and these are the foodie-focused destinations I always recommend.
Becky's Diner
Since 1991, this unassuming building on the water has served a long line of locals, including fishermen just leaving their boats. It's the best place in the city for a hearty breakfast, but be warned: The pancakes are huge! You might want to double-check the sizes before you order a full platter. You'll also find old-fashioned dishes like oatmeal with raisins and corn beef hash here, along with a long list of omelets.
Becky's Diner is the kind of place where you can still order a peanut butter and jelly sandwich and where most breakfast and lunch combos are under $10, including the classic club sandwich. The lobster platters, which vary depending on the market price, are always reasonable, and all of Becky's classic desserts are made in house. Overall, this is an affordable, delightful place to get your comfort-food fix.
Vena's Fizz House
Steve Corman knows a thing or two about grapefruit. One-half of the power duo behind Portland's most beguiling bar, Vena's Fizz House, Corman knows spirits, bitters, and flavors like the back of his hand. His bitters-infused cocktails and mocktails make for sweet sipping — especially when grapefruit, one of his favorite ingredients, is in the mix!
Vena's is the kind of place that has travelers raving after their visit, insufferably boasting to their friends that they have discovered the best little bar in the world. And they'd be right! Vena's is just as famous for its complex, delicious mocktails as it is for its alcoholic cocktails, and it's the perfect place to drop in for a pre-dinner aperitif or for an afternoon pick-me-up after a long day of shopping and sightseeing.
Duckfat
Tell anyone in Portland — local or frequent visitor — that you're heading to Duckfat, and they'll likely swoon with joy. One of the city's original foodie destinations, this tiny spot is always packed with people hungry for the restaurant's homemade poutine (with fries cooked in duck fat and gravy made with duck sauce), decadent milkshakes (including one made with caramel from duck fat), and rich paninis. Flying under the radar are Duckfat's delicious salads and hearty soups, which are upscale comfort food. I've been multiple times since 2009, and I'm still dreaming of the roasted cauliflower bisque and beet salad I had 10 years ago. They're that good!
Another reason to love Duckfat? All of their organic food scraps are composted by a Portland program called We Compost It! Local gardeners who are also Duckfat customers can buy compost for their plants at a 30 percent discount.
Sebago Brewing Company's Portland Brewpub
Situated on the ground floor of a hotel, Sebago Brewing Company's Portland Brewpub might appear to be just another hotel restaurant. But it's anything but! In addition to serving up its own in-house brews and offering a long list of weekly drink specials, it offers fantastic food. The avocado tacos, beet and orange salad, fish and chips, and bacon mac and cheese are all deservedly popular. And its classic burger was declared the best in the city by no less of an authority than my mother, moments after she was lamenting that it was impossible to get a good old-fashioned well-seasoned burger anymore. You can't argue with that!
Public Market House
Portland's food scene might be on everyone's radar these days, but locals have been in on the secret since 1825, when the first public market house was established near what is now Monument Square. Some form of public market has existed in the city ever since. Since 2006, the newly established Public Market House has been thriving just steps away from the original 1825 location.
This isn't a market in the traditional sense of the word, though there is a weekly in-season farmers market for fresh produce in the square. The indoor Public Market House houses vendors and artisans who rely on local produce to create their delicious wares, much like the vendors at Toronto's Saint Lawrence Market and Philadelphia's Reading Terminal Market. It's my top choice for lunch in Portland.
Kamasouptra specializes in homemade soup, including maple-roasted butternut squash soup, jalapeño beer and Cheddar soup, and white bean soup with kale. Meanwhile, Maiz offers Colombian-style street food like arepas, or stuffed corn pockets that come with chicken, pork, chorizo, cheese, vegetables, and beans.
Sur Lie
Sur Lie offers globally influenced small plates and tapas, a style that goes very well in a diverse port city where community is as important as the food itself. The restaurant is dedicated to local food, and the menu features Maine cheese, organic produce, and meat from nearby farms — plus, the cocktail and wine lists are beautifully curated and incredibly tempting.
While you'd be forgiven for spending all your time at the bar, it would be criminal to leave without trying the food. Sur Lie's sweet pea hummus is one of its signature dishes, and it tastes like spring in a bowl — in a really, really good way. It's the perfect appetizer to share with friends while you're sampling one of the amazing cocktails. Other delicious nibbles include the fried milk-braised cauliflower, lamb Bolognese, fennel salad, and grilled smoked pork chop with pickled mushrooms.
If you only have time for one special meal in Portland, I recommend that you go here. It's perfect for a cozy dinner, a romantic night out, or a reunion with friends.
The Highroller Lobster Co.
No trip to Portland would be complete without a lobster feast, and, in my opinion, the best place to go is The Highroller Lobster Co. The restaurant offers classic lobster rolls with mayonnaise or drawn butter and traditional sides like coleslaw and potato salad. It also offers funky flavored sauces — curried ketchup, honey dijonnaise, and charred pineapple mayo, to name a few — for those who want to take their lobster roll in a new direction. The "fried lobby pop," a deep-fried lobster tail dipped in cornbread batter and served with the sauce of your choice, is one of the most fun and creative ways I've ever tried lobster. Highly recommended!
Gross Confection Bar
Have you ever dreamed of walking into a restaurant and ordering every single thing on the menu? I did exactly that at Gross Confection Bar, a basement-level dessert bar in downtown Portland. It offers a tasting menu of different dessert samples, from a banana brownie mousse cake to a brown butter panna cotta with jasmine and pineapple. You can also order full-size desserts like pumpkin spice latte crème brûlée and caramel pear cake with cardamom vanilla bean rice pudding. Simply decadent!
Vervacious
Vervacious isn't a restaurant — but it's so beautiful it really should be. This gourmet food shop on Portland's waterfront was founded by a husband and wife who spent years sailing around the world. At each port of call, they fell in love with a different flavor or ingredient. Stepping inside their store is like stepping into a world of memories. The shelves are lined with unique global spices, seasonings, jams, jellies, oils, and vinegars, all in gorgeous containers.
I had the chance to sample some of the gourmet balsamic vinegars with fresh fruit, and I was blown away. I know it sounds like an unusual combination, but when balsamic vinegar is aged with a fine touch, it turns into a thick syrup, not unlike molasses, and pairs beautifully with other flavors, such as chocolate. This is the perfect spot to visit if you want to bring some of Portland's culinary scene home with you.
Planning a trip to Portland? Check out these 12 hidden gems in the seaside city.