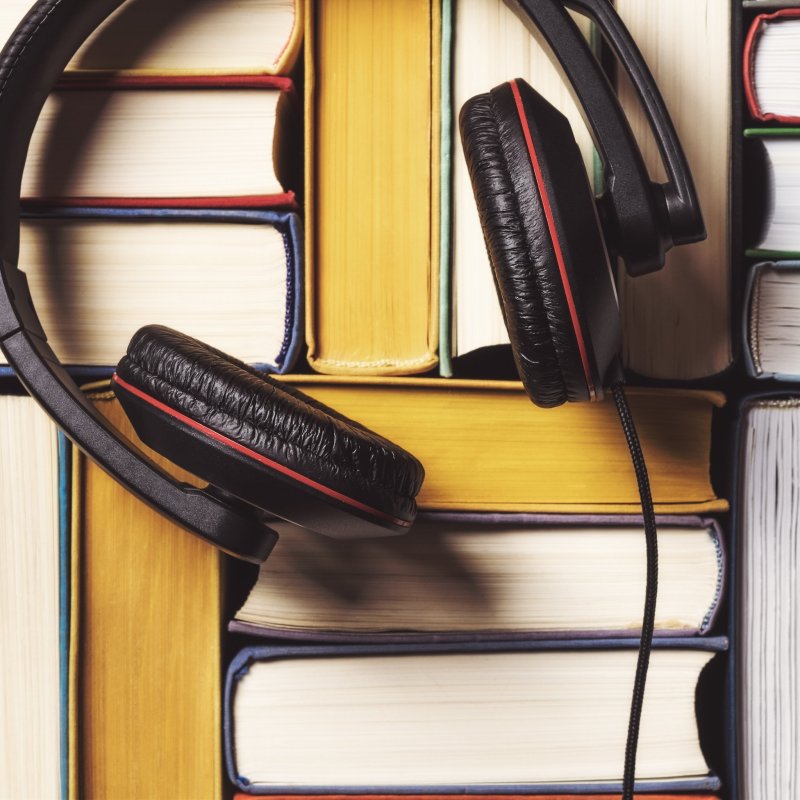 As I cruised the long, lonely stretches of Nevada's Highway 93, I was transported to the 18th- and 19th-century streets of New York City, Albany, and Washington, D.C., alongside United States Founding Father Alexander Hamilton.
And as I gazed at the marvels of the Grand Staircase-Escalante National Monument in southern Utah, a part of me was in the Highlands of Scotland, right in the midst of a crew of feisty wizards and witches.
Such is the beauty of audiobooks – those wonderful creations that allow you to listen as a narrator reads a book. For me, they offer an unbeatable opportunity to make the most out of road trips with good planning.
As an avid road tripper, I have long turned to audiobooks as a means of battling the boredom of long drives. When I recently looked back at my audiobook history for the past year, I found that I had listened to 40 audiobooks, mostly while I was driving along desert, coastal or mountain scenery.
I've listened to hundreds and through my many years of experience, I have compiled a list of the best audiobooks for multigenerational family road trips — some fairly new, others older — to lighten your future road trips. Here are 11 of them.
A word of caution: While listening to audiobooks in a busy urban traffic environment, people react more slowly to hazards while emersed in listening. Conversely, and in a simpler environment of country roads or long interstate drives, drivers react more quickly while listening to audiobooks.
The crucial balance is to engage in listening to a level that keeps your cognitive thinking alert but doesn't present too much of a cognitive challenge to prevent quick reactions while you are driving.
A note to our readers: De gustibus non disputandum est. This is a remarkable Latin phrase meaning "Of taste, there is no disputing." It goes for tastes in books, too. Even if you don't find a book you like here, don't worry; 70,000-80,000 audiobooks are published every year. You're bound to find the right book for every road trip!
Best Audiobooks For Road Trips
1. Best Audiobooks For Kids – Knight Owl
Christopher Denise's Knight Owl is an amazing book meant for preschoolers. The puns and references are witty, and the message is relevant, but above everything else, this is a beautiful story about dreaming big no matter what size you are and how everyone can change the world for the better and find friends and happiness. It would certainly make a lovely bedtime listening.
2. Best Audiobooks For Teens – The Hunger Games
Suzanne Collins's Hunger Games series is a compelling choice for fantasy lovers. It takes place in a near-future dystopian state where the sixteen-year-old Katniss Everdeen struggles to support her mother and sister. It is a well-written story and the pacing is good, while Tatiana Maslany's narration heightens the drama and dread and will certainly keep you captivated while on the road.
Despite any second thoughts you may have about the series, whether it's the movies or the follow-up books, its first installment is an enjoyable read that fits in the young adult category.
3. Best Audiobooks For Women – The Woman in Me, by Britney Spears
Britney Spears's Woman in Me is her account of her own life, from the days of early fame to her involuntary placing under a conservatorship, and all the highs and lows in between. Fans everywhere have been waiting for Britney to reveal her side of the story, and finally, it is here, told with remarkable honesty and humor. It is the bestselling memoir everyone is talking about.
Moreover, it's the first time the public gets to hear how fame and generational trauma have impacted the famous woman's life. At five hours and 31 minutes, The Woman in Me is a short book for such an eventful career, but it gives you something to think about.
4. Best Audiobooks For Men – King: A Life
Jonathan Eig's King: A Life is a deeply satisfying biography depicting the civil rights icon Martin Luther King Jr. Narrator Dion Graham does an excellent job with King's voice and the book itself is well written.
It covers most key events and people during the civil rights era and it shines a light on how the FBI and other high-ranking officials hounded King. It's accurate to a fantastic degree because, unlike biographers before Eig who were denied access, Eig was able to go through the recently released FBI files.
5. Best Audiobooks For Families – The One and Only Ivan
Inspired by a true story, The One and Only Ivan is a gorgeous tale of how a mighty gorilla wins his freedom. A perfect mixture of humor and poignancy, Katherine Applegate's realistic writing is perfect if you want your kids to grow up to be decent and loving individuals and learn a few precious life lessons along the way.
Katherine Applegate blends humor and poignancy to create an unforgettable story of friendship, art, and hope in the rich vein of similar classic books such as Charlotte's Web and Stuart Little. It simply has to be one of the best animal fiction books for tweens and adults.
6. The Great Alone
Alaska has been on my travel must-list for years, and I had toyed with taking a trip there in 2020. That didn't happen, but I was able to "travel" there anyway through The Great Alone, Kristin Hannah's wonderful 2017 novel that is part coming-of-age story, part fictional travelogue for the area near Homer, Alaska that makes this inspiring story one of the best audiobooks.
I see The Great Alone as a way to transport to the wilds of Alaska, even if you're stuck driving to spots in your own backyard. Or, if you're lucky enough to be road-tripping through Alaska, the book would be a great introduction or accompaniment.
7. The Boys In The Boat
I love a nonfiction book that makes me think, "Why didn't I know this?" That was the case with Daniel James Brown's 2013 true story The Boys in the Boat, which chronicles a team of young rowers from the University of Washington on a quest for a gold medal in the 1936 Olympics in Berlin.
The rowing saga is compelling, but I also enjoyed the backstories — especially of team member Joe Rantz's amazing odyssey as he moved around the states of Washington and Idaho while dealing with the trials of the Great Depression. It made me want to check out the backroads in the Northwestern U.S.
8. The Flight Attendant
With HBO's series bringing attention to Chris Bohjalian's suspenseful 2018 novel The Flight Attendant, I decided to listen to the book before watching the series.
Without giving any spoilers, I'll say that the series departs quite a bit from the book. For one thing, the main setting is Dubai rather than Bangkok. I especially relished the book's focus on flight travel, as well as its later locations such as Rome.
9. Kitchen Confidential
Although I had long been a fan of the late Anthony Bourdain's TV series No Reservations, The Layover, and Parts Unknown, I had never read the book that started it all, Kitchen Confidential: Adventures in the Culinary Underbelly.
I finally got around to it in 2020. I found the audiobook highly entertaining, especially its descriptions of Bourdain's early culinary adventures in Normandy, France, Cape Cod, and Massachusetts. A special treat with the audiobook is that Bourdain narrated it himself. The book is a perfect accompaniment to a foodie-focused journey.
10. The Dutch House
#3 on our list of the best audiobooks for road trips is Author Ann Patchett's 2019 novel The Dutch House offers an enthralling story centering on family dynamics, wealth, and poverty, and how a magical house can make a life-long impression. I also loved the story's settings in the suburban area around Philadelphia and the Columbia University area. It would make a great introduction to an East Coast road trip.
An added bonus: Movie star Tom Hanks narrates this powerful story.
11. Harry Potter
For some reason, I never read J.K. Rowling's Harry Potter series when it became a worldwide sensation in the early 2000s and became synonymous with pop culture. I made up for the omission in 2020, listening to the entire series narrated by the incomparable Jim Dale who helps make it great for a family road trip. With 7 long books it's perfect for a long trip for the entire family.
Along with offering a fun and exciting adventure story, the books wonderfully transport you to the sights and sounds of the Scottish Highlands. I'm late to this party, but I would love to take a road trip through places like Glencoe and Steall Falls, Scotland. The fourth book is hands down one of my favorite audiobooks.
12. Born A Crime: Stories From A South African Childhood
Trevor Noah, the host of Comedy Central's The Daily Show, recounts his remarkable early childhood and young adulthood in his 2016 book Born A Crime: Stories From A South African Childhood.
For me, the insights into the waning years of South Africa's apartheid and the first years of democratic rule were eye-opening in this young adult novel. Along with the serious topic, comedian Noah and his familiar voice offers a wild and engaging look at growing up in Johannesburg, South Africa. Noah narrates this wonderful road trip audiobook.
13. The Alice Network
I love a good spy story, and Kate Quinn's 2017 novel The Alice Network serves that up brilliantly in a historical dual-timeline story during and after World War II.
I always know that a book is a hit with me if I do online searches for the story's settings. That was the case with The Alice Network's haunting descriptions of Nancy, Grasse, and Oradour-sur-Glane, France. This is one of the shorter options on this fantastic look making it a solid option for short road trips.
14. Alexander Hamilton
I'll admit that I had tried to read Ron Chernow's 2004 biography Alexander Hamilton a few years back but didn't get through the 818-page tome.
After watching the hugely entertaining Hamilton production on Disney Plus in summer 2020, I decided to give the book another go as an audiobook. I found it a fascinating and enjoyable deep dive into early-American history, with great descriptions of locations throughout the US such as New Jersey, and the District of Columbia.
At almost 36 hours, however, this perfect audiobook is no joke and may be hard to hold the concentration of a whole family!
15. Becoming
Along with the extraordinary life story that takes Michelle Obama from her time as a young girl in her childhood in the South Side of Chicago to eight years of living in the White House, the former First Lady's 2018 memoir Becoming also offers a captivating look at her extensive world travels — from Kenya to England to India.
In addition, the book offers insights into travels across the United States during the election campaigns of President Barack Obama. The audiobook is especially enjoyable because Michelle Obama narrates it herself.
16. Where The Crawdads Sing
Every now and then, the descriptions in a book are so captivating that you feel like you're there, smelling the sea air, feeling the sand between your toes, and hearing the calls of the marsh birds. That was the case with Delia Owens' 2018 novel Where the Crawdads Sing.
Along with being an edge-of-your-seat story, the audiobook also offers a lovely depiction of North Carolina's marshlands — a great option for your next road trip.
17. The Lightning Thief: Percy Jackson and the Olympians
Rick Riordan's The Lighting Thief inaugurated the series revolving around the life of a regular 12-year-old boy, Percy who finds out he is the son of a Greek god. The whole series is an excellent read for anyone, and a safe pick for parents who are looking for exciting, fun, books for both boys and girls to read. The author's sense of humor appeals to older grade and middle school children, and there won't be many who will not enjoy these light, fast-paced reads.
18. The Downstairs Girl
Stacey Lee's Downstairs Girl is a captivating, engaging, and heartfelt story for young adult readers, fans of historical fiction and diverse reads, and those who are looking for stories of determined and inspirational young women. Expect numerous twists and turns as Jo Kuan takes on fixed ideas about race and gender. Set in a time of great social upheaval, it depicts the lives of those on the margins. Historical fiction buffs will also be rewarded with an extraordinary plot twist and a gratifying ending.
19. Hello Beautiful: A Novel
Ann Napolitano's follow-up to Dear Edward is a profoundly moving novel about the deepest connections of family and love, trauma, and healing. It follows the closely-knit Padavano sisters contending with life and loss, love, death, and forgiveness at their Chicago home. The story is both heart-wrenching and uplifting, and it successfully gives us a deeply moving idea of what is possible when we choose to love someone not despite who they are, but because of it.
20. Endurance: Shackleton's Incredible Voyage
Alfred Lansing's Endurance is one of the greatest adventure stories of the modern age and will make you fall in love with audiobooks if you haven't already. Nothing will prepare you for this harrowing account of British explorer Ernest Shackleton's fateful trip to the South Pole.
Half a continent away from its intended base, the ship Endurance was trapped in the ice and finally crushed, leaving Sir Ernest Shackleton and his men to drift over a frozen, desolated landscape of one of the most inhospitable regions of the world. The story of the voyage that has defined heroism for the modern age should make anyone who thinks non-fiction audiobooks are dull change their mind.
21. The Penderwicks
Jeanne Birdsall's book is a modern classic series about the delightful Penderwick family. The Summer Tale of Four Sisters, Two Rabbits, and a Very Interesting Boy is the first novel in a series about the Penderwick girls and the story is as breezy and carefree as a summer day – the four Penderwick sisters are spending a three-week vacation with their father and dog Hound.
It is the best fit for kids aged 8 to 12 as it covers the themes of friendship, growing up, and family. Under the simple premise of the family vacation, we are told a wonderful story about following your dreams.
How To Access Audiobooks
There are many ways to access audiobooks, but I like to use my local library's selection. With a library card, and through the Overdrive or Libby apps on smartphones or tablets, many public libraries provide free access to a huge selection of audiobooks.
I use Overdrive, and I have worked out a system of always having a handful of books on my "hold" list. That means that when the book becomes available for borrowing, I get an email notification that I can download it. Because libraries have only a limited number of each title available for checkout, you often cannot get your chosen book immediately but need to get in line. If you keep your hold list stocked with titles, though, chances are you will always have something to listen to when you hit the road.
But if getting your selection immediately is important, there are a number of options for payment services that will allow you to get what you want when you want it.
From science fiction to romance, to history novels, to light humor to fairy tale fantasy, Audible, an Amazon company, offers the world's largest selection of digital audiobooks and spoken word content. With Audible, customers can listen anytime and anywhere to professionally-narrated audiobooks across a wide range of genres. Amazon Prime also offers subscriptions that will enable you to access a limited number of audiobooks per month. Both services offer free 30-day trials.
I like connecting my phone to my car-play option and listening through the car's stereo system, although I have also listened on an iPad.
Pro Tips
Just like the radio or a podcast, listening to audiobooks can be a bit distracting while driving. I recommend only listening while you are on long stretches of interstate highway or when you're driving through stretches of rural highways. I routinely turn off my audiobooks in city traffic.
I often travel solo on my road trips, so I have only myself to please when it comes to book selections. Although I think all of my selections would be good for anyone, couples might especially like Noah's Born a Crime or Brown's The Boys in the Boat. Also, history-loving couples setting out on a long road trip might want to tackle Alexander Hamilton together. Obviously, for families, the Harry Potter series can't be beaten. And there is always the option of using headphones.
Finally, here's an alternative list of audiobooks for you to consider (no spoilers from me):

A Game of Thrones: A Song of Ice and Fire – George R. R. Martin
One by One – Ruth Ware
American Gods – Neil Gaiman
A Man Called Ove – Fredrik Backman
The Seven Husbands of Evelyn Hugo – Taylor Jenkins Reid
Bossypants -Tina Fey
His Dark Materials: The Golden Compass – Philip Pullman
It – Stephen King
Dread Nation – Justina Ireland
The Night Circus – Erin Morgenstern
The Fifth Season – N. K. Jemisin
The Green Book – Jill Paton Walsh
To Sleep in a Sea of Stars – Christopher Paulini
Related Reading:
FAQs
What Can You Listen To In The Car Besides Music?
As this article has clearly stated, besides music, an audiobook is the best way to pass the time during a long drive. While it is ultimately your preference on what type of book you'd like to read, or hear, audiobooks are a great outlet for getting in a good read quickly.
What Is A Good Book To Listen To In The Car?
Are you a fan of shows and movies like Game of Thrones and Dune? These two fantasy epics would be the perfect books to bang out during a long road trip. Use your audiobooks to kill time and fit in that read that you never had the chance to before.
What Is the Average Audiobook Price on Audible?
The average audiobook price on Amazon's Audible ranges from $10 to $25. If you listen to audiobooks regularly, my advice is to sign up for Audible's subscription monthly plan starting at $7.95.
What Are the 3 Best Audiobooks for a Family Road Trip?
Depending on the age of your kids, a variety of books could be best for you, including A Wrinkle in Time, Where'd You Go, Bernadette: A Novel, and The Hobbit. Of course, there are hundreds of thousands of audiobooks available for any age so you are bound to find the right ones for your family road trips.
Are There Family Audiobooks With Multiple Narrators?
Yes, there are family audiobooks with multiple narrators also called "full cast" audiobooks. They offer an immersive and engaging experience owing to the multiple voices which are especially appreciated by kids. Sometimes the production of these audiobooks includes sound effects for even more fun and excitement while listening.
Where Can I Find Free Audiobooks?
You can find free audiobooks at Digitalbook.io, LibriVox, OverDrive, Loyal Books, Storynory, Light Up Your Brain, Lit2Go, Loyal Books, Mind Webs, Open Culture, Libby by Overdrive, and Podiobooks. With a little search, you'll find even more sources of free audiobooks on the internet.