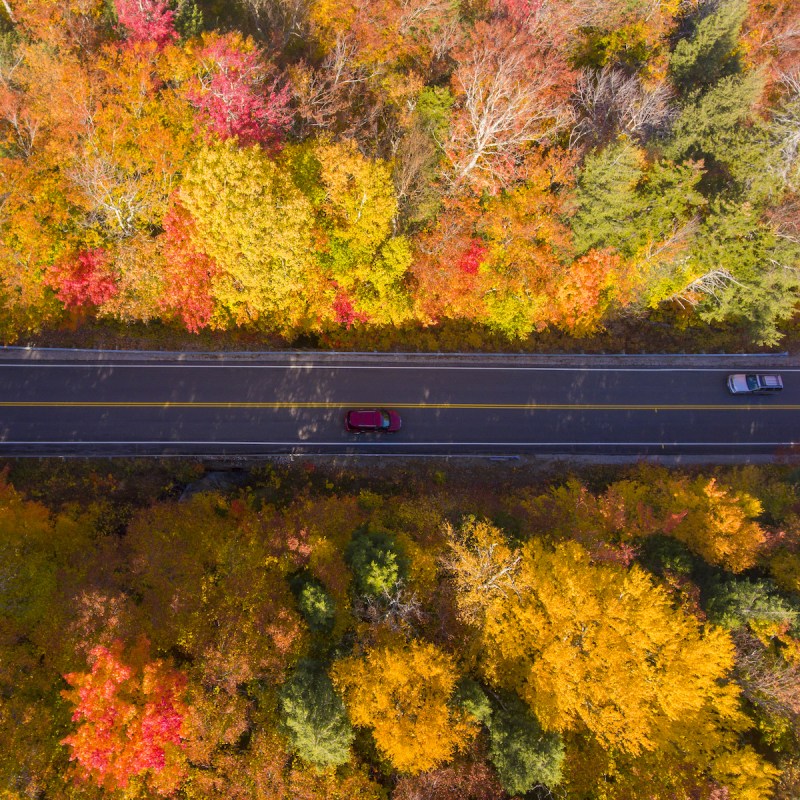 If you desire to do some leaf-peeping this fall, the New England states offer a fantastic smorgasbord of destinations to see the most beautiful and colorful leaves. Our nine-day, eight-night road-trip will guide you to stunning spots. Take the trip at our suggested pace, or move at the pace that suits your vacation needs.
The best time to see the most colorful array of leaves in the picturesque New England corner of the States is from the third week of September till Columbus Day. Usually, the first week of October is prime time for leaves to be changing color. Think spectacular orange and red hues set against lush forests and tranquil lakes. They usually change from north to south, so we will begin our colorful fall foliage road trip in the north.
Acadia National Park
Bar Harbor, Maine
Our first stop is Bar Harbor and Maine's Acadia National Park. Acadia National Park on Mount Desert Island is a 47,000-acre park that is beautiful year-round. It has a 27-mile park loop with plenty of places to stop and enjoy the leaves and take photographs of the foliage.
You can also visit the highest point along the Eastern Coast at the park's 1,527-foot Cadillac Mountain. You will have quite a view from there. Enjoy the leaves on maples and birches, along with a variety of evergreens. If you desire to get a bit of exercise, there are 120 miles of trails.
You could spend a half or a whole day enjoying the colorful orange and red hues of nature in the park. The town of Bar Harbor is also fun with shops and many seafood restaurants. You could easily spend an entire weekend here.
Spend the night in Bar Harbor at the Balance Rock Inn. It is a lovely hotel right on the water overlooking a secluded beach.
Androscoggin River Recreation Trail
Bethel, Maine
We are going to head west on route ME-3 to Bethel, Maine. You will pass by Augusta, the capital of Maine, about halfway there.
Bethel, Maine, is a small mountain village with exceptional views of fall foliage and hiking/walking trails. From Bethel, you can check out the Androscoggin River Recreation Trail (accessible via the Bethel Pathway) on foot or by bike and see the gorgeous foliage and perhaps some wildlife.
Colorful leaves are also abundant nearby in White Mountain National Forest and Grafton Notch State Park.
A fun place to stay in Bethel is the Sunday River Ski Resort. Although you won't be skiing, they usually have a host of activities going on, including golf, hikes, zip lining, and more. The resort has a spa to help you relax and scenic lift rides that are great for taking pictures of the foliage.
If you desire, you could spend an additional day or two exploring the areas surrounding Bethel.
The Kancamagus Highway
New Hampshire
Spectacular fall foliage awaits you as you leave the deep green pine forests of western Maine and enter New Hampshire's White Mountains. Drive west via U.S. 2 (watch for moose) and then take NH 16 south.
The Mt. Washington Auto Road permits you to drive up to the peak of Mount Washington. There are also vans that give guided tours, or you can wait till you are on the western side and take the cog railroad up to the top. There is a museum and an observation area at the top.
A few places to be sure and stop are the C.L. Graham Overlook, which is just below the summit of Kancamagus Pass and the Silver Cascade Waterfall. Both are great places for photos.
Then it's on to the Kancamagus Scenic Byway for a 35-mile drive through White Mountain National Forest. Named one of the most beautiful highways in the United States, the Kanc, as it's referred to by locals, is a National Scenic Byway. During this drive, you will pass near dozens of waterfalls while birches, beeches, and maple trees blaze against a pine backdrop. It is beautiful, but be aware there are no restaurants, homes, or fuel stops on the Kanc.
Bretton Woods, a Mount Washington resort, offers stunning views of Mount Washington. Nearby is the Mount Washington Cog Railway, which will take you to the top of the mountain. I recommend this tour. It is the world's first cog railway, and it has been climbing the mountain for more than 130 years.
The Omni Mount Washington in Bretton Woods offers a view from every room, fine dining, and spa facilities and is a great spot to spend the night.
This area is abundant with things to do and see, so you could spend multiple days in the Mount Washington and Kancamagus Highway area.
Trapp Family Lodge
Stowe, Vermont
Next, we will head west on VT-15 to Stowe. The white spire of Stowe Community Church identifies the beginning of the famous Route 100's long skein of country villages. Try a cider donut from one of the many country stores in the area. A picturesque town ablaze with beautiful leaves in the fall, you will enjoy spending time here.
There are hiking trails for those who desire a bit more exercise. Many restaurants feature farm-to-table dining and craft beer. While our itinerary includes a night here, you could easily spend a weekend if time permitted.
Spend the night in the European-style Trapp Family Lodge owned by the Austrian family who inspired The Sound of Music. They have rooms, suites, and villas as well as a variety of restaurants and activities. While you're in town, you can also consider the best things to do in Stowe, Vermont to fill out your itinerary.
Route 100
Vermont
Heading south on the billboard-free Route 100 will take us through some quaint villages and past country stores and bakeries. You will want to stop and visit a few of them.
As we drive south, the Green Mountain Byway runs between Stowe and Waterbury. Stop in Waterbury for some famous Ben and Jerry's Ice Cream. The factory welcomes visitors and offers free samples.
Down the road a few miles is The Cold Hollow Cider Mill. Enjoy watching them press the cider and shop for treats.
Then it's back on the road with a stop for the night at a bed and breakfast in Waitsfield.
The Inn at Round Barn in Waitsfield is a rural bed and breakfast and an ideal place to spend the night. They have a variety of rooms, and some feature a cozy fireplace in the bedroom.
Billings Farm
Woodstock, Vermont
We will head 54 miles south via VT-12A south and VT-12 south to the historic town of Woodstock, Vermont. It is one of the best destinations for colorful and lush fall foliage, and the town is full of charm with quaint shops and restaurants.
I know you are here to see the vivid leaves, but make sure you carve out time to visit Billings Farm and Museum to taste some fresh local Vermont cheese. See the famous covered bridge while you are here, too. You should plan for a several-hour stop before we head to Bennington, or, if you're going to stay the night, you can explore the best things to do in Woodstock, Vermont, which include local glass-blowing demonstrations, falconry experiences, and strolling the Dartmouth quad.
Shires Of Vermont Byway
We are off to Bennington via US-7 S for 85 miles. Shires of Vermont is the name of the southwest corner of Vermont, and it encompasses numerous towns, including the historic towns of Bennington and Manchester.
The drive is a kaleidoscope of vibrant color in the Green Mountain National Forest.
In Bennington, the 306-foot-tall monument built in 1891 to commemorate the Battle of Bennington is the state's most famous historic site. It offers an unparalleled bird's-eye view of the surrounding areas, including Mother Nature's artistic showcase of leaves. The world's largest collection of Grandma Moses paintings is located nearby at the Bennington Museum.
A great place to stay for the night is the Four Chimneys Inn, a beautiful bed and breakfast that serves a hearty country breakfast each morning.
Norman Rockwell Museum
Stockbridge, Massachusetts
Our next stop will be Stockbridge, Massachusetts, via Route 7. Enjoy the colorful scenery through the Berkshires' rolling hills, and stop for a visit to the Norman Rockwell Museum, home to the largest and most significant collection of original Rockwell art. Plan to spend a few hours here.
Continue on Route 7 for just over 100 miles to Norwalk.
Woodbury, Connecticut
There are dozens of places to stop and take in the leaves or visit a delightful spot along the way. If you are into antiques, a stop in Woodbury might be in order. It is known as the Antique Capital of Connecticut. Plan for a stop at Kent Falls State Park to stretch your legs. The park has an easy hike that includes covered bridges and waterfalls.
Spend the night at The Norwalk Inn, where you can have your choice of a room or a suite.
Steam Train
Essex, Connecticut
Head east via I-95 across Connecticut for 63 miles to Essex.
Nestled in the Lower Connecticut River Valley is the Essex Steam Train. Let the steam locomotive and vintage railcars take you through the valley to see the vibrant changing leaves. Essex was named the perfect small American town in the book 1,000 Places to See Before You Die.
Then cross the river to Old Lyme, where an old boarding house is now the Florence Griswold Museum.
Plan to stay at the Bee and Thistle Inn in Old Lyme for a good night's rest before the last day of the trip.
The Rhode Island Coastline
Our final leaf-peeping segment will begin in Westerly, Rhode Island, and go along the Rhode Island coastline. Take 95 to Westerly at the state's extreme southwest corner, then hit Route 1A and enjoy a colorful scenic drive along the coast. The road meanders the inlets and coves, giving you views of the water on one side and the beautiful fall colors on the other.
In Charleston, you might want to visit Burlingame State Park or the Fantastic Umbrella Factory. Near the factory are several small rustic stores and a cafe.
Travel Tip
Plan on cool crisp mornings and know that it may or may not warm up throughout the day. It is best to dress in layers and be sure to take a warm jacket.
The New England states provide hundreds of spots that are perfect for seeing fall foliage. Our colorful autumn journey showcases just a few of my favorites, and hopefully they will become your favorites as well.