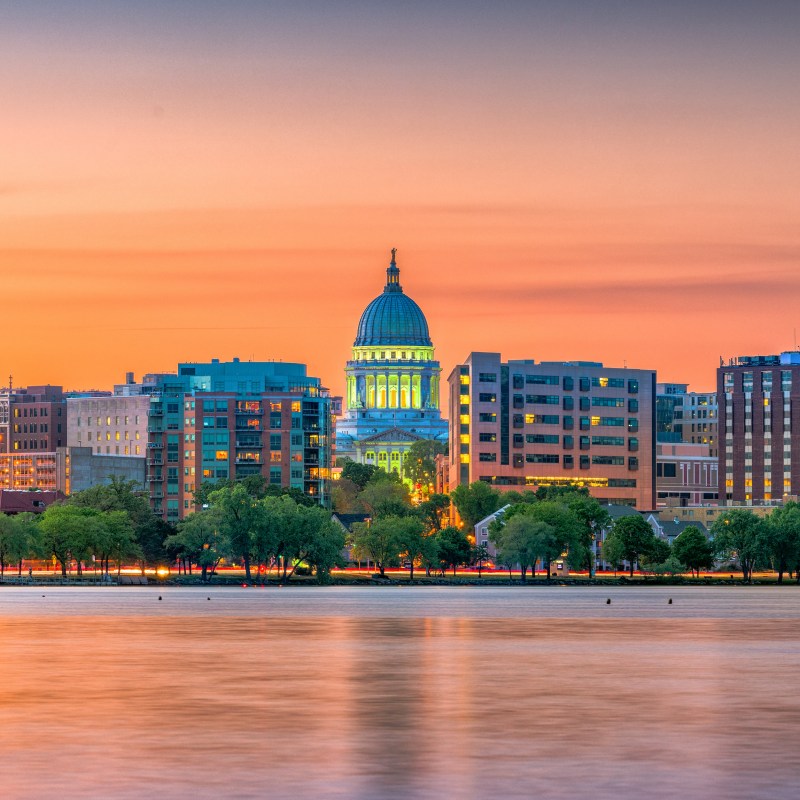 Madison, Wisconsin, is a great place to spend a weekend at any time of the year. Whether you're into sports, music, art, food and drink, nature, or just about anything else, Madison offers experiences that will keep you returning again and again.
Here's what you should prioritize on your first weekend getaway to this delightful city.
1. Visit The State Capitol
Madison is the capital of Wisconsin, and it's got the beautiful domed state building to prove it. Fortunately, the State Capitol is open to visitors and costs nothing to explore. The gorgeous artwork and architecture are definitely worth seeing, so sign up for a free tour or grab a fact sheet at the information desk. Don't forget to rub the brass badger's nose outside the governor's office for luck.
2. Chow Down On Cheese Curds
Wisconsin is known as America's Dairyland, and it produces lots of wonderful cheese. And while all of it is tasty, the cheese curds — mild bits of fresh cheese that aren't pushed together into a cheese block — are especially unique. Fresh cheese curds "squeak" when you bite into them, but they're at their best when they're fried in a light batter and served with various dipping sauces.
No restaurant makes them better than The Old Fashioned on Capitol Square, which is consistently recognized for serving the best cheese curds in Madison.
3. Hike, Bike, Snowshoe, Or Ski
Madison is home to some of the most amazing trails in the country. In fact, there are more than 200 miles of scenic trails for biking, hiking, skiing, and snowshoeing enthusiasts of all ability levels. For instance, there's an easy route around Lake Monona and many entry points to the Ice Age National Scenic Trail. Check TrailLink for options that best suit the season and activity. The city also features a great bike-sharing system, Madison BCycle, with hundreds of bikes at many convenient stations downtown that you can rent for a small fee.
4. Enjoy A Festival
Wisconsin residents love a good festival, and the wackier, the better! Madison hosts events every season, and they cover just about every interest you can imagine. Taste of Madison, Art Fair on the Square, Yum Yum Fest, Winter Carnival, the World's Largest Brat Fest, the Isthmus Jazz Fest, OktoBEERfest, and the Water Lantern Festival are just a few. Spring, summer, and fall are the best times for outdoor events, so plan to visit during one of those seasons for the most variety. There are plenty of winter festivals, though, too!
5. Experience Monona Terrace
Conceived by Frank Lloyd Wright, Monona Terrace is a focal point in Madison. Not only do you get gorgeous views of Lake Monona, but you can also relish delicious cocktails at the Lake Vista Café, dance under the stars, enjoy a concert, take a meditation class, or attend an epicurean evening. Many events are free.
6. Appreciate The Art
Madison is no slouch when it comes to artwork; it offers museums for a variety of tastes. If you prefer the classics, explore the Chazen Museum of Art on the University of Wisconsin — Madison's lakeside campus. The collections include more than 20,000 pieces and cover many periods, styles, and cultures. If modern art is more your thing, visit the Madison Museum of Contemporary Art to see not only the spectacular three-story glass facade but also the galleries inside, one of which includes the spectacular Pitahayas by Frida Kahlo. Madison is also home to many noteworthy galleries, including the Hatch Art House, where you can admire the work of local artists.
7. Sip An Old-Fashioned
The unofficial cocktail of Wisconsin is the old-fashioned, and no place takes it more seriously than Madison. While elsewhere the cocktail is made with bourbon, you'll find that the brandy version is the most popular here. You can get an old-fashioned just about anywhere in Madison where alcohol is served, but you'll like it better with a view — of the lake at The Edgewater, of the State Capitol at Eno Vino, or of downtown from Camp Trippalindee on the rooftop of the Graduate.
8. Stop To Smell The Roses
Madison is a nature lover's paradise. Olbrich Botanical Gardens offers more than 20 gardens as well as an indoor tropical forest with some plants you won't find anywhere else. You can also enjoy special events, including the Holiday Express exhibit, with its large-scale trains and hundreds of poinsettias. If you're a tree hugger, be sure to visit the University of Wisconsin — Madison's Arboretum, with its trails, footpaths, gardens, and, of course, trees. You might even spy a wild turkey wandering through. It's best to visit during the spring, summer, or fall.
9. Marvel At The Animals
Henry Vilas Zoo is free to all and open year-round. Dedicated to animal care, wildlife conservation, and education, the zoo is home to many animals, including lions, tigers, and bears. If you like watching the birds, just about anywhere in Madison will do, but you can take a 15-minute ride from downtown to the Aldo Leopold Nature Center to see ducks, geese, cranes, and other birds in a beautiful setting. Animal lovers will find a lot of pet-friendly restaurants and accommodations in Madison.
10. Browse The Farmers Market
The Dane County Farmers' Market is the largest producer-only farmers market in the United States. That means that the 275+ vendors all produce what they sell — no intermediaries are allowed. The stalls completely fill Capitol Square, so get there early and start browsing. You'll be so busy tasting baked goods, smelling flowers, and buying pickles that you won't notice the foot traffic around you. Bring a tote to carry your treasures. The market is open every Saturday from mid-April through mid-November.
11. Grab Breakfast Or Brunch
While weekends away sometimes mean sleeping in, Madison's food scene is so good you won't want to miss a meal. Start your day with delectable dining at any one of a number of popular spots. Short Stack Eatery has fantastic pancakes, of course, but if you're feeling brave, try The Blind, the chef's secret dish that changes all the time. You can only ask if it's sweet or savory, but either way, it will be mouthwatering. Graze is a brunch favorite, offering fresh local eats by James Beard Award-winning chef Tory Miller in a glass-framed building that feels light and airy. Grab a Magic Coffee or another drink and people-watch while you wait.
12. Shop Till You Drop
While you can have plenty of fun in Madison without spending any money at all, you can easily go on a spending spree as well. Madison offers great shopping, from local crafts and delicious treats to luxury clothes, gifts, and antiques. Visit Fromagination for artisanal cheese, teas, and gourmet accessories. Little Luxuries overflows with unique gifts, and Gail Ambrosius Chocolatier has been named one of the top 10 chocolate shops in North America. The Antiques Mall of Madison has been around for more than 35 years and offers everything from vintage clothing and baseball cards to tin toys and bedroom sets.
13. Dine At A Wisconsin Supper Club
There's just no way around it: When you visit Madison on a weekend, you have to experience a Wisconsin Supper Club. If you're arriving on a Friday, you'll want to try one of the city's famous fish fry events. Saturdays are known for prime rib dinners. But what's even more special about a Wisconsin Supper Club is that you can come in a stranger and leave with new friends. Grab an old-fashioned or a beverage of your choice at the bar. Whether you're first or someone's already there, a gentle hello will open up a floodgate of friendly conversation. By the time you reach your table, you may want to join your new pals at theirs, or they may want to join you at yours. Smoky's Club, Kavanaugh's Esquire Club, Tornado Club Steak House, Avenue Club, and Toby's Supper Club are just a few of the supper clubs in the area, and each one has its own vibe.
14. Sway To The Music
Being a college town, Madison benefits from a diverse musical environment. From A-listers to eclectic and local artists, venues large and small have lots to offer music lovers. Breese Stevens Field, the Overture Center for the Arts, the Orpheum Theater, the Alliant Energy Center, and the Majestic Theatre host global superstars. Clubs, cafés, and coffeehouses around town feature local darlings and great new finds. During the spring and summer, there are free outdoor concerts in beautiful settings, from chamber music and jazz on the Capitol Square lawn to folk, country, world music, and opera in the parks.
15. Celebrate Madison's Quirks
While many towns have endearing quirks, Madison's quirkiness is especially infectious. A Badgers football game at Camp Randall Stadium is a rush, especially when doing the traditional Jump Around, where fans bounce up and down while "Jump Around" by House of Pain blares from the speakers (voted one of college football's best traditions by ESPN). Getting mascot Bucky Badger goods is easy, because he's on everything from underwear to cheese spread.
If the badger isn't quirky enough for you, you can celebrate Madison's official bird, the plastic pink flamingo; grab a drink at Le Tigre Lounge, a dive bar filled with more than 300 images of — you guessed it — tigers; or visit Paul's Club, where a tree grows through the restaurant. Cap your wacky experience off by floating down the Yahara River in a funny costume at the Fools' Flotilla.
There are plenty of ways to spend your time in Madison. You won't get to all of them in one weekend, so you'll just have to visit again. No matter when you come to Madison, you'll be welcomed as a stranger, but you'll leave as a friend.
Want to experience more of what Wisconsin has to offer? Consider a trip to Milwaukee, the Wisconsin Dells, or Elkhart Lake.
About The Author
Diana Laskaris is an award-winning author, business strategist, and creative consultant. The cofounder of the popular website Food Travelist, Diana is a thought leader in using culinary tourism to promote economic activity in destinations around the world. Food Travelist connects brands, destinations, and experiences to hungry travelers searching for their next great adventure.
Diana is a certified culinary travel professional and has written many articles about food and travel.