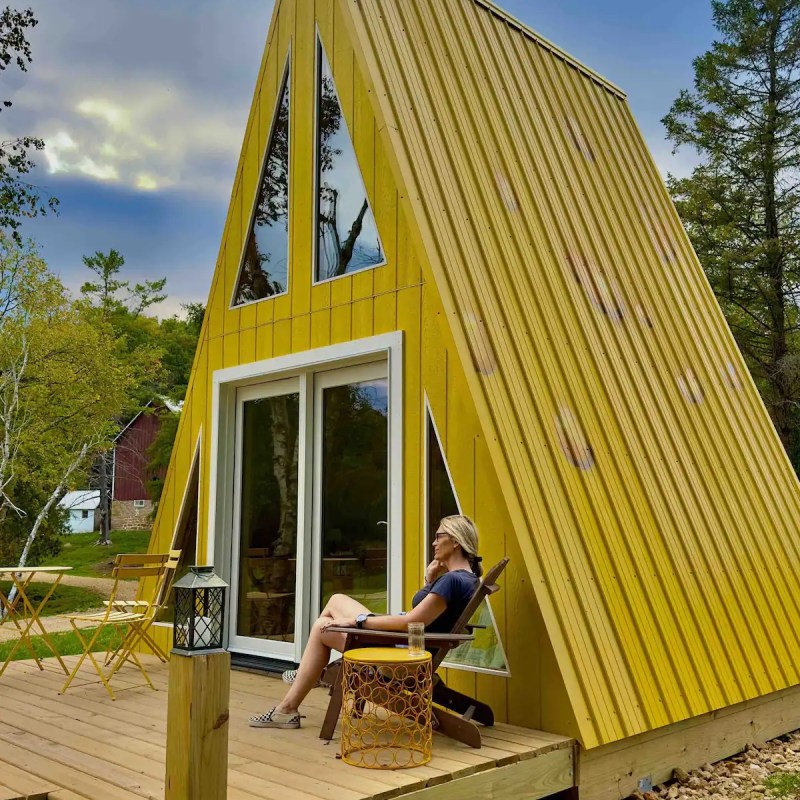 How much do you love cheese? Are you a monster for Muenster? Does cheddar make everything better? If it's not great, is it not Gouda? If this sounds like your outlook on life, then we have the perfect vacation spot for you.
About two hours west of Milwaukee, in a town called Highland, Wisconsin, there's a tiny home designed to look like a wedge of Swiss cheese and it's available for rent through Airbnb. 
In the listing, the Cheese Wedge Cabin is described as an "award-winning, A-Frame cabin" on an "idyllic sheep farm." Although the facility is equipped with a portable solar generator, there's no wifi or water, making it a place to "live simply, unplug and decompress."
Plus, the property is loaded with sheep, which you can interact with, it adjoins with Blackhawk County Park, and it's about a 15-minute drive from Governor Dodge State Park. 
The owner of the cabin, Etienne White, told the Milwaukee Journal Sentinel that she created the cheese-themed house "to bring people out to farms and get them closer to the source of their food." 
However, the idea of the cabin was kind of a long shot. She explained that she pitched it to Airbnb through its "OMG! Category" contest for the wackiest location ideas and forgot about it.
Then, two weeks later, she got a response, informing her that she would advance in the contest. After submitting some designs, she was later named as one of 100 applicants to receive $100,000 to turn their idea into reality.
As of today, the cheese house has gotten five perfect reviews on Airbnb with visitors calling it a "serene stay," "absolutely beautiful, peaceful, and charming," and "nothing short of magical."
According to the listing, the one-bedroom Cheese Wedge Cabin costs roughly $220 per night.