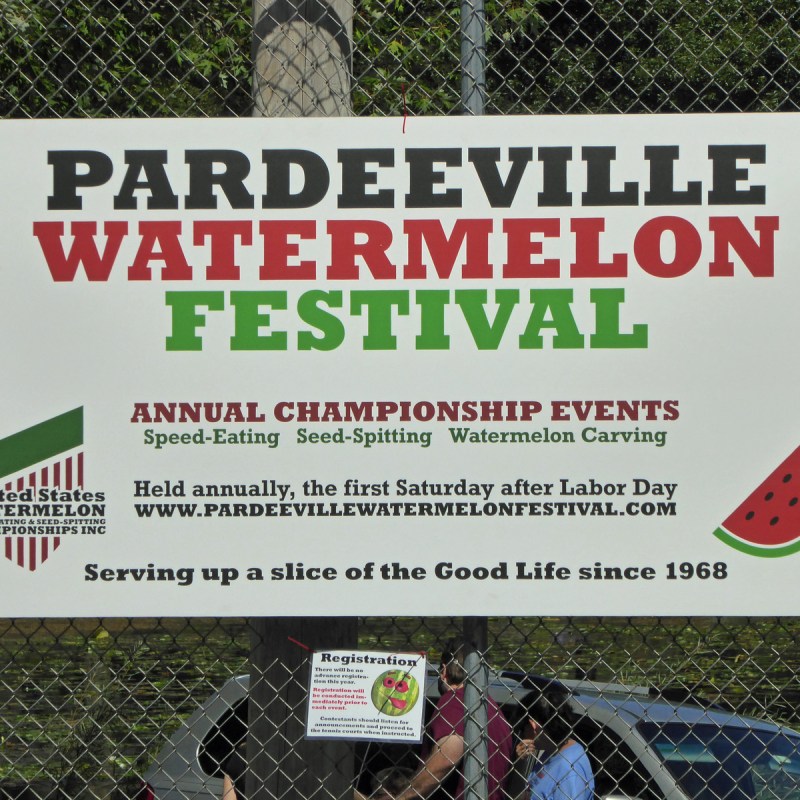 Wisconsin boasts several strange festivals that celebrate the mundane, the quirky, and the just plain weird. From Fond du Lac's Fondue Fest to River Falls's Bacon Bash to the Sputnikfest in Manitowoc, the Badger State offers a whole host of funky festivals.
Read on for some of our favorite odd celebrations that enrich the culture of the great state of Wisconsin.
1. Cheese Festival, Blair
Second Weekend After Labor Day
It's no surprise that America's Dairyland loves cheese. For a taste of something special, head to Blair in Trempealeau County. On the second weekend after Labor Day, guests from all over the country descend on this sleepy Wisconsin town for a fun, cheese-filled weekend.
The Blair Cheese Festival has been a community staple since 1938, though it started as an egg festival. With Norwegian flair, this four-day celebration includes fun events like a car show, tapping of the golden keg, parade, cheese chase, tractor pull, carnival, and live music.
When you're in the area, consider making the short trip to Wisconsin State Highway 35. Routinely voted one of the nation's most scenic byways, this stretch along the Mississippi River is known as the Great River Road. Hop onto the Great River Road Wine Trail for some satisfying sips and lovely views.
2. Rutabaga Festival, Cumberland
Late August
Since 1932, northwestern Wisconsin's Rutabaga Festival has served up fun for residents and visitors alike. With a half marathon, a 5-kilometer race, a fun run, a Miss Cumberland pageant, a truck pull, a pancake breakfast, live music, theater performances, a bean bag tournament, and more, there's a lot going on!
Plus, Cumberland is near some lovely lakes that are ideal places to spend additional time in the area. If you're more city slicker than outdoorsman, head to nearby Minneapolis for an urban getaway. We've curated lists of the city's best burgers, best beverages, and more to help develop your Twin Cities itinerary.
3. Wisconsin State Cow Chip Throw & Festival, Prairie Du Sac
Labor Day Weekend
For those who aren't aware, a cow chip is a piece of dried cow dung, so this odd celebration certainly deserves a spot on our list of wacky Wisconsin festivals. In honor of this unusual festival, the Wisconsin state legislature named the cow chip the state's unofficial muffin back in 1989! For a $1 cover charge, you can enjoy the signature cow-chip-throwing contest, an arts and crafts fair, a 5-kilometer race (or a 10-kilometer race, if you're feeling ambitious), a volleyball tournament, live music, and more.
After all the festival fun, you may want to spend some additional time in the area. Luckily, the state capital of Madison is located very near Prairie du Sac, about a 30-minute drive away. Or for some water park action, consider a stop at the nearby Wisconsin Dells.
4. Watermelon Festival, Pardeeville
First Saturday After Labor Day
Another weird exaltation of food takes place at the annual Watermelon Festival in Pardeeville. Naturally, the fest features numerous watermelon-related activities, from seed-spitting contests to a carving competition to a watermelon-eating challenge. Kids can check out the Watermelon Midway full of carnival games, while everyone can enjoy the arts and crafts fair, hay dive, and family comedy show. The Watermelon Festival has been delighting locals and visitors since 1968.
Pardeeville's central location puts it close to two major metro areas; it's just a 3-hour drive from Chicago and less than 2 hours from Milwaukee. If you enjoy college football, consider a longer stay in the area to catch a game in nearby Madison. The city and its football stadium, Camp Randall, are about 40 minutes by car from the Watermelon Festival location.
5. Fondue Fest, Fond Du Lac
Early September
Unsurprisingly, there's another cheese-focused Wisconsin festival we recommend. That honor goes to the newer Fondue Fest held in Fond du Lac. Home to the world's largest fondue set acknowledged by Guinness World Records, this festival is a winner in more ways than one. With the cute tagline of "Peace, Love, and Fondue," the event features live music, fondue tastings, a rubber-duck race, tons of area vendors, a car show, a fondue-eating contest, and a children's zone.
This cheesy celebration should be even more attractive to visitors looking to spend some additional time in the Badger State. After all, Fond du Lac is conveniently located less than 2 hours away from Wisconsin's top two resort areas: Lake Geneva and Door County. Both are charming getaway destinations and should be on every Midwesterner's bucket list. Additionally, Fond du Lac is close to pretty Elkhart Lake.
6. Sputnikfest, Manitowoc
Early September
This festival was named one of the country's five funkiest by Reader's Digest, and it's clear that it belongs on our list, too. Named for the chunk of the Russian Sputnik 4 that landed in downtown Manitowoc in 1982, Sputnikfest is out of this world. It features plenty of space-themed events, including an alien pet costume contest, lightsaber duels, sci-fi trivia, a Ms. Space Debris pageant, and a rocket-making workshop. The festival also offers boozy beverage specials, live music, and a children's entertainment area. Notably, the festival's tagline is "Sputnik landed here. Why don't you?"
If you'd like to enjoy other activities in the area, try to hit both the Fondue Fest and Sputnikfest on the same trip. After all, Fond du Lac and Manitowoc are only an hour's drive apart. Manitowoc is also just an hour from the previously mentioned Door County, 40 minutes from Elkhart Lake, and 90 minutes from Milwaukee.
7. Bacon Bash, River Falls
Early September
River Falls's Bacon Bash claims the title of the nation's largest free bacon festival. You can try more than 30 pork-themed dishes at the event, which celebrates all things bacon. There's bacon trivia, a habañero-popper-eating contest, a bacon bash dash, a costume contest, live music, and even a kiss-the-pig challenge. Not weird enough for you? You can participate in the pig-impersonation contest, or as part of the When Pigs Fly event, you can throw plush pigs off a roof. A tailgate party and arts and crafts fair round out the activities.
Luckily for Bacon Bash attendees, River Falls is close to the Twin Cities (about a 40-minute drive). The Minneapolis/Saint Paul area offers a thriving metropolitan scene with a large airport for easy access.
For more Wisconsin fun, consider a trip to nearby Chippewa Falls. The town is home to the well-known Leinenkugel's brewery complete with a taproom and brewery tour options.
8. Thirsty Troll Brew Fest, Mount Horeb
Early September
Since we've already celebrated cheese, it's time to appreciate another of Wisconsin's culinary highlights: beer. The Thirsty Troll Brew Fest bills itself as "an intimate beer sampling that features 30 craft brewers serving over 125 different beers." Since 2003, thousands of beer lovers have flocked to this small town near Madison. Please note that this is not a family-friendly festival, since tickets cost $45 and are reserved for those 21 and older. You can also opt for the VIP ticket for $75, which allows for extra beer samples and early admission.
You might be curious about the name of this festival and its thirsty troll. Mount Horeb is known as the Troll Capital of the World due to the large number of Norwegians who settled in the area; trolls, after all, originated in Scandinavian folklore. Mount Horeb has embraced the nickname: You can see numerous carved trolls in the area, and the town motto is "Where the trolls play." Mount Horeb's mascot is a troll named Jorgen who will likely make an appearance at Brew Fest.
After the festival, consider spending some extra time in pretty southern Wisconsin. The famed New Glarus Brewery (and its signature Spotted Cow beer) deserves a visit. After all, it's located just 20 minutes from the festival, and the beer can only be found in Wisconsin. And as previously mentioned, Madison and its University of Wisconsin campus are also very near Mount Horeb, a 30-minute drive by car.
It's clear that America's Dairyland comes together for a wide variety of reasons. From space-themed fests to watermelon parties to cow-poop celebrations, Wisconsin truly has a ton to offer in terms of bizarre festivals.
Can't get enough of weird and wacky state festivals? Journey next door to see what the state of Minnesota has to offer. Or spend some more time in Wisconsin with a weekend getaway to its biggest city, Milwaukee.