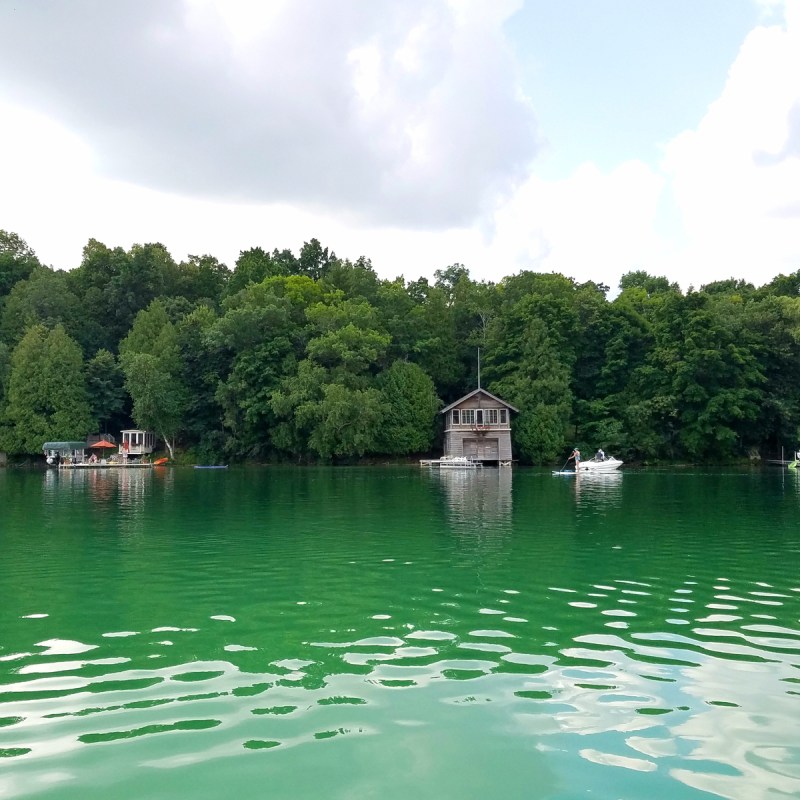 Not every destination offers scenic beauty, a rich history, modern farm-to-table cooking, and top-notch spa experiences. Elkhart Lake, Wisconsin, home to fewer than 1,000 year-round residents, is a resort village that focuses on wellness, whether at the Aspira Spa, the healing waters of Elkhart Lake, or the organic gardens of the Osthoff Resort. But if wellness isn't your top priority, don't worry — the town also offers history, motor sports, outdoor recreation, wine tastings, and unique bars to keep the whole family satisfied.
Here are 12 things to see and do during your time in this lovely Wisconsin town.
1. Enjoy Some Vino At Vintage Elkhart Lake
This delightful tasting bar, gourmet grocer, and wine shop is owned and operated by the award-winning certified sommelier Jaclyn Stuart. At Vintage Elkhart Lake, Stuart sells only wine that she hand-selects. In addition to the wines, Stuart offers unique local food items, including vegetarian Cheddar maple bacon popcorn that is addictive. She also sells the cheeses you'll sample at the tasting bar, so be prepared to take some home with you.
2. Visit Road America And Elkhart Lake's Historic Race Circuit
In the early 1950s, the village of Elkhart Lake was home to an open-road race circuit where top sports-car drivers tackled hills and sharp corners while thousands of adoring fans cheered them on. Racing on public roads was banned in 1955, and the events were moved to Road America, where you'll find one of the country's longest road-racing circuits, a 4-mile, 14-turn track. Situated on 640 grassy acres, Road America hosts year-round activities including go-karting, geocaching, and motorcycle and driving schools. Whether you prefer to watch the race or participate in it, there's something for you at Road America. If you're curious to see the historic circuit, it's still marked with signs reading Wacker Wend, Kimberly's Korner, and Dicken's Ditch.
3. Treat Yourself At Aspira Spa
While you're in Elkhart Lake, enjoy a relaxing afternoon at one of the Midwest's premier spas. The word aspira means "infused with spirit" — a fitting name for a spa on the banks of a lake that was considered sacred by the Native Americans who once lived there. Inside Aspira Spa, you'll find calm lighting; a changing room with showers; robes, slippers, and bath products; a meditation sanctuary set around a pool of water; and a hot tub in which to relax after your treatment. The spa's feng shui centers on the elements of wood, fire, earth, metal, and water. Pamper yourself with one of the spa's specialized body treatments, Vichy shower treatments, facials, spa pedicures, manicures, salon services, or whirlpools. Then enjoy a light lunch and a yoga class. Whatever wellness treatment you choose, you're sure to leave relaxed and refreshed.
4. Play A Round At The Quit Qui Oc Golf Club
You'll find one of Sheboygan County's best golf courses in Elkhart Lake. Located in the picturesque Kettle Moraine State Forest, Quit Qui Oc Golf Club hosts thousands of golfers each year on its 27 holes spread over 250 acres. Family-owned for more than 50 years, Quit Qui Oc Golf Club provides numerous amenities for golfers, including a learning and practice facility and a pro shop along with a full-service restaurant and bar.
5. Whip Up Some Delicious French Food
Located inside the Osthoff Resort, the L'ecole de la Maison culinary school gives you a chance to try your hand at cooking up French specialties in a group environment. You'll create innovative, fresh, and flavorful dishes like asparagus soup with quinoa, egg shakshuka, and chia seed pudding, and then sit down with a glass of wine to enjoy your culinary creations.
6. Hike The Ice Age National Scenic Trail
Wisconsin is home to some of the most remarkable landforms created by the glaciers of the last Ice Age. Ray Zillmer, a lawyer and avid hiker, dreamed of a national park that would preserve this amazing glacial legacy, and the Ice Age National Scenic Trail was born. Put on your hiking boots and take a few hours to explore this natural marvel.
7. Step Back In Time At The Wade House Historic Site & Carriage Museum
Step back in time to the 1860s and tour this Wisconsin historic site in the transportation mode of the day — horse-drawn carriage. At the Wade House Historic Site, you'll tour a stately, 27-room stagecoach hotel, hear the rumble of an up-and-down saw at the water-powered sawmill, and listen to the ring of the blacksmith's anvil. The Wesley Jung Carriage Museum, home to Wisconsin's most extensive collection of carriages, sleighs, wagons, and more, is located nearby. The museum houses nearly 100 horse- and hand-drawn vehicles.
8. Spend Time On Elkhart Lake's Crystal-Clear Waters
As the story goes, the Native Americans who once lived in the area valued Elkhart Lake's healing waters for their restorative properties. They believed that if they bathed in the waters, they would be rejuvenated and handsome again. Whether that's true or not, the spring-fed waters are definitely a sight for sore eyes. The pristine green waters just beg you to spend time on them. Rent a kayak, paddleboard, canoe, or paddleboat and spend a few lazy hours soaking up the sun.
9. Savor The Flavors
For a small village, Elkhart Lake offers a surprising variety of culinary options, many focusing on local foods.
At the Paddock Club, the chef combines seasonal ingredients with the European culinary tradition to create spectacular meals. Stop by on a Tuesday to take a look at the small-plates menu; you'll want to taste them all.
Lake Street Café, an eclectic café serving California bistro-style fare, offers a family-friendly atmosphere on one side and an elegant casual dining room on the other.
Lola's on the Lake, inside the Osthoff Resort, offers panoramic views of Elkhart Lake and sophisticated foods prepared from produce grown in one of the resort's on-site organic gardens.
Last but not least, Cottonwood Social serves up meals prepared from ingredients native to Wisconsin's lakes and lands. The restaurant works with local farmers to offer the highest quality food and support the local community. It's also the closest restaurant to the lake, so whether you're eating on the deck, at the full bar, or by the cozy fireplace, you'll appreciate the stunning views.
10. Go Fishing
At 119 feet deep and 292 acres, Elkhart Lake is home to a wide variety of fish: Musky, walleye, northern pike, largemouth and smallmouth bass, yellow perch, bluegill, and crappie all inhabit the lake. Jay Brickner, owner of Jay's Guide Service, is a Wisconsin-licensed guide who has been organizing fishing trips on area lakes since 1996. Jay will do his best to provide a memorable trip, whether you are a true fishing enthusiast or just enjoy spending time on the water.
11. Taste Some Of Wisconsin's Best Cheese
No visit to Wisconsin would be complete without cheese. Henning's Wisconsin Cheese is a fourth-generation family-owned cheese factory in nearby Kiel, Wisconsin, that has been crafting cheese since 1914. Drop in for a tour and learn how the freshest milk from local cows becomes award-winning Cheddar, Monterey Jack, and Colby cheese. Don't miss the famous Wisconsin cheese curds and giant cheese wheels of up to 3,000 pounds. Be sure to make note of your favorites — Henning's also has a cheese shop.
12. Savor A Cocktail In A Unique Bar
Siebkens Resort is home to two unique bars. Put on your dancing shoes and head to the Stop-Inn Tavern, touted as the "best bar on the racing circuit." If you're a racing fanatic, the memorabilia on the walls and ceiling will keep you entertained as you sip a cocktail in the rustic bar. Inside the Siebkens Resort's original building, you'll find a secret drinking space known as the "hidden bar." Enjoy the pictures from the past on the walls as you savor a craft beer, wine, or specialty drink.