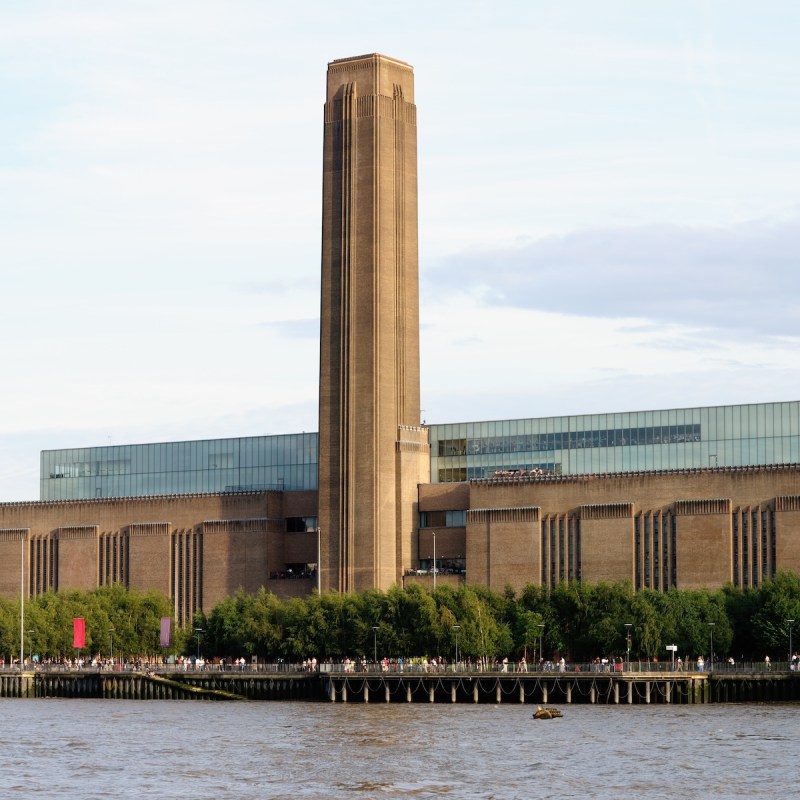 Visiting modern art museums in Europe is a journey through the history of contemporary art and a unique cultural experience. From London's Tate Modern to the Peggy Guggenheim Collection in Venice and the Vincent Van Gogh Museum in Amsterdam, each gallery offers a different perspective on modern and contemporary art.
These museums house some of the world's most significant art collections, including iconic works by artists such as Picasso, Warhol, and Van Gogh. A visit to these museums allows you to explore the evolution of modern art and gain a deeper understanding of the artists and their creative processes.
5 Best Modern Art Museums In Europe
1. Tate Modern, London
The Tate Modern in London is among the world's best destinations for modern art enthusiasts. It is the UK's National Museum of Modern and Contemporary Art. The gallery has an immense collection of international art, including works by artists like Pablo Picasso, Salvador Dalí, and Andy Warhol.
Highlights of the museum's collection include the iconic paintings of Mark Rothko, the surrealist masterpieces of Joan Miró, and the abstract sculptures of Barbara Hepworth. You can also explore the museum's many temporary exhibitions, which showcase a wide variety of contemporary art.
One of the most popular exhibits at the Tate Modern is the Turbine Hall. This vast space hosts large-scale installations and performances. The museum also has a great view of the River Thames and St. Paul's Cathedral from its upper floors.
With so much to see and experience, the Tate Modern is an unmissable destination for anyone interested in modern and contemporary art.
2. Peggy Guggenheim Collection, Venice
Venice is a city of art and culture, and there's no better place to experience this than at the Peggy Guggenheim Collection. Located on the Grand Canal in the Palazzo Venier dei Leoni, the museum houses a remarkable collection of modern art, including works by Picasso, Pollock, and Dalí.
The collection is a testament to the passion and vision of Peggy Guggenheim, a prominent art collector and patron who dedicated her life to promoting contemporary art. The setting is also worth the visit as the museum overlooks the beautiful canal and features a serene sculpture garden. Whether you're an art enthusiast or simply looking for a unique cultural experience in Venice, the Peggy Guggenheim Collection is a special experience.
3. Danubiana Meulensteen Art Museum, Bratislava
The Danubiana Meulensteen Art Museum is a contemporary art collection in Bratislava, Slovakia. The museum is situated on a peninsula along the Danube River, with a scenic view of the surrounding area. The museum's collection includes works by Slovak and international artists focusing on contemporary art from central and eastern Europe.
The museum also houses a sculpture park featuring prominent artists' large-scale works. In addition to its permanent collection, the museum regularly hosts temporary exhibitions, workshops, and cultural events.
The unique location of the museum and its varied collection make it a must-visit destination for art enthusiasts visiting Bratislava. It is easily accessible by car or public transportation and is open daily except for Mondays.
4. Van Gogh Museum, Amsterdam
The Van Gogh Museum in Amsterdam is a dream destination for Vincent van Gogh art lovers. The museum is dedicated to the life and work of the famous Dutch painter. It houses the world's most extensive collection of van Gogh's paintings and drawings.
The museum's permanent collection includes over 200 paintings, 500 drawings, and 700 letters written by van Gogh. The collection features some of his most famous works, such as The Potato Eaters, Sunflowers, and Almond Blossom. In addition to van Gogh's art, the museum showcases work by other artists who influenced him and contemporary artists inspired by his work.
The museum's exhibitions are curated to provide a deeper understanding of van Gogh's life, art, and legacy. Don't miss the opportunity to visit this incredible museum and experience the beauty and passion of one of the greatest artists of all time.
5. Barcelona Museum Of Contemporary Art
The Barcelona Museum of Contemporary Art (MACBA) was founded in 1959 as a municipal contemporary art museum. However, it wasn't until the 1980s that the city began to invest heavily in the museum's development, with plans to build a new facility in the Raval neighborhood of Barcelona.
In 1986, renowned architect Richard Meier was chosen to design the new museum, which completed in 1995. The building's white exterior and geometric design quickly became a landmark in the city. Since its opening, the museum has been dedicated to promoting contemporary art and culture, showcasing works by Catalan, Spanish, and international artists.
MACBA's collection includes over 5,000 works of art, ranging from paintings and sculptures to video installations and performance art. The museum also hosts a variety of temporary exhibitions, cultural events, and educational programs for all ages.
Today, the Barcelona Museum of Contemporary Art is recognized as one of Spain's most important cultural institutions and a treat for contemporary art lovers visiting the city.
Conclusion
Modern art museums in Europe offer a unique opportunity to experience our time's most innovative and provocative art. These museums provide a diverse range of contemporary art collections, exhibitions, and events that allow visitors to explore and engage with the latest trends and ideas in the art world.
Whether you are interested in paintings, sculptures, installations, or video art, something in these museums will inspire you. By visiting, you'll get a chance to broaden your horizons, challenge your perceptions, and gain a deeper understanding of the world around you. Don't miss the chance to explore the best modern art in Europe.