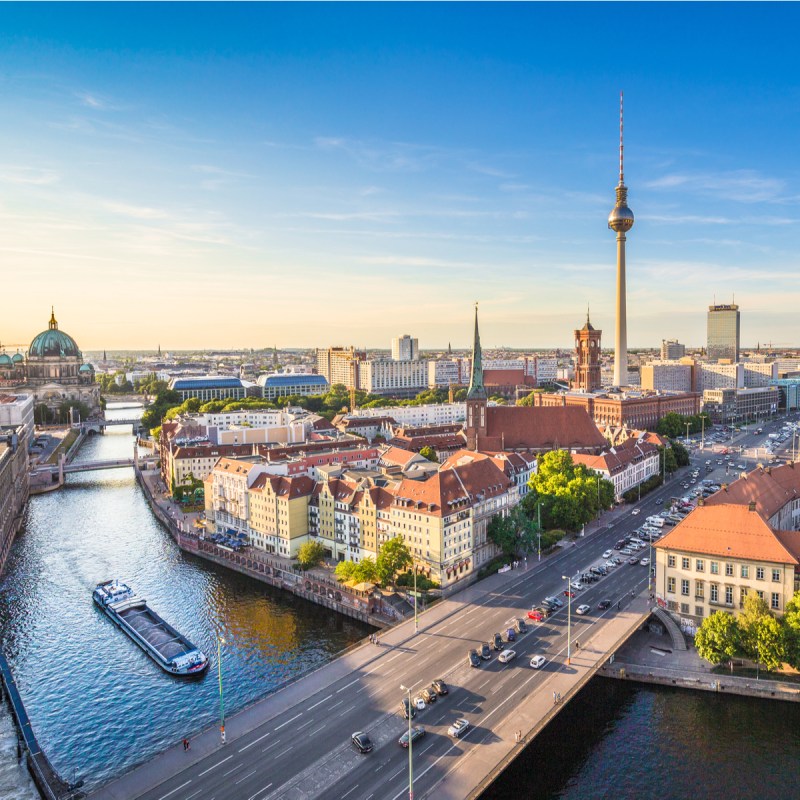 It's imperative to feel comfortable and safe while traveling.
Medjet
provides premier air medical transport, travel security, and crisis response memberships, providing peace of mind for an affordable price.
Europe is home to some of the world's most magnificent museums and art galleries. From the Impressionist artworks at the Musée d'Orsay in Paris to the incredible frescoes in the churches of Florence, Europe has a plethora of places to visit if you are particularly interested in art. In fact, there are so many places in Europe to see world-class art that I had a very hard time curating this list! I know I have left out several cities that are great for art, but after a great deal of deliberation I have narrowed it down to my personal favorites. Whether you love Michelangelo, are fascinated by Van Gogh, or are a fan of Picasso, there's bound to be a special place on my list that's just perfect for your next European vacation. So get your passport ready and start planning your trip.
1. Berlin, Germany
Hip and happening, the number one spot for art lovers in Europe is definitely Berlin. When it comes to art, the German capital caters to every taste.
Museumsinsel (Museum Island) is the center of Berlin's art scene (the entire island is a UNESCO World Heritage Site). There are five museums on the island including Gemaldegalerie, with an impressive collection of art from the 13th through 18th centuries, and the Alte Nationalgalerie (Old National Gallery), home to Neoclassical, Romantic, and Impressionist art. Also on Museumsinsel, you'll find a collection of Islamic art in the Pergamon, Egyptian treasures in the Neues Museum, and sculpture in the Bode Museum.
If you're a lover of street art, I'd definitely recommend a visit to the East Side Gallery. Once the Berlin Wall, it's now the longest open-air gallery in the world at about a mile long. Immediately after the fall of the Berlin Wall, 118 artists from 21 countries began painting more than 100 murals on what was the east side of the wall, and in 1990 the East Side Gallery was officially opened.
Berlin is also at the leading edge of the global contemporary art scene. There are over 700 art galleries in the city, with an estimated 6,000 to 7,000 artists living in the city. Berlin is full of cutting-edge exhibitions, quirky galleries, and experimental events. For work by local artists, head for the Berlinische Galerie. Don't miss the KW Institute for Contemporary Art (located in an old factory), Neue Nationalgalerie (for 20th-century art), and Hamburger Bahnhof (for contemporary art, including Lichtensteins and Warhols, located in an old railway station). The Sammlung Boros collection, housed in a converted WWII concrete bunker that stands like a gloomy block on the corner of Reinhardstrasse and Albrechtstrasse, is one of the world's best contemporary art galleries in the world.
Pro Tips
You can purchase a 3-day Museum Pass Berlin which gives you access to 30 museums around the city.
Looking for somewhere "artistic" to stay in Berlin? What about the Art'otel, a design hotel with over 250 artworks on display including original pop artworks and signed prints by Andy Warhol.
2. London, United Kingdom
London is one of the most artistically diverse cities in the world, with everything from grand galleries hung with old masters to small pop-up spaces packed with avant-garde installations.
The Tate Modern, London's most visited tourist attraction, is a mecca for modern-art enthusiasts, displaying splendid works by Picasso and Warhol among others, while the Saatchi Gallery houses cutting-edge contemporary pieces. Alternatively, head to the Tate Britain where British artists are celebrated.
For something more traditional, The National Gallery in Trafalgar Square hosts works of art by Michelangelo, Rembrandt, Monet, Leonardo Da Vinci, Picasso, Raphael, and Van Gogh (to name but a few) and is the perfect way to inject a little culture into your holiday. An eclectic year-round program of exhibitions alongside permanent displays are offered by the Royal Academy of Arts in Piccadilly, the Courtauld Gallery at Somerset House, and the Barbican's art gallery. The Wallace Collection is also a hot favorite with tourists, while the Victoria & Albert Museum is jam-packed with paintings, sculptures, ceramics and so much more. For thought-provoking shows, explore the Hayward Gallery in the Southbank Center. For street art, explore the vibrant murals in the colorful Shoreditch area.
Pro Tips
Many galleries and museums in London are free, including the National Gallery, Tate Modern, Tate Britain, and the National Portrait Gallery. For 80 other attractions and activities, you might like to purchase a 1, 2, 3, or 6-day city pass.
For something a little different, try Dream Bags Jaguar Shoes, a quirkily named bar, café, and exhibition area in Shoreditch. The upstairs area, with its skylights, high ceilings, and glass shop front is ideal for displaying art, and the basement is a snug, welcoming area with a fireplace and sofas. There is always artwork on display here, with a new exhibition every 6 to 8 weeks.
3. Paris, France
Undoubtedly one of the best cities for art, Paris has long been a huge draw for artists and art-lovers alike. Paris is a world art capital thanks to its incredible medieval monuments, expansive museums, and inventive art galleries. Indeed, there are more than 1,000 to choose from! Amble through the Louvre and get a glimpse of Leonardo's Mona Lisa, or spend time soaking in the Impressionist masterpieces at the Musée d'Orsay.
The most famous museum in Paris would have to be The Louvre (the biggest museum in the world), and it has to be seen to be believed. With the famous 68-foot-high glass pyramid serving as the main entrance of the museum, the Louvre's most famous painting, Leonardo Da Vinci's Mona Lisa, is at the heart of a glorious collection that includes tens of thousands of works of art.
If you fancy something a little more modern (up to 1914), then Musée d'Orsay is an Impressionist and Post-Impressionist haven. Monet and Renoir jostle for attention alongside Degas, Pissarro, and Van Gogh, so you're bound to spot something that you recognize. My first visit here was in my teens, and to this day it remains one of my favorite art galleries in the world.
For something more cut­ting-edge, visit the National Museum of Modern Art in the Centre Georges Pompidou. From Picasso to Warhol, it's burst­ing at the seams with the most spectacular paintings, sculptures, photography, and objets d'art.
If all this art viewing has got you looking for something to hang on your own walls, then swing by the Marché de la Création. Every Sunday, this open-air market – the largest art market in Paris – is a great place to spend an hour or two viewing a wide variety of paintings, drawings, and sculptures, meeting the artists, and maybe even buying a piece or two.
Pro Tips
If you really want to avoid the usual hordes of tourists at the Louvre, consider visiting late on a Wednesday or Friday evening, when the museum stays open until 9:45 p.m.
On the first Sunday of the month, all visitors to the Musée d'Orsay get free entry to the permanent collections. Once a year, Nuit des Musées (Paris Museum Night) gives visitors free entry for one evening to the collections at the Musée d'Orsay and numerous other participating museums. This event is open to all and generally falls in May.
4. Amsterdam, The Netherlands
From Van Gogh's Sunflowers to Rembrandt's Night Watch, Amsterdam offers a feast for the eyes, offering both age-old museums and world-class contemporary art galleries.
Amsterdam is home to the Rijksmuseum, which opened in 1798 and receives over 2.4 million visitors a year, all flocking to see works by Rembrandt, Vermeer, Hals, and Steen among its collection of one million artworks.
Van Gogh fanatics should place Amsterdam at the top of their must-see list, with the Van Gogh Museum displaying more than 200 of his works and over 1,000 letters and drawings.
Right next door to the Van Gogh Museum, you will find the Stedelijk is hung with modern and contemporary works. Meanwhile, the canal-side mansions of the Willet-Holthuysen and Van Loon museums are packed with treasures, and temporary exhibitions of loaned artwork from St. Petersburg are displayed in Hermitage Amsterdam.
The Rembrandt House Museum, Rembrandt's home for 20 years and the place where he made and lost a fortune, has been restored to its former glory and displays hundreds of his etchings and drawings, as well as those of his contemporaries and pupils.
One of the quirkiest art venues in the city has to be De Nieuwe Kerk (New Church), found in the heart of Amsterdam. The church dates back to the Middle Ages (it was consecrated in 1409) but is no longer used for church services; instead, it functions as an exhibition space for art, photography, and culture.
Pro Tips
There are two separate lines for the Van Gough museum: a ticket line and a line to get in. The ticket line usually is quite long. Don't just turn up to the museum, but buy a ticket online beforehand. It will save you a lot of time. Tickets are available 4 months in advance.
Consider buying an Amsterdam City Card for free admission to 70 museums and attractions including Van Gogh, the Rijksmuseum, and Rembrandt House.
5. Madrid, Spain
Madrid is a genteel capital, a hub of culture and old-world elegance, and home to a vast array of museums and galleries.
Navigating your way through the art world of Madrid can be a daunting task, but the Prado is a great place to start. This is the most venerated museum in the city and houses masterpieces by French, Italian, Flemish, and Spanish artists, including the marvelous paintings in the Velázquez and Goya rooms.
Picasso fans shouldn't miss the artist's famous Guernica painting, which is housed in the Reina Sofía, Madrid's modern art museum. Reina Sofía has a special focus on Spain's favorite artistic sons, Pablo Picasso and Salvador Dali, and their respective schools of Cubism and Surrealism.
The Thyssen-Bornemisza, housing a private collection of 775 paintings that mixes contemporary and classic in an elegant 19th-century palace, is world-class. For some fascinating pre-Columbian American exhibits, head to the Museo de América.
If it's not your first time traveling to the Spanish capital city and you are tired of visiting the same places, why not check out some of the amazing street art the city has to offer? There's nothing like walking down the old narrow streets and seeing some of the amazing urban artwork, maybe even combining it with some delicious tapas on a guided tour.
Pro Tips
You can buy an advance ticket which allows you to skip the line and visit the Prado Museum, Reina Sofia Museum, and Thyssen-Bornemisza Museums all on one ticket.
Most, if not all, museums offer free entrance on May 18th (International Museum Day) and October 12th (National Day of Spain). These times can be a lot more crowded, but it's still good to know.
6. Florence, Italy
The city of Florence is an artwork in its own right and is an endless maze of opportunities for art lovers. Marvel at some of Michelangelo's finest pieces including his iconic David sculpture at the Accademia. View Botticelli's The Birth of Venus in the famous Uffizi gallery, which is also home to the world's best collection of Italian medieval and Renaissance art. Take in the architectural masterpiece that is the Florence Duomo, looming over the city. The Museo di San Marco houses Fra Angelico's painting of The Annunciation. For sculpture, head to the Bargello, and the Medici treasures are on display in the Palazzo Vecchio. The city's churches, notably Santa Maria Novella and Santa Croce, are where you will find elaborate frescos by Giotto. The magnificent Pitti Palace is another must with its collection of Spanish, Flemish, medieval, Italian Renaissance, and Baroque works. If you're craving contemporary artworks, the Centro di Cultura Contemporanea Strozzina hosts thematic exhibitions, many of them exploring the intersection of art with other aspects of life.
Once you've finished wandering the San Giovanni neighborhood and seeing its famed sites like the Duomo and Piazza della Repubblica, head over to the quiet streets of San Niccolo, which are crammed with creativity. It's here that you'll find funky artist shops, many run by local artists. Or perhaps you've been inspired by all the frescos you've seen and would like to try your hand at learning to make your own, in which case you might like to sign up for a workshop.
Pro Tip: I'd recommend the Florence Pass to help you skip the delays for entering the Uffizi Gallery, Accademia Gallery, and the Florence Duomo.
These are my top favorite cities in Europe to immerse myself in art, but this is by no means the definitive list. I could have gone on, with more and more fabulous cities with fantastic art to explore, but I had to force myself to stop. Maybe we can do this again sometime, and I can share a few of my other favorite art-filled destinations with you.