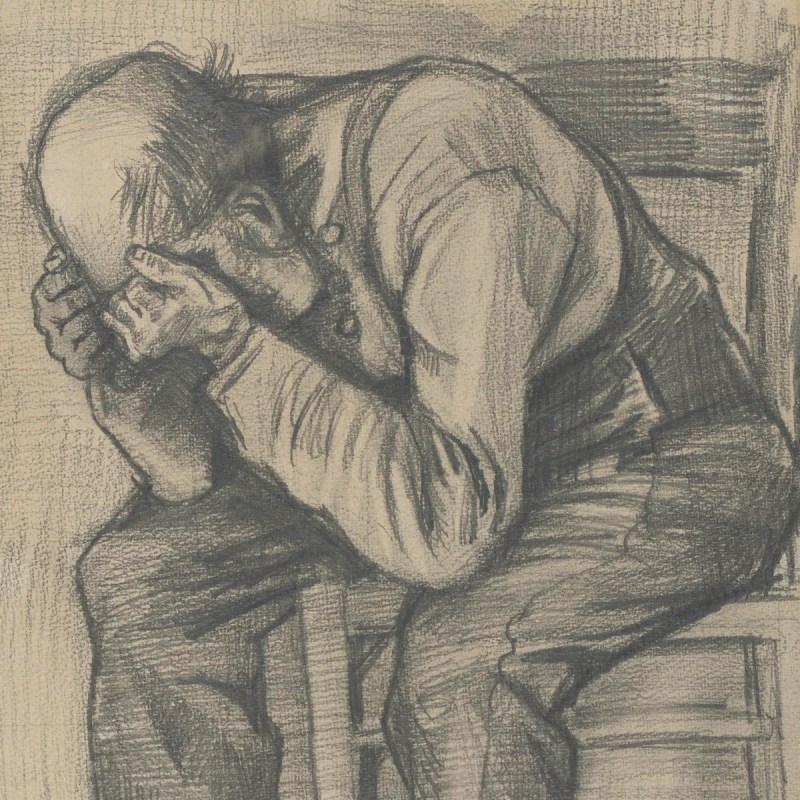 A previously unknown drawing by Vincent van Gogh will be on display for the rest of the year at the Amsterdam museum named after the famed artist.
"Study for Worn Out" had been in a private collection, and the owner approached the Van Gogh Museum to determine if it is actually a work by the artist. Museum officials determined it to be authentic and will display the drawing until January 2, 2022, before returning it to the owner, who wishes to remain anonymous.
"As a knowledge center for the work of Vincent van Gogh and his contemporaries, we are very pleased with this discovery, which once again does justice to our specialism," museum director Emilie Gordenker said in a release. "It is quite rare for a new work to be attributed to Van Gogh. We are proud to be able to share this early drawing and the story about it with visitors to our museum."
The drawing is believed to be a preliminary study for Van Gogh's 1882 work Worn Out. It measures only about 18 by 12 inches and portrays an exhausted man sitting with his head between his hands. The man is a familiar part of Van Gogh works, having drawn or painted someone with similar characteristics at least 40 times, according to museum officials.
"With such drawings, Van Gogh not only showed his sympathy with, but also drew attention to the socially weak in society, who in his opinion were not inferior to the good bourgeoisie," the release says.
While the drawing itself is fascinating, the story behind its discovery remains a mystery. With the owner remaining anonymous, how he or she came to own the drawing is unknown.
However it happened, museum officials are certain the drawing is authentic.
"Stylistically, it fits effortlessly between the many figure studies we know of Van Gogh from his time in The Hague, and the link with Worn Out is evident," senior researcher Teio Meedendorp said.
He called the style characteristic of Van Gogh. "Not refined, but with energetic scratches and strokes, the initiation of contours, in search of a concise representation with attention to light-dark effects," Meedendorp continued.
The materials also make the drawing authentic, he added.
"In terms of the use of materials, you also come across everything you would expect in a Van Gogh drawing from this period: thick carpenter's pencil as a medium, coarse watercolor paper as a carrier, fixing it afterwards with a mixture of water and milk," Meedendorp said. "The back of the drawing has damage on the corners, which can be related to the usual way in which Van Gogh attached a sheet of paper to his drawing board, namely with wads of starch."
The drawing has been added to a collection of other Van Gogh works from the same time period in the museum. It is included in the regular admission to the museum, with tickets 19 euros (about $22) for adults, and free to anyone 18 and under.
"By showing "Study for Worn Out" in the context of these other works, we get a special insight into Van Gogh's working process," Meedendorp said. "In addition, the study is a very beautiful, powerful drawing, which can also stand on its own."
Related Reading: