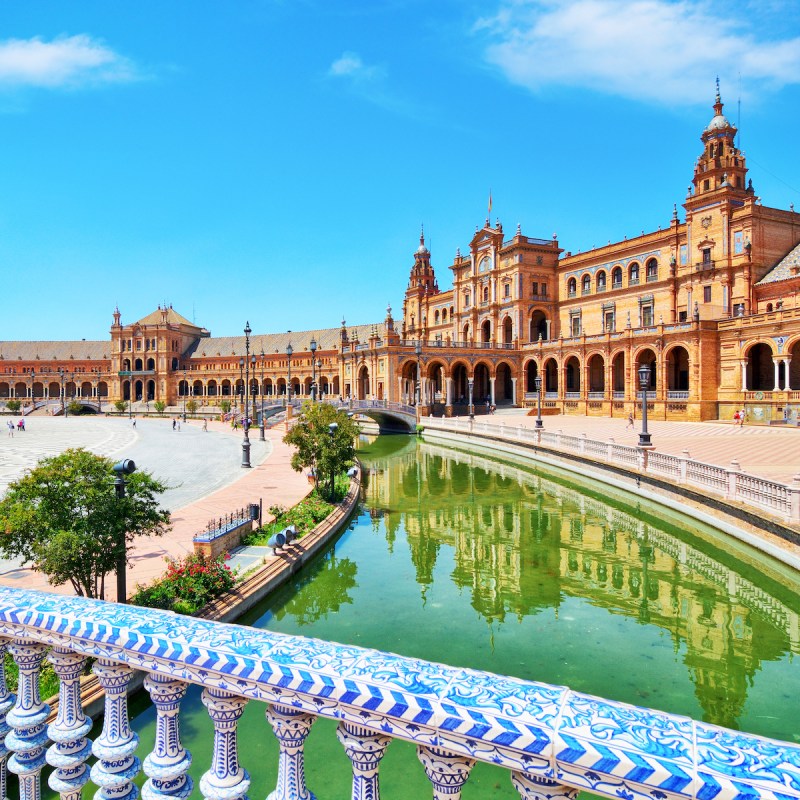 With a rich cultural heritage that dates back centuries, Spain is the ideal travel destination for art lovers. The Mediterranean country is home to many of the world's most famous artists and artworks, from venerated old masters to contemporary curiosities. There's that and more than 1,500 museums to explore. From my experiences traveling through Spain, these are the top cities for art lovers, along with recommended sites to add to your itineraries.
1. Madrid
At the top of my list is Madrid, Spain's capital city and a major cultural center. Three world-class museums make up the "Golden Triangle of Art," all within walking distance of each other. Museo Nacional del Prado ("Prado Museum") displays vast collections of European masterpieces including Diego Velázquez's Las Meninas and the Hieronymus Bosch triptych The Garden of Earthly Delights.
Museo Nacional Centro de Arte Reina Sofía ("Reina Sofía Museum") is renowned for its collection of 20th-century modern and contemporary art, including Pablo Picasso's powerful anti-war Guernica.
Thyssen-Bornemisza Museo Nacional ("Thyssen-Bornemisza National Museum") displays a broad collection of American and European paintings from the 14th–20th centuries.
2. Barcelona
The tourist hotspot of Barcelona is the best place to take in the eye-popping architecture of the daring and unconventional Antoni Gaudí. His masterpiece is the breathtaking Basilica de la Sagrada Familía ("Basilica of the Sacred Family"), an immense and ornate yet unfinished Catholic church. The design is a medley of Gothic, Art Nouveau, and modernist forms, along with elements of pure fantasy.
View more of Gaudí's work at Casa Batllo, a renovated mansion; and Casa Milà, a multi-family residence known locally as La Pedrera or "stone quarry" because of its rugged façade.
ParkGüell is a Disneyland-esque green space strewn with gardens, tiled sculptures, fountains, and the Gaudí House Museum.
Museu Picasso de Barcelona ("Barcelona Picasso Museum") is said to hold the largest collection of works by Picasso, including the 44-piece Las Meninas. Translated to "Ladies in Waiting," the series is his Cubist version of royal court life.
Fundación Joan Miró ("Joan Miró Foundation") is a modern art museum honoring the life and work of the abstract painter and sculptor as well as selections from other leading contemporary artists.
Palau de la Música Catalana ("Music Palace of Catalonia"), an Art Nouveau concert hall built in the early 1900s, is a dazzling showcase of tilework and stained glass.
3. Figueres
In Figueres, the hometown and burial site of surrealist Salvador Dalí, the Dalí Theatre and Museum holds an immense and diverse collection of his works — indoors and outdoors. The building façade, with gigantic egg sculptures rimming the perimeter of the rooftop, is just as fascinating as the works inside.
4. Málaga
Two museums commemorate the life and work of Málaga's native son Picasso. One is the Museo Casa Natal Picasso ("Picasso Birthplace Museum") in the apartment building where he was born. The other is Museo Picasso Málaga, which displays a lifetime of the artist's works in a renovated 16th-century palace.
Center Pompidou Málaga, designed as a glassy cube of colorful and transparent panels, is the first outpost of the modern art museum Centre Pompidou in Paris.
Museo Carmen Thyssen ("Carmen Thyssen Museum") focuses on Andalusian landscapes and daily life by 19th-century Spanish artists.
5. Bilbao
The Guggenheim Museum Bilbao is an architectural showpiece, a curvaceous titanium behemoth by Canadian-American architect Frank Gehry. The collections represent the works of postmodern international artists such as Mark Rothko, Anish Kapoor, Yves Klein, and more. Greeting you at the entrance is Jeff Koons's sweet Puppy sculpture, standing 40-plus feet tall and embedded with flora.
Classical art fans should head to Museo de Bellas Artes de Bilbao ("Bilbao Museum of Fine Arts") to view mostly European works from the Middle Ages to today. Among the masterpieces are The Annunciation by El Greco and Woman Sitting With A Child In Her Arms by Mary Cassatt, an American who spent much of her life in France.
6. Seville
Seville boasts a strong-standing tradition of ceramic arts, which decorate most every indoor and outdoor surface. Visit Museo de la Cerámica de Triana ("Triana Ceramic Center") in the artsy Triana neighborhood to learn the history, styles, and craft of ceramics. Then pop over to the Plaza de España, where the semicircular main building, balustrades, and columns are adorned with intricate ceramic tiles and mosaics.
Museo de Bellas Artes de Sevilla ("Seville Museum of Fine Arts") is housed in a former monastery from the 17th century. The galleries feature art and sculptures, from medieval to modern, by such Spanish notables as Bartolomé Esteban Murillo and El Greco. Many of the pieces are religious in nature.
Centro Andaluz de Arte Contemporáneo ("Andalusian Center for Contemporary Art") makes its home in a 15th-century monastery-turned-ceramics-factory. The museum, surrounded by exquisite gardens, displays the progression and trends of contemporary Andalusian art.
Conclusion
Spain promises a wealth of great art viewing, from traditional to contemporary, and everything in between. My list of top destinations for art lovers is designed to get you started with your journey — with hopes that you will return again and again, like I have.