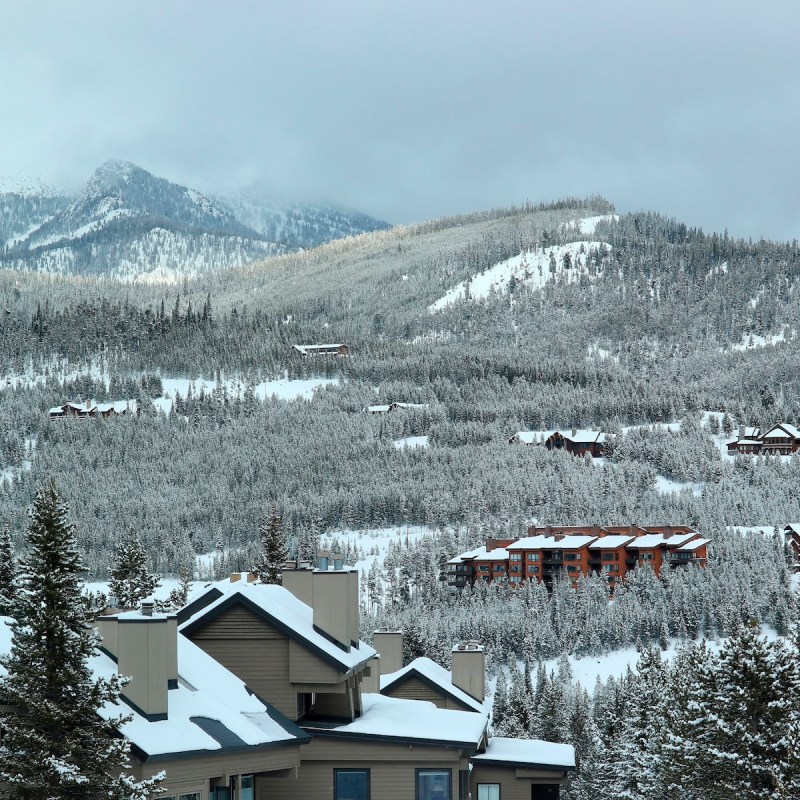 A luxurious winter retreat can be a much-needed escape from life's hustle and bustle. It allows you to loosen up, relax, and recharge in a peaceful setting. From skiing and snowboarding to snowshoeing and hot springs, plenty of winter activities can help reduce stress and promote physical and mental well-being.
Luxurious accommodations, fine dining, and spa treatments can make the retreat more rejuvenating. A winter retreat also allows for quality time with loved ones and the chance to create unforgettable memories. Overall, a luxurious winter resort stay can benefit the mind and body.
5 Best Winter Resorts & Towns In America
1. Thompsonville, Michigan
Thompsonville is a hidden gem for those seeking a luxurious winter retreat. Nestled in the heart of Benzie County, this small town offers a wide range of winter activities that will make your stay unforgettable.
Skiing enthusiasts can hit the slopes at Crystal Mountain, which has over 50 downhill trails and a 375-foot vertical drop. In addition, there are miles of cross-country skiing trails that wind through the surrounding forests.
Snowshoeing and snowmobiling are also available for those who prefer something more relaxing. After a day of adventure, visitors can unwind at a resort spa or indulge in a gourmet meal at one of the town's restaurants. With its charming atmosphere and abundant winter activities, Thompsonville is a perfect town for a luxurious winter escape.
2. Crested Butte, Colorado
Crested Butte is a deluxe winter retreat because of its stunning natural beauty, world-class skiing, and charming small-town vibe. Nestled in the Rocky Mountains, Crested Butte enjoys some of the best skiing in the country on 1,500 acres of skiable terrain featuring a snowfall of 300 inches per year.
The town is a winter wonderland with cozy lodges, eye-catching shops, and excellent restaurants serving up hearty mountain fare. But Crested Butte is more than just a ski resort — it's a community of outdoor enthusiasts who come together to celebrate the winter season. From snowshoeing and ice skating to sleigh rides and hot springs, there's something you'll never forget in Crested Butte.
3. Jackson Hole, Wyoming
Nestled among the stunning Teton Mountains, Jackson Hole is an unparalleled luxurious haven for a getaway that combines relaxation and adventure. The area has a wide selection of outdoor fun, like skiing and snowshoeing in the winter or hiking and horseback riding in the summer.
Nature's beauty in the surrounding landscape is remarkable. The crisp mountain air is invigorating. If you want a more laid-back experience, Jackson Hole has outstanding dining, shopping, and spa treatments. There are also plenty of opportunities to explore the local art scene and culture.
You'll find natural beauty, adventure, and binge-worthy amenities. Jackson Hole is the perfect destination when you are ready for a rejuvenating retreat.
4. Snoqualmie, Washington
Snoqualmie, a small town located in Washington, is a concealed treasure when looking for a luxurious winter getaway. With its magnificent views of the Cascade Mountains, Snoqualmie offers a wide range of winter activities for you to enjoy, including skiing, snowboarding, and snowshoeing at Snoqualmie Pass Ski Resort.
In addition to skiing, you can also explore shops and restaurants or take a relaxing dip in the hot springs. The town also has a variety of winter events, like the Winter Lights Festival and the Santa Train.
Snoqualmie is a perfect destination for a luxurious winter retreat with its picturesque setting and abundant winter activities.
5. Big Sky, Montana
Big Sky is a great option if you're looking for a deluxe winter vacation. The area is known for its superb ski resorts that are not overcrowded, beautiful mountain scenery, and copious outdoor activities. Big Sky offers more than just skiing; you can go white-water rafting, trout fishing, trekking in the backcountry, and wildlife viewing.
Snuggled in the heart of Montana's Rocky Mountains, Big Sky is a winter wonderland that offers everything you need for an unforgettable vacation. From cozy and luxurious accommodations to various fine-dining options, Big Sky has something that will appeal to everyone.
Whether you're looking to hit the slopes with your family, go snowmobiling, or relax in a hot tub with incredible mountain views, this destination is perfect for adventure seekers and relaxation enthusiasts. Don't miss out on the opportunity to experience one of the most beautiful winter getaways in the world!
Conclusion
A luxurious winter retreat is a perfect way to escape daily stress and recharge your batteries. It's an opportunity to indulge in much-needed pampering, relaxation, and adventure in a winter wonderland. Whether you're a ski enthusiast, a nature lover, or simply seeking a cozy getaway, a luxurious winter retreat is a multigenerational, multi-interest experience.
The possibilities are endless, from picturesque landscapes to world-class dining and thrilling outdoor activities to serene spa treatments. It's a chance to treat yourself to a rejuvenating experience that will refresh, renew, and prepare you to take on the world.