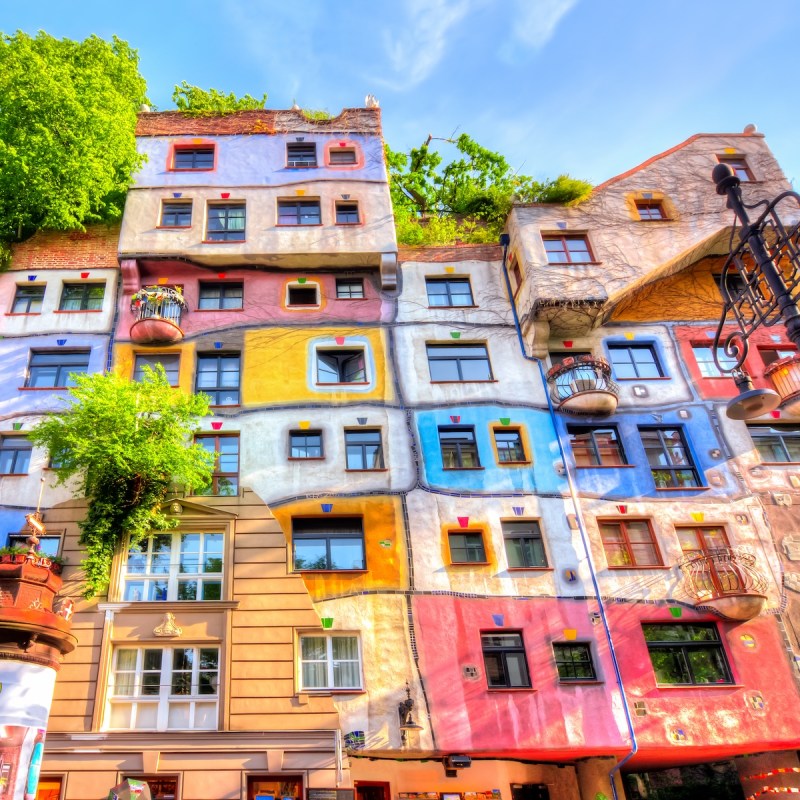 When it comes to cities with colorful building facades, there are a few that spring to mind straight away. Think of the island of Burano, or La Boca in Buenos Aires, or even the Cinque Terre region in Italy. Apart from Antarctica, every continent has some stunning examples. Travelers are forever drawn to these cheerful places, which are so photogenic and perfect for Instagram.
Much has been written about the most colorful places, but there are always more. Here I will introduce you to some personal favorites, some that you have already read about but are too good not to mention again. And others that are hopefully new to you will inspire you to search them out.
1. Reykjavik, Iceland
If you are lucky enough to fly over Reykjavik in the daytime, you'll be excused for thinking you are crossing over a toy village made of LEGOs. The small assortment of buildings is so quaint, and so colorful, that it barely looks like a capital city. On closer inspection, you'll not only notice the contrast between the hyper-modern Icelandic architecture and the higgledy-piggledy small residences, but also the cheery bright colors used to highlight the individual houses. But when you have 6 months of winter with, at best, gloomy light breaking the darkness, painting the town is a perfect idea and it makes for a lovely city.
2. Havana, Cuba
Havana is often mentioned when it comes to colorful facades. How can it not when those facades are made even more colorful by the bright classic cars parked outside of them? Cuba is not only one of my favorite colorful places in the world, but it also has more than one bright city to mention here. There is Havana, with its tall old buildings in striking hues, but there is also Trinidad, where it is just as colorful. But in Trinidad, the building style is very unique, making for a completely different experience with several photo opportunities.
3. Casco Viejo, Panama City, Panama
One of my first experiences in Casco Viejo — or "Old Town" — was the small peninsula of San Felipe, in Panama City, Panama. Here, the houses are crammed into a limited walled space and painted in the most wonderful colors; it has been my favorite ever since. One of the best streets — with a lovely assortment of colorful but also pretty white-washed facades — is Avenida A. On its side streets, you can't ever stride out because you'll stop at every house to take a picture. Add the street art you'll find along the parking spots, where the artists actually managed to find some bare walls, and you have a color overload.
4. Idstein, Germany
Who's heard of Idstein? No, I don't blame you. This 25,000-strong small town, near Darmstadt in Hesse, is not on most visitors' itineraries, but it should be. We all know Rothenburg ob der Tauber in Bavaria, and Celle, which is gorgeous at Christmas time. Both are famous for their half-timbered houses. But little Idstein is, if possible, even better equipped when it comes to those gorgeous buildings: they are not black and white but ablaze with all colors. König-Adolf-Platz is lined with pastel half-timbered houses and the town lies on the Half-Timbered Houses Route — a scenic stretch through Germany dotted with little villages and towns filled with equally enchanting half-timbered houses.
5. BoKaap, Cape Town, South Africa
One of the first places anybody thinks of when it comes to colorful places in Africa — just after Morocco's all-blue Chefchaouen — is Bo Kaap in Cape Town, South Africa. Here, you'll see an influencer posing up a storm outside each colorful building, and who can blame them? What I love even better than the bright facades is the story behind them. Bo Kaap used to be a residential area for slaves, but once they were freed, they were allowed to paint their houses in a bright color. Now, it's one of the brightest and most cheerful residential quarters in the world.
6. Vienna, Austria
Vienna, Austria's capital city, is best known for its grand Baroque and Art-Nouveau styles of architecture. But it also has a quirky and very colorful side to it. The artist Friedensreich Hundertwasser — Vienna's Antoni Gaudí — left some amazingly colorful facades that are worth searching out, all adding a burst of cheerfulness to a city that can be a little imposing at times. Kunsthaus Wien is probably his most famous facade, but there is also an intriguing landing spot on the Danube Canal, the Hundertwasserhaus.
Which destination are you putting on your colorful-facade-to-visit list? Europe? Africa? I hope that I have inspired a few new ideas of locations for you to search out.