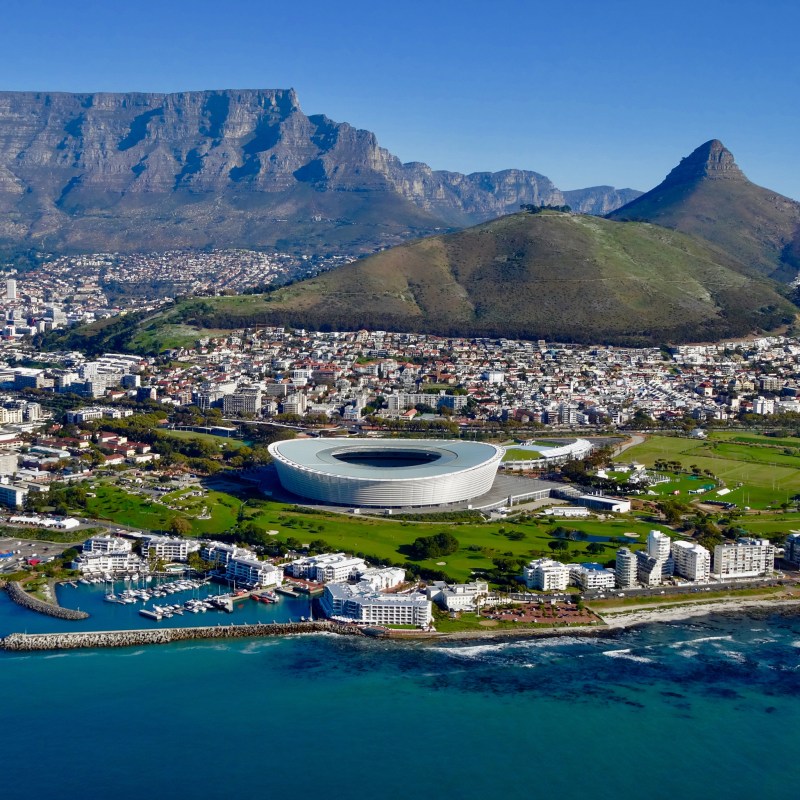 One of the three capitals of South Africa, Cape Town is the second-most populous city in South Africa and affectionately known as the Mother City.
Lying right on the most southwestern coast of the continent, the city is known for its natural beauty, its juxtaposition of mountains and beaches, its art, its diverse people, who have brought together the fabulously diverse food, and its surroundings that offer many wonderful road trip opportunities.
This being the Southern Hemisphere, the seasons are upside down, but whichever way you look at it, spring and fall are the best times to visit, avoiding the heat of summer and the rainfall of winter.
Cape Town is a great place to set up a base, with many hotels and Airbnbs, self-catering options at reasonable prices, and easy car rentals in the city. It's set up for international visitors ready to explore the countryside filled with vineyards, the beaches, the mountains, and great drives along scenic bays and coastlines.
Bring plenty of time with you when you visit, because even if you think you are "just" going to visit Cape Town on a city break, you will end up wanting to explore further and further afield as the country draws you into its ban.
While you are based in Cape Town, there are a few things you will need to see and experience in the city before you head on. Here are my favorite spots.
1. Table Mountain
Let's start with the most obvious of sights, Table Mountain. Towering over the cityscape, this flat-topped mountain offers a daily spectacle of its tablecloth, i.e., cloud cover, being in various stages of dress or undress. Check the weather report before you book a ticket to head up on the cable car to ensure the best views from the top. That said, even if the tablecloth is in place, hiking around the top of the mountain offers a unique atmosphere and makes it less hot.
Pro Tip: There are some 350 trails on Table Mountain, for all levels, and each offering something special. You can even book free guides to help you along.
2. V And A Waterfront
From the mountain top to the sea, and the harbourside development of V and A Waterfront, which incidentally stands for Queen Victoria and Alfred, her son, not Albert, her husband. Here you have a superb mix of old and new, with historic buildings and picturesque lighthouses, top restaurants and snack trucks, music at every corner, and seals frolicking in the water. There is a mall, which offers many popular, high street names, but even better are the other smaller centers, such as the V and A Watershed, with many stands selling locally manufactured arts and craft items, making for superb and sustainable souvenirs.
Pro Tip: Make sure you stop for lunch or dinner at the food market next door to the Watershed. There are many local delicacies to try — and at a fraction of the price of a restaurant.
3. Sunset At Camps Bay
Set aside at least one evening for the sunset at Camps Bay, a not-too-long Uber ride from the city center. Time it so you are there before sunset to enjoy the lovely beach and its setting, with the Twelve Apostles Mountain Range and Table Mountain behind you, before settling down in one of the many bars that are open to the sea, perfect for that sunset cocktail.
Pro Tip: You will be tempted to search out sunset on Signal Hill, but unless you know exactly where you are going or have a local guide with you, I would advise against it. Despite the popularity and crowds it can attract, the location is still very remote, and it gets very dark up there, which can be asking for trouble.
4. Zeitz MOCCA
Zeitz MOCAA is, along with the Tate Modern in London, the best modern art museum in an unusual industrial setting that I have ever visited. Located inside an enormous former grain silo, the museum is art itself. Slices have been cut out of the walls, floors added, and altogether it makes for a superb place to enjoy a variety of artworks. This is the largest museum for contemporary African art in the world, and you will need a bit of time to take it all in, especially as the architecture will keep interrupting you, demanding a closer look and a photograph.
Pro Tip: While you are there, make a booking for the rooftop terrace of the Silo Hotel, in the same silo. It's a luxurious setting with superb views from the top.
5. Bo Kaap
If you are ever active on Instagram, you have come across Bo Kaap. This quarter, right in the center of Cape Town, is famous for its oh-so photogenic brightly colored houses.
These date back to the 1760s, when the small houses were rented to enslaved people, known as Cape Malays, who were brought to South Africa from Malaysia, Indonesia, and surrounding islands. The houses were white while rented to enslaved people, but once the people were freed, residents were allowed to paint their houses in any color, and they certainly did. A colorful expression of freedom, the quarter is now cheerful and full of small art galleries and cafes specializing in Cape Malay food, which is superb.
Pro Tip: To really get to grips with the history of this quarter and its many varied facets, book a walking tour with a local guide.
6. First Thursdays
Try to time your visit to Cape Town over the First Thursday of the month in order not to miss this monthly art event. Every first Thursday, Cape Town's art galleries, shops, bars, and restaurants stay open late, put on special exhibitions, and offer special deals. The whole city is out on the streets, with maps available in each gallery showing you which streets are the best to visit and what exhibition to expect in which gallery.
The streets are full of stalls, live music, food booths, and exhibitions, and with the restaurants and bars bursting full, the atmosphere is just fantastic.
Pro Tip: If you are short on time, stick to Church Street and Bree Street, which have the most galleries in close proximity.
7. Robben Island
Roughly 4 and a half miles off the coast of Cape Town lies Robben Island, or "Seal Island." Despite its cute name, this flat island doesn't have a lot of natural beauty in its favor and has been used as a hospital, military base, and prison island from the 17th century right up to the 20th century, with its most famous prisoner having been Nelson Mandela. This bleak island, with its bleak buildings and quarry, does not offer a lovely day out; although, admittedly, the ferry ride is rather enjoyable. Instead, it serves as a bleak reminder of our history, and, luckily, the fact that good won over bad, eventually.
You can book the ferry, which departs at 9 a.m., 11 a.m., 1 p.m, and 3 p.m. daily, and also the tour of the island, in one ticket. Allow roughly four hours for the ferry rides to and from plus the tour of the prison and the island.
Pro Tip: The ferry ride can be bumpy, so if you are prone to seasickness, take a tablet beforehand. And once there, look out for the seals and the colony of resident penguins.
8. The Old Biscuit Mill
This old factory setting is a great place you would never stumble across unless you knew it was there. Playing host to the fantastic Neighbourgoods Market every Saturday between 9 a.m. and 3 p.m., this is the place to come for breakfast, brunch, and lunch, with all of Cape Town — and the world — showcasing its best food in stalls set up under a roof. It's street food at its best, great people-watching, and an even better atmosphere.
Outside of Saturdays, there are plenty of arts and craft shops that are worth visiting, with cafes and restaurants side by side.
Pro Tip: Make a reservation at the Potluck Club restaurant for superb local food in an extravagant setting.
9. The Company's Garden
It's the oldest garden in South Africa, right in the center of Cape Town, and overrun with greedy squirrels. Established around 1650 by the region's first European settlers, the Company's Garden was quite literally that: a vegetable garden for the Dutch East India Company which provided the settlers and merchants and sailors on ships landing at the port with fresh produce.
Today, it is a park full of large shade-giving trees, including, reportedly, the oldest cultivated pear tree in South Africa. Secluded areas where you can sit with a book, several interesting statues ranging from historic to contemporary art, and an undisclosed number of cheeky squirrels. If you are carrying food, especially untreated nuts, they are more than willing to come and sit on your hand to take any offerings.
Pro Tip: Along Government Avenue leading from the Garden to the city center, there are numerous stalls with local arts and crafts for sale. Make sure you haggle over the price, though.
10. District Six Museum
A five-minute walk away from the garden, you will find the District Six Museum. Giving a very personal insight into what life was like in District Six, a mixed-culture district of Cape Town whose population was evicted by the Apartheid Government in the 1970s, the small museum goes hand-in-hand with your visit to Robben Island, showing what people endured under Apartheid. Across two stories, personal mementos and leftovers from when families were dispersed showcase what an interesting and colorful neighborhood this must once have been, filled with people from all over, all backgrounds — but people not to the liking of the Apartheid government.
Pro Tip: Walk back toward the main drag of Adderley Street via the pretty little flower market on Trafalgar Place and get chatting with the ladies who sell the flowers. They have many stories to tell.
11. Kirstenbosch Botanical Gardens
And talking about flowers, if you are a plant and bird enthusiast, then the Kirstenbosch National Botanical Gardens are a must. Solely filled with native South African plants, you can meander through rough and manicured parkland for hours, all on the foothills of Table Mountain. There are sub-gardens within the grounds such as an herb garden, medicinal garden, water and fragrance gardens, and many, many more. Allow plenty of time, and, even better, bring a picnic like the locals do.
Pro Tip: Every last Sunday of the month, there is a craft market taking place on the grounds.