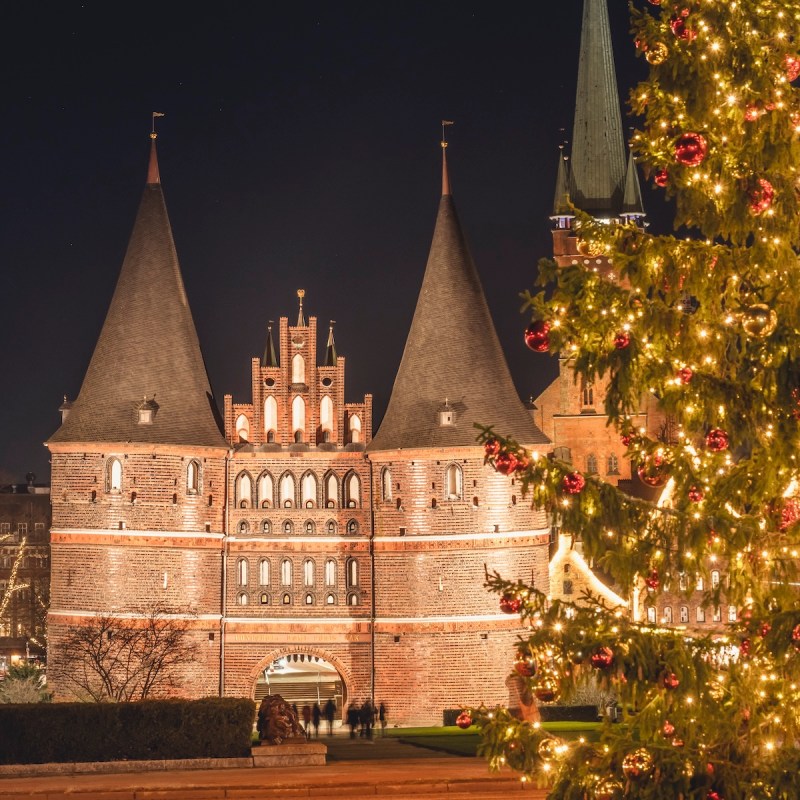 Germany is the ultimate destination at Christmas time because of the markets, the traditionally crafted ornaments, and the general atmosphere, all of which are simply perfect. And the chances that it snows are pretty good as well. Not that I am biased or so, being German, but the cities and small towns across Germany are hard to beat when you want winter holiday romance.
While the larger cities such as Nuremberg, Berlin, and Cologne all have superb markets, the smaller towns often go all out when it comes to décor and overall holiday cheer. So, here are my favorite three suggestions for the perfect holiday setting in Germany.
1. Lübeck, Schleswig-Holstein
The home of marzipan, Lübeck is a small town near the Baltic Coast, some 40 miles northeast of Hamburg. It's a perfect choice for a pre-Christmas visit. The iconic chunky medieval gate allowing entrance to the town and the picture-perfect pedestrianized streets all twinkling with decorations are utterly enchanting and magical. But add the town's specialty Niederegger Marzipan and you cannot go wrong. There is marzipan everywhere. From figurines to little piggies, which in Germany bring luck, to mini snowmen and Santas; there is even a marzipan school, which alas is only open until the end of November each year and closes over the Christmas season. Add a Niederegger café offering marzipan cakes, sweets, and entire new creations you'd never think possible and you'll be in a holiday mood before you can even spell Lübeck.
But there is also the market. Smaller than in the larger cities, it is, however, in a lovely location right next to the town hall. It's on the little square sitting under a web of twinkle lights with small wooden chalets selling ornaments, food, and, of course, that all-important Glühwein. The main Lübeck Christmas Market — and the many smaller craft and food markets dotted throughout the old town center — open from November 27–December 30, 2023.
2. Celle, Lower Saxony
Celle is an often overlooked small town just outside of Hanover, famous for its 400-odd half-timbered buildings. All criss-crossed with black-and-white and pastel-colored charm, the old town is the perfect setting for twinkle lights and seasonal markets. While the town might look like it could star in a fairytale from the Brothers Grimm, it also has a quirky side with two lamp posts standing opposite the Hoppener Haus. This estate is one of the oldest buildings in town dating to 1532, reciting facts, local anecdotes, and sayings to unsuspecting passersby. There is also the super-modern Celle Art Museum, perfect for when it might be too cold or a little rainy outside.
The Celle Christmas Market — completely surrounded by the half-timbered houses, making it look like a greeting card — opens on November 24 and runs until December 28, 2023. What makes Celle really special though, is that it lies just to the south of the Lüneburger Heide — a rolling heathland that turns into a perfect winter wonderland in the snow. Maybe you'll even have time to pop into Lüneburg itself. The small town, giving its name to the heath, is very pretty indeed.
3. Rothenburg Ob Der Tauber, Franconia
The absolutely charming Rothenburg ob der Tauber is a medieval town that draws crowds throughout the year with its fairy-tale quaintness. But during the holiday season, this little place is so atmospheric, it's nearly too clichéd. Half-timbered houses, cobbled streets, and covered wooden bridges across the River Tauber are decorated with fairy lights. And, hopefully covered in snow, the Christmas Market is open from December 1–23. It might be tiny, but it is watched over by a huge Christmas tree and fills the ancient market square in front of the town hall.
But in Rothenburg, Christmas season is all year round, with the German Christmas Museum really coming into its own when it truly is the holiday season. There is also the Reiterlesmarkt, another cutesy Christmas market, but one that opens officially on the first week of Advent. It's best watched from the lofty height of the town hall tower, which is open from Friday–Sunday especially for this purpose. And don't forget to sample the traditional schneeballen, or "snowballs." They are small balls of sweetness sold in the markets —covered in chocolate and filled with anything from nougat to marzipan.
Whether you opt for the larger cities or the smaller towns, you can be assured that you will be filled with Christmas cheer anywhere you visit in Germany during the holidays. But please be aware that many markets traditionally close on Christmas Eve and all are closed on Christmas Day itself. That said, larger cities make concessions to international visitors with markets staying open past Christmas, but it is wise to check before you go to avoid disappointment.
For more holiday content, check out these articles: