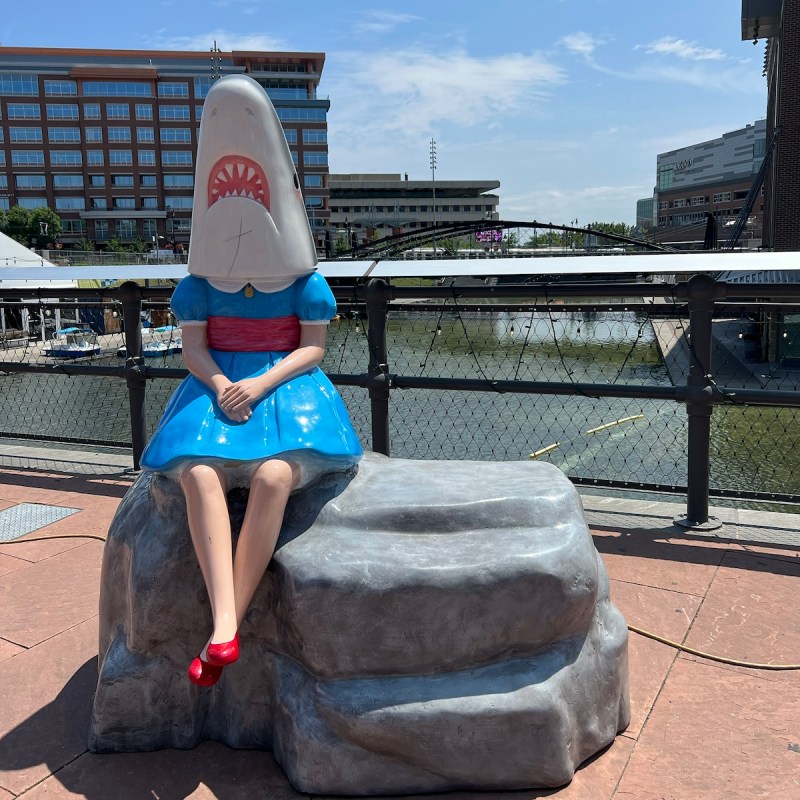 Pulling off the highway to check out a random roadside attraction can add entertainment to any road trip. From unusual to quirky to downright weird, giant sculptures and other oddities make for great spots not only to stretch road-weary bodies but also to take fun photos. Most wacky attractions — which also include castles, caves, and collections — have gift shops so you can pick up a souvenir to remember your peculiar pit stop.
Thousands of roadside attractions dot the U.S., so it's impossible to list them all (though Roadside America does a great job of cataloging many in both the U.S. and Canada). If your next vacation by car takes you nearby, consider these spots worth pulling over for.
1. Teapot Building
Zillah, Washington
The Teapot Dome scandal of 1921, which involved misconduct in transferring oil leases to a government entity under President Warren Harding's administration, prompted a builder to create a whimsical 15-foot-tall teapot complete with a cement handle and a spout doubling as a stove chimney. Today, the Teapot Building houses a visitor center just off I-82 in Zillah, Washington.
2. Neon Sign Park
Casa Grande, Arizona
Detour off I-10 or I-8 between Phoenix and Tucson and dip into Casa Grande to visit the beautifully colored and vibrant lights in the outdoor Neon Sign Park on the town's Main Street. Spend some time on the benches enjoying the 14 vintage mid-century neon signs or walk along the landscaped paths. Lights are typically turned on at dusk and off at 11 p.m.
3. The Thing?
Benson, Arizona
For hundreds of miles in either direction from Phoenix to El Paso along I-10, giant billboards ask "What Is It?" and announce how far you are from "The Thing? — The Mystery of the Desert." Originally a tourist stop with a collection of oddities created in 1965, today, The Thing? is owned and operated by Bowlin Travel Centers and features an additional gas station, Dairy Queen, and Aliens vs. Dinosaurs exhibit.
4. Gravity Hill
Bedford County, Pennsylvania
Two hours southeast of Pittsburgh, not too far from the junction of I-76 and I-99, is a mysterious road that defies gravity. When you get to the top of Gravity Hill in Bedford County, put your car in neutral and prepare to get spooked. Instead of your car rolling backward down the hill, your car will start to move forward up the hill.
5. Giant Paul Bunyan
Bangor, Maine
While there's some controversy as to exactly where the folklore hero Paul Bunyan was born — Michigan, Minnesota, and Wisconsin also make claims — Bangor, Maine, celebrates the lumberjack icon with a larger-than-life statue in front of the Cross Insurance Center arena, just off I-395. The giant Paul Bunyan is 31 feet tall and weighs 3,700 pounds.
6. Bishop Castle
Rye, Colorado
Since 1969, just one man, Jim Bishop, has built with his own hands a three-story stone and iron castle in southwestern Colorado. It costs nothing to tour the magnificent site that includes turrets, bridges, and even a fire-breathing dragon. Find Bishop Castle along State Highway 165, about 24 miles from the Colorado City exit at I-25.
7. Rex, The Orange Dinosaur
Jacksonville, Florida
Rex, The Orange Dinosaur in Jacksonville, Florida, originally welcomed guests to a 1960s miniature golf course on busy Beach Boulevard. While the golf course was demolished to make room for a strip mall, Rex still stands tall.
8. Shark Girl At Canalside
Buffalo, New York
Canalside, at the junction of I-190 and the Buffalo Parkway, is a formerly deserted waterfront in Upstate New York that now buzzes with activity. The odd (to put it mildly) Shark Girl, who's perched on rocks at the top of Immigrant Steps at the Replica Canals, is a popular photo opp.
9. The Salt And Pepper Shaker Museum
Gatlinburg, Tennessee
Just off U.S. Route 321 in Gatlinburg, Tennessee, stands The Salt and Pepper Shaker Museum with more than 20,000 sets of salt and pepper shakers from around the world and a huge pepper mill collection. There's a small fee to enter, but it can be applied to a gift shop purchase.
10. Bell Witch Cave
Adams, Tennessee
Swing off U.S. Highway 41 in Adams, Tennessee, and you'll find Bell Witch Cave — thought to be haunted since the early 1800s. According to one legend, John Bell and his family lived in a nearby cabin. The Bell Witch, who tortured the family for years, was the spirit of an unfriendly neighbor who thought John cheated her in a land purchase. Today, visitors can tour the cave and the reconstructed cabin while listening to haunting tales.
11. World's Largest Fork (By Mass)
Springfield, Missouri
For an unusual selfie, if you can fit it all in your frame, visit the world's largest fork in southwest Missouri. The 35-foot, 11-ton structure was originally built to help promote a local restaurant. It later moved to its permanent spot not far from the junction of U.S. Route 60 and Highway 13 in Springfield — which is also home to a giant macaroni noodle and enormous golf club. Other "world's largest forks" in the U.S. are taller, but this one weighs more.
12. Big Orange Moose
Black River Falls, Wisconsin
Veer from I-94 in Black River Falls, Wisconsin, to snap your photo of the big orange moose standing next to a pond in a grassy area that's great for kids to run around and burn off energy. It's also near the SureStay Plus by Best Western Black River Falls, which has a bar named (you guessed it) The Orange Moose Lounge. For a second fun photo, walk over to the giant sculpture of the moose with a big block of Swiss cheese.
The Bottom Line
Keep an eye out for signs advertising roadside attractions on your next U.S. road trip. A pit stop for an entertaining picture or random experience can be an ideal way to break up a long stretch of driving and add a little entertainment to your trip.
If you don't want to miss any roadside oddities, consider downloading the fee-based Roadside America app for iPhones or iPads.