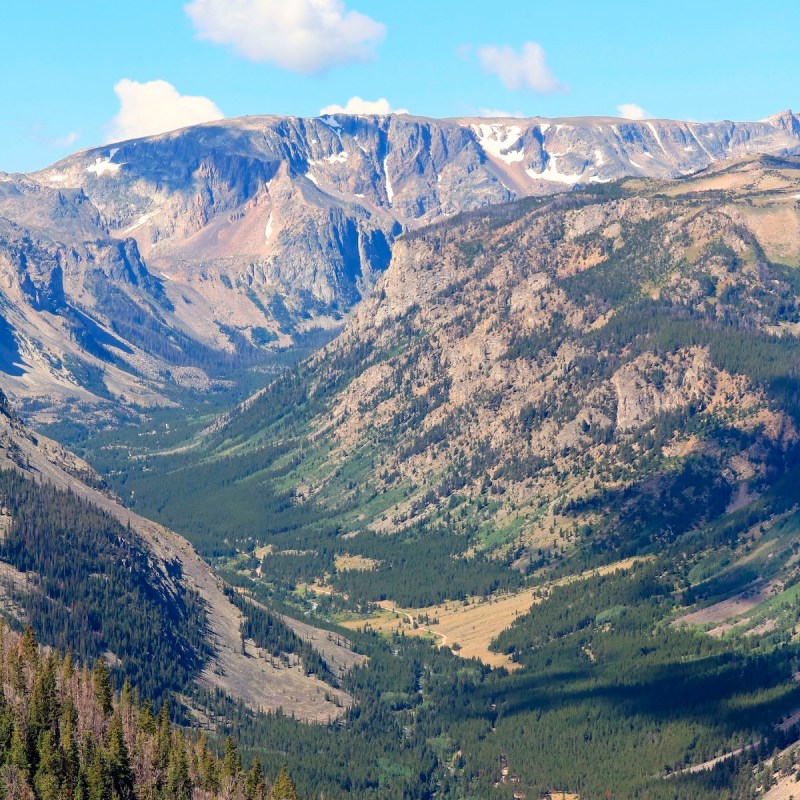 As convenient as it is to fly, there's something special about loading up the car and taking off on a road trip. You can make your itinerary and schedule your own. With so many gorgeous spots scattered across the U.S., your options are almost limitless for where to enjoy a perfect road trip. Here are five underrated options with mountain or coastal views to inspire you.
1. White Mountain Scenic Route, Arizona
Arizona is more than desert landscapes and the Grand Canyon. Up north, the White Mountains are the spot to chill during every season. In spring and summer, head here to escape the heat of the valley; in the winter, hit the slopes; and in the fall, go leaf-peeping amid the aspens and oaks. Yes, there is fall foliage outside of New England! The White Mountain Scenic Road is a 123-mile route that begins near the town of Pinetop-Lakeside and winds through the Fort Apache Indian Reservation. Take in the flowering pines of the Apache-Sitgreaves National Forest, along with cool desert landscapes and wildflower-laden meadows.
2. Beartooth Scenic Highway, Montana
When you're in Montana, mountainous scenery is practically everywhere. Some of the most spectacular mountain views are in the area around Yellowstone National Park. Surrounded by four mountain ranges, you don't have to look far for glorious mountain views in this section of Montana. One of the most famous scenic drives in the entire country is located here. The legendary 68-mile Beartooth Scenic Highway runs from Red Lodge to Cooke City. This dramatic route has been called the "most beautiful roadway in America."
On the Beartooth, you'll have the chance to see truly amazing scenery and landscapes. As you weave your way along switchbacks deep within the Absaroka-Beartooth Mountain Range, look for a wide variety of wildlife like black bear, grizzly bear, elk, deer, moose, bighorn sheep, Rocky Mountain goat, mountain lion, and bobcat. You'll also pass through the tall pines and wildflowers of the Gallatin National Forest. As impressive as the scenery is, the Beartooth Highway is not for the faint of heart. With elevations of over 11,000 feet, this drive may make you close your eyes and say a few prayers, but the payoff is amazing mountain scenery you've likely not seen before. Keep in mind that the road is closed from mid-October through late May due to winter weather conditions.
3. Cannon Beach To Devil's Churn, Highway 101, Oregon
A trip down the Oregon Coast offers breathtaking views of the Pacific coastline. Start your drive in stunning Cannon Beach, see Haystack Rock, have lunch, then head south along Oregon's Highway 101. As you meander down the coast, stop into Tillamook and Newport. A bit further south is the quaint town of Yachats. If you're looking for a lowkey stay, Yachats is your place. With a population of less than 2,000, this tiny town is a hidden gem along the coast.
South of Yachats is the amazing natural wonder, Devil's Churn, located within the Siuslaw National Forest just north of Cape Perpetua. Take the steps down and take care as you watch the waves crash onto the rocks with massive force. Make sure you don't turn your back to the water; sneaker waves are a real thing, so don't be caught off guard. Revel in the awesome power of nature while taking in the glorious turquoise, deep blue, and misty green colors of the Pacific.
4. Las Vegas To St. George, Utah
If you're going to St. George, Utah, you can save money by flying into Las Vegas and driving up Interstate 15. It's a quick 2-hour drive to St. George, with gorgeous views along the Virgin River Gorge. A legendary engineering feat, it's mind-blowing to think about how this road was carved out of rock and stone. Make sure you have your hands at 10 and 2 o'clock on the wheel because some of the other drivers like to fly down the road like it's a straight two-lane highway. Quick-moving drivers aside, take in the awesome scenery as you traverse this section of Interstate 15 — it's stunning.
5. Kancamagus Scenic Byway, New Hampshire
Beautiful New Hampshire offers some of the most breathtaking scenery in the U.S. One of the best routes to explore is the Kancamagus Scenic Byway, a 34.5-mile scenic drive along northern New Hampshire's Route 112. This winding road traverses the forest and offers stunning views of pines, deep-blue mountain lakes, and emerald-green valleys and fields.
Any time of year is a great time to drive "the Kanc," with fall as the favorite for many. The landscapes are incredible, with the greenest of valleys and fields imaginable. A great place to stay in the area is the Woodstock Inn Brewery, located in nearby Woodstock.
Conclusion
The U.S. offers so many stunning landscapes and you can see many by car. Whether you are craving cool mountain air or beachy vibes with crashing waves, you can see it all. The hard part is deciding where you want to go first.